Market Intro

Wednesday, 9:33 AM EST
All four major US averages (SPY, DIA, QQQ, IWM) are building on last week's efforts toward price recovery: S&P futures are trading just above where they did just prior to the NFP jobs release in pre-market on Friday in the Wednesday morning pre-market.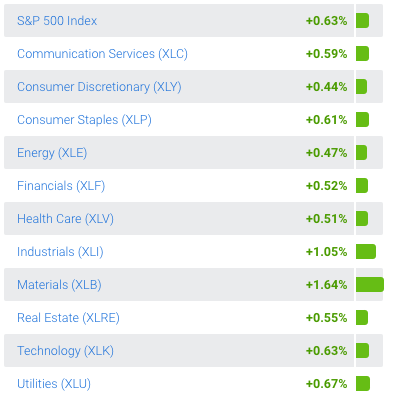 SectorSPDR: Tuesday Close
Each of the US sectors closed on Tuesday in positive territory just before the midterm elections. I see the moderate magnitude of the returns as more promising for vol shorts than the direction of the market itself.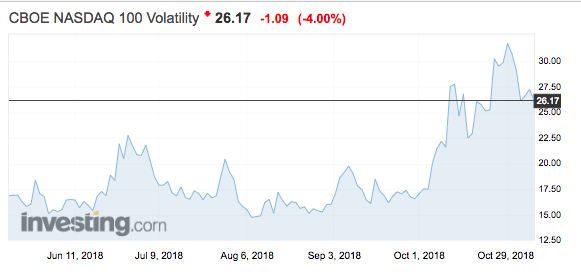 The NASDAQ VIX is attempting to calm down, after repeated scares in big tech names such as GOOG, NFLX, and AAPL. If the market leaders can demonstrate low variation in returns, then I suspect the smaller market cap companies will follow.
Thoughts on Volatility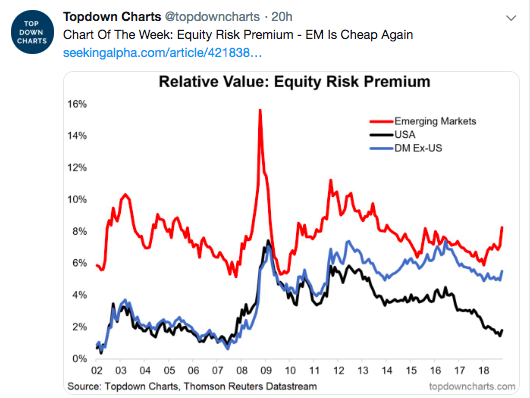 Though I generally agree with the results as depicted above (EEM quite cheap relative to US equity), I think it is wise to ask where the data came from.
More precisely, what specific decisions were made in order to generate the equity risk premia?
Also, cheap assets are usually cheap for a reason: there is likely more risk in these assets.

There was at least a reasonable amount of uncertainty surrounding the outcome and implications of the midterm elections. I find it interesting that measures of market volatility dampened before we collectively discovered the results.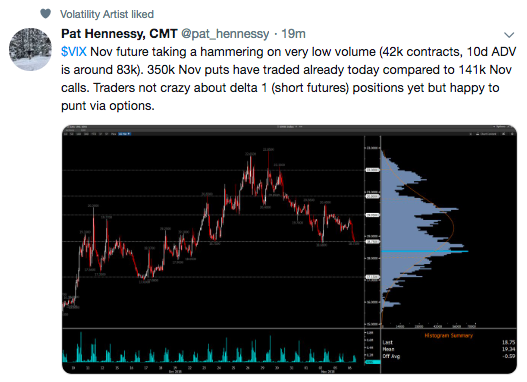 It does seem to be the case that vol traders are exploring the possibility of a drop in VX futures via increased action in downside. That said, Mr. Hennessy points out that traders appear more willing to hedge their bets via exposure that enlists optionality.
Term Structure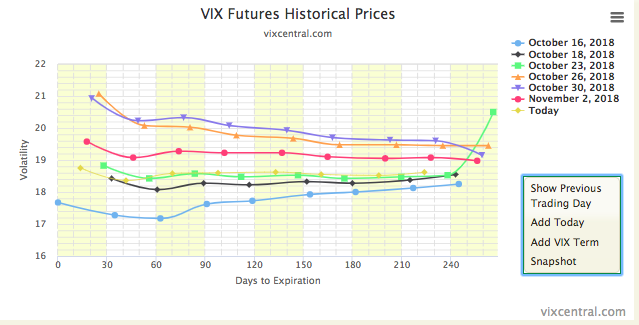 With the SPX looking to settle down some here, I thought it instructive to see where Tuesday's VX term structure was in relation to the recent past as it stood at the doorstep of the election: more or less right in the middle.
This is fair: there is plenty of room for the term structure to move either way here. I do believe that, with midterms and much of earnings season out of the way, I see increased scope for the term structure to loosen up some and make a larger move: long VX gamma?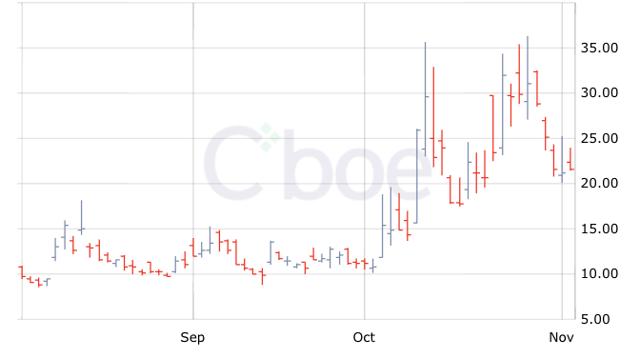 The visual above displays a three-month chart on the SPX 9-day VIX. Because it looks out only nine days rather than thirty (as the spot VIX does), this shorter term metric tends to be more choppy, which is really saying a lot. For now, VIX9D is really off the highs from early last week. I am of a mind that it's more likely that we see a retest of the upper range rather than simply settling lower.
Many of the drivers of last month's volatility are not yet resolved, though we do now have a clearer set of contours for what the legislative branch will look like over the next two years.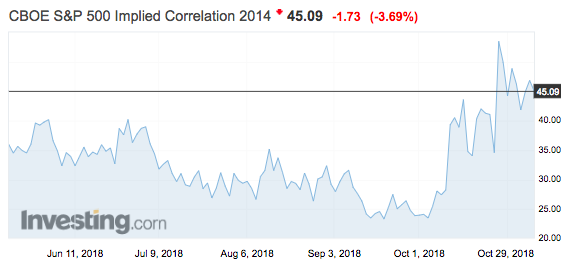 One last "case for VX gamma". Though off its highs, the implied correlation index is definitely still at the upper end of its range. This provides scope for both a plunge or a leap in spot VIX. A precipitous decline in implied correlations could devastate spot VIX, but if the ICJ holds up and average volatility measures also strike higher, then we have fertile ground for an increased VIX.
Conclusion
If this is your first time reading Market Volatility Bulletin, thanks for giving it a try. If you're a regular, we thank you for your ongoing contributions in the comments section.

Good question Robin. I think that SPX will follow the will of VIX here, and not the other way around. So if implied vol measures fall, then it will be easier to justify the current SPX prices. On the other hand, if market participants dial VIX higher, I doubt the SPX defenses will hold, and I believe an official "bear market" (down 20% from highs) is quite plausible.
Thank you for reading.
Please consider following.
Disclosure: I/we have no positions in any stocks mentioned, and no plans to initiate any positions within the next 72 hours. I wrote this article myself, and it expresses my own opinions. I am not receiving compensation for it (other than from Seeking Alpha). I have no business relationship with any company whose stock is mentioned in this article.
Additional disclosure: I actively trade the futures and options markets, potentially taking multiple positions on any given day, both long and short. I also hold a more traditional portfolio of stocks and bonds that I do not "trade". I do believe the S&P 500 is priced for poor forward-looking returns over a long timeframe, and so my trading activity centers around a negative delta for hedging purposes.