The return of a "risk-on" stance among equity investors and rising Treasury yields continue to weigh against gold in the immediate term. As we'll discuss in today's report, however, not all the news is bad for gold. The dollar index is teasing a reversal of its immediate-term upward trend, which would definitely benefit the yellow metal. The outcome of the U.S. midterm elections could also tip the near-term balance of power in the gold bulls' favor, as we'll discuss here.
Gold prices were lower on Tuesday as U.S. equities and Treasury yields rose ahead of congressional elections. Continued uncertainty over the political outlook has been one of the factors keeping gold range-bound in recent weeks. That uncertainty should lift in the days and weeks following the elections. Spot gold fell 0.4 percent to $1,226 in the latest session, while December gold futures were $6, or 0.49 percent, lower at $1,226.
The midterm congressional vote is seen by many as a test of President Trump's tax cuts and trade policies. Polls suggest that his Republican party may relinquish control of the House of Representatives to Democrats, which could serve to undermine some of his policies. Many analysts believe that a Democratic victory in the midterms would weaken the dollar and thereby support the gold price in the near term due to investor uncertainty over a Republican-controlled White House and a Democrat-controlled Congress. This remains to be seen, however, as election results were incomplete at the time of this writing.
Gold traders also expressed uncertainty over the two-day Federal Reserve meeting this week. The upcoming Fed interest rate decision on Thursday will allow participants to discern the monetary policy outlook, which in turn will have a big impact on gold's near-term trend. Many observers expect the U.S. central bank to keep interest rates steady, however, which in turn would likely keep the gold price stable. A higher Fed funds rate, by contrast, would serve as competition for the non-yielding metal.
While we're on the subject of interest rates, the rising trend in longer-term U.S. government bond yields has been one of the factors which has kept a lid on gold prices. Shown here is a graph which compares the performance of gold with the performance of the 10-year Treasury Note Yield Index (TNX). As you can see, gold's relative strength versus the 10-year yield has been less than stellar in recent months. Before gold is ready to commence a sustained rally we should see the gold:TNX ratio reverse to the upside. This would let us know that rising bond yields are no longer providing serious competition for gold.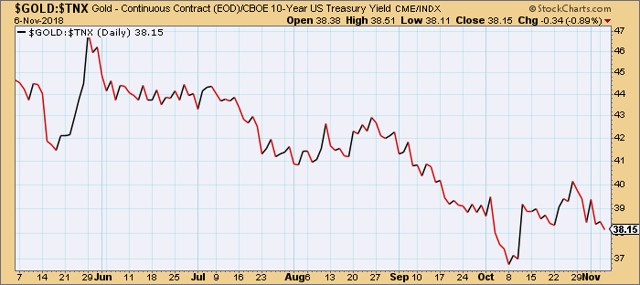 Source: StockCharts
Despite the headwind created by rising rates, the obstacle to higher gold prices due to a strong dollar may soon be diminished. The U.S. dollar index (DXY), below, is testing its 15-day moving average right now. As you can see here, DXY has closed slightly below the 15-day MA. If it closes even more decisively under this important immediate-term trend line it would strengthen gold's currency component and likely encourage some additional short-covering among the gold bears. This in turn would lift the gold price, potentially pushing it out of its 3-month trading range and above the pivotal $1,240 level. For a more meaningful rally in gold, however, we need to see DXY fall under the 50-day moving average (blue line in chart below). The 50-day MA has greater psychological significance for the dollar since many traders and investors closely watch this trend line and attach great significance to it.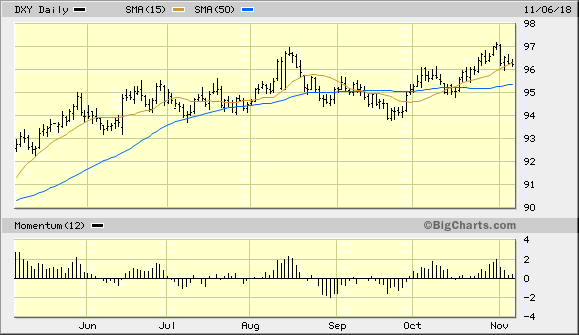 Source: BigCharts
An upside breakout above the aforementioned $1,240 level in December gold futures (below) is the immediate-term goal for the bulls. As discussed in recent reports, this would essentially break gold out of its July-November trading range and likely serve as an inducement for additional short covering. There is enough short interest remaining in the gold market to serve as a catalyst for a thrust higher in the coming weeks. But for the gold price to show any meaningful gains we need to see the U.S. dollar index show sustained weakness after its latest close below the 15-day moving average. This is even more important for the eventual success of gold's turnaround attempt since August than a pullback in U.S. Treasury yields.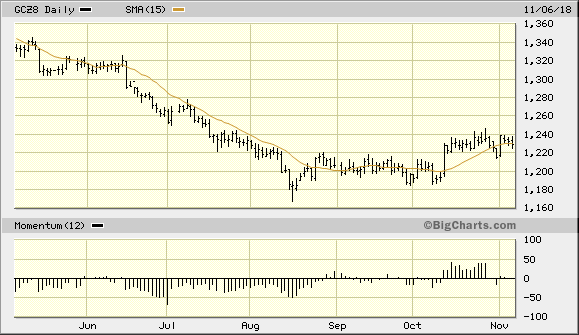 Source: BigCharts
On the gold ETF front, the iShares Gold Trust (IAU) recently confirmed a technical breakout by closing above the pivotal $11.60 level and returning above its rising 15-day moving average. This put me back on an immediate-term buy signal for IAU, where I remain despite the dollar's recent strength. I suggest watching the $11.37 level (the Aug. 23 closing low) closely from here, as this is my recommended initial stop-loss (intraday basis) for this trading position. A violation of $11.37 would put me back on the sidelines for the immediate term. However, as long as IAU remains above its 15-day MA on a weekly closing basis, the bulls will still have a slight technical advantage over the bears.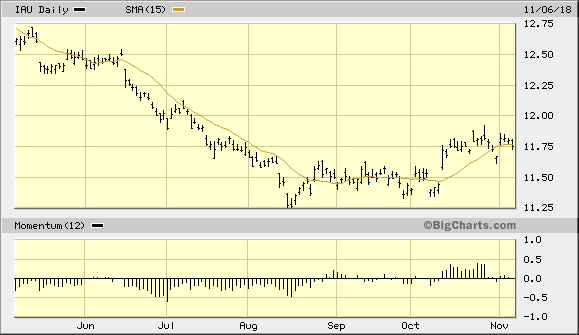 Source: BigCharts
Although the need for a sharp reversal in the dollar index is still present, gold's latest speculative buy signal is still technically intact. As can be seen in the IAU chart shown above, the gold price has already established a pattern of higher lows and higher peaks in the last two-and-a-half months, which is the basis for an intermediate-term bottom. There is just enough uncertainty in the U.S. political and financial market outlooks to support the gold price in the near term and keep it stable above its August low. But for a meaningful intermediate-term (3-9 month) rally we'll need to see a strengthening of gold's currency component. For now, though, a defensive stance is still warranted and gold remains a speculative buy for short-term-oriented traders only.
Disclosure: I am/we are long IAU.
I wrote this article myself, and it expresses my own opinions. I am not receiving compensation for it (other than from Seeking Alpha). I have no business relationship with any company whose stock is mentioned in this article.