General Thesis
My general thesis on Alibaba (NYSE:BABA) is that it is a strong growth company, with the growth of the company coming from its vast business segments including eCommerce, cloud computing, digital media, and others. While Alibaba has a risk profile, I believe it is more than baked into the price of the stock. Alibaba's business segments include the following:
Core Commerce
Digital Media & Entertainment
Cloud Computing
Innovation Initiatives
Core Commerce: Alibaba's Bread And Butter
While Alibaba has many growth investments, and is often considered to be omnipresent in China, Alibaba's business is based on commerce. In Q3, 85% of Alibaba's total revenue came from its core commerce business, which goes to show just how dependent the company is on commerce. And while it is good to have massive exposure to the commerce market, if any material headwinds emerge to the market, then the growth of the overall business could slow dramatically.
But for Q3, Alibaba had some significant user growth, adding 32 million more mobile MAUs.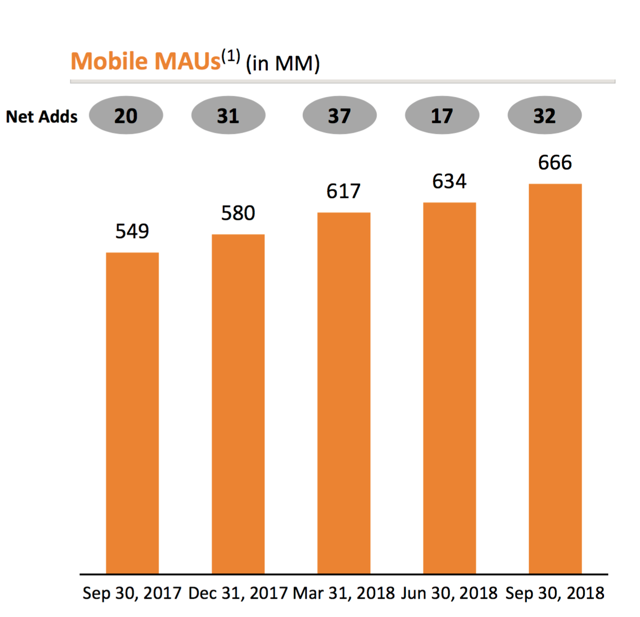 (Source: Alibaba IR)
This number is up 21% Y/Y, an impressive feat considering Alibaba already had a massive user base of 549 million users in the year ago period. This user base is swiftly increasing, with measured growth in ARPU.
Alibaba also outlined exactly how they are improving the connection between consumers and merchants on their various platforms.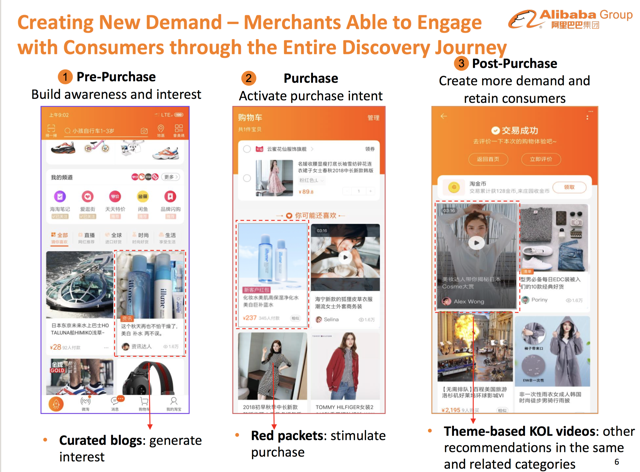 (Source: Alibaba IR)
Gross Merchandise Volume on the Tmall platform for physical goods grew 30% Y/Y, continuing Alibaba's core commerce robust growth. Alibaba has also worked at attracting luxury brands at selling products through Alibaba, attracting partners like Sergio Rossi and Qeelin to bolster Alibaba's luxury sales.
In addition, Chinese eCommerce companies, specifically Alibaba and JD (NASDAQ:JD) have something that American eCommerce firms don't: Single's Day. Single's Day is larger than Black Friday and Cyber Monday combined, a significant tailwind that is only getting better as the Chinese consumer spends more. In 2017, Alibaba racked up over $20 billion in GMV on November 11th, setting a new record, with the company expecting even higher GMV this year.
Finally, Alibaba is immersing themselves in the new retail model, with their automated grocery store known as Hema, with 77 open right now. The world has now seen that a balance between eCommerce and brick-and-mortar shopping is more efficient than just eCommerce or just brick-and-mortar retail. And while Hema has a negligible impact on Alibaba's revenue right now, the model being pushed by Hema will be a strong growth initiative over the long haul.
As the Chinese consumer continues to spend, Alibaba's commerce revenue will continue to grow. This quarter was yet another strong quarter for Alibaba's overall revenue growth, and eCommerce growth.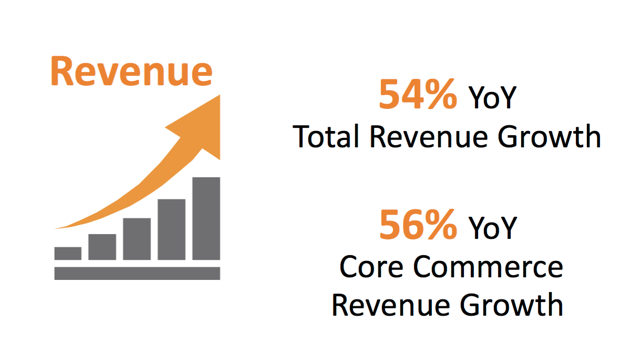 (Source: Alibaba IR)
Here is a breakdown of Alibaba's revenue last quarter.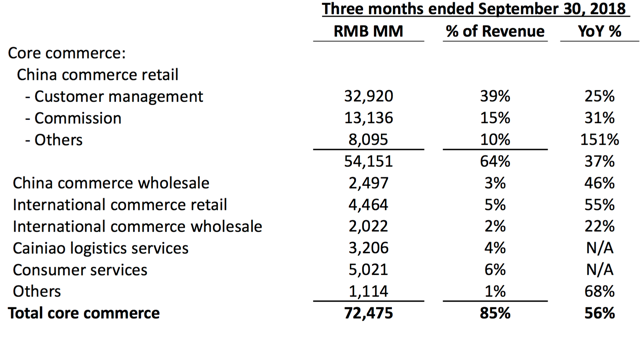 (Source: Alibaba IR)
Here are my expectations of Alibaba's core commerce business' revenue from here to 2022.

Here are my EBITA margin expectations for this business segment from here to 2022.
I'm expecting core commerce revenues to grow at a CAGR of ~21%, well below the current revenue growth rate of 56% growth. Keep in mind however, this gets me to over $125 billion in commerce revenues in five years, more than a triple from 2018's already massive $48.9 billion.
As far as the easily noticeable EBITA margin contraction, my expectation is for increased investments in differentiating factors. The three standout differentiating factors that Alibaba will be heavily invested in are legitimacy of product/security, timeliness of delivery/logistics, and lower pricing.
If Alibaba is striving to be the best eCommerce player in China, then they are going to prioritize the quality of the product their customers are buying and how quickly it can be delivered to the customer. If counterfeit products are delivered to customers, then these customers are more likely to leave Alibaba. Making investments in security are essential to providing good customer experience, which is what Alibaba is all about.
Secondly, and most importantly, Alibaba is investing heavily in logistics, allowing quality goods to get to consumers as quickly as possible. While this may grow costs, it is bettering the customer experience, and building Alibaba into a standout. So while some are pointing at Pinduoduo, JD, and Tencent to eat into Alibaba's growth, if you don't have the most efficient logistics network, then consumers are more likely to purchase from your competitor, i.e. Alibaba.
And lastly, Alibaba has pricing power. Lowering prices will always drive more consumers to certain businesses. As time goes on, what was formerly expensive gets more efficient, with prices falling, and more consumers buying. As Alibaba increases their competitive advantages, they can continue driving consumers to the platform, and growing market share.
All of these three factors put together make Alibaba the biggest winner in the eCommerce space in China.
Alibaba Cloud: Massive Growth
Alibaba Cloud had another phenomenal quarter, growing revenues by 90% to $825 million. Alibaba Cloud continues to lead the cloud computing market, dominating distant competitors like Baidu (NASDAQ:BIDU) and Tencent (OTCPK:TCEHY). Here is a graph of international cloud computing market share. Notice, Alibaba is the only Chinese company on this chart.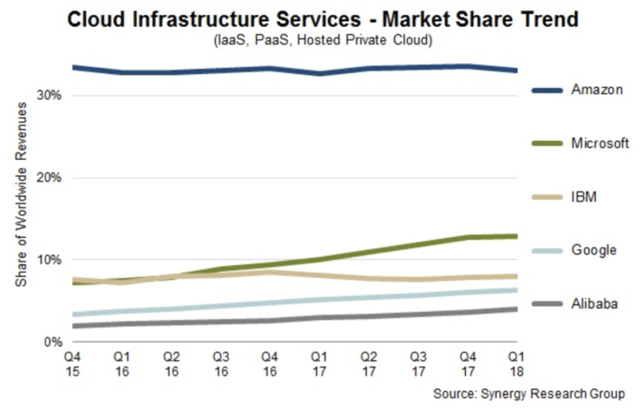 Alibaba is the leader in an ever-expanding Chinese cloud computing market. Assuming the market in China ever gets close to the US market size, Alibaba Cloud could be like AWS, a massive revenue and profit generator for the overall company. Here are the results from Alibaba's Cloud business for the last quarter.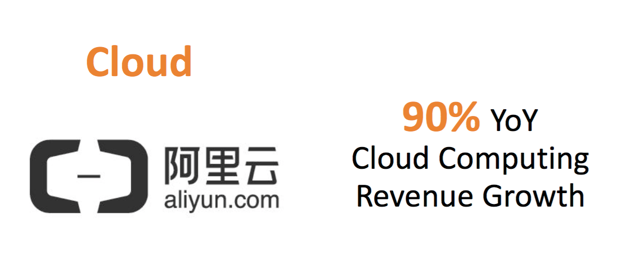 (Source: Alibaba IR)
This segment is however, unprofitable at this time. But as gross margins on this business (which aren't reported) expand, and the trajectory of OpEx growth begins to flatten, we should get higher margins on this massive business.
Alibaba has made further technological investments to cement their leadership role in the Chinese cloud computing market. Such investments were highlighted in Alibaba's release.
Alibaba has over 600 different products built into their offerings, with Alibaba being pretty much the backbone of the internet in China.
Alibaba has shown a diverse product offering in their cloud computing segment. Such products include products that deal with client's elastic computing needs, database services, web hosting services, storage, networking, security, analytics/big data, monitoring and management, and API construction. Alibaba Cloud has allowed clients to develop gaming, eCommerce, multimedia solutions, and hybrid cloud solutions.
Here are my estimates for Alibaba Cloud over the next five years for revenue.

Here are my EBITA margin estimates for Alibaba Cloud:

By comparison, AWS is operating at an annual revenue run rate of $26.72 billion. This is continuing to grow at high double-digit revenue rates, and I'm expecting AWS to continue to report massive growth rates in this revenue. I'm expecting over 60% CAGR in Alibaba Cloud's growth rate, with the Chinese cloud computing market eventually nearing the size of the US market. And with no meaningful competition from internet giants like Baidu and Tencent in China, Alibaba's market share in China should be even higher than AWS's in the US.
Digital Media & Entertainment
Alibaba's digital media segment is the last material segment that has potential within Alibaba, and is a material factor in my discounted cash flow model. Alibaba's Digital Media & Entertainment segment (DM&E) includes platforms like Alisports, Alibaba Music, Youku, Tudou, and UC. Youku for example posted phenomenal growth this quarter, more than doubling its total subscriber Y/Y.
And while Youku seems to be the third place player in the streaming scene, behind iQIYI and Tencent Video, Youku continues to gain traction with user additions clearly continuing, and higher monetization levels set to act as tailwinds for the overall business segment.
That being said, this segment of Alibaba's business is extremely unprofitable and prone to significant risk.
The DM&E segment reported revenues of just $865 million this quarter, and a -64% EBITA margin, as heavy infrastructure costs and higher content spend are significant contributing factors to DM&E's profitability, or lack thereof. That being said however, this segment grew at 24% Y/Y, an impressive rate. But at just $3.46 billion in annualized revenue, this segment makes up <10% of Alibaba's total revenue.
Second of all, government regulation concerns linger over this segment, as media platforms are more subject to government scrutiny than say Alibaba's core commerce business. The Chinese government has made clear they want to completely control public opinion, by blocking and allowing certain content, and regulating what platforms can put up for advertisements and what they can't. The government there is extremely strict on freedom of speech policies, and censorship/regulation does exist. That is one reason that I am not invested in Tencent.
Basically, Alibaba's DM&E business is subject to volatility, mainly coming from intense government regulation of these kinds of businesses.
Here are my five-year estimates for Alibaba's DM&E segment's revenue:

Here are my five-year estimates for Alibaba's DM&E segment's EBITA margins:

As you can see, I'm expecting negative EBITA margins up until 2022, when I expect this segment to turn slightly profitable. Overall, I don't expect this segment to have a significant impact on Alibaba's overall business.
Other
Alibaba has a host of other platforms that make even less of a difference to Alibaba's overall business than the DM&E segment. These platforms include AliOS and AMAP. This segment generated just $155 million this quarter, making up ~1% of Alibaba's total revenue this quarter. However, it operated at a staggering -116% EBITA margin. This is the business segment that stores all of Alibaba's innovation initiatives, and should continue to grow, but it will not become a key business segment for Alibaba's business over the long-term. Nonetheless, I'm still going to provide targets for the business.

Here are my EBITA margin targets:
Valuation
If we put all these individual estimates all together, here is my total forecast for Alibaba's revenue for the next five years.

Here are the rest of my targets for Alibaba over the next five years.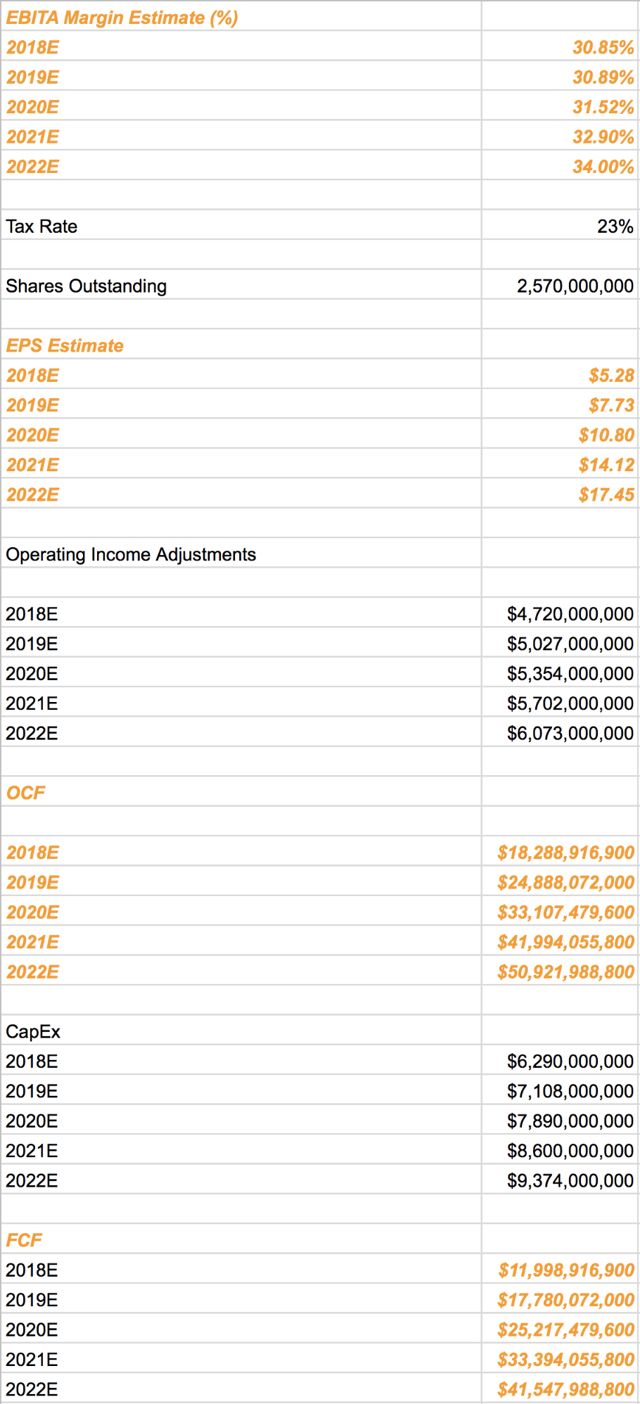 Here are my calculations for cost of equity. Keep in mind, this assumes a 10-year Chinese bond yield of 3.551% and an equity risk premium of 5.89%.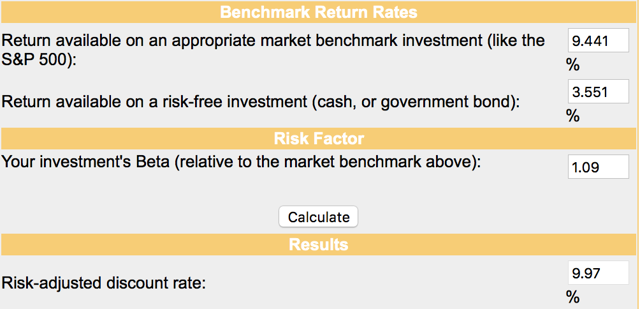 Here are my calculations for WACC overall: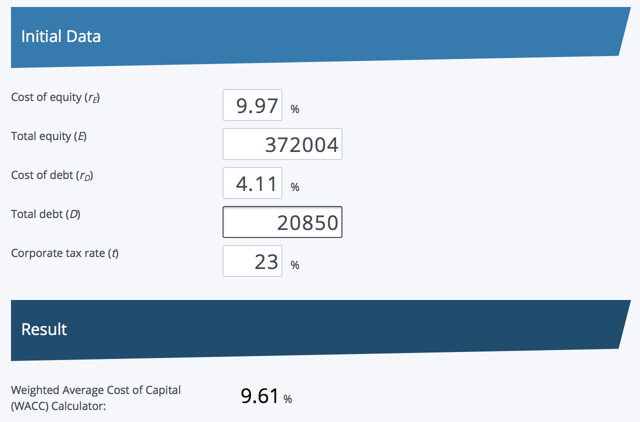 This brings me to my fair value estimate.
Conclusion
Alibaba's stock is extremely undervalued, with 37% upside in the equity But for now, Alibaba's stock is extremely undervalued with massive upside ahead of it. For this reason, I will be adding to my long position in Alibaba over the coming weeks.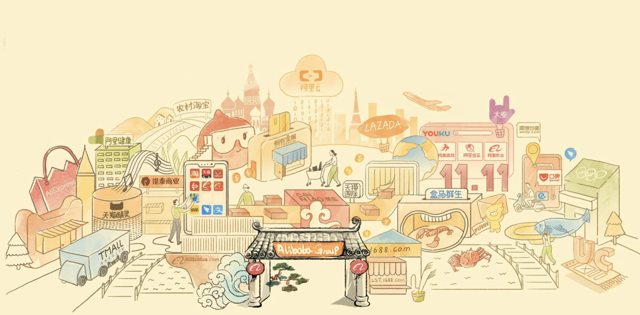 (Source: Alibaba IR)
Disclaimer: I am not a financial adviser. This is not financial advice. Everything said here is my personal opinion. Please do your own due diligence with regards to investments in these securities.
Disclosure: I am/we are long BABA.
I wrote this article myself, and it expresses my own opinions. I am not receiving compensation for it (other than from Seeking Alpha). I have no business relationship with any company whose stock is mentioned in this article.
Editor's Note: This article discusses one or more securities that do not trade on a major U.S. exchange. Please be aware of the risks associated with these stocks.