August 15, I wrote an exclusive piece about General Motors (GM). It didn't do very well afterwards until GM released 3rd quarter earnings. It jumped up recently, but I believe it is now a better opportunity even compared to the time of my original write-up. It is an even better opportunity now because it trades at a very similar price but the value of the "Cruise" segment increased due to a Honda (NYSE:HMC) investment to $15 billion, earnings and cash flow guidance improved, and there's been positive news about Chinese auto taxes potentially getting reduced.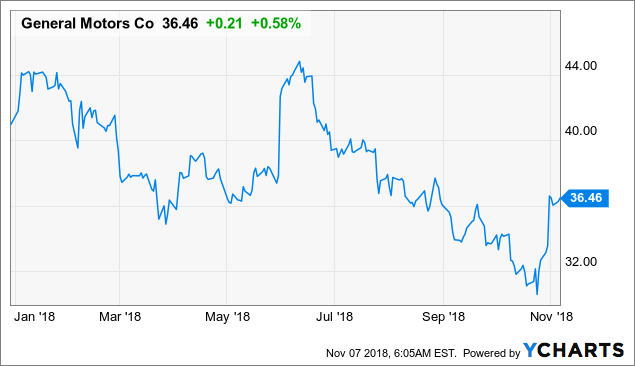 If you look at the key balance sheet items, I can only say they look too strong. I'm not going to fault Barra for this. Maybe it's the right thing if it turns out we are moving into a recession.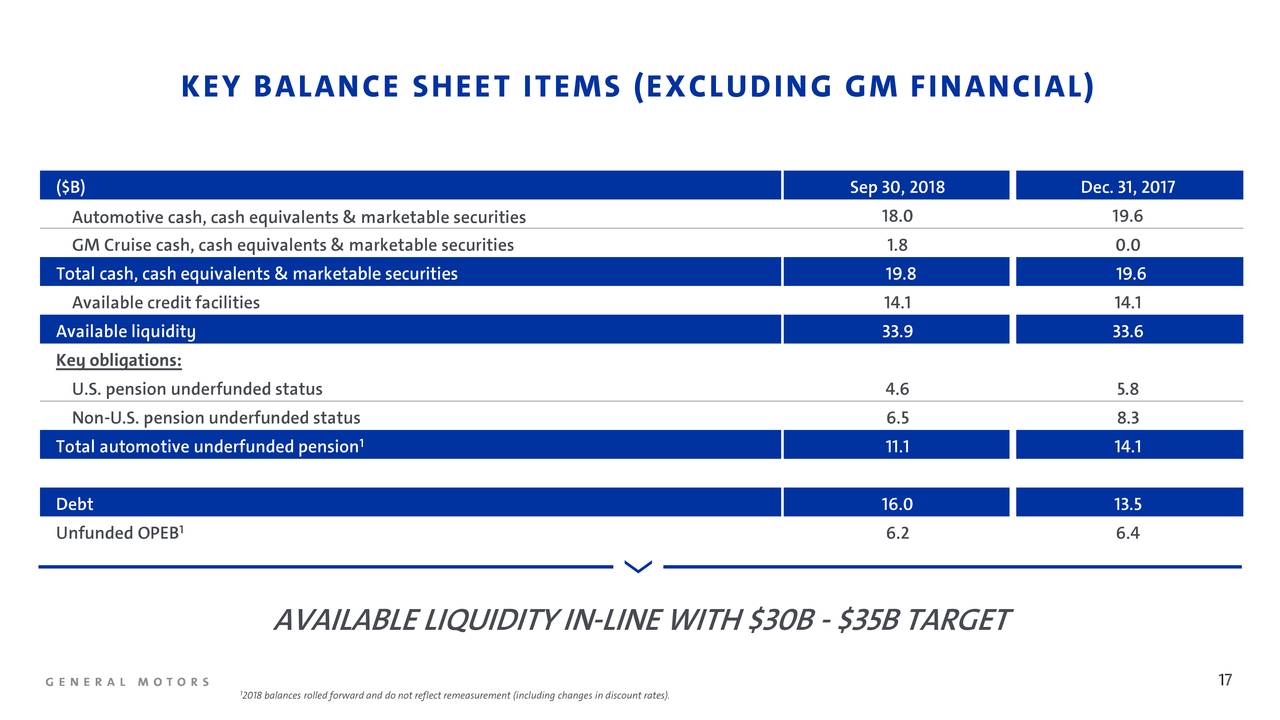 But if you consider the current core EBIT that nears $10 billion, this company is a fortress: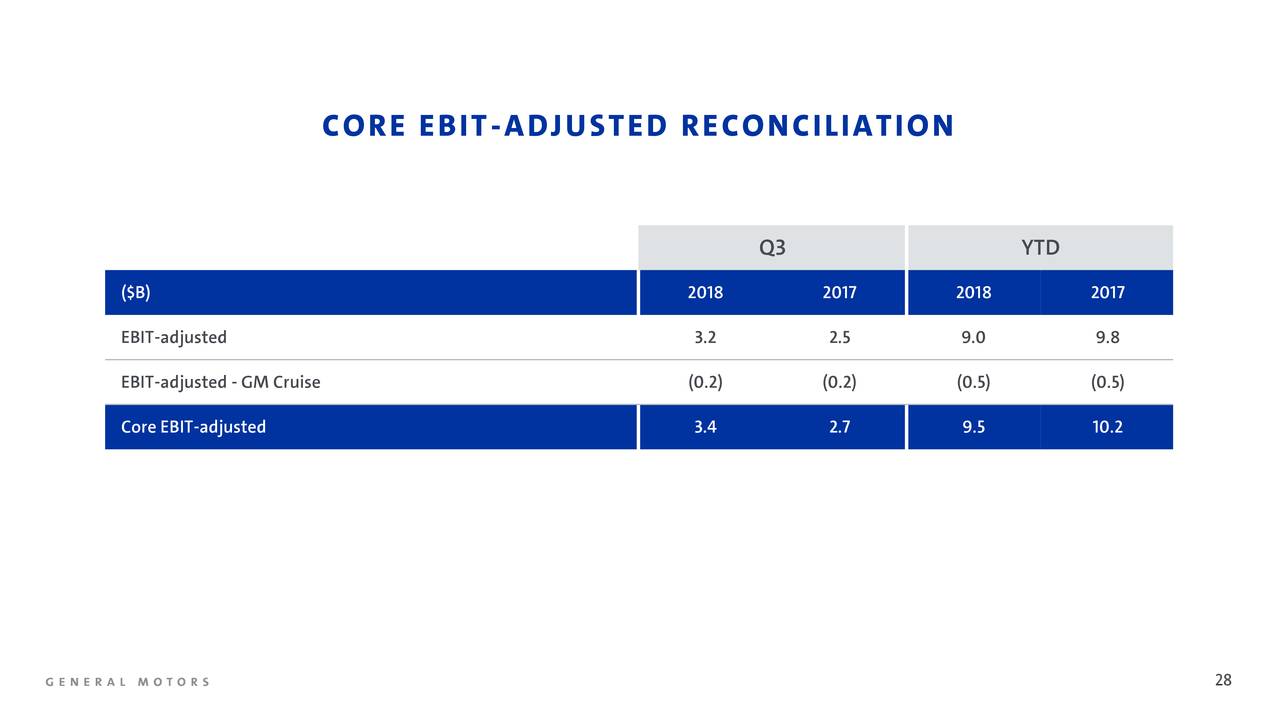 Slow on electric (but aiming to hit the market hard in 2022+)
Barra said the following on the subject of EVs:
we have several EVs coming in the next few years, so we believe in an all-electric future. I think you'll see that will roll out over the next couple of years. And then very importantly, we're working on our next generation, which we're calling EME 1.0, that we're looking to make sure we have EVs that are affordable, obtainable, desirable and have the right range.
I'm taking away from this that 1) GM is probably aiming to hit this market big in 2021 at the earliest. 2) They are working on this EME 1.0 range that's really going to be a step-up from what they are doing now. What they are doing now with the Volt isn't that bad to begin with.
Autonomous
There have been recent reports that Cruise isn't hitting its deadlines. GM its Cruise unit is widely regarded as one of the leaders in the field. I was very happy to hear it is still on for 2019:
As we continue to strengthen our automotive vehicle business with recently-announced partnership between Honda, GM, GM Cruise to develop and deploy a purpose-built autonomous ride-share vehicle, based on the current rate of iteration, we continue to target commercialization in 2019 in a dense urban environment with safety as our gating metric.
In my opinion, leading in autonomous is much more important compared to leading in EV. Autonomous leaders may be able to capture sustainable competitive advantages. Either A) because their AI systems get more miles in or B) because first to market autonomous fleets take dominating market share like Uber did with its business model.
Now, this is not going to be very helpful, but something that I found extremely curious was the exchange between the Goldman analyst and Barra. He asks her about the $1 billion GM plans to deploy into Cruise on an annual basis and the exchange follows:
Mary Teresa Barra - General Motors Co.

So we are hiring and continuing to do that development to the plan. Right now, we're looking at still we'll be roughly around $1 billion as we previously communicated, but the team is being smart about it and if they can achieve what they need to achieve at a lower level, they will. But we're still holding at that level and it's due to a lot of hiring and continued work from - accumulating miles and experience.

Analyst

Okay. But there's not like a large increase in the fleet that's coming or an expansion in a new city that's going to drive that incremental spend?

Mary Teresa Barra - General Motors Co.

No.

Analyst

Because that's all we can think of that could kind of get you there.

Mary Teresa Barra - General Motors Co.

No.
I've also been under the impression GM would inject that kind of cash to roll out a fleet or set up infrastructure. Looking at Cruise LinkedIn page it has about ~1,100 employees. It must be pretty hard to spend a billion on hiring (even coders...) This weird exchange stood out to me, let us know in the comments if you have an idea what's going on there.
Quarter could have been better
GM gave up something like $300 million in South America due to the Brazilian and Argentinian currencies getting destroyed. That's a big headwind, but they didn't complain that much about it. They were also just beginning to realize cost savings in the Korean operation which they shut down completely.
Conclusion
General Motors trades at undemanding metrics regardless of how you look at its autonomous prospects: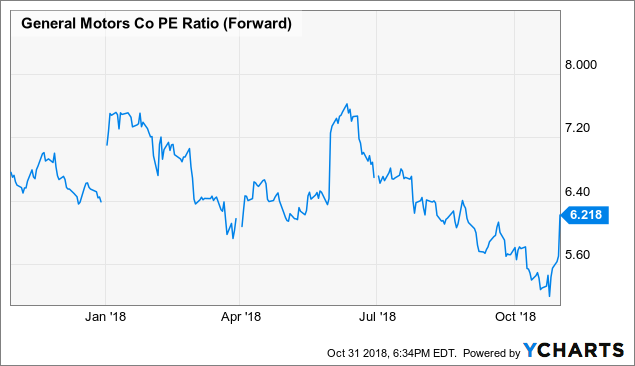 Check out the Special Situation Investing report if you are interested in uncorrelated returns. We look at special situations like spin-offs, share repurchases, rights offerings, M&A events, etc. But we also have a keen interest in the commodity space. Especially in the current late stages of the economic cycle.
Disclosure: I am/we are long GM.
I wrote this article myself, and it expresses my own opinions. I am not receiving compensation for it (other than from Seeking Alpha). I have no business relationship with any company whose stock is mentioned in this article.