Today's article will discuss Molson Coors (TAP), a stock that I've been following since its share price began to decline earlier in the year and finally built a position over the last 6 weeks. Given my growing conviction in TAP's investment thesis reinforced by the recently published Q3 2018 results, I believe it's a good time to discuss the Company in greater detail and highlight why I believe there is a lot more upside despite the recent relief rally.
A quick summary for those who would like to get the main takeaways of the article upfront:
TAP's share price is down by ~25% YTD due to several fears: (1) challenging beer volume sales hampering revenue growth, (2) inflationary pressures hurting gross margins, (3) skepticism regarding the realization of cost improvements/synergies, and (4) TAP's leverage profile.
Given continued strong financial performance, the share price declines have resulted in significant contractions in valuation, making right now (despite a relief rally on Oct. 31st after earnings release) a great time to build a position.
There are several catalysts which I believe can drive a revaluation of the stock over the next 12-18 months: (1) continued margin expansion (the 2017-2019 cost savings program has seen its cumulative savings target increase twice due to strong results), (2) the announcement of the 2020-2022 cost savings program anticipated for February 2019, (3) continued deleveraging to 3.75x by mid-2019 and intention to increase dividend payout by 40-75% at that time.
In support of the thesis, I developed a DCF with realistic upside, base, and downside cases. On a probability-weighted basis, the DCF models suggest ~30% upside to current share price levels.

Company Introduction
Founded in 1786 and headquartered in Denver, Colorado, Molson Coors is a diversified producer of beer and other alcoholic beverage products in North America and internationally. The Company was formed through the merger of Molson and Coors in 2005. In the years that followed, the Company continued to expand through joint ventures and M&A. Most noteworthy and critical to understand is the formation of a JV called "MillerCoors LLC" with Miller Brewing Company's US and Puerto Rico operations in 2008. Molson Coors was given a 42% stake in the JV based on the valuation of the assets contributed by both parties at the time. In 2011, Molson Coors bought StarBev, LP, a Czech Republic-based operator of breweries throughout Central and Eastern Europe from Private Equity firm CVC Capital Partners for a total consideration of $3.5bn (11.0x trailing EBITDA), with the rationale to internationalize the business and buy a group of well-performing local brands (link here). However, the most transformative transaction occurred in connection with Anheuser-Busch's (NYSE:BUD) acquisition of SABMiller (OTCPK:SBMRY), the JV partner in MillerCoors LLC, in a deal valued at €114.5 billion (15.8x trailing EBITDA) in November 2015. In order to satisfy regulatory concerns, Anheuser-Busch and SABMiller agreed to sell their 58% stake of MillerCoors LLC to Molson Coors (link here). The transaction closed in October 2016 and turned Molson Coors into the world's third-largest brewer, producing over 50 brands of beers (premium, imported, domestic, and craft) and ciders, including multiple market-leading brands.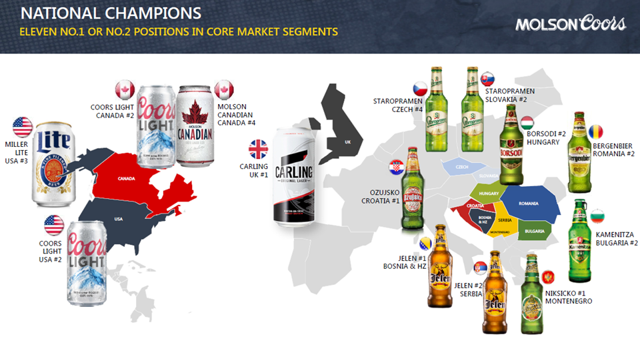 Source: TAP Investor Presentation
Largely due to the acquisition of MillerCoors LLC, Molson Coors has become a market leader in North America, with 70% of volume sales and 84% of EBITDA contribution coming from the region, most importantly the US.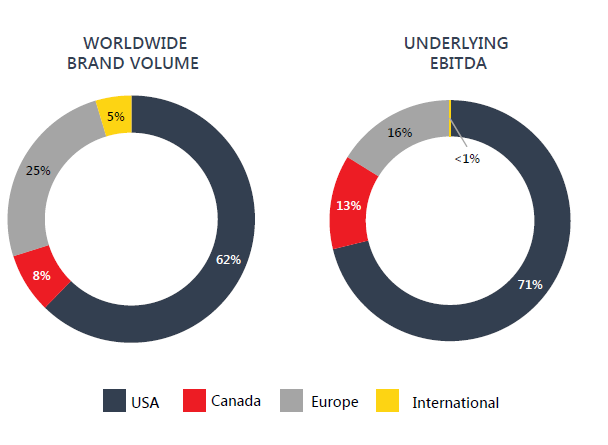 Source: TAP Investor Presentation
2018 Share Price Performance and Drivers
Prior to its Q3 earnings release on October 31st, TAP's share price was down 29.2% YTD, a significant underperformance vs. the S&P 500 (VOO; down 0.5%).

Source: Axia, data per CapitalIQ
There were several components to the bear thesis that drove the share price decline:
1) Challenging beer volume environment with key brands struggling: US beer sales volumes have experienced moderate declines in TAP's core segments, budget (e.g. Keystone Light, Milwaukee's Best) and domestic premium (e.g. Coors, Coors Light, Miller Lite) as market preferences shifted away from established, somewhat "dusty" brands towards craft beers, domestic super premium beers, as well as imports.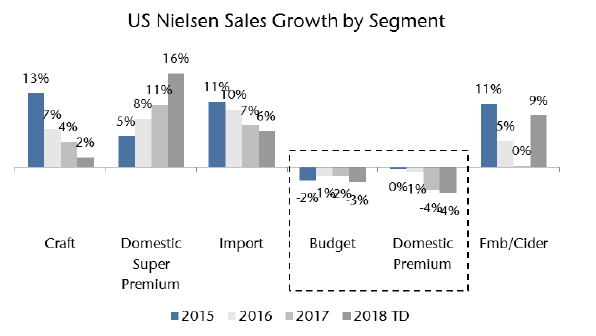 Source: Nielsen Research
This changing consumer preference is really a reflection of rising disposable incomes making way for higher price point beers. This has been an industry-wide trend and has contributed to similarly poor share price performances of TAP's most relevant direct competitor in the budget and domestic premium segment, Anheuser-Busch InBev, whose share price is also down 33% YTD.
This concern undoubtedly has merit. However, there are two counters that moderate this issue for me: (1) "revenue growth for growth's sake" is pointless; growing revenue only adds value if it ultimately drives increased free cash flow and net income - that is, if the economic activity performed yields incremental net benefit above costs. Based on that, what really matters is not top-line performance per se, but growth in EBITDA and cash flow. And this is exactly what Molson Coors has successfully done in recent years despite its top line challenges.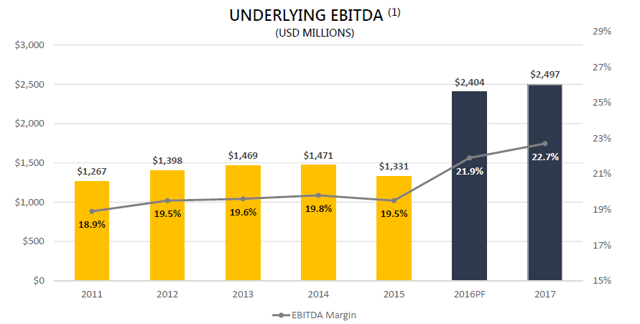 Source: TAP Investor Presentation
(2) The shift away from low price point categories budget and domestic premium beers happened in the US on the back of rising disposable income levels. Given the late stage of the economic cycle, I would argue that the next recession (whenever that may be, but I am planning with one by 2020-2021) and the corresponding contraction in disposable incomes should drive consumers back towards budget and domestic premium, thereby reinvigorating TAP's top line.
2) Inflationary pressures: Bears believe that transportation (rising fuel prices and freight rates), as well as rising aluminum costs, are eroding gross margins. In fact, it is true that transportation and aluminum costs have been a moderate hindrance on profitability particularly in the US, as was mentioned by CFO Tracey Joubert on the most recent earnings call (link here)
Again, TAP managed to improve profitability despite these industry-wide headwinds on gross margins. Furthermore, even if raw material and transportation costs were to increase at rates that would meaningfully alter profitability, all producers would face these headwinds. At some point this would collectively push brewers to pass on at least some of these increases to customers should the pain become too much. Accordingly, I do not believe that margins have significant downside from current levels.
3) Skepticism on cost improvements & synergies: Several bears assert that TAP's cost savings program is overly ambitious and cannot be fully realized. Especially in light of the inflationary pressures and declining volumes, bears believe that operating leverage and profitability will, if anything, cause margins to shrink as opposed to expand further.
Q3 2018 results were very helpful in taking wind out of this fear's sail. Molson Coors was able to post strong EBITDA growth (+9.9% vs. Q3 2017 on reported, +11.1% YoY on a constant currency basis) and has made further strides in its cost savings program. In fact, the Company raised its cumulative cost savings target from $600m to $700m through 2019 this quarter. This was the second time since the announcement of the cost savings program after the MillerCoors acquisition that the Company increased its savings guidance, as the initial cost savings target was $500m. To me, this is evidence that not only is there room for operational improvements but management is also doing a fine job finding and realizing such synergies.
4) TAP's leverage profile: Given rising rates, this fear is coming up more frequently and was also a critical part of the bear thesis on Berry Global (BERY) which I discussed last week (link here for those who might have missed it). TAP was levered in the mid 4x range as of Dec-2017. In combination with the previously mentioned factors that result in limited EBITDA and free cash flow generation, bears view TAP's current debt levels at dangerous of causing liquidity issues and forcing TAP to cut down on investments to spark growth, thus putting the business in a vicious circle of contraction.
TAP's EBITDA of $2.5bn and free cash flow of $1.5bn in 2018E are sufficient to cover the Company's cash interest expenses of $300-330m annually at an interest coverage ratio of over 5x. It would require a perfect storm of massive deterioration in revenue, operational mismanagement driving down margins, alongside significant interest rate raises for current debt balances to become unmanageable. Quite the contrary, TAP has been able to manage its debt levels nicely and is now in a far more secure position to service its capital structure than even 12 months ago.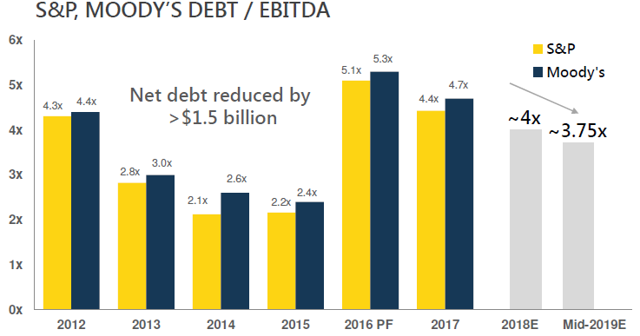 Source: TAP Investor Presentation
Current Valuation as Attractive Entry Point
Ultimately, since 2016 Molson Coors achieved continued profitability improvements, driving EBITDA and net income growth. The combination of share price declines this year coupled with EBITDA and net income growth have caused attractive compressions in valuation, with TAP currently trading at meaningful discounts to its historical averages, making for a compelling entry point.
As of November 5, Molson Coors is trading at an EV/EBITDA of 9.8x, materially below its 2017 average of 17.5x, reflecting a 44% discount. Similarly, on a forward P/E basis the Company trades at 12.8x, 29% below its 2017 average of 18.3x.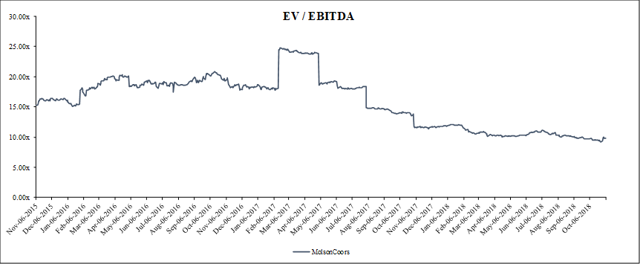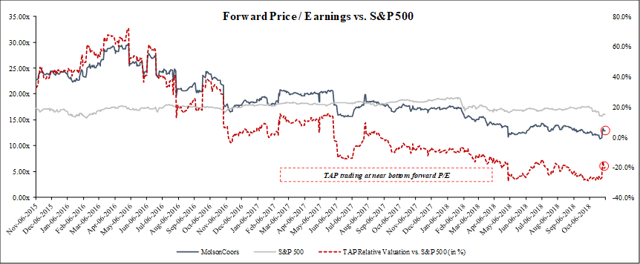 Source: Axia, data per CapitalIQ
In sum, if one believes in the continuation of the EBITDA and FCF growth story, this asset is trading at undeservedly low valuations.
Investment Thesis
Having discussed in detail what constitutes the bear thesis on TAP and drove the share price declines YTD, let me now lay out for you what has prompted me to build a position in the stock and why I encourage you to consider the same.
1) Recession Resistance
As anyone would have guessed, beer consumption is a highly stable and resilient in a downturn, which protects breweries from material declines in financial performance. Unfortunately, given the previously mentioned creation of MillerCoors LLC in 2008, historical reported performance of TAP does not reflect its actual organic performance as several billion of revenue was carved out from the entity at the time. Instead, we can look at the overall beer sales levels shown below from 2007 through 2011 and see that consumption is very steady, experiencing modest to no declines in a recessionary environment from a volume perspective.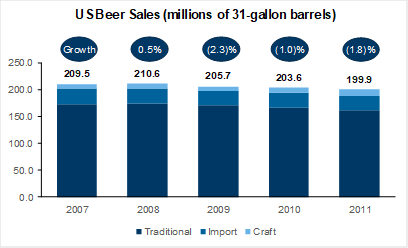 Source: Axia, data per Brewer's Almanac
As we are approaching peak growth levels and will eventually experience the next down cycle, I am de-risking my portfolio by adding non-cyclical names. Molson Coors' and the entire beer industry should weather a macroeconomic downturn well and therefore are a portfolio candidate worthy of consideration.
2) Free Cash Flow Generation
One of the most meaningful attractions to me as a value investor is TAP's leading free cash flow yield of ~10%. In fact, the Company has one of the highest free cash flow yields in the consumer staples universe, allowing it to more easily service its debt or distribute cash to investors either in the form of dividends or share repurchases.

Source: Jefferies
In fact, one of the reasons why I believe TAP will begin trading higher is due to the fact that management estimates it will get below 3.75x net leverage in mid-2019 which would ensure that TAP maintains its investment grade rating. Upon achieving that leverage level, it is management's intention to implement a dividend payout ratio of 20-25% of trailing EBITDA. In comparison to the $1.64 per share dividend payment Molson Coors has been paying since 2015, this would reflect an increase of 40-75% per management's guidance or a dividend yield of 3.2-3.8% at current share price levels. The combination of becoming a dividend growth story once again coupled with leverage becoming less of a concern is a powerful way for investors to turn more positive on the name.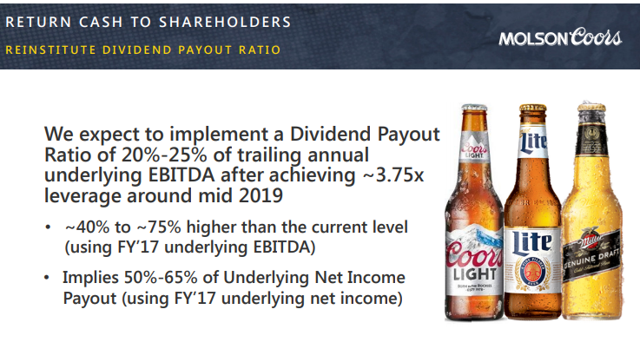 Source: TAP Investor Presentation at Barclays Consumer Conference
3) Improving Profitability & Becoming a Best-in-Class Operator
The reason for my investment is largely based on the following belief: There is immense upside in profitability for MillerCoors until it reaches levels comparable with those of best-in-class operators like Anheuser-Busch InBev.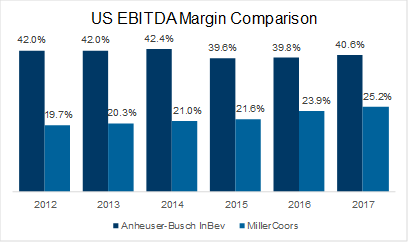 Source: Axia, based on public filings
As a private equity professional, I have been involved in many operational improvement and synergy realization stories. I have come to find that they are oftentimes very achievable and clear ways to create value, and based on the track record of the 2017-2019 cost savings program it seems that TAP's management is effective at identifying and realizing synergies/cost savings. The EBITDA margin expansion is proving them right in my eyes, and the fact that they continue to find more ways to drive efficiencies is reassuring.
On its most recent earnings call, management guided investors that in February 2019 in conjunction with the Q4 2018 earnings release, it will announce the next cost savings program for the period from 2020-2022 (link here). While there are some structural differences (size and related economies of scale, as well as footprint, being some of them) that will make BUD's margin profile most likely unattainable for TAP, it is not unreasonable to assume that a 30+% EBITDA margin profile can be achieved over time. As of now, the market continues to focus on the risks I outlined previously (top line, gross margin and leverage concerns), but I believe TAP's shareholders will be rewarded as management continues to deliver the way it has through the realization of synergies, improving EBITDA margins, and growing free cash flow.
Specifically, assuming (1) TAP manages to reduce leverage to 3.75x and commence the increased dividend program as intended, (2) EBITDA margins continue to improve, and (3) the 2020-2022 cost savings program outlined in February 2019 is compelling, there are several potent catalysts lining up in mid-2019 that can propel the market to take a step back from its bearish stance and embrace the free cash flow and margin improvement story that continues to unfold at TAP.
DCF Valuation
To further substantiate my thesis, I developed a DCF model for TAP including (1) an Upside Case, (2) a Base Case, and (3) a Downside Case. Getting to the punch line first: based on a probability-weighted return across all three cases, I believe that there is a 30+% upside in the stock at current levels.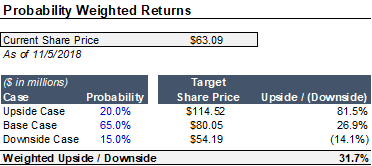 Source: Axia
The DCF model is a levered DCF, i.e. the goal is to identify the equity value (as opposed to enterprise value) by deducting interest expense from free cash flow. All three cases were subject to the same cost of equity (see table below) and assumed a terminal value of 13.0x P/E in the Base and Downside Case, in line with its current forward P/E, and 15.0x P/E in the Upside Case (part of my revaluation thesis to historical averages). The risk-free rate reflects the interest rate on 10-year treasury notes while the US risk premium is my own assumption but orients itself on a related research note from KPMG (link here).

Source: Axia
Case Discussion & Overview
All three cases were built using a bottom-up approach with volume and pricing assumptions for sales, COGS by region and MG&A by region. A summary table of the projections is provided below.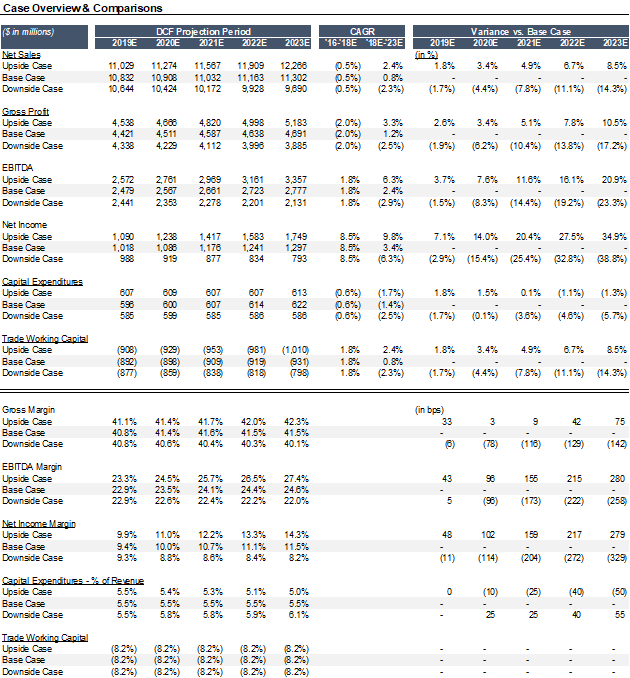 Source: Axia
Upside Case
The Upside Case illustrates what I believe would be a realistic yet somewhat optimal outcome for the Company over the coming years, with the most critical drivers being (1) a recovery in revenue growth driven by a successful repositioning of the product portfolio and (2) most importantly a continuation of TAP's margin improvement.
Revenue: Reversion to growth (+2.4% CAGR) largely driven by increased pricing at stable volumes largely as a reflection of management's "premiumization" of the product portfolio, driving enhanced pricing potential. To explain, management is fully aware of the volume challenges its core brands are facing and as such has been focusing to both revitalize and reposition its brands to drive volume sales. This would not only support increased sales but at premium pricing would also lift gross margins further. Note that this is a very gradual process, which is why I still view revenue upside potential to be limited at a sub-3% CAGR.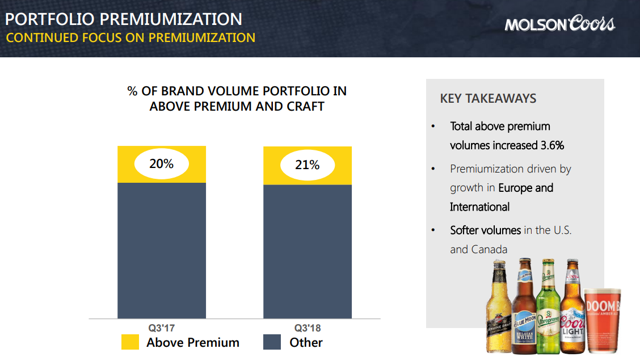 Source: TAP Investor Presentation
Gross Profit & Margin: Gross profit growth (+3.3% CAGR) driven by revenue and moderate gross margin expansion as a reflection of increased pricing while raw material price pressures remain containable.
EBITDA & Margin: Driven by revenue growth, gross margin expansion and continued reduction of MG&A on a percentage of revenue basis resulting in EBITDA expansion at +6.3% CAGR. EBITDA margins to reach 27.4% by 2023E, a ~450bps increase from 2018E levels, yet still below the 30% margin target I believe can be achievable for TAP in the long-run.
Capex: In line with management's guidance, gradual reduction on a percentage of revenue basis from 5.5% to 5.0% by 2023E.
WC: Steady on a percentage of revenue basis at -8.2%.
Tax rate: 22% (midpoint of 20-24% guidance per management)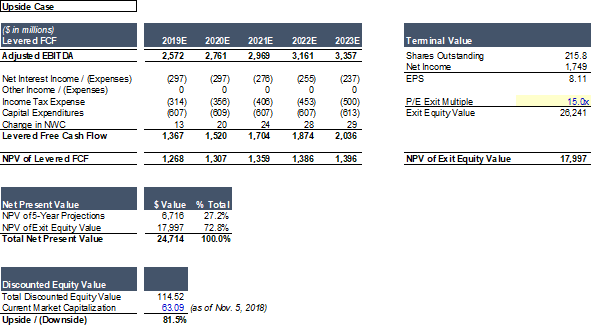 Source: Axia
Base Case
The Base Case reflects my view of the most likely outcome for TAP. It essentially represents a continuation of steady performance improvements at moderate rates.
Revenue: Flat top line with minimal gains (+0.8% CAGR) due to gradual price increases which could offset continued volume declines.
Gross Profit & Margin: Gross profit growth (+1.2% CAGR) driven by revenue and gross margin expansion of less than 100bps over the 5-year projection period as cost savings enabled some improvement but were partially offset by raw material and freight cost increases.
EBITDA & Margin: Result of revenue growth and gross margin expansion coupled with additional cost savings of ~150bps from 2018E through 2023E, resulting in +2.4% CAGR.
Capex: Steady at 5.5% of revenue
WC: Steady on a percentage of revenue basis at -8.2%.
Tax rate: 22% (midpoint of 20-24% guidance per management)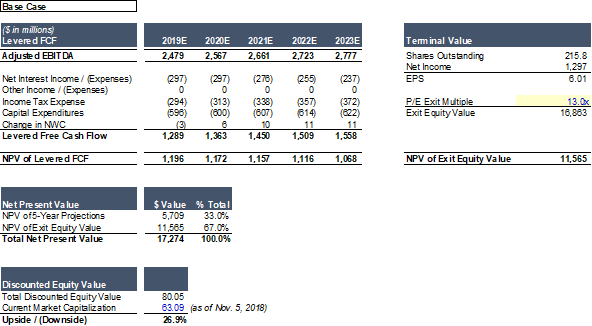 Source: Axia
Downside Case
The Downside Case is an attempt to quantify the outcome should the bear thesis become reality.
Revenue: Accelerated revenue declines (-2.3% CAGR) driven by steeper sales volume losses and no pricing improvements.
Gross Profit & Margin: Gross profit contracts (-2.5%) due to top line weakness and rising raw material costs which pressure margins.
EBITDA & Margin: Reflect revenue and gross margin contraction coupled with decreasing operating leverage to result in a -2.9% CAGR. Cost savings initiatives are ineffective with operating expenses rising on a percentage of revenue basis, causing EBITDA margins to decline ~100bps from 2018E levels.
Capex: Gradually increasing on a percentage of revenue basis to reach 6.1% in 2023 as efficiency and targeted reduction in capital intensity could not be achieved by management.
WC: Steady on a percentage of revenue basis at -8.2%.
Tax rate: 22% (midpoint of 20-24% guidance per management)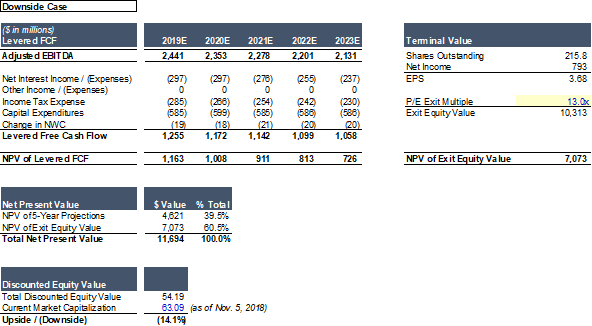 Source: Axia
Final Words
In conclusion, I believe TAP features a highly attractive risk/reward play with a believable investment thesis that management has already proven to be achievable over the last few years. While currently trading below its historical averages, there are numerous catalysts for a revaluation of TAP's stock over the next 12-18 months. And even in the event that further cost improvements do not materialize and a revaluation does not occur with current valuation levels becoming the new norm, TAP's recession-resistant business model and leading cash flow profile provide an inherent floor to the downside.
I look forward to hearing everyone's thoughts and comments. If you enjoy my company-specific research and analysis here on Seeking Alpha, please make sure to hit the "Follow" button for more upcoming articles. And for anyone interested in taking a closer look/playing around with the DCF model, please feel free to reach out.
Disclosure: I am/we are long TAP.
I wrote this article myself, and it expresses my own opinions. I am not receiving compensation for it (other than from Seeking Alpha). I have no business relationship with any company whose stock is mentioned in this article.