Crude oil can't seem to catch a bid at the moment. Trading at around $62 a barrel, the commodity has already lost up to $15 a barrel over the last 30 days alone. U.S. sanctions in Iran and record production in the US have been cited as the reasons for the free fall in the oil price over the last 30 days. As chartists, though, we believe that any fundamental or political reason that could possibly affect the price of crude oil is already reflected in the current price.
We have consistently stated that market analysts use political or fundamental reasons or binary events to justify the printing of the asset class' cycle bottoms and tops. Therefore we are not overly concerned with the reasons on why price may fall or rise temporarily within the crude oil market. What we look for are underlying trends from which we can potentially profit from. Short-term or intermediate trends temporarily can deviate from the underlying long-term trend. Here is what we see at the moment in crude from its long-term to short-term charts.
Below we have a long-term chart going back 20 years. As we can see from the chart, crude oil actually topped out in 2008 at well over $140 a barrel and has been trading in a downward channel or flag since then. The price of crude oil actually bottomed out well under $10 a barrel in 1998. Now this long-term pattern in our opinion could potentially be as mentioned a channel or flag pattern. A channel or flag pattern when price actually trends downward from the initial trend is usually a long-term bullish trend. Furthermore the flag usually takes place around the midpoint of the up move. This means if crude oil can break above the upper channel line, price should rally a similar percentage or price of the rally from 1998 to 2008. This would bring the price of crude oil well over $100 a barrel.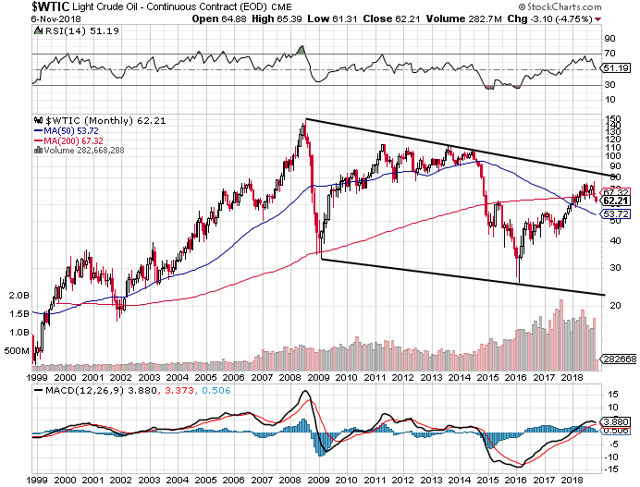 If we look at a weekly chart, which we have below, we can see that crude oil potentially printed an intermediate cycle low in early August. We believe this was the case for a number of reasons:
First, crude oil was in its timing band for an intermediate low as the lows in early August took place 27 weeks after the previous intermediate lows which took place in February.
Second, the August lows broke the intermediate trend-line which is requisite for an intermediate cycle low.
Third, once price broke those lows, crude oil formed a weekly swing low plus a penetration of the 10-week moving average.
The one caveat is whether crude oil is in the process of printing an extremely late intermediate cycle low which is potentially something similar to what U.S. equities underwent recently. If this is the case and crude oil is currently dropping into a stretched intermediate cycle low, then a potential attractive opportunity may be in the offing.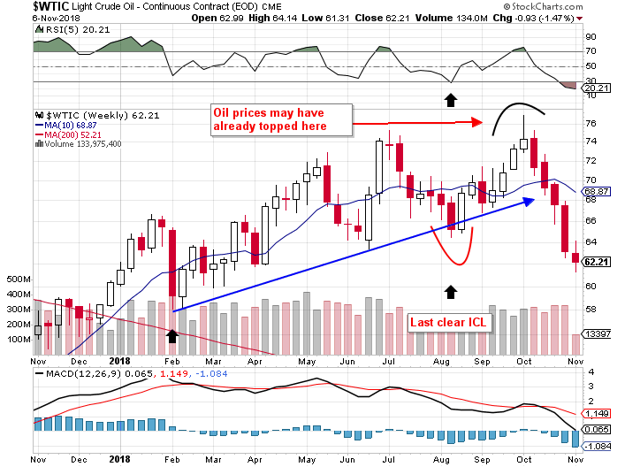 The daily chart looks ugly both from a price perspective but also a volume perspective. We are now almost three months into this present daily cycle which is well over crude oil's normal timing band for a daily cycle. As we can see from the volume numbers, many traders tried to time the daily cycle bottom but to no avail. One thing is for sure, we will get a bottom soon enough. Whether this bottom ends up being the start of a brand new intermediate cycle, it is still too soon to tell.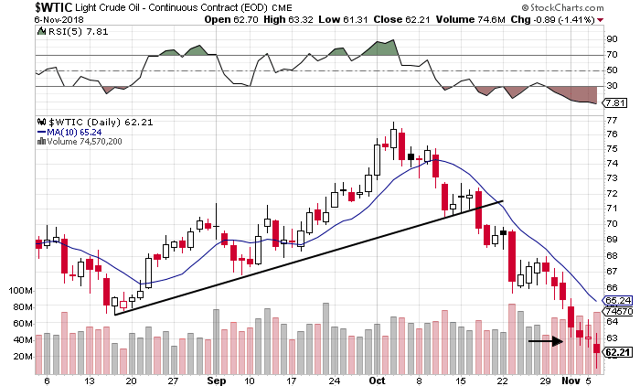 When in situations like this, usually it something like a key reversal day which signals the end of the trend. As stated, the volume numbers have been ugly over the past couple of weeks. Implied volatility in United States Oil (USO) has now gone well over 30% due to the steepness of the recent down-move. An options trade may be the better option to play crude oil once it bottoms. We will put it on shortly.
Come join us for a free trial.
Disclosure: I/we have no positions in any stocks mentioned, but may initiate a long position in USO over the next 72 hours. I wrote this article myself, and it expresses my own opinions. I am not receiving compensation for it (other than from Seeking Alpha). I have no business relationship with any company whose stock is mentioned in this article.