Overview
Apple (NASDAQ:AAPL) is said to be planning a grand entrance to the video streaming industry as early as March 2019, which has been on the cards for quite a while. Early indications of such a plan include striking a deal with Steven Spielberg's Amblin for "Amazing Stories" reboot and purchasing a string of content with virtually no dedicated platform to distribute them.
A timely analysis is required to ascertain whether Apple would be able to pull off a streaming venture successfully as investors are gradually casting doubts over Apple's growth story more recently, fueled by the decision to discontinue reporting iPhone sales figures.
The Opportunity
Streaming services are taking the world by storm and revenues are topping all-time highs on a consistent basis. Cut the cord movement is now spreading across the world and households are serious about letting go of cable-TV providers, which would have once been impossible to even think about.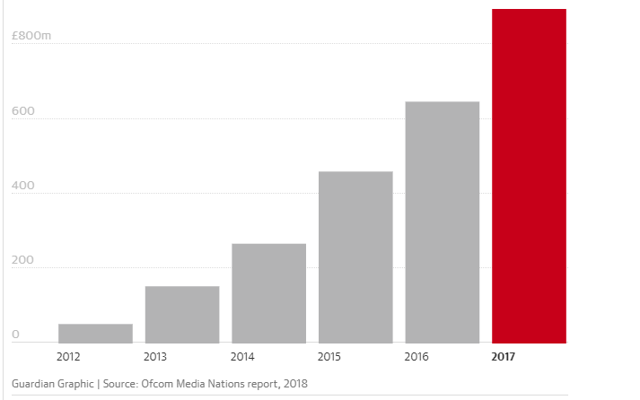 (Source - The Guardian)
The number of OTT-only households on the other hand are increasing as consumers are not only embracing online streaming services such as Netflix (NASDAQ:NFLX), Amazon (NASDAQ:AMZN) Prime, Hulu and YouTube TV but also ditching their existing cable-TV connections.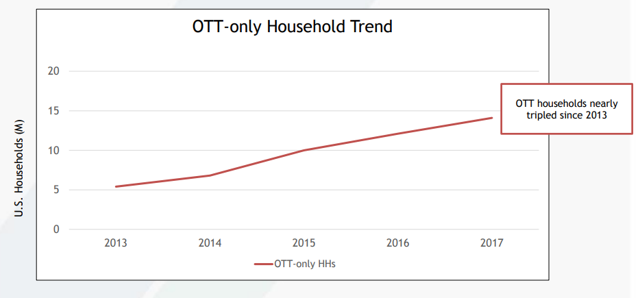 (Source - Video Advertising Bureau)
Global OTT revenue is forecast to reach $129 billion in 2023, which is more than two-fold the revenue reported in 2017 of $53 billion.
Factors driving the growth in OTT revenue include high-speed internet, unlimited data plans in emerging countries including India and the high penetration of mobile devices. Infrastructure developments surrounding internet-related services have been so stellar, even emerging countries can now afford to provide their consumers with high-speed internet access at an affordable cost and global bandwidth prices have been trending downwards.
On the other hand, consumers are geared towards embracing streaming services over traditional cable-TV subscriptions as online streaming services let consumers remain focused on a particular genre of shows and consumers are more than willing to pay for a subscription rather than to allow pay-TV service providers to indulge them in a sea of advertisements during prime times.
Personalization has also been a theme that is being exploited by OTT service providers. Days of crawling through hundreds of TV channels to find a likeable program has now come to an end as online streaming services provide a more personalized experience by recommending TV shows and movies based on set preferences and streaming history.
Times have certainly changed and adults are now spending the bulk of their time on digital products when it comes to entertainment purposes.
Time spent on digital media per day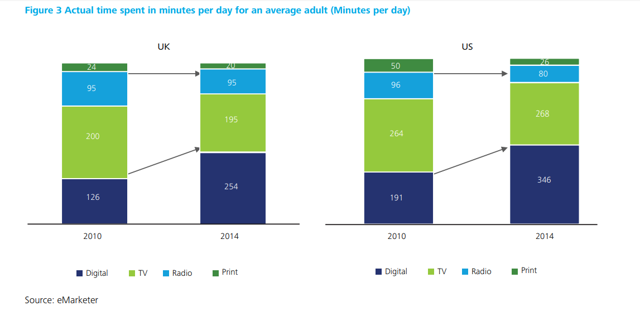 (Source - eMarketer)
This presents an opportunity for streaming services providers to capture a new breed of consumers who have not already signed up for their respective services. What's more, a paradigm shift in global advertisement spending is taking place and advertisement spending on digital platforms is forecast to represent 36% of global advertisement expenditure in 2020.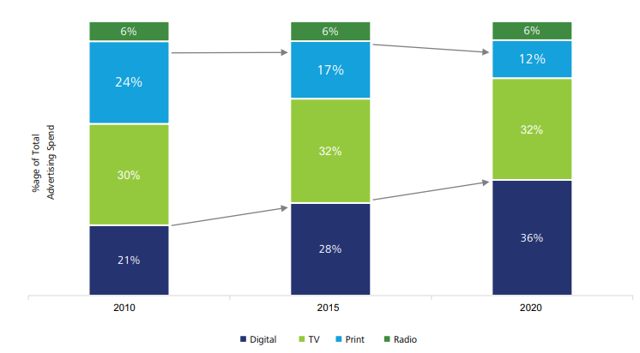 (Source - Deloitte)
All these data points are leading to a formidable conclusion - online streaming services are here to stay and slowly but surely, is becoming a household necessity.
How can Apple exploit this opportunity?
Cash position
Apple has a massive balance in the cash and short-term investments account of $237 billion, which is calling for an investment opportunity. The large cash balance could well be distributed to shareholders by way of dividends or share buybacks but better yet, Apple should identify investment opportunities with high ROIs to build shareholder wealth.
Apple – cash and short-term investment account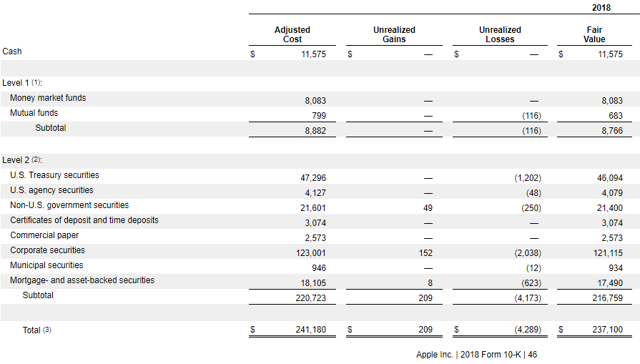 (Source - Form 10-K)
The streaming industry is showing signs of being capital intensive as major players are focusing on original content creation. Netflix, being the major player in the industry has pegged its content spending for 2018 at $8 billion. Netflix's closest competitor, Amazon, is planning to spend more than $5 billion on original content this year.
Even though barriers to entry into the streaming industry cannot be classified as extensive under Porter's Five Forces theory, to be competitive in the industry, a company should have access to a massive pile of cash as can be seen from the latest spending trends. Apple's balance sheet position fits this as Apple could afford to spend much more than what Netflix is spending currently on content creation. Apple would not be strangled for cash and will be in a position to inject cash as and when required to see through the initial phase of the streaming business.
Access to a massive user base
The success of the streaming business will depend on how Apple would be able to add subscribers to its streaming service. Apple already has access to millions of people on a global scale, which will be the required catalyst for Apple to compete with existing players. Customer acquisition and retention has been one thing that Apple has mastered to perfection, which will come in handy for their streaming business.
To gauge a measure of Apple's reach on a worldwide scale, I have provided below unit sales figures for different segments of Apple products in 2018.
| | |
| --- | --- |
| iPhone | 217,722,000 |
| iPad | 43,535,000 |
| Mac | 18,209,000 |
(Source - Author prepared based on data from Form 10-K)
iPhones have clocked in a massive unit sales figure of 217 million, which emphasizes the economic moat that Apple has built over the years. Apple could easily introduce a built-in app for their streaming platform from next year, possibly with a free trial to encourage iPhone users to try their streaming service.
Apple TV
While Apple TV is not the most popular device in the U.S. connected TV market, 21 million people were using Apple TV in 2017 and Apple would be able to leverage this user base to promote streaming services. The initial phase of the streaming business would be more about building a subscriber base than about raking in profits from the venture. Therefore, Apple might consider providing streaming services as a bundled up package without any additional cost to Apple TV users.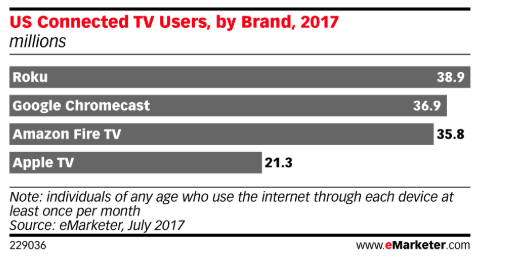 (Source - eMarketer)
Brand value
According to the most recent Forbes ranking, Apple is by far the most valuable brand in the world, which comes as a no-brainer considering how Apple has penetrated the global smartphone market. Apple has positioned itself to be considered more as a services company than a tech company, possibly because of plans in their pipeline.
Unlike a new entrant to the streaming industry who would have had to build a brand name for its services, Apple does not have to spend money nor time on doing this. Apple can focus on developing and distributing quality content and this would make life easier for Apple to capture a market share in the growing streaming industry.
Brand value can be directly associated with higher customer acquisitions and I believe Apple will use its brand value to the fullest effect by aggressively marketing their streaming services prior to and after the launch.
Challenges
Netflix's competitive advantage
Apple would be put to the test by Netflix once they enter the streaming space. Ted Sarandos, the Chief Content Officer of Netflix went on to say that Apple is not capable of posing a meaningful threat to Netflix. Netflix has an active subscriber base of 137 million spread all over the world, which is expected to grow as consumers adapt to the changes in industry dynamics. Netflix has already penetrated emerging countries including India and they are at the moment creating original content featuring Indian celebrities, which has helped them gain traction in the non-U.S. segment.
This poses the biggest challenge for Apple as they would be competing in grounds controlled by another service provider. For Netflix, it was about changing consumer habits and driving industry changes but for Apple, it would be about capturing market share from an already concentrated market.
A consolation for Apple is the fact that the market is still growing for OTT services and will probably keep on growing for a couple more years.
Apple for family concept
Apple follows a strict family-friendly policy, which is commendable in most cases. When it comes to the streaming industry though, Apple might find it difficult to gain viewership for content that is altogether exclusive of profanity, violence and nudity. Considering the likes of Game of Thrones which became a massive success, Apple might want to rethink their policies if they intend to compete with existing players for the number one position in the content streaming industry.
Conclusion
The content streaming industry is poised for growth, driven by technological advancements and content quality. This provides an opportunity for Apple to utilize its massive cash hoard and invest in a streaming service venture, which aligns with their notion of being identified as a services company. Moreover, a streaming service venture will benefit from Apple's mainline products and will complement such products as well. Despite the threats posed by existing players including Netflix and Amazon, Apple stands in a position from which they can advance due to their wide economic moat.
Disclosure: I am/we are long AAPL.
I wrote this article myself, and it expresses my own opinions. I am not receiving compensation for it (other than from Seeking Alpha). I have no business relationship with any company whose stock is mentioned in this article.