Rethink Technology business brief for November 7, 2018.
Apple (AAPL) reported better results than I expected for its fiscal 2018 Q4, with 20% y/y revenue growth and 32% y/y growth in net income. Yet this was not enough to arrest investor fears, as many in the tech media focused on what was deemed weak guidance for the December quarter. Apple also inflamed investor concerns by announcing that it would no longer report unit sales for any of its products. The era of unit sales growth for iPhone indeed seems to be coming to an end, but it will not be the end of growth for Apple.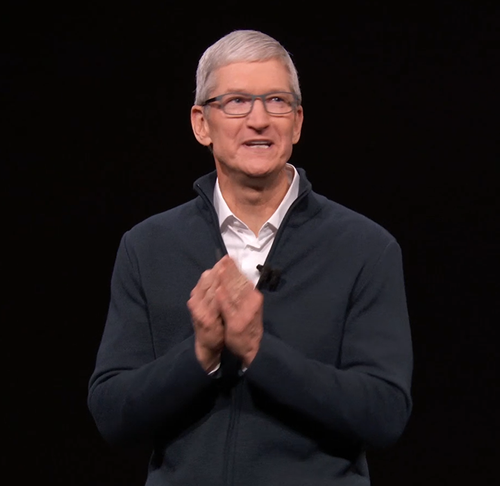 Pray that there's no analyst revolt: Tim Cook at the October special event. Source: Apple.
When 32% income growth is a "flop"
Apple's earnings came in a little above my expectations as Mac unit sales, Other Products, and Services all came in ahead of the forecasts I had shared with Rethink Technology members, as shown in the table below.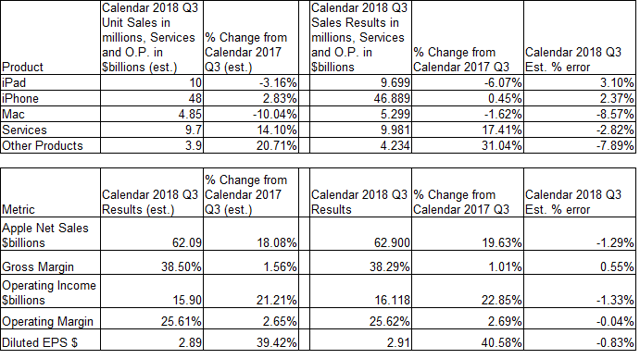 Despite these strong results, market reaction was negative the day after the earnings report, due in part to the lack of iPhone unit sales growth, as well as the decision, announced during the conference call, to cease reporting hardware unit sales. Bloomberg couldn't help but gloat in an article released on the day Apple reported, titled, "Apple Market Cap Falls Below $1 Trillion After Earnings Flop." The article never bothered to clarify why Apple's results constituted a flop, and it was a little premature in its market cap prediction. Apple's market cap closed above $1 trillion the following day on Friday November 2.
I'm starting to notice a pattern with Bloomberg. This pattern first emerged with the publication on October 3 of The Big Hack: How China Used a Tiny Chip to Infiltrate U.S. Companies. The accusation contained in the article has been forcefully repudiated by Apple CEO Tim Cook, as well as every other company Bloomberg alleged was affected. The article also has been less forcefully repudiated by most U.S. intelligence agencies and many computer security experts.
The biggest problem with the Bloomberg article was that the Big Hack would have created a truly massive amount of physical evidence that would have been traceable to the perpetrators, given reasonably competent forensics. Yet no one has produced a single logic board with the purported hardware hack, as Fortune's Robert Hackett pointed out:
A week later, I remain deeply troubled by this story — not because of its substance, but because of its lack of substantiation. It seems a little odd that no one has reported identifying a single one of these spy chips in the wild since Bloomberg's report appeared, no? Wouldn't it have been easy for companies using servers containing components from Supermicro, the company whose products were allegedly backdoored, to send an engineer into a data center, pry open a server, pluck out an offending implant, and reveal China's alleged subterfuge to the world? Instead, we hear cricket chirps.
But the article set the tone this earnings season, at least at Bloomberg, for coverage of any U.S. or foreign technology company that does substantial business in the People's Republic of China. This includes many Taiwanese companies that furnish contract manufacturing services to Apple, or which manufacture semiconductors for Apple, such as Taiwan Semiconductor Manufacturing Company (TSM).
I believe that the negative coverage of Apple's earnings report (and not just from Bloomberg) had much to do with the market reaction. I expect the impact of the media coverage to gradually wear off, although it probably won't completely dissipate until Apple reports its fiscal 2019 Q1 earnings.
Did Apple sandbag guidance?
Which brings us to Apple's guidance for the December quarter. Apple guided to revenue of $89-93 billion, with a gross margin of 38-38.5%. At the midpoint of the revenue range, that represents just 3% y/y growth.
The guidance, combined with the decision to cease reporting unit sales, implied that iPhone unit sales, and even iPhone revenue, might decline year-over-year. The guidance seemed a little incongruous given Cook's statement during the conference call:
We are headed into the holidays with our strongest product lineup ever, and we could not be more bullish about Apple's future.
I agree wholeheartedly with that assessment. Apple's three new iPhones, new iPad Pros, and new Macs, including the long awaited Mac Mini, represent strong additions to the Apple product lineup.
So what seems to be the problem? Analysts on the call wanted to know. CFO Luca Maestri offered the standard excuses: A tougher compare given that iPhone X launched in the December quarter, currency headwinds, uncertainty about the new products that were announced at the October 30 event, and macro economic effects in some emerging markets.
If the rationale for the guidance seems a little unsatisfying, I think that's understandable. Especially since Apple specifically did not cite a slowdown in China as a factor. Cook put the emerging markets concerns into perspective:
The emerging markets that we're seeing pressure in are markets like Turkey, India, Brazil, Russia. These are markets where currencies have weakened over the recent period. In some cases, that resulted in us raising prices and those markets are not growing the way we would like to see. . .

In relation to China specifically, I would not put China in that category. Our business in China was very strong last quarter. We grew 16%, which we're very happy with. iPhone in particular was very strong, a very strong double digit growth there. Our other products category was also stronger, in fact, a bit stronger than even the overall company number.
What exactly is going on? I wouldn't claim to know, but it does seem that Apple is being overly conservative and will almost certainly beat guidance.
Growth during the iOS plateau
With Apple offering such weak guidance and refusing henceforth to divulge unit sales, it's all to easy to declare Apple's growth at an end, but doing so ignores some obvious facts. The most important fact is that Apple already has been in an iOS device plateau for the past couple of fiscal years.
In fiscal 2017, total iOS device unit sales (iPad and iPhone) were 260 million. In fiscal 2018, they were 261 million, a change of 0.3%. Yet total iOS device revenue grew by 15.5% y/y to $185.5 billion. Apple already has proven that it knows how to grow iOS revenue despite stagnant unit sales.
It isn't just a matter of jacking up the price. With each new generation of devices, Apple adds capabilities that are unique to Apple but which increase the cost to Apple as well. These have included the TrueDepth sensor used for FaceID, as well as Apple's powerful custom designed processors. The A12X in the new iPad Pros is claimed by Apple to be more powerful than 90% of the processors in mobile PCs.
Apple will continue to innovate, and Apple will continue to add value to its devices. And Apple will continue to derive increasing revenue from them. Numerous opportunities for that innovation exist, including bringing Apple's A series processors to MacBooks.
Other Products and Services also continue to be growth engines. Other Products exceeded my expectations, as I had estimated that Apple would sell about 5.8 million Apple watches in the quarter. I've now upped that estimate to about 6.5 million.
Apple's Services growth is propelled by growth in subscription services, Apple Pay, and installed base growth. These were all highlighted by CEO Tim Cook during the conference call:
We set new Q4 records in all of our geographic segments and new all-time revenue records for the App Store, cloud services, AppleCare, Apple Music and Apple Pay. We also continued to see strong growth in paid subscriptions reaching over 330 million in our ecosystem.
The continuing strength in the App Store runs counter to the claims of some analysts that App Store revenue is declining, hurting Services growth. No such decline is in evidence.
Even as sales of all its major hardware products have plateaued, Apple is now emphasizing growth of the installed based as a more relevant metric. Tim Cook extolled the virtues of a growing installed base of devices:
When we look at our services business, we think about the fact that we have a very large and growing installed base. The installed base of all our major product categories is at an all-time high and has been growing over the last several quarters, so the opportunity for us to monetize our services business continues to grow over time...

Our installed base is growing at double digit and that's probably a much more significant metric for us from a ecosystem point of view and the customer loyalty, et cetera.
Apple can continue to grow its installed base (of devices and users) even in the face of the iOS plateau. Given the ready availability of the latest iOS system for most iOS devices in service, as well as the active market for used devices, even replacement purchases are unlikely to result in devices taken out of service. More likely, a replaced iOS device will be sold or given to another user. Thus, replacement sales also tend to be accretive to the installed base.
Investor takeaways
I'll admit I wasn't very happy about Apple's decision to cease reporting unit sales. Far from diverting attention away from iPhone unit sales, it will only serve to focus more media attention and speculation. Apple's unit sales have been an effective counterbalance to the often negative media speculation about Apple, and now that counter has been removed.
But the next device frontier is wearables, and I fully expect those to take up the slack. Apple's Other Products segment, which includes Air Pods and Watch, grew by 35% for fiscal 2018. Apple is reportedly working on a smartglasses platform which will open up a whole new market for wearable technology, as well as be the best platform for Apple's augmented reality software.
I've stated this before, but it bears repeating, that ultimately wearable tech will replace many, if not all of the functions of iPhone. As wearables become more useful and important, iPhone unit sales will start to decline. This is just the march of technology.
Bottom line is that Apple showed investors exactly how it's going to grow and did so in very impressive fashion in fiscal 2018. To ignore this is the ultimate in investor myopia. I remain long Apple and rate it as a buy.
This article contains excerpts of articles previously published for Rethink Technology subscribers. Consider joining Rethink Technology to receive first access to articles and ideas shared in our chat room.
Disclosure: I am/we are long AAPL, TSM.
I wrote this article myself, and it expresses my own opinions. I am not receiving compensation for it (other than from Seeking Alpha). I have no business relationship with any company whose stock is mentioned in this article.