It is more than one month ago since I wrote my last economic outlook article. Back then, I had two separate articles. One covering leading regional manufacturing surveys and one covering the ISM manufacturing index. Note that both indicators are leading and a good indicator of what we can expect in terms of real economic growth over the next few months. More information about leading indicators can be found in this article.
That said, in this article, I will give you an updated version of the US economy using both the ISM index as well as regional indicators and explain why we could see slower economic growth over the next few months.

Source: MarcoPolo
Growth Acceleration -> Peak -> Growth Slowing
I have to be completely honest. I was not planning on writing this article this early, but there is no way around it. My call of peaking economic growth has become reality and even slower growth might be around the corner.
The ISM manufacturing index hit 57.7 in October. This is 2.1 points lower compared to September of this year. Regional manufacturing surveys did predict this move lower. Growth is now back at H2 2017 levels after going sideways over the last few months. This does not mean that the US economy is in danger. These levels still indicate above average economic growth after bottoming at the start of 2016.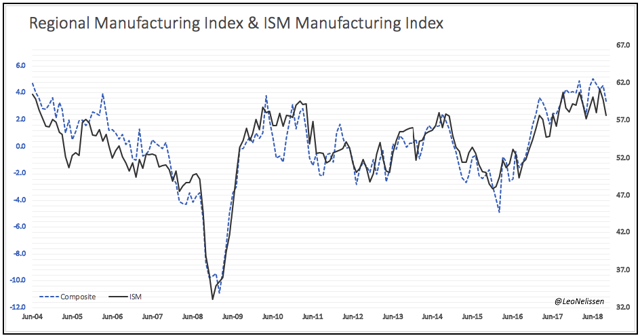 The problem is that we are in a very mature stage of the current business cycle as you can see below. One does not need to be bearish in order to spot a simple business trend. It is actually quite remarkable how long we have been at current levels. Thanks to a few solid peaks close to 60 (ISM index) over the past few months. It is also important to mention once again that I am not calling for a full blown recession. I did include 2008 because the ISM index started slowing way before stocks actually sold-off. Back then it was largely due to the 'crazy' housing market and general stock market sentiment. The current slowing cycle could look like the one in 2011 or 2014. Both did lead to weakness but none of then caused serious damage to employment and other 'hard' economic indicators.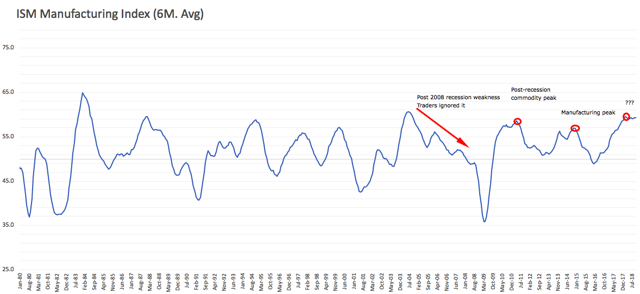 Source: Author's Spreadsheets (Raw Data: ISM)
The same goes for new orders. New orders declined to 57.4 from 61.8 in September. This is a hard fall and has led to the lowest new orders level since Q4 of 2016. It could easily bounce back, but I do not think there is any denying that the trend is turning.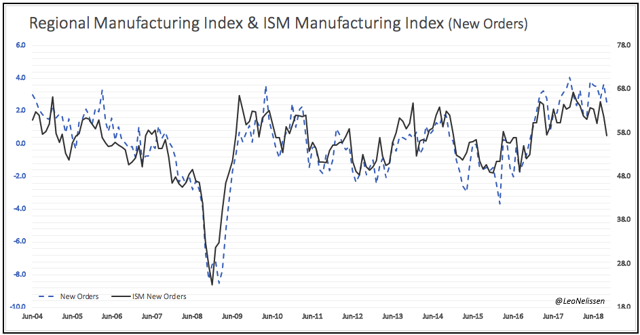 Another graph that I found to be very interesting is the one below. The graph shows two lines. The blue line represents the ISM manufacturing index while the red line displays the total number of industries that reported growth in a certain month. Note that there are 18 manufacturing industries. It is quite common that 17 industries are growing in months when ISM values are close to 60. I think the current decline is a perfect example of the growth peak. Once again, this number can fluctuate, but I would not be surprised if the number of growing industries were to drop even more over the next 1-3 months (and maybe beyond).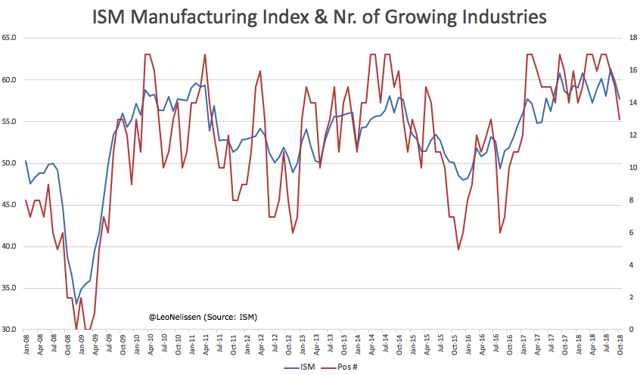 And last but not least, traders have started to go overweight defensives. The graph below compares the ISM index to the ratio spread between basic materials (XLB) and utilities (XLU). The trend is clearly down. And while I do not believe that this indicates a 10 point ISM decline, I think it is a good representation of the current situation. Note that this also works for other cyclical/defensive combinations. I am not cherry picking.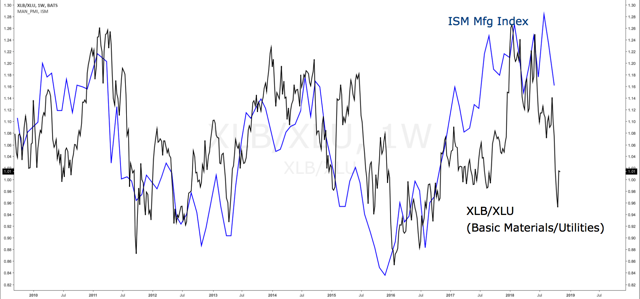 And it's not just happening in the US. Leading manufacturing indicators in China and the Euro Area are slowing as well. Euro Area expectations are at their lowest levels since the summer of 2016.
Takeaway
The US economy has done tremendously well since the start of 2016 when global growth started to bottom. Then, one month before the election of President Trump, we got an additional sentiment boost. At this point, however, it seems like we are about to decline again. Economic expectations have gone nowhere over the past few months and are starting to show serious cracks.
That said, I expect a further ISM decline over the next few months as we are clearly in a downwards cycle. However, I cannot emphasize enough that I am not calling for a recession nor am I currently panic selling. Even though I did sell some industrials because I expect defensive to outperform, I am still overweight energy. I am also net long since I have not yet shorted a stock and I am not yet planning to start shorting anytime soon.
The most important takeaway is that economic growth is about to decline. I think most traders/investors might not be aware of this given that most 'hard' economic indicators like official GDP growth are still strong due to the recent ISM strength. This might change over the next few months.
I'll keep you updated!
Thank you for reading my article. Please let me know what you think of my thesis. Your input is highly appreciated!
Disclaimer: This article serves the sole purpose of adding value to the research process. Always take care of your own risk management and asset allocation.
Disclosure: I/we have no positions in any stocks mentioned, and no plans to initiate any positions within the next 72 hours.
I wrote this article myself, and it expresses my own opinions. I am not receiving compensation for it (other than from Seeking Alpha). I have no business relationship with any company whose stock is mentioned in this article.