Tilray (TLRY) reports earnings after the bell on Tuesday, November 13th. The company missed earnings last quarter but beat on revenue. There is some expectation that earnings will disappoint again. Despite the previous miss on earnings, Tilray's stock proceeded to climb and would eventually surge some 700% above its IPO price level. From that surge, many, including myself, have called the stock overvalued. However, despite all the chatter, the stock remains lofted. Given that backdrop, and going into next week's earnings with potentially high uncertainty, what is the best way to take advantage of a stock move with a stock valuation that stubbornly defies logic?
Here is a look at the most recent stock activity on Tilray:

I have shorted Tilray twice at $160.00; both times using options. Both trades have worked out. I believe the stock should be much lower. But, there is not enough selling interest to push the stock to levels that make sense based upon the company's fundamentals. With the earnings report due next week, this may be the necessary catalyst to get traders to exit trades.
But, the stock has been stubborn. Despite any misses, the company's stock could still go right back upward.
Tilray's story
Tilray is a medical marijuana company. They produce a small variety of products that are either CBD dominated, THC dominated or balanced. Tilray is also involved in the adult-use realm of cannabis and has received regulatory authority to produce and sell their cannabis in several provinces in Canada.
The company has licensed out a portion of its production capacity to a second party. The production facility, based upon their press release, brings their production to 51,000 kilograms per year of dried flower.
Unfortunately, the company does not break out how much product will be needed for their medical marijuana versus how much the company will sell for adult-use. However, to put the company's production possibility into context, Canopy Growth (OTC:CGC) will be able to produce some 500,000 by next year's end; Aurora Cannabis (ACB) will be able to produce 430,000 kilograms and Aphria (OTC:APHA) will be able to produce 320,000 kilograms annually. Tilray has production capabilities, but compared to its peers, they are small.
What is interesting to note among the three companies I have used as a reference above, is each company's respective market capitalization. They are, respectively, $8.97 billion, $8.94 billion and $2.9 billion. At the same time, Tilray's market capitalization is $10 billion.
When you look at the amount of capacity that each company can produce and the respective market capitalizations, you begin to see a story that does not make sense. How can Tilray, with a capacity of 51,000 kilograms annually, have a market capitalization of $10 billion when Canopy Growth, with a market capitalization of nearly $9 billion, has production capacity of 500,000 kilograms?
If Tilray were to sell their flower at the current market value, they would get $5.19 per gram, or based upon their capacity of 51k, $265 million annually. If the company were to earn a respectable 15% profit margin and then a respectable 20-times earnings from the revenue, the valuation of the company would be all of $795 million. As stated above, the company has a market capitalization of $10 billion. Given Tilray has 76 million shares outstanding and its potential revenue of $795 million, that equates to ~$10.00 per share. Instead, the stock is trading at $100.00 per share. That is quite a discrepancy.
Blame it on the float
The culprit for the disparity may be Tilray's float. I have heard this before and when you break down the numbers, it bears noting. Tilray has a float of only 10 million shares. This is quite low by comparison. Canopy Growth has a float of 179 million shares; Tilray is only 5.5% of that number. This is something that has been pegged as the key difference between Tilray and other cannabis companies.
The volume disparity is low as well, with Tilray hitting an average of 2.11 million versus Canopy's 23.58 million shares traded (10-day Avg. Vol, cubed). Simply, by comparison, there is not enough trading to push the stock down to a level that is more in line with fundamentals.
Then there is the short interest factor to consider. As the CNBC sourced video above states, Tilray is a difficult stock to short simply because individuals who own the stock do not readily lend out the stock to be shorted. According to NASDAQ, short interest on Tilray's stock was about 3 million shares through October 15. But, those individuals had 1 day to cover their shorts. So, if someone was short the stock at one price, they needed to exit the trade by the end of the day. This could have potentially reversed any pressure lower on the stock, nullifying the trade.
Could earnings dislodge the longs?
On August 28th, Tilray released its previous earnings. The company missed on earnings but beat on revenue. Earnings were -$0.17 per share, a miss of $0.08 per share. However, revenue was a solid $9.74M (+95.2% Y/Y), beating the estimate by $0.73M.
The stock proceeded to climb thereafter, as shown in this 2-hour chart from that time period: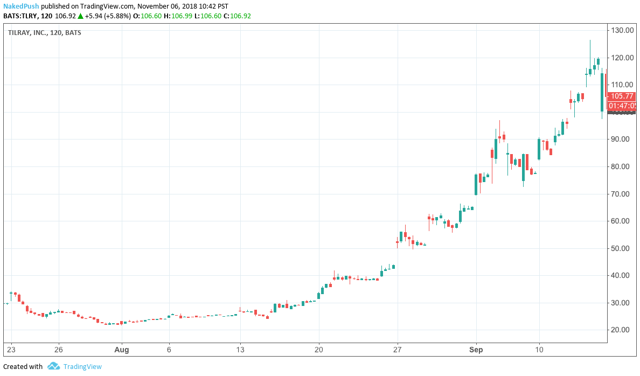 The stock would eventually surge to $300.00 a share, but has since come back down to $100.00 per share (as shown above).
The move on the 28th of August is what I want to focus on. The stock was trading at $50.00 per share at the close, prior to the earnings release. The stock then opened up the next day and in just two days shot upwards to over $90.00.
I have not spoken kindly of pot stocks that have skewed valuations. I am a value investor and I am realistic in my expectations for a return. Some of the pot stocks have been unrealistic and I have shorted them quite profitably; Tilray being one of them.
I believe that it is going to take some time before the pot stocks settle down into consistent earnings. Until that happens, there may be price movements that do not make a great deal of sense. Tilray's current valuation is a case in point. The company can only generate $265 million in revenue, but their valuation is currently $10 billion. Eventually, cannabis stocks will see their valuations line up more with fundamentals. Until then, there is likely to be volatile swings in stocks, such as Tilray's has done over the past few months.
However, just because I think a stock should be lower does not necessarily mean it will go lower. I was short earlier on Tilray from $160.00 and exited the stock at $100.00. As mentioned above, I believe the stock should be around $10.00 per share. But, the stock defies that logic. Going in to next week's earnings release, a trader needs to be rational.
If the stock were out of line with fundamentals, then theoretically, it would get to the price level where it was in line with fundamentals. But, in Tilray's case, the stock has been stubbornly lofty. Next week's earnings release may be a catalyst to get individuals to sell their stock if the earnings disappoint. However, if the company performs well in some area, then just as the stock moved higher before, it may very well do so again.
How to trade the earnings release
Going short remains a tough disposition with Tilray. The fact that the stock is difficult to borrow to short, and the fact that you need to cover the short position by day's end might make taking a short position a futile attempt. What you sell early in the morning you are required to buy back in the afternoon, potentially undoing any pressure you may have applied.
A trader cannot go into Tuesday evening's earnings release because you would need to have your position covered by close. Then there is the fact that perhaps the company could surprise the market with increased earnings; they did before. If that were to happen, the stock could head up higher once again.
In order to trade this move going in to the earnings release, you can buy both puts and calls at the money. CBOE puts and calls at-the-money with a November 16 strike date are trading at $5.00 a piece. If you bought both puts and calls, your expectation would be that the market moves greater than the value of both premiums you paid for the options. In this particular case, you would be paying $10.00 for both the puts and calls. Recall that Tilray's stock moved from $50.00 to $90.00 in 2 days, nearly 80%. Now, the same price movement in the stock would only be a 40% movement given Tilray's current stock price.
I believe the stock will move. But, I do not believe it will necessarily move rationally based upon fundamentals. Tilray's stock has already demonstrated that. Given the potential for the stock to move in either direction with either good news or disappointing news, the more rational way to trade is to assume that the stock will continue to defy logic. Given that, with going long both puts and calls, all you need is for the stock to move. Let the market sort out its irrational exuberance in due time.
Disclosure: I/we have no positions in any stocks mentioned, but may initiate a long position in TLRY over the next 72 hours.
I wrote this article myself, and it expresses my own opinions. I am not receiving compensation for it (other than from Seeking Alpha). I have no business relationship with any company whose stock is mentioned in this article.