IPG Photonics (IPGP) is the inventor and the world's leading producer of high-power fiber lasers, which enable greater precision, higher-speed processing, more flexible production methods and enhanced productivity within various industries.

The company recently announced some very ugly numbers for the third quarter of 2018. During the recent quarter, IPG generated revenues of $356 million, down 9 percent compared to the same quarter last year. On the bottom line, earnings amounted to $1.84 per share, down 13 percent year over year. Margins have also taken a beating. Operating margins during the past quarter tumbled to 34.8 percent from 40.8 percent in third quarter of 2017.
Things look much better if you take all of 2018 in perspective. In the past nine months since 2018, IPG generated revenues of $1.13 billion, up 8 percent compared to the same period last year, and earnings stood at $5.97 per share - up 11 percent year over year. Following the earnings announcement, shares of IPG Photonics have been under pressure, plunging 6 percent in a single day. All in all, Shares have lost a staggering 34 percent since the start of the year.
What The Market Is Worried About
Investors are currently focused on two things. The first concern is the macroeconomic headwinds and geopolitical factors that reduced demand in China and Europe. Specifically, the escalation in the trade war between the U.S and China has caused many investors to lose sleep over IPG Photonics.
The second concern of investors is that the company might be losing market share to rivals, specifically to Chinese laser equipment manufacturers. If that is the case, then IPG Photonics might be bleeding cash for years to come.
What The Market Is Missing
I believe the concerns are way overblown. As to the first concern - yes, macro challenges are very real. Indeed, the numbers point to a significant decrease in demand as a result of the "wait and see" approach that clients have adopted due the ongoing trade war. Yet, this is far from being a game changer for IPG Photonics.
You see, the different tailored segments show a different story. The segments that suffered the most were Other high power and Other laser sources with declines of 40 percent and 30 percent, respectively. These segments are related to customers in 3D printing, metal welding and cutting applications. This segment is indeed affected by the trade war and is normally associated with lower margin clients.
But the innovative part of IPG Photonics is growing like weed. For example, Ultra high power and New products have jumped by 10 percent each. System and accessories have recorded a 15 percent increase in sales. This is the area of real strength and expertise of IPG Photonics, and that's where I believe the greater focus should be placed.
The second concern of investors is whether IPG Photonics was losing market share to rivals since the company's order book has slowed. I strongly believe that this concern is highly unjustified. Yes, order book intake has slowed in the past few months. But when you comb through the company's order book, you'll find that the decline in orders is mainly attributed to orders with a specific time frame, whereas orders without a specific time frame have actually increased.
I have no doubt that this "wait and see" approach by clients is a direct result of the ongoing trade war between the U.S and China. Customers definitely want, and need, the company's products, but they're simply hesitant to make a time specific commitment. In fact, management has witnessed early indication from customers, hinting towards an improved order book heading into the first quarter of 2019.
In fact, IPG Photonics has taken advantage of the challenging business environment in order to strengthen its business moat. On November 5th, the company announced the purchase of Genesis Systems, a robotic welding company, for about $115 million. This is an excellent example of how IPG Photonics grows its business and defends its business moat against its rivals.
Financial Metrics Are Clear Cut
It's really hard not to like the company's financial metrics. IPG Photonics sits on a cash pile in the amount of $1.1 billion, with as little as $46 million in debt. It has demonstrated an average annual revenue growth of 15 percent since 2012, and earnings growth of above 20 percent during the same time period. In addition, IPGP Photonics is the leader of its field, with exceptional margins, way above the industry's average.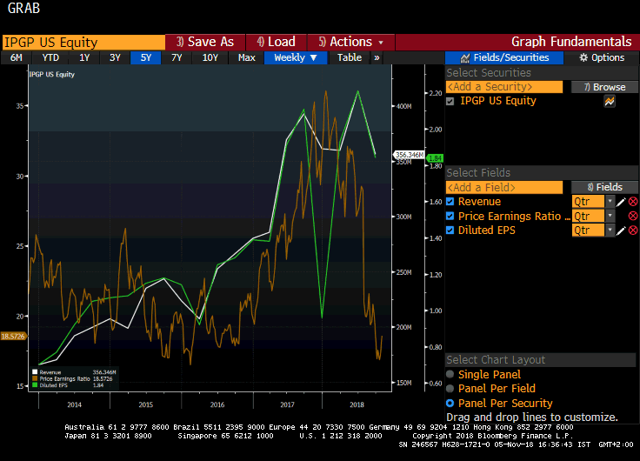 And the best of all is that you don't have to pay top dollar to hold shares of this remarkable business as it trades for 18 times next year's earnings. That's a remarkable cheap valuation for a well proven growth stock in the evolutionary laser industry. Note how revenues (white line) and earnings per share (green line) have been steadily increasing over the years. You can easily compare that against the plunge in valuation (brown line) witnessed recently.
My Bottom Line
IPG Photonics is a structural winner in the cutting edge industry of lasers. Trade war has taken its toll and decimated the shares. I believe this creates a wonderful entry point to a double digit grower for long term shareholders.
Author's note: If you enjoyed this article and would like to read more from me, you can hit the "Follow" button to get informed about new articles. I am always glad to see new followers!
Disclosure: I am/we are long IPGP.
I wrote this article myself, and it expresses my own opinions. I am not receiving compensation for it (other than from Seeking Alpha). I have no business relationship with any company whose stock is mentioned in this article.