The adjusted 180-day lockup period for Carbon Black Inc. (CBLK) ends on November 12, 2018. This date marks the point when the company's pre-IPO shareholders can sell large blocks of currently restricted shares in the secondary market for the first time. More than 57 million shares of CBLK are subject to lockup restrictions.

(Source: S-1/A)
With just 8 million shares of CBLK trading pursuant to the IPO, this large number of restricted shares could flood the market when the lockup expires and cause a sharp, short-term downturn in share price.
This group of pre-IPO shareholders and company insiders includes five venture capital firms and five individuals (with ownership of >1%).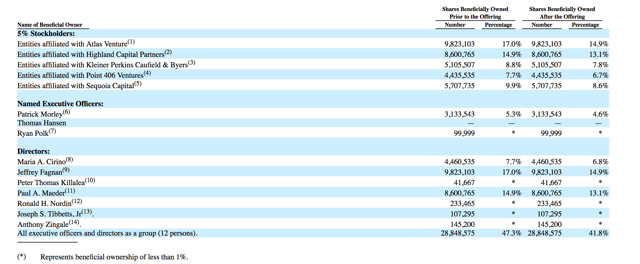 Trading in Carbon Black has been relatively volatile during this six-month period, and shares have a return from IPO of -14.1%. The stock was priced at $19 and closed on the first day of trading at $23.94. The price was relatively steady until it spiked in mid-June. Shares rose quickly to reach a high of $34.10 on June 15. Since then, the share price has declined to around $16.50.
Note
While the 180-day IPO lockup expiration for CBLK was scheduled for October 31, 2018, this date is usually delayed when the company reports earnings within close proximity to the IPO lockup expiration. CBLK reported Q3 results on October 25th.
In our seven-year study of IPO lockup expirations, we have found this period of delay to be 17 calendar days from the date of earnings, making the adjusted lockup expiration for CBLK 11/12/18.
Business Overview: Provider of Cloud-Based Security Solutions
Carbon Black provides cloud-based security solutions through its platform that captures and analyzes endpoint data. Their products and services allow clients to predict, identify, detect, prevent, and respond to cyber attacks before damage occurs. The company's solutions are used to prevent malware and cyber attacks, replace or enhance legacy antivirus software, protect against ransomware, identify threats, remediate security incidents, lock down mission-critical systems, secure applications and workloads in cloud environments, and comply with regulations.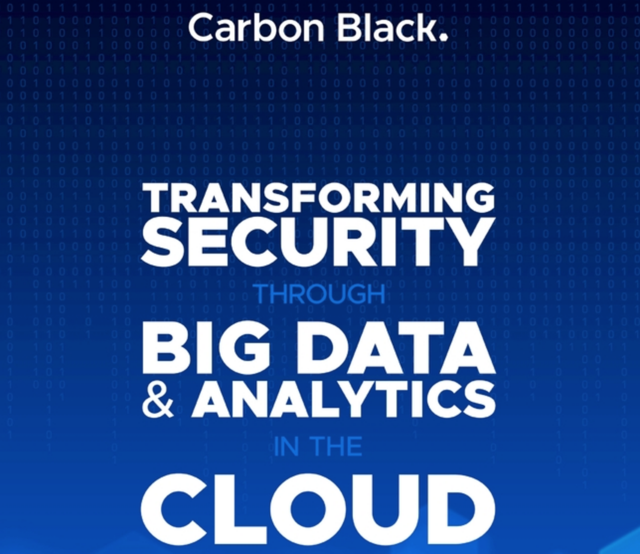 (Source: S-1/A)
Carbon Black has over 4,600 clients worldwide across a wide array of industries. These include 33 of the Fortune 100 group. Its clients include IBM (IBM), Splunk (SPLK), and VMware (VMW). The company sells its solutions with an in-house sales team as well as a through a network of value-added resellers, managed security service providers, distributors, and incident response (IR) companies. Carbon Black has several channel partners, including Arrow Electronics (ARW), SecureWorks (SCWX), CDW Corporation (CDW), Kroll, IBM, and Sirius (SIRI), Softchoice, Guidepoint Security, and VMWare.
The company was incorporated in 2002 at Bit 9 Inc. In 2014, Bit 9 acquired Carbon Black, and changed its name to Carbon Black in 2016. They have approximately 930 employees and keep their headquarters in Waltham, Massachusetts.
Financial Highlights
Carbon Black reported the following highlights for the end of the second quarter for fiscal 2018 ended June 30, 2018:
Revenue was $51 million for an increase of 32% over last year.
Gross profit was $39.9 million for an increase of 78.2% over last year. Non-GAAP gross profit reached $40.4 million for an increase of 79.3%.
Loss from operations was $(19.2) million versus $(12.4) million during the same period last year.
Net loss was $(25.3) million for the second quarter.
As of June 30, 2018, the company had $178.5 million in cash and cash equivalents.
Financial highlights - sourced from company website.
Management Team
CEO, President, and Director Patrick Morley has served at Carbon Black since 2007. He previously held the position of COO at Corel Corporation. He has also held executive positions at Imprivata, Macromedia, Allaire, SQA Inc., IBM, and Rational Software Corp. Mr. Morley holds a B.A. in Mathematics and Computer Science from Providence College.
COO and EVP Thomas Hansen has been with Carbon Black since July 2017. His previous experience comes from executive positions at Dropbox and Microsoft. He holds a master's degree and bachelor's degree in economics and business administration from Copenhagen Business School in Denmark.
Management biographical information - sourced from company website.
Competition: McAfee, Symantec, Cisco, and Others
Carbon Black faces significant competition from an array of endpoint security providers. These include CrowdStrike, Tanium, Cylance, FireEye (FEYE), Palo Alto Networks (PANW), Cisco Systems (CSCO), Symantec (SYMC), and McAfee.
Early Market Performance
The underwriters for Carbon Black priced its IPO at $19 per share. The original expected price range was $15 to $17, but the underwriters increased that range to $17 to $19. CBLK had a first-day return of 26%. Shares of CBLK have a return from IPO of -14.1%.
Conclusion
When Carbon Black's adjusted 180-day IPO lockup period expires on November 12, more than 57 million shares of currently-restricted stock will be eligible for trading for the first time. Significant sales of this stock by pre-IPO shareholders and company insiders could flood the secondary market and cause a sharp, short-term downturn in share price. Aggressive, risk-tolerant investors should consider shorting shares ahead of the November 12th lockup expiration. Interested investors should consider covering short positions either late in the trading day on November 12th or during the trading day on November 13th.
Disclosure: I am/we are short CBLK.
I wrote this article myself, and it expresses my own opinions. I am not receiving compensation for it (other than from Seeking Alpha). I have no business relationship with any company whose stock is mentioned in this article.