Quick Take
Uniti Group (UNIT) announced it has acquired Information Transport Solutions for $54 million.
Information Transport Solutions operates as a managed IT communications services provider.
UNIT acquired ITS as an opportunistic play to add its education-focused managed telecom services business.
Target Company
Wetumpka, Alabama-based Information Transport Solutions was founded in 1998 to provide organizations with voice, video, and data integrating technology solutions and services.
Management is headed by CEO Steve Meany, who has been with the firm since 2013 and has previously served various positions at Cisco (CSCO).
ITS' primary offerings include:
Infrastructure Solutions
Managed Hosting
Managed NOC
Managed Telecommunications & Internet
Market & Competition
According to a market research report by Markets and Markets, the global managed IT services market is projected to grow from $180.5 billion in 2018 to $282.0 billion by 2023. This represents a very strong CAGR of 9.3% from a high baseline between 2018 and 2023.
The main drivers for this expected growth are the increasing dependence of organizations on IT assets to boost their business productivity and the need for specialized managed service providers who can offer cloud-based managed services.
Major competitive vendors that provide managed IT services include:
Acquisition Terms and Rationale
Uniti disclosed the acquisition price as $54.0 million in an all-cash deal. Management didn't file an 8-K but did disclose a change in financial guidance as a result of the transaction.
A review of the firm's most recent 10-Q filing indicates that as of September 30, 2018, it had $118.5 million in cash and equivalents and total liabilities of $5.9 billion, of which debt accounted for $4.7 billion.
Adjusted funds from operations [AFFO] for 2018 is now expected to be $2.49 vs. previous $2.52 at the mid-year point.
UNIT acquired ITS for its predominant focus on providing managed services to educational institutions, many of which are already on the UNIT fiber network.
As CEO Kenneth Gunderman stated on the earnings call,
ITS will accelerate Uniti Fiber's product offerings and strengthen our relationship with new and existing E-Rate customers.
In the past 12 months, UNIT's stock price has risen 24.7% vs. the S&P 500 Index 3.6%, as the chart below indicates: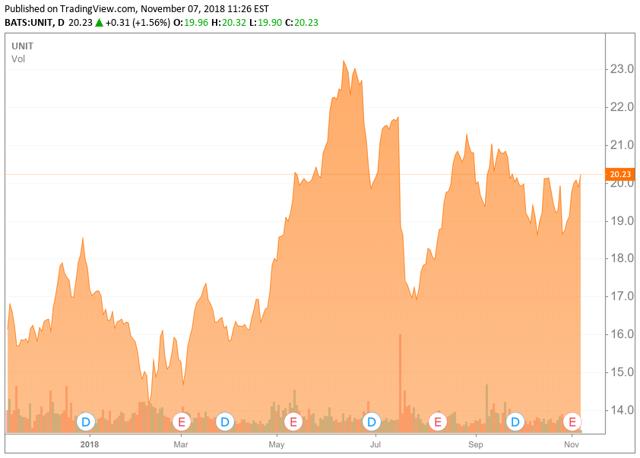 (Source: Seeking Alpha)
The deal for ITS will add $8.3 million to core revenue and $1.5 million of EBITDA (adjusted) for UNIT's 4th quarter results. Full-year proforma expectations are $42 million revenue addition and $7 million adjusted EBITDA.
So, ITS was acquired for 7.7x expected 2018 EBITDA (adjusted). More than 30% of ITS' revenue is already on the Uniti Fiber network and has the firm has experienced very low churn for its E-Rate business.
With the acquisition, UNIT also continued to increase its revenue diversification, from 67% to 64%.
However, the ongoing uncertainty surrounding major customer Windstream (WIN) and bondholder Aurelius' litigation continues; even Uniti CEO Gunderman admits as much, stating, 'the overhang from the Windstream litigation has caused us to be more conservative with opportunities this year.'
If the firm can get past that overhang, as it expects, then 2019 may present a clearer field for UNIT to continue its larger deal ambitions.
While the acquisition of ITS won't move the stock in the near term, it is an example of management's opportunistic fill-in approach to adding accretive deals and bolstering its on-net capabilities during an uncertain period.
Thank you for reading. I write about IPOs and M&A deals, though I focus most of my time on IPOs. If you're interested in investing smarter in IPOs, you should check out IPO Edge.
Disclosure: I/we have no positions in any stocks mentioned, and no plans to initiate any positions within the next 72 hours.
I wrote this article myself, and it expresses my own opinions. I am not receiving compensation for it (other than from Seeking Alpha). I have no business relationship with any company whose stock is mentioned in this article.