Cintas (CTAS) is the market leader in uniform rental and facility services. The company also has a smaller First Aid and Safety division, which accounts for a little under 20% of revenue, but, for this article, we'll focus on the main uniform services business. While Cintas is a great business in an attractive industry, the stock looks somewhat expensive relative to its growth outlook. Additionally, the company is heavily tied to the performance of the economy and jobs market and thus is very cyclical.
The Uniform Services Business
The uniform and facilities services business is attractive because it can lend itself to economies of scale (very similar to waste management companies, which we wrote about earlier). The more customers the company has in a geographic area, the more it can leverage its rental branches and processing facilities and delivery routes. So, although the products and services the company provides might be mostly commoditized, it can use economies of scale to drive out competitors.
The attractiveness of the business shows up in the company's ROIC and ROA which are both above average. Five-year ROIC averaged about 16% compared to 12.6% for the S&P 500 as a whole. ROA averaged 11.4% over the past five years compared to the indexes average of 7.3%.
In 2016, Cintas was estimated to control about 25% of the then $16B uniform market. In 2018, the company bought out rival G&K Services. In 2016, G&K Services revenue was approximately 20% of that of Cintas so, we can infer the company probably controlled around 5% of the market. That means that today Cintas's market share is likely 30% or more. That means that Cintas can leverage its 485 facilities (shown below) to compete against smaller competitors.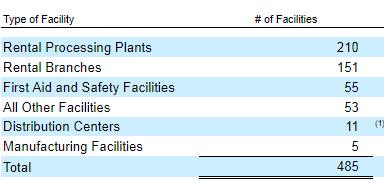 In addition to Cintas, the uniform market has two other large competitors. UniFirst (UNF) and Aramark (ARMK). However, both companies' uniform businesses are only about 30% of the size of Cintas (so perhaps a little less than 10% market share for each). The rest of the market is fragmented according to Cintas. From their 10-K:
The primary markets served by all Cintas businesses are local in nature and highly fragmented. Cintas competes with national, regional and local providers, and the level of competition varies at each of Cintas' local operations. Product, design, price, quality, service and convenience to the customer are the competitive elements in each of our businesses.
Cintas's economies of scale should let it continue to grow market share at the expense of the smaller localized competitors. Indeed, the market is well on its way to becoming an oligopoly with the top three companies controlling almost a combined 50% market share.
While we can see the economy of scale advantage show up in gross margins, it has not shown up in operating margins yet. In 1992, Cintas had gross margins of about 39%. By FY2016 (the year before integration expenses for G&K Services impacted margins), gross margins had risen to 44%. By contrast, operating margins have remained relatively constant. In 1992 and 1994, operating margins were 15.7% and 17.5%, respectively. In 2016, operating margins were the same as the average for the early 1990s, about 16%.
It's possible, perhaps even likely, that expenses are elevated because the company is still growing market share. As the market consolidates and growth in certain areas slows, SG&A expenses may start to level off.
Valuation
While Cintas is a good company with an excellent position in its largest market the biggest drawback is the stock's valuation. The company is trading well above peers on a forward earnings basis.
| | |
| --- | --- |
| Company (Ticker) | Fwd. P/E |
| Cintas | 24.7 |
| UniFirst | 20.3 |
| Aramark | 13.9 |
(Data: Morningstar.com)
While some of this may be justified by higher expected growth (analysts are predicting around 10% earnings growth for UniFirst versus 15% for Cintas), the stock looks quite expensive based on free cash flow as well. Using a 10% discount rate, 3% terminal growth rate, and five-year variable growth period shows that the current stock price implies 16% annual growth for the next five years. That's a pretty tall order when analysts are only expecting earnings to grow at around 15%. The valuation also leaves little room for error. The company's business is strongly tied to job growth, and any economic slowdown could lead to the market re-rating the stock with a lower multiple. Cautious investors may want to wait until the stock is priced more attractively before buying.
Disclosure: I/we have no positions in any stocks mentioned, and no plans to initiate any positions within the next 72 hours.
I wrote this article myself, and it expresses my own opinions. I am not receiving compensation for it (other than from Seeking Alpha). I have no business relationship with any company whose stock is mentioned in this article.