Source: GradConnnection
The Business Today and Where the Focus Lies
Colgate-Palmolive (CL) operates in three distinct business segments:
Personal Care is by far the largest segment of the company. Although CL further subdivides that into Personal Care and Oral Care (see below), for better comparison with other consumer staples companies the two reporting segments could be bundled together. Personal care also seems to be main area of focus for CL's management.
Home Care business, although representing 18% of the company's total sales, has been slowly declining as an overall share of CL's revenue. CL has also been divesting parts of its Home Care business which is a signal that the company's strategy is likely to be centered on the Personal Care space.
Pet Nutrition has the lowest revenue share of 15%, however the product category is a good fit for the Colgate-Palmolive corporate brand, which resonates among customers as a trustworthy and caring brand.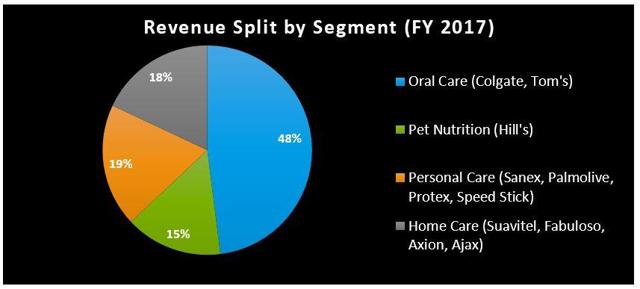 Source: Colgate-Palmolive Annual Report 2017
Colgate-Palmolive is focused on developing its Personal Care division both organically and through relatively small acquisitions which I will briefly discuss below. At the same CL has been making a number of divestitures in its Home Care business and namely: laundry brands in Australia, New Zealand & Colombia as well as bleach business in Latin America & Canada. The Home Care business is also less attractive going forward due to the high concentration in the sector and the lack of growth. The industry headwinds are probably one of the main reasons why Reckitt Benckiser might spin off its home hygiene unit, a move that is likely to make the industry even more concentrated.
CL's recent acquisitions of PCA Skin and EltaMD, confirm the management's intentions to expand its product offering in the Personal Care space. The two companies also provide a much better fit for CL's existing business given their distribution channels based around dermatologists and other professionals and the CL's experience in the professionals recommendations model. The two companies would also give the CL's much needed credentials to enter the skin care category in a more meaningful way in the future.
Organic growth and its effect on asset turnover
In contrast to the other peers in the consumer staples space, Colgate-Palmolive has been relying much less on acquisitions and more on organic growth. Not only that, but the management has been very strict and consistent when it comes to acquisitions. One of the largest M&A deals for the company over the past century was the 2011 acquisition of Sanex from Unilever for $940m. Back then the CEO Ian Cook commented the acquisition by saying:
"The brand's unique positioning around skin health is an excellent complement to Palmolive's natural extracts and skin care positioning as well as to our Protex brand, which focuses on antibacterial protection for skin."
Seven years later and the company's next acquisition of PCA and EltaMD is again in the Personal Care area or more specifically Skin Care.
The main trait of CL's lack of interest in acquisitions is its goodwill & intangible assets to total assets ratio. Compared to other peers in the consumer staples space, Colgate-Palmolive has one of the lowest ratios: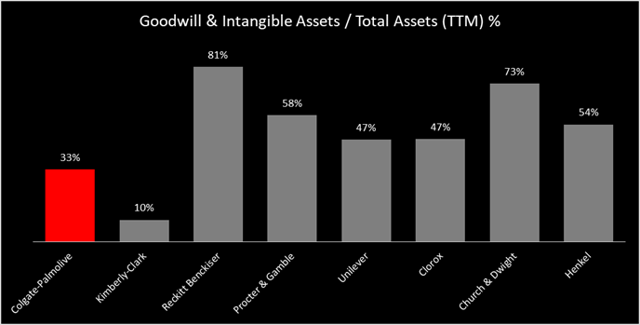 Source: Author's calculations based on companies' Annual and Quarterly SEC Filings
Colgate-Palmolive's intangible/total assets ratio stands at only 28%, compared to the staggering 80% for Reckitt Benckiser and 57% and 47% for P&G and Unilever respectively. Similarly to CL, Kimberly-Clark is another company that has taken a more conservative approach to M&A deals.
A huge risk in this low growth and high valuation environment is that companies usually end up overpaying massively for acquisitions just to meet their growth targets. Although the management of companies like Unilever (UL) and P&G (PG) are very skilled in integrating newly acquired businesses, a Goodwill & Intangible Assets to Total Assets ratio of around 50% does not give me any comfort. Moreover, the amount of Goodwill also has a profound effect on the companies' Asset Turnover and Return on Invested Capital.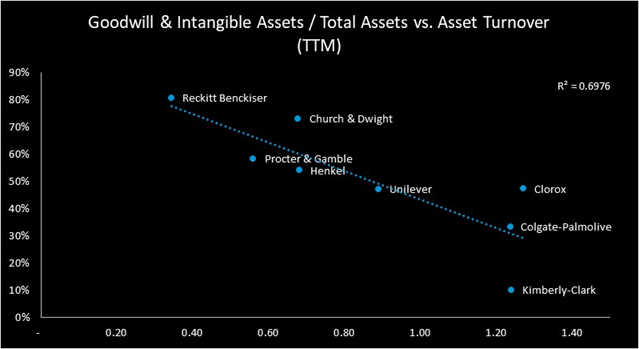 Source: Author's calculations based on companies' Annual and Quarterly SEC Filings
CL, alongside Kimberly-Clark (KMB) and Clorox (CLX), have by far the best Total Asset turnover, largely due to their lack of appetite for M&A deals.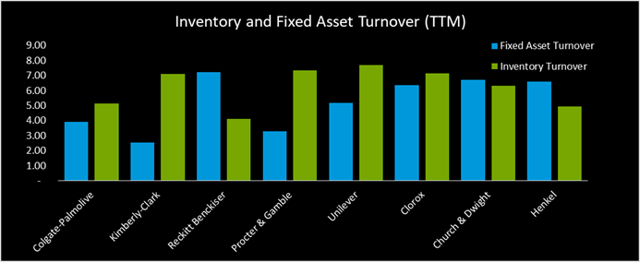 Source: Author's calculations based on companies' Annual and Quarterly SEC Filings
As seen above, both of CL's inventory and fixed asset turnover ratios are below the average of its peers, yet both companies' total asset turnover has been consistently higher than the peer average.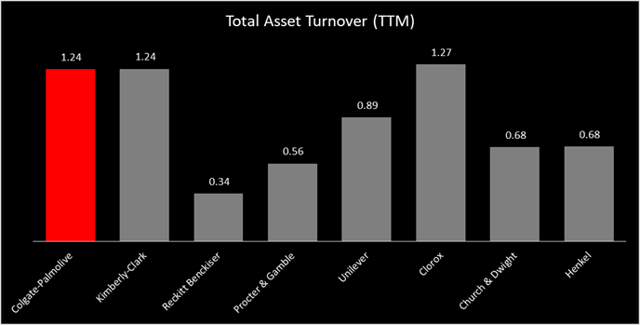 Source: Author's calculations based on companies' Annual and Quarterly SEC Filings
In turn, the high asset turnover has allowed CL to retain higher Return on Invested Capital than its peers.
Profitability and Return on Invested Capital
Despite the recent commodity and exchange rate headwinds, CL's operating margin remained flat over the course of 2018, while Gross Margin is still at its highest historical levels. This is largely due to the company's recent move to increase prices ahead of its competitors, which however had a negative effect on volume sales.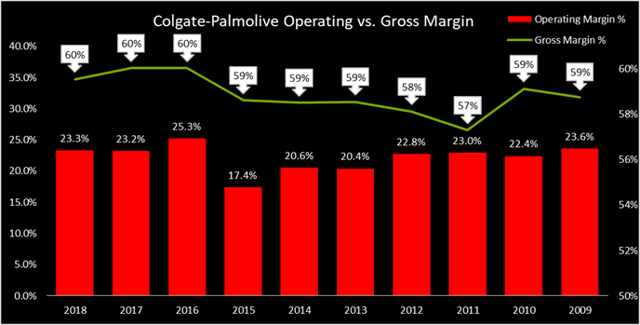 Source: Colgate-Palmolive Annual and Quarterly SEC Filings
Gross Margin also benefited significantly over the last few years from CL's Global Funding the Growth program. As part of the initiative, CL has been simplifying its business model by reducing the number of its Stock Keeping Units or so called SKUs (number of formulas, packaging, ingredients and items). The company has also significantly improved its distribution network by negotiating better lease terms with suppliers and bringing manufacturing capacity closer to customers.
Many fellow Seeking Alpha contributors point out that CL's low levels of organic growth over the recent years, and its high P/E ratio relative to peers, are the two main reasons to avoid the stock.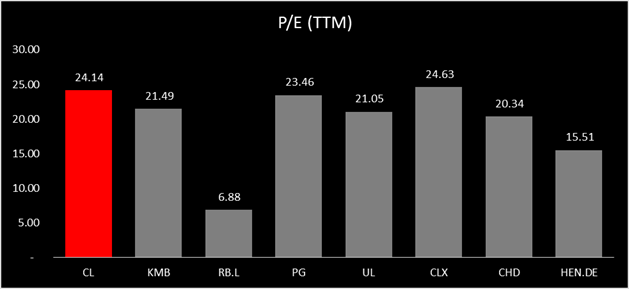 Source: Yahoo Finance
Although at first glance this is true and CL does trade at a premium P/E multiple compared to its peers, the whole argument is based on the very simplistic view that P/E ratio depends solely on the rate of sales growth while at the same time assuming that historical levels of low organic growth will continue. I will address these two points separately:
1. ROIC
CL trades at such a high valuation due to the company's outstanding Return on Invested Capital. The average ROIC of CL for the past 5 years is 30.2%, which is largely due to the company's strong brands, efficient distribution network and a solid business model based on organic growth as opposed to high level of M&A activity.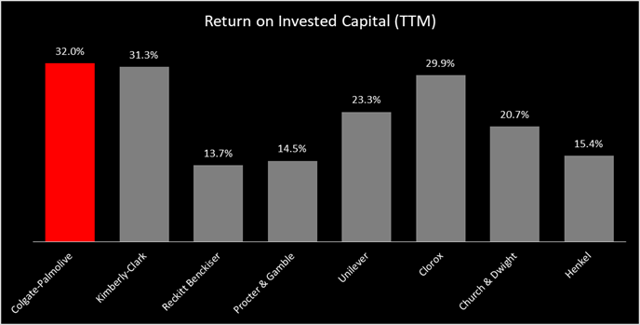 Source: Author's calculations based on companies' Annual and Quarterly SEC Filings
* ROIC is calculated as (EBIT - Tax expense + Depreciation and Amortization) / Average Capital Invested in periods T and T-1
** Capital Invested = Total Assets - Current Liabilities
Not only that, but due to CL's well-established moat the company has managed to keep its ROIC relatively stable over the past decade.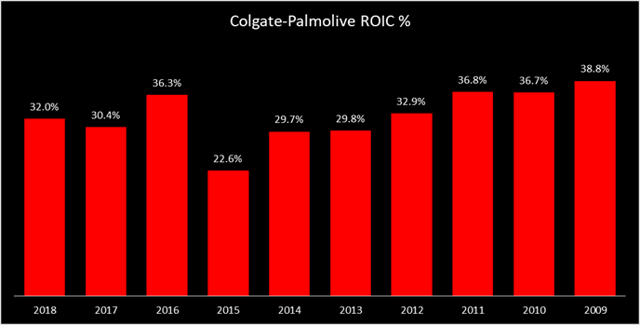 Source: Author's calculations based on Colgate-Palmolive's Annual and Quarterly SEC Filings
The proliferation of private labels and localized toothpaste offerings do pose a threat to CL's high market share in Oral Care, however CL does have some significant competitive advantages which are likely to limit this headwind. Firstly, CL's large global footprint and efficient distribution network allows it to successfully compete on price. This becomes increasingly important during turbulent times and when customers see deterioration of their purchasing power, making CL a good addition to portfolios heavily exposed to the business cycle and consumer discretionary space. Secondly, in product categories such as Oral Care and Pet Nutrition consumers purchasing habits are heavily influenced by the trust factor of a brand. In that respect Colgate and Hill's brands are exceptionally strong with many years of history behind them. Finally, CL's has the resources to invest heavily in R&D, thus further differentiating its products from competitors' offerings.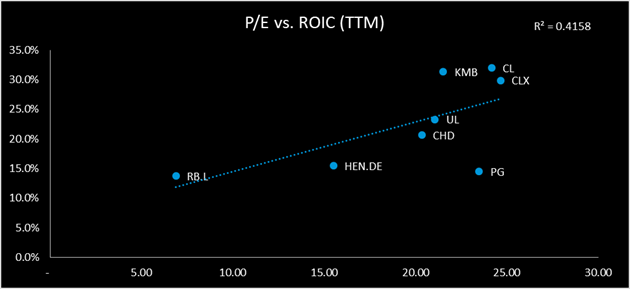 Source: Companies' Annual and Quarterly SEC Filings and Yahoo Finance
The graph above clearly illustrates why investors should shift their focus away from sales growth speculations and use ROIC and its drivers when judging whether a stock is overvalued or not. Again, based on that analysis CL, CLX and KMB look as the most attractive investments. Nevertheless it is worth mentioning that drivers and sustainability of the ROIC should also be analysed in further detail before making a judgement. Furthermore looking at TTM P/E ratio in isolation rarely provides a good measure for a company's valuation.
2. Organic Growth
It is true that at first glance CL's turnover seems to have stayed flat over the past decade: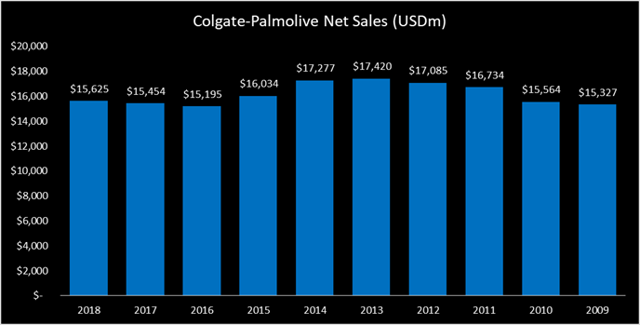 Source: Colgate-Palmolive Annual and Quarterly SEC Filings
However, over the period CL has managed to achieve organic growth and has relied on small low-profile acquisitions to integrate into its own business model. For example during the FY 2015, when the top-line fell by 7% from $17,277 to $16,034 the appreciation of the dollar was to blame, with the CEO quoting:
"We are very pleased with our solid results in 2015. While net sales declined 7.0%, organic sales, or net sales excluding foreign exchange, acquisitions and divestitures, grew a strong 5.0%."
Exchange rates continued to be a major headwind well over the 2018, with the U.S. dollar appreciating against major Latin America currencies. As mentioned earlier, higher pricing also affected volume sales over the course of FY2018.
Valuation and why it's not as scary as it looks
Multiples
When looking at the EV/EBITDA ratios, CL no longer appears as the most highly valued consumer staple company.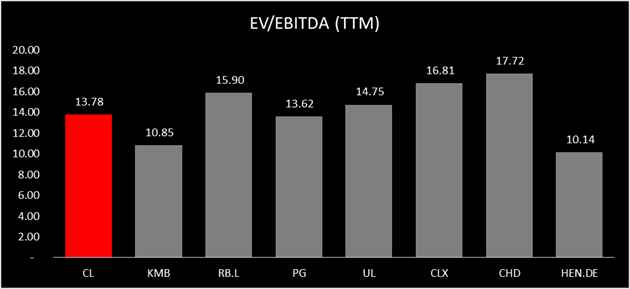 Source: Yahoo Finance
As a matter of fact, CL trades significantly below the peer average multiple of x14.26. At the same time CL also trades at attractive historical levels on both EV/EBITDA multiple and dividend yield.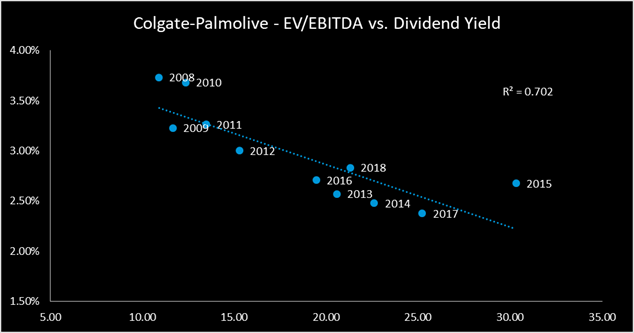 Source: Yahoo Finance
When it comes to CL's dividend yield of 2.8% a word of caution is required as the current payout ratio stands at 75%, although in my opinion this does not put the dividend at risk given the stable nature of the business and low operating income volatility. However, the high payout ratio in combination with CL's increased Advertising and R&D expenses does mean that dividend increases are unlikely in the near future.
Cash Flows

Source: Author's calculations based on Colgate-Palmolive's Annual and Quarterly SEC Filings
Looking at CL's Free Cash Flows to the Firm in 2018, it is around 10% below the heights of 2014 and 2009. However in the former period CL's cash flow from operations had a positive effect of Venezuela re-measurement charges, while in the latter it had a $531m working capital benefit as it returned to normal levels post the 2007/08 period.

Source: Colgate-Palmolive's Annual and Quarterly SEC Filings
Since 2010, CL has been slowly decreasing the total amount of its share buyback program, while also dialing down the net borrowing used to finance it. I see this as a positive sign as I am not a supporter of such financial engineering practices that rely on the low interest rate environment we are currently in, while foregoing capital investments.

Source: Colgate-Palmolive's Annual and Quarterly SEC Filings
One of the consequences of CL's lower amount of capital expenditures is the shortening of the remaining useful life of CL's Property, Plant & Equipment. As a result we could see a higher level of Capex over the next few years which in turn would have an effect on the free cash flow.

Source: Author's calculations based on Colgate-Palmolive's Annual and Quarterly SEC Filings
Again this is not big concern in my opinion as CAPEX represents a small proportion of CL's operating cash flow, while at the same time the two acquisitions of PCA and Elta MD could also be to blame for the deterioration of the PP&E in 2018. Moreover, as I mentioned above, as CL dials down its buyback program it will be able to allocate more cash to cover any increase in the capital expenditure.
Discounted Cash Flow
Due to the mature stage of the company I am using a simple constant perpetuity growth formula to estimate the fair value of CL's share price. I am using 2018 TTM Free Cash Flow to Equity as a base, calculated by taking the Cash Flow from Operations less Capital Expenditure and plus Net Borrowing.
I estimate a discount rate of 7.2% by calculating 5-year daily beta against the S&P 500 of 0.66, which is significantly higher, and therefore conservative, as compares to the one estimated by Yahoo Finance of 0.49. Risk-free rate of 3.22% is based on the current yield to maturity of US 10-year government bond. The Equity Risk Premium I use is 6.0%, again to remain conservative, I use 1.0% higher than the current estimates by Duff and Phelps and Damodaran of around 5.0%.
For the terminal growth rate I use a range between 2.0% and 3.0% which is broadly based on the U.S. GDP expected growth rate, a growth rate significantly lower than that of Emerging Markets where CL has a significant exposure.

The current share price of CL is $60.2, places it at the very bottom of my most conservative estimate.
Conclusion
Colgate-Palmolive seems to be a largely unloved stock by investors as it has not delivered a meaningful top-line growth over the past decade, while at the same time trading at higher P/E multiple when compared to peers in the Consumer Staples space. It is also suffering from the threat of local private label brands which many believe would continue to put pressure on CL's dominate position in the Oral Care segment.
However, all these negative statements are overly pessimistic once some key factors are taken into account. Furthermore, the recent pullback in the share price offers a good entry point for long-term investors looking to slowly build position in a highly profitable and stable company.
The lack of organic growth has been largely due to external macroeconomic factors such as the appreciation of the U.S. dollar which could easily hedged as part of a larger portfolio. Over the long-term however, CL has an excellent track record of growing its businesses organically while undertaking small profile acquisitions to supplement key areas of the business. This strategy has resulted in CL's high Return on Invested Capital, which justifies the higher multiples that the company trades on. At the same time the company's strong brands associated with trust allow it to retain its wide moat.
Finally, CL's entry into the professional skin care market offers an exciting growth opportunity and a good fit for its existing Personal Care business. With the high concentration in the Home Care industry, I see the CL's focus on Personal Care as the right strategy going forward.
Disclosure: I am/we are long CL.
I wrote this article myself, and it expresses my own opinions. I am not receiving compensation for it (other than from Seeking Alpha). I have no business relationship with any company whose stock is mentioned in this article.
Additional disclosure: Please do your own due diligence and consult with your financial advisor, if you have one, before making any investment decisions. The author is not acting in an investment adviser capacity. The author's opinions expressed herein address only select aspects of potential investment in securities of the companies mentioned and cannot be a substitute for comprehensive investment analysis. The author recommends that potential and existing investors conduct thorough investment research of their own, including detailed review of the companies' SEC filings. Any opinions or estimates constitute the author's best judgment as of the date of publication, and are subject to change without notice.