Main Thesis
In this article we review the BlackRock Corporate High Yield Fund (HYT). Although we are likely heading towards the end of the business cycle, economic fundamentals remain the same and there are no glaring issues with this fund. With a reasonably established distribution and a widening discount to NAV, aggressive bond investors should consider taking advantage. However, given that there is no termination date for this closed-end fund, there is no guarantee of a positive total return if there's a deterioration in credit quality.
Assessment of Distributions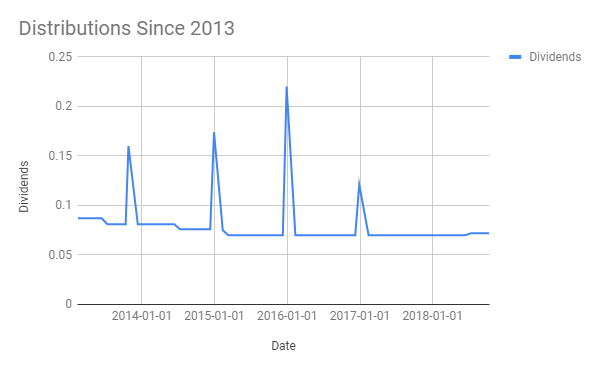 (Source: Original Image - Data from Yahoo Finance)
Given the very low investment yields fixed income fetches these days, bond investors must be wise with their asset allocation. While equities have done very well the past 9 plus years, they generally present more downside risk than bonds and not everyone can handle that level of volatility. In that regard, using leverage to enhance short duration, high-yield corporate bonds can be an effective strategy if credit quality holds up.
As you can see from the above chart, this fund has maintained a steady distribution history and boasts an impressive current yield. With the benefit of leverage (and cheap borrowing rates) they have been able to spin off an 8.42% current yield. However, the key to a successful investment is a positive total return given the amount of default risk these funds typically take.
Fund Overview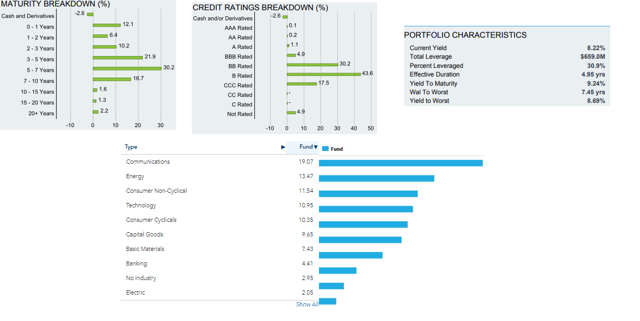 (Source: Fund Factsheet and Website)
With a focus on low duration, high-yield corporate bonds the fund managers have done a good job of limiting the number one fear among fixed-income investors: interest rate sensitivity. Notwithstanding that the holdings are diversified among various issuers in their respective sectors, there is material default risk. That vast majority of the portfolio is allocated to corporate bonds rated BB and B. Furthermore, although the holdings are blended between defensive and cyclical sectors, there is a noticeable emphasis on defensive with bonds from the Communication and Consumer Goods sectors.
There are a few considerations with the fund's use of leverage. Although it has certainly enhanced current income by borrowing at short-term rates and investing the proceeds in high yield securities, a leveraged bet on high-yield increases the portfolio's volatility. Additionally, because short-term rates are expected to continually increase, HYT's borrowing costs will increase once their loan term expires.
Digging down deeper into fund, we took a look at some of the fund's top holdings. It revealed some troubling but expected results. Some of the holdings have strong interest coverage and are profitable like HCA Healthcare Inc. (HCA) and Sprint (S) but the rest have operated in the red and have razor thin interest coverage. I like that they're trending in the right direction with improving credit metrics but keep in mind that this data is being viewed in hindsight and that changing macroeconomic conditions can materially affect these borrowers.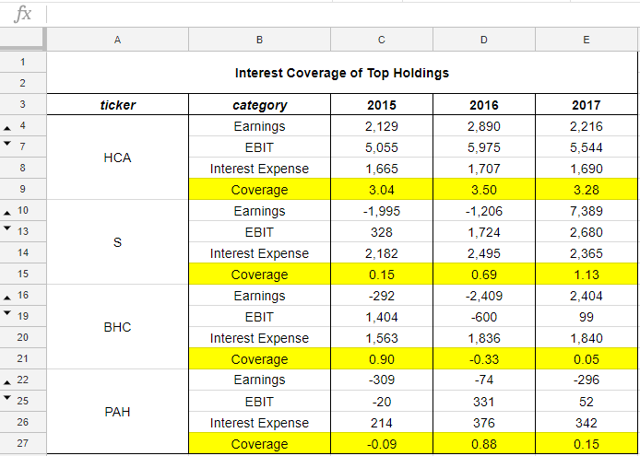 (Source: Original Image - Data from respective annual reports)
Sustainability of Distributions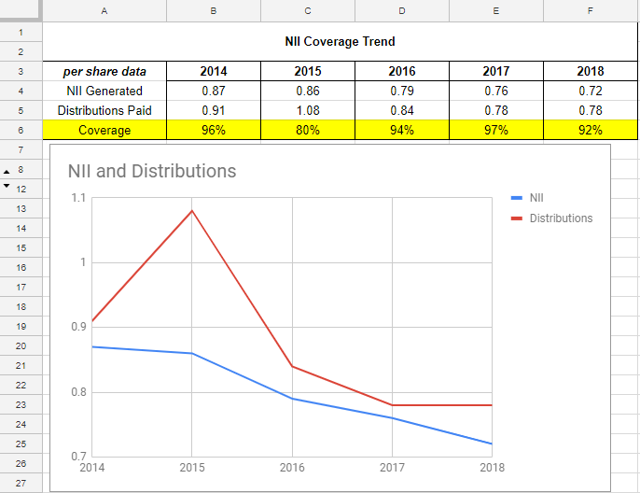 (Source: Original Image - Data from latest Annual Report)
Although the fund has historically paid a steady distribution, it does behoove us to determine whether one can reasonably expect an 8% yield going forward. An analysis of the fund's financial statements yields mixed but overall positive results. Despite the historically good distribution coverage by CEF standards, financial performance is trending in the wrong direction. They are generating consistently less Net Investment Income each year and this has forced them to correspondingly cut the distribution. According to the most recent data available, NII coverage has improved drastically and they have a positive Undistributed Net Investment Income (UNII) balance.
Granted macroeconomic conditions may remain favorable during the pro-business Trump Administration, it seems that we are moving towards the end of the business cycle and that does not bode well for high-yield bond investors. However, whether that ends up being a mild recession or a slowdown reminiscent of the Financial Crisis remains to be seen.

(Source: BlackRock)
Valuation

(Source: CEF Connect)
Perhaps because of the recent equity selloff in October, there has been spillover into other asset classes. Looking at HYT's historical performance, you can see that the fund's market price has tracked NAV closely but the discount has materially widened. While a discount to NAV doesn't necessarily mean a good entry point if there's continued selling pressure or a deterioration in credit quality, it's certainly better than buying at a premium to NAV. With the considerable amount of default risk implied by the low credit ratings, the portfolio has performed well the past few years with opportunities for capital growth.
Asset Allocation and Investment Strategy
Unlike a traditional bond with a specified term, this closed-end fund trades on an exchange and doesn't have a specified maturity. As such, if the market value is down you cannot simply wait for your holdings to mature and get your principal back. Thus it becomes very important to have a diversified asset allocation to smooth out returns and present rebalancing opportunities.

(Source: Yahoo Finance)
As you can see from the above chart, allocations to treasuries and convertible securities have typically offered negative correlation. Intuitively, this makes sense as treasuries do not have default risk and can offset the main risk taken in HYT. Furthermore, convertibles offer capital growth potential that can offset inflation risk.
Conclusion
All things considered, HYT is a reasonable bet for aggressive income investors but there are material risks that need to be considered. Although the fund has maintained good distribution coverage over the years, there has been a noticeable drop in the Investment Income it has generated. Furthermore, a potentially peaking economic cycle would probably not bode well to the bonds held in this portfolio. With already thin interest coverage, a decrease in consumer spending would put the holdings into serious question.
Disclosure: I/we have no positions in any stocks mentioned, and no plans to initiate any positions within the next 72 hours.
I wrote this article myself, and it expresses my own opinions. I am not receiving compensation for it (other than from Seeking Alpha). I have no business relationship with any company whose stock is mentioned in this article.