Investment Thesis
The share price of BCE (BCE) has pulled back by nearly 16% in the past year. The company's top and bottom lines growth rates continue to decelerate due to a growth slowdown in its wireless business. Despite its near-term weakness, BCE's high-speed Internet segment should perform well thanks to its continual upgrade to FTTH. The company is also well positioned to capture the opportunity in the era of 5G (although revenue contribution will likely not material until post-2019). The share price of BCE is currently fairly valued. We believe investors should stay on the sideline.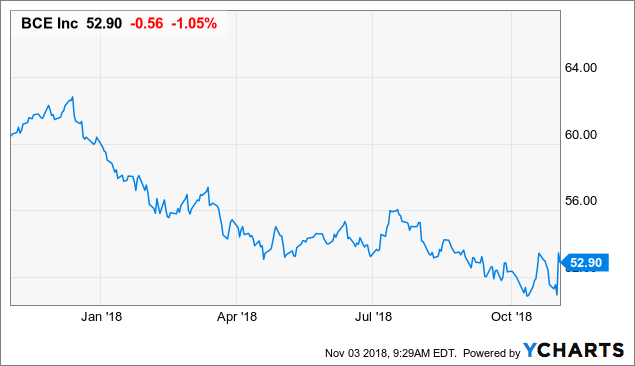 Source: YCharts
Recent Developments
Below is the table that shows BCE's Q3 2018 top and bottom lines. In the past, its wireless segment has been its fastest-growing segment often registering double-digit growth. However, this growth has slowed down considerably. In fact, BCE only registered 5.9% wireless revenue growth in Q3 2018. Its wireless EBITDA growth rate also decelerated to 4.5% year over year. Although we are seeing some signs of growth in BCE's wireline segment due to its FTTH upgrades, its legacy voice services continue to decline. As can be seen from the table below, its wireline revenue and adjusted EBITDA growth rates are only 1.9% and 1.2% respectively.
Q3 2018

(C$ million)

Revenue

YoY Growth Rate (%)

Adjusted EBITDA

YoY Growth Rate (%)

Wireline

$3,147

1.9%

$1,324

1.2%

Wireless

$2,182

5.9%

$951

4.5%
Source: Created by author; Q3 2018 Financial Report
Wireless business remains weak
Although BCE added 135 thousand postpaid wireless subscribers, its blended average billing per user declined to C$69.28 from C$69.78 in Q3 2017 (see first chart below). This was a decline of 0.72% year over year.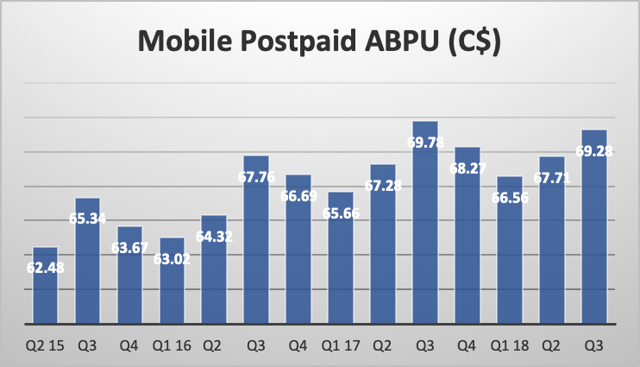 Source: Created by author; Company Reports
As can be seen from the chart below, its Q3 2018 ABPU growth rate marked the fifth consecutive quarter of slowdown. This is very disappointing especially because Rogers Communications (RCI) delivered ABPU growth rate of 3.8% year over year in Q3 2018.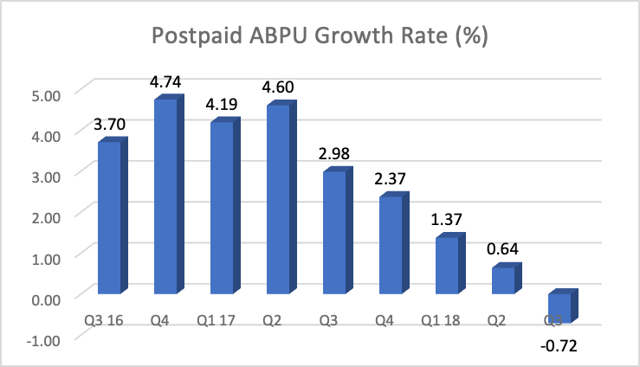 Source: Created by author; Company Reports
Are there any catalysts that might help lift its share price higher?
Expansion of its Fiber-to-the-home footprint
BCE is in the midst of upgrading its legacy copper wire to fiber network. The company hopes to have its fiber-to-the-home footprint to cover most of homes in the Greater Toronto Area (416-region) by year end. This should allow it to compete with Rogers' cable Internet service. Now that BCE's FTTH has reached over 50% coverage in the markets it operates, we are already seeing signs of Internet subscribers growth. As can be seen from the chart below, BCE added 47,749 net subscribers in its high-speed Internet service in Q3 2018. The addition was higher than Q3 2017's 44,424 subscribers add. Looking forward, we believe BCE will be able to accelerate this growth momentum as it wraps up its FTTH upgrade.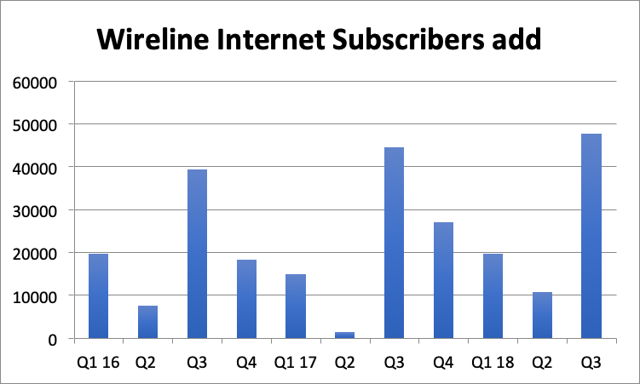 Source: Created by author; Company Reports
Capital intensity in wireline business expects to diminish
As mentioned earlier, BCE's FTTH coverage has now reached 50% in Q3 2018. As the company gradually completes its legacy copper wire upgrade, its capital expenditure will gradually reduce. In fact, BCE expects its consolidated capital intensity ratio to fall below 17% in 2019 (the company continues to expect its capital intensity to be about 17% in 2018). Another advantage of its FTTH upgrade is that fiber networks require much less maintenance capex than its legacy copper infrastructure. This should help BCE to improve its free cash flow.
5G will bring lots of growth opportunities, but not in the near-term yet
We believe BCE is well positioned to capture opportunities in the era of 5G (e.g. autonomous vehicles, smart cities, and the Internet of Things). Since 5G network requires fiber backhaul to achieve higher speed, lower latency, and good reliability, BCE's expansion of its fiber network for its broadband Internet will actually provide a backbone to its future 5G networks (5G network will require lots of microcells which will be connected to its fiber network). The company's wireline services cover much of Canada (Ontario, Quebec, Atlantic Canada, and Manitoba). Although opportunities in 5G are immense, it is still in the early stage. BCE will need to invest heavily to build its 5G infrastructure. Hence, any meaningful revenue contribution will likely be after 2019.
Valuation: Fairly Valued
BCE's forward EV to EBITDA ratio of 7.9x is towards the low end of its past one year range. The company's forward EV to EBITDA ratio of 7.9x is slightly below Rogers Communications' 8.4x and TELUS' (TU) 7.7x. We believe the company is fairly valued.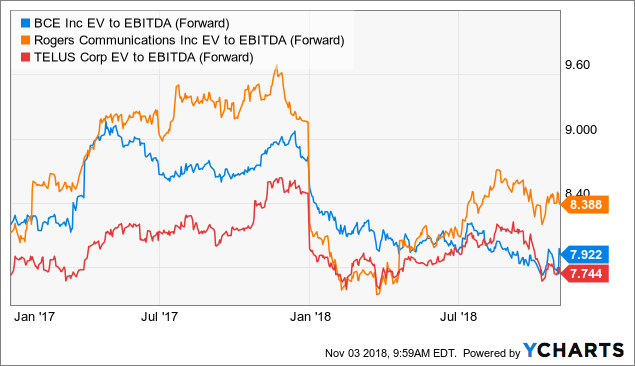 Source: YCharts
BCE currently pays a quarterly dividend of C$0.755 per share. This is equivalent to a dividend yield of 5.7%. As can be seen from the chart below, the company has consistently increased its dividend in the past 10 years. We believe this trend will continue next year. However, the dividend increase may only be modest given its modest growth in free cash flow this year. For reader's information, BCE continues to guide a free cash flow growth of 3% to 7% this year.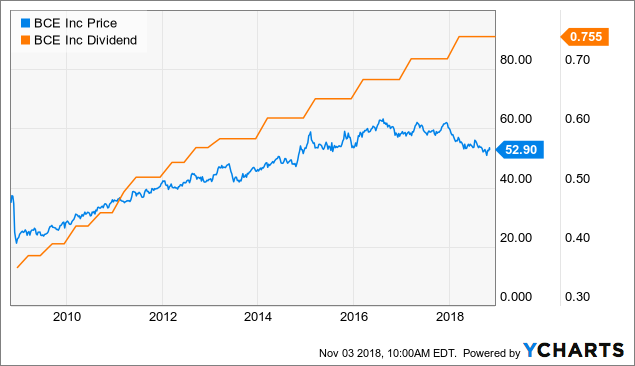 Source: YCharts
Risks and Challenges
BCE is often perceived as a bond-proxy stock. This means that its share price can be impacted negatively in a rising interest rate environment. Below is a chart that compares BCE's share price with Canada's 10-year benchmark bond yield in the past 5 years. As can be seen, BCE's share price is inversely correlated with the 10-year benchmark bond yield. Since Bank of Canada has recently announced its intention to continue its pace to increase interest rates, Canada's bond yield is expected to rise as well. We believe this will continue to depress BCE's share price especially if BCE cannot deliver strong top and bottom lines growth in its business.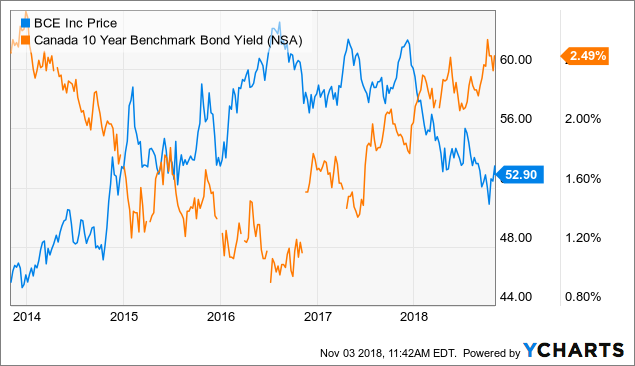 Investor Takeaway
We are concerned about BCE's mixed quarter as its wireless top and bottom lines growth rates continue to decelerate. Although its wireline Internet subscribers growth rate is gaining momentum, its overall wireline top and bottom lines growth rates are still modest. Given that we are in a rising interest rate environment, we think it is better for investors to patiently wait for a better entry point.
Note: This is not financial advice and that all financial investments carry risks. Investors are expected to seek financial advice from professionals before making any investment.
Thank you for reading. If you like my article, please scroll to the top of the article and click on "follow" to receive future updates.
Disclosure: I am/we are long RCI.
I wrote this article myself, and it expresses my own opinions. I am not receiving compensation for it (other than from Seeking Alpha). I have no business relationship with any company whose stock is mentioned in this article.