Investors flock to Ford Motor Company (F) due to a number of factors: high dividend yield, name familiarity, perceptions of good value, perhaps even owning a Ford vehicle. With a payout ratio of 45% and a successful line of truck products, I can see the allure. However, with the business declining pretty markedly everywhere except North America truck sales and requisite cap ex investment and pension funding, I don't see Ford as investable. There are a slew of better, safer investments that offer comparable yield and potential growth. While trading in and out of Ford, especially given trade war headline movements, may be profitable, I do not recommend an investment in this once-mighty automaker.
It's been a pretty miserable year to be a Ford stockholder.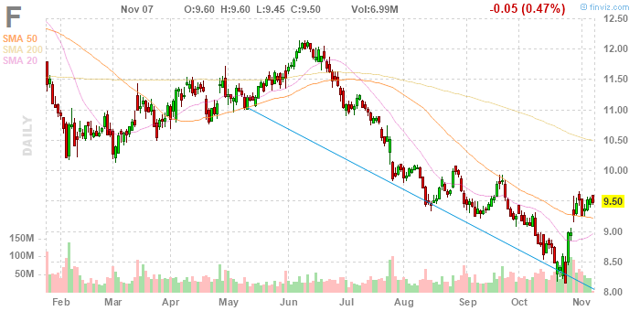 Image from finviz.com
Ford's 5-year chart looks even worse.

Image from Yahoo Finance
Key Metrics Look Bad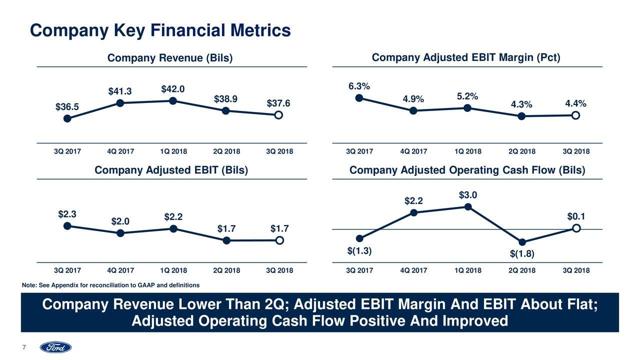 Image from Ford's Q3 Earnings Slides
I'm always fascinated by what companies choose to report and how they present their information. This slide must have been rough to put together. The company's own acknowledged key metrics, revenue, earnings, margin and operating cash flow, are all materially worse than they have been in the recent quarters. To put the margin into perspective, Toyota Motor Company (TM) recently reported a margin of 9.3%, more than double of Ford's 4.4%.
I also want to point out the anemic adjusted operating cash flow. While better than last quarter, $100 million is nothing to be excited about when operating metrics are declining. Net income of $0.25 per share in the quarter was down 37.5% YoY from $0.40 in Q3 2017.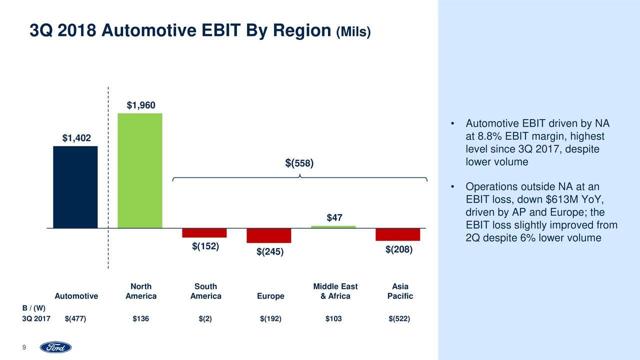 Image from Ford's Q3 Earnings Slides
What's the key to changing the direction of the company? Ford seems intent on dropping out of the sedan business in favor of focusing on their specialty, trucks and SUVs. Many comments on Seeking Alpha have pointed out a possible abandonment of international efforts and a focus on North America. Ford itself issues statements outlining a shift in strategy nearly every other week:
In early September, Ford looks to cut various model production and jobs in Europe.
A month later in early October, Ford says it will stop producing the Focus in Argentina, where demand is dropping.
Later that week, Ford announces a nebulous cut back on global workforce, but doesn't know by how much or by what specific time frame.
A week and a half later, amidst reports that China Ford sales are down a whopping 43% YoY for September, Ford decides to continue efforts in the country with a new mid-size SUV.
A week later, Ford announces engine production halts at a Spanish plant due to lowered demand. Additionally, Ford comes out with a new reorganization attempt by proposing a standalone Ford China business segment.
On a possibly positive front, Ford is apparently working closely with Volkswagen (OTCPK:OTCPK:VWAGY) on EV research and development.
It's not a good sign that Ford is seeing it necessary to make strategic and organizational changes on a weekly basis. I would feel very uncomfortable as a shareholder not knowing what direction the company was going in due to constant changes. I also prefer my corporate commentary to be clear and decisive. You can try to say that idling plants due to lower demand is a wise cost-cutting measure, but with most other auto makers pushing for growth, it seems a big red flag for the future of Ford.
How Affordable Is Ford's Truck?
I wanted to see how affordable Ford's F150 truck would be for someone in my area by looking up the fair market price and median income for my area of the country. I was a little shocked at the absurdity of the cost.
For a new 2018 Ford F150 SuperCrew Cab XL with all standard features: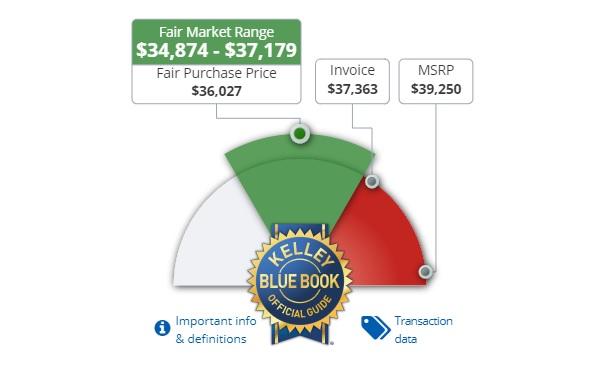 Image from Kelley Blue Book website
Median income in my area was around $77,500. If the economy stumbles, we could see a big hit to sales like we did in 2008/2009. Also contributing to high auto costs are the obvious tariffs and trade war situation with China. Instead of protecting domestic businesses, according to Ford, the tariffs have already cost them over 1 billion dollars in earnings. Margins will most likely continue to be pressured as Ford will find it hard to recoup these losses with stiff competition. Perhaps the recently swung to Democratic house will quicken a trade war resolution. In any case, the current international outlook is bleak.
Shareholder Returns
Back to focus on the actual stock of Ford, I have mixed feelings. On the shareholder return front, I am glad that Ford has offered a steady dividend, but I question the logic of a supplementary dividend in this challenging operating environment for the company. Supplementary dividends do not offer long-term investors any incentive to owning the stock. That cash could be used on debt reduction or on share buybacks.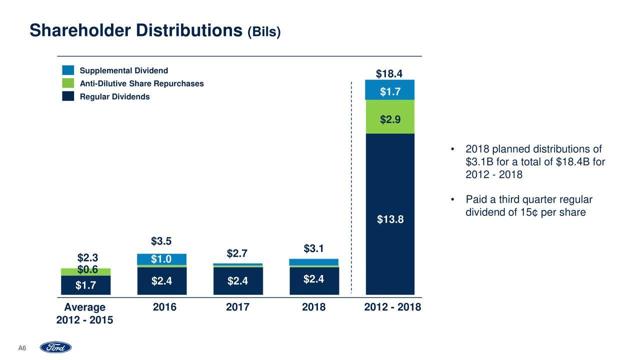 Image from Ford's Q3 Earnings Slides
With shares yielding 6.3% and their earnings margin of 4.4%, they should be plowing their cash into share buybacks. With 3,907,051,309 shares currently outstanding, they could use $15 billion of their $18 billion in cash on their balance sheet to retire ~1.58 billion shares, or ~40% of the float, and save $950,000,000 annually in dividend payments. Of course, it is more complicated than that, but the sizable cash position and low share price does offer up intriguing scenarios.
Summary
I hope that I've shown that investors looking for income cannot reliably count on Ford's declining business segments and international presence for future dividend sustainability despite a 45% payout ratio. Ford is one of those tricky stocks that offers an enticing bargain-bin value for those counting on measures such as a merger/acquisition or a massive stock buyback. However, for a long-term investment, you should be evaluating the actual underlying business. None of the aforementioned value creating measures are guaranteed. What is guaranteed is that Ford plans on shrinking its production, workforce, and international exposure, while facing an automaker technology arms race and harmful tariffs.
Safer investments offering similar yield with a proven track record of success even during economic downturns include stocks such as W.P. Carey (WPC) which yields 6.3%. For those that are okay with lower yield, Realty Income (O) at 4.3% has also shown both stability and growth. When the comparison is Ford's shrinking business and history of dividend cuts, most stocks look like better investments.
Disclosure: I/we have no positions in any stocks mentioned, and no plans to initiate any positions within the next 72 hours.
I wrote this article myself, and it expresses my own opinions. I am not receiving compensation for it (other than from Seeking Alpha). I have no business relationship with any company whose stock is mentioned in this article.