The new and improved Glu Mobile (GLUU) continues to chug along producing consistently better results. My investment thesis that the stock is one hit game away from a big rally is even truer now with the stock selling off below $7 after the tech wreck of October.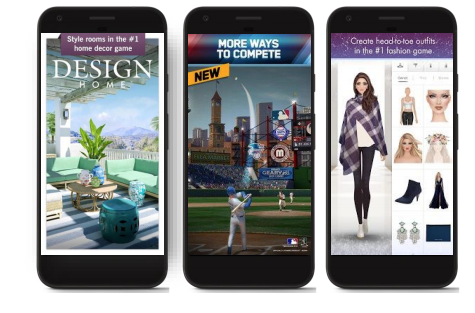 Image Source: Glu Mobile website
Strong Portfolio
During Q3, Glu Mobile jumped over the $100 million quarterly bookings threshold without the benefit of any new hit games. In fact, the mobile-game developer reached the threshold without any new games.
Design Home peaked at the #5 grossing game spot for the iPhone in the U.S., but the game has been on the market since the start of 2017. Over the course of the last two years, revenues from this hit game have consistently grown on a quarterly basis to reach over $41 million in the last quarter.
The growth is impressive, but maybe something the market could ignore as a one-game wonder, if not for the additional success of Tap Sports Baseball and Covet Fashion.

Source: Glu Mobile Q3'18 presentation
All of these games were small stories when 2017 started and now combined generate nearly $80 million in quarterly bookings. The story doesn't just stop with these three games. Kim Kardashian: Hollywood has been around since 2015 and the game is still generating over $7 million in quarterly bookings and even grew nearly 11% over Q3'17 levels.
The company has even failed miserably on Racing Rivals. The once hot racing game is now virtually non-existent.
The market is going to want to know whether Glu Mobile can actually develop new games that can follow the above pattern of consistently growing revenues. The pipeline definitely includes a few games with that potential in WWE: Universe and the Disney (DIS) titles scheduled for release in 2019. Both brands have the promising characteristics of the baseball franchise or Kim Kardashian, where constant live updates will generate higher revenues.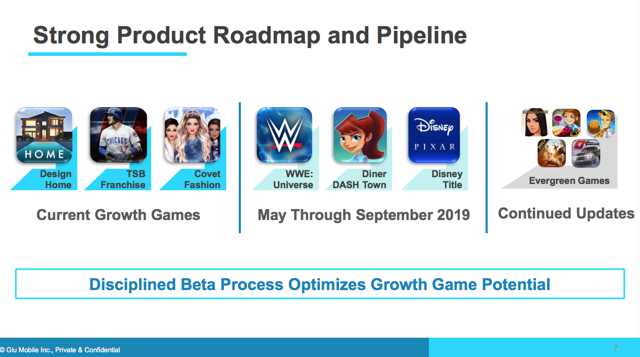 Source: Glu Mobile Q3'18 presentation
Long-Term View
The company introduced '19 core business expectations of revenues of ~$420 million. The market will increasingly look towards EBITDA targets as Glu Mobile progresses beyond a pure turnaround story.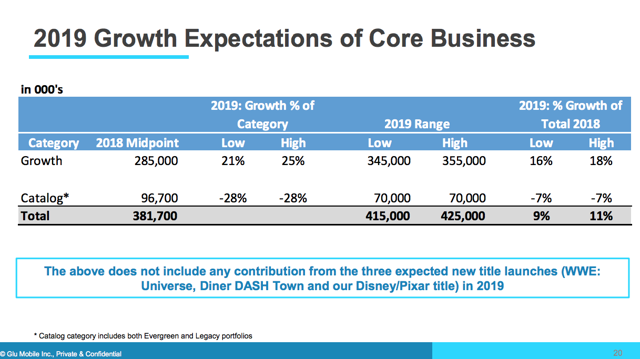 Source: Glu Mobile Q3'18 presentation
The launch of new games in 2019 could actually project 2019 revenues toward the $500 million level. The company would only need WWE: Universe, Diner DASH Town, and the Disney title to generate roughly $25 million in revenues in 2019 to reach the magic level.
With the games slated to average about two quarters on the market, asking for $25 million each is probably a lot to ask. Still, even $5 million per quarter, per game would push 2019 revenues up by $30 million for a conservative base case.
At the $500 million bookings level, the company projects EBITDA margins of 15% to 20%. Glu Mobile could generate up to $100 million in EBITDA based on the '19 numbers alone.
The market will increasingly look towards EBITDA numbers and away from pure revenues as the annual numbers grow to meaningful levels. The stock is worth about $1 billion with an enterprise value of around $900 million based on 2018 ending cash balance of $90 million. Using either number, the stock only trades at about 2x realistic '19 bookings levels.
Takeaway
The key investor takeaway is that Glu Mobile remains on trend to much higher stock prices. The company only needs minimal boosts from new games in 2019 to make the stock exceptionally cheap at $7 while a hit game would likely drive the stock to unprecedented levels.
The stock remains exceptionally cheap and investors should not hesitate to load up on the next market sell off.
Disclaimer: The information contained herein is for informational purposes only. Nothing in this article should be taken as a solicitation to purchase or sell securities. Before buying or selling any stock you should do your own research and reach your own conclusion or consult a financial advisor. Investing includes risks, including loss of principal.
Disclosure: I am/we are long GLUU.
I wrote this article myself, and it expresses my own opinions. I am not receiving compensation for it (other than from Seeking Alpha). I have no business relationship with any company whose stock is mentioned in this article.