Akorn, Inc. (AKRX) develops, manufactures, and markets prescription and generic drugs. The prescription business makes up about 90% of revenues.
AKRX's stock price hints about the drama the company has been embroiled in, as the firm agreed to be acquired by German pharmaceutical company Fresenius (OTCQX:FSNUF) during 2017 before Fresenius reneged on the deal: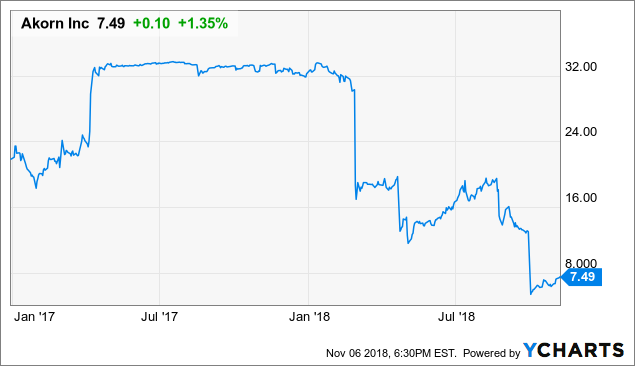 In response to Fresenius' backing out of the acquisition, AKRX brought suit seeking a court order forcing Fresenius to fulfill its end of the contractual obligation to purchase AKRX for $34 per share in cash. The Court ruled against AKRX.
The company has gone on to submit an appeal of the previous Court's June verdict which released Fresenius from its purchasing obligation.
So, the merger is looking fairly unlikely and there's no harm in accounting for it as a possible bonus to a long position. Excluding the potential "bailout" for AKRX shareholders from the rest of this stock's analysis seems prudent.
Now, we are left with the tried and true fundamental valuation approach which begins by taking a look at the company's status in their business environment and financial position. From the operating perspective, the company appears to be distressed and in need of substantial improvement in sales. I rate this stock an Avoid because I am looking for no-brainer buy and holds, and this is a speculative turnaround.
AKRX Had $296M Cash As Of June & Operations Spent A Net Of $27M For The Quarter
The company has experienced a precipitous sales decline since hitting all-time highs during 2016.
In the chart below, you can see where the company's acquisition at $34 per share was being expected by the market during February 2017. Following the reported declines in sales, Fresenius decided to withdraw from the binding purchase agreement during 2018.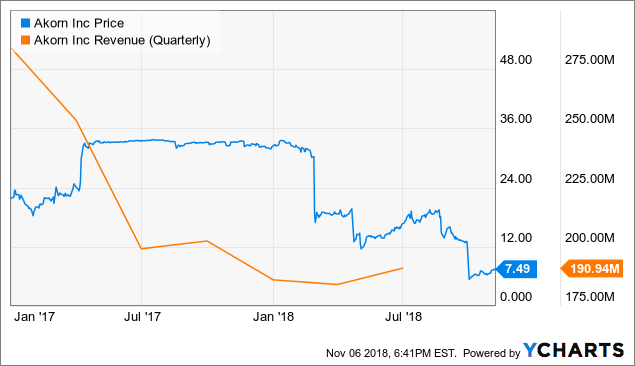 The decline in sales has turned the income statement upside down. During the first half of 2017, the company raked in $159M through operations and then went on to lose $31M during the first half of 2018.
Management explains there has been substantial volume decreases and also price erosion in a handful of its main products.
If the company loses a similar amount of money in the second half of this year as they did in the first, they will burn another $31M of their $296M cash pile. With capital expenditures likely to come in around $30M, I project the company will have around $230M on its balance sheet going into 2019.
Meanwhile, AKRX is carrying $817M in debt. Assets-to-liabilities ring in at 1.68 and 1.24 if intangible assets are removed from the calculation. The company's intangibles consist of capitalized costs related to acquiring the rights to market certain drugs and evidently is not a very accurately estimated figure considering the business wrote off more than 15% of this asset via one-time impairments during the last 12 months.
Financials Are OK At AKRX, But Cash Burn Is A Problem
There are a few major unknowns preventing an easy forecast of whether or not AKRX is going to return to profitability anytime soon, and these are why I am not enthusiastic about this turnaround play.
We don't know the volume or timing of sales their pipeline of drugs will make.
The company doesn't break down its sales by product brand in its financial statements, so we don't have any data into what is a long-term sales making cushion for the company.
We don't know how much more sales of their previous hit drugs have to fall.
On the positive side, AKRX has several pharmaceutical production facilities and the majority of them are located domestically, and 98% of sales are in the USA to boot. This will give AKRX some insulation from any further actions the Trump or foreign administrations may take against international pharmaceuticals.
AKRX has also consistently invested in R&D which gives them "legs" as a biotech, and the company really reduces to a simple gamble on whether there is enough money making power in its next batch or two of drugs to return this business to profitability.
All in all, there just isn't a compelling reason to pick AKRX stock right now. Quite simply there is a chance they won't be able to force their acquisition or figure out their return to profitability in a short enough period of time. If the company's recovery in prolonged, we will see $5 per share again as pessimism around the stock increases and the value of their balance sheet shrinks at the rate of their cash burn.
I rate AKRX an Avoid. But don't come complaining if you sell and everything goes well at the company!
Warren Buffett himself has said his biggest mistakes were decisions not to participate (buy-in), thereby missing out on some good returns. Then again, oracles are not known for being easy to interpret. The Oracle of Omaha has also been quoted mirroring Steve Jobs' sentiment when he said, "...saying no to the hundred other good ideas that there are. You have to pick carefully."
Disclaimer: This article represents the opinion of the author as of the date of this article. This article is based upon information reasonably available to the author and obtained from public sources that the author believes are reliable. However, the author does not guarantee the accuracy or completeness of this article. It is merely the author's interpretation of the information contained in the article. The author encourages all readers to do their own due diligence. This is not a recommendation to buy or sell any security.
Click or tap +Follow Faloh Investment for my latest reports and find your way among the top stock pickers publishing today.
Disclosure: I/we have no positions in any stocks mentioned, and no plans to initiate any positions within the next 72 hours.
I wrote this article myself, and it expresses my own opinions. I am not receiving compensation for it (other than from Seeking Alpha). I have no business relationship with any company whose stock is mentioned in this article.