Momentum has been carried forward.
On November 5th, music streaming service Pandora (P) announced the results of its 3Q18. For the third straight quarter, roughly coinciding with the doubling of the stock price since February 2018, the company delivered a top-and-bottom line beat on revenues of $418 million and adjusted net loss of $0.06 per share that topped guidance by a solid eight cents on rising sales and expanding margins.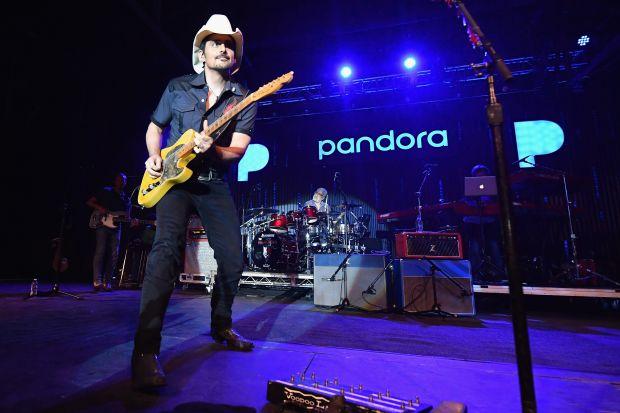 Credit: WSJ
The robust quarter was not limited to above-expectation financial results. Operationally, Pandora managed to grow its subscriber base in the double digits once again, supporting the thesis that it has enough opportunities to convert its many active users, made up of 68.8 million listeners, into paying customers - Pandora's subscriber pool of only 6.8 million accounts is still tiny compared to Spotify's (SPOT) 87 million.
With user base growth came the benefits of economy of scale. Advertising RPM (revenue per thousand listening hours) reached a record $77.84 that rose 11% over year-ago levels, while LPM (licensing cost) increased by only 2%. As a result, I calculate that ad margins increased noticeably, by about four percentage points on a per-unit basis and helping to push total company adjusted EBITDA nearly $14 million above management's guidance. Also, encouragingly, subscription RPM grew YOY at a faster pace than ballooning licensing cost, resulting in what I estimate to be a one percentage point improvement in per-unit subs margin.
Below is a simplified P&L model illustrating Pandora's 3Q18 results against consensus and guidance. Notice how, compared to expectations, the company has been closing the loss gap quickly, approaching a much-anticipated breakeven point on a non-GAAP basis as the company gains scale.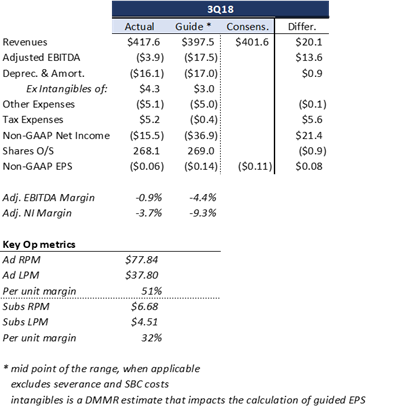 Source: DM Martins Research, using data from company reports
Is there an investment opportunity here?
I am a big fan of subscription models, and/or those that derive revenues and earnings from a "returning customer" base - as is the case of Pandora's advertising business, which represented 73% of sales in 3Q18. I have chosen to stay away from this particular stock, however, as results up to the early part of 2018 had been far from inspiring, and any upside to share price seemed too speculative for my taste.
Today, and despite having missed out on a strong stock price rebound this year, P looks a bit more appealing to me. The company seems to have finally found its north. Heavy spending in marketing appears to be helping Pandora convert a good chunk of its large user base into paying customers. An investment in free and premium features that took the form of higher licensing expenses seems to have made the platform more appealing to listeners, and the benefits of scale are starting to manifest themselves in the form of expanding margins.
The trick here is that Sirius XM (SIRI) has recently made an offer of 1.44 of its own shares to acquire P, and the deal is expected to close within as few as a couple of months. Although Pandora has been given the right to look for an alternative acquirer, experts have been skeptical about the usual suspects Spotify, Apple (AAPL) or Amazon (AMZN) making a move on the music streaming company.
The way I see it, P has been offered a "soft stock price floor" that is equivalent to $9.01/share as of today (SIRI's mid-trading day price times 1.44), with upside potential in case a higher bidder enters the scene. Currently, and contrary to what happened through most of October, P trades at a discount of 13 cents to the implied merger price, suggesting to me that the stock is relatively cheap at current levels.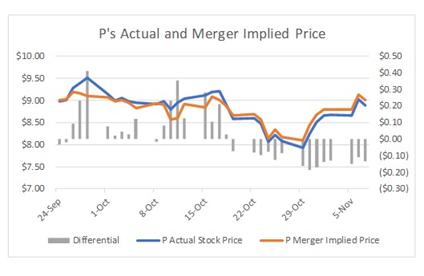 Source: DM Martins Research, using data from Yahoo Finance
My portfolio is currently fully invested in risky assets (i.e. stocks, bonds and other non-cash holdings). For this reason, I will not take any action on P at this time. Were this not the case, I would consider taking advantage of today's pullback in the stock price to buy me a few shares, speculating that either (1) the gap to merger price would close in the next several weeks or (2) Pandora's improving results might end up welcoming a higher bid before the Sirius deal closes, in 1Q19.
Note from the author: If you have enjoyed this article, follow me by clicking the orange "Follow" button next to the header, making sure that the "Get email alerts" box remains checked. And to dig deeper into how I have built a risk-diversified portfolio designed and back-tested to generate market-like returns with lower risk, join my Storm-Resistant Growth group. Take advantage of the 14-day free trial, read all the content written to date and get immediate access to the community.
Disclosure: I am/we are long AAPL.
I wrote this article myself, and it expresses my own opinions. I am not receiving compensation for it (other than from Seeking Alpha). I have no business relationship with any company whose stock is mentioned in this article.