Units in Buckeye Partners (NYSE:BPL) have been roughly cut-in-half since BPL announced in 2016 its intent to acquire a 50% equity interest in the holding company of VTTI for $1.15 billion: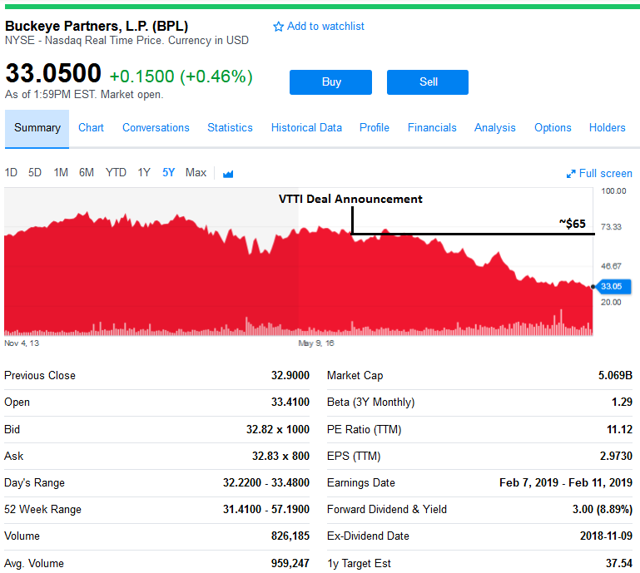 Source: Yahoo Finance
At the time, I was a big fan of the acquisition (see: BPL - Earn 7.5% From A New U.S. Based Global Petroleum Importer/Exporter). How could it go wrong with lofty growth expectations for U.S. oil and gas production, and the subsequent exports of O&G and refined products exports? And those production and export expectations have not only been met, but most analysts would likely agree they have been exceeded. But it did go wrong: BPL failed to cover it distribution for multiple quarters in a row. That was certainly not something investors expected. On the contrary, the global marine assets were supposed to lead to distribution growth.
Trouble In Buckeye Land
I noticed a big difference after the usually very reliable Buckeye didn't cover its distribution in Q2 of last year (see BPL: What Happened?) and at $55.81 reduced my rating from BUY to HOLD. After another awful quarter in Q3, I recommended investors avoid the units at $52.03 (see BPL's Q3: Doubly Troubling). That's because the well-respected "Steady Eddie" missed covering its distribution for two quarters in a row.
Today, we find the company trading in the low $30s and just last week announced:
An agreement to sell to sell its entire equity interest in VTTI for cash proceeds of $975 million.
An agreement to sell $450 million of domestic midstream assets.
A cut in the quarterly distribution from $1.2625 to $0.75 (-40%).
Last Friday, the units initially responded positively to the news, and bounced up to $35, even though the distribution cut dropped Buckeye's yield from ~15% to the current 9%. They have since dropped back down to ~$33.
The announcement was part of a strategic plan that is intended to:
Maintain Buckeye's investment grade credit rating by reducing leverage;
Provide increased financial flexibility, eliminating the need for Buckeye to access the public equity markets to fund annual growth capital; and
Reallocate capital to the higher return growth opportunities across our remaining assets.
The first two objectives will certainly be met considering the company is going to raise over $1.4 billion in cash proceeds from the asset sales. The key for Buckeye going forward is item 3.
Certainly, Buckeye was performing much better when it focused on its domestic operations and the potential growing domestic oil and gas production would give the company. And BPL appears to be getting back on track with a very interesting marine terminal JV with Phillips 66 Partners (PSXP) and Andeavor (which was recently bought out by Marathon Petroleum (MPC)) in Corpus Christi, TX. BPL is the lead partner with a 50% stake; PSXP and MPC each own 25%. The marine terminal is expected to export oil and refined products and will have an initial storage capacity of 3.4 million bbls. What makes this terminal so attractive is that it is the end-of-the-line for PSXP's new Gray Oak pipeline. The Gray Oak pipeline has the potential to bring up to 1 million bpd of Permian and Eagle Ford production to the Gulf Coast, and potentially put on the water in Corpus Christi for export markets.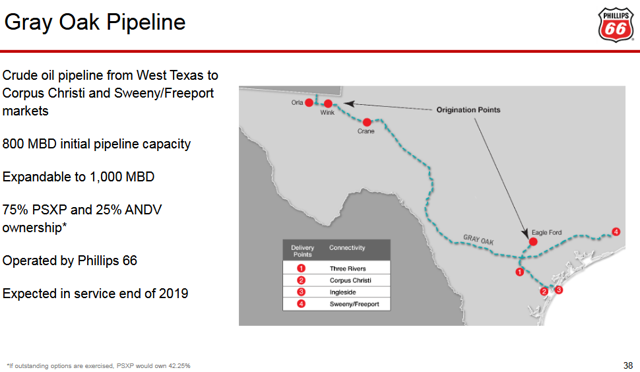 Source: Phillips 66 Presentation
The pipeline and the terminal are both expected to go in-service by the end of next year. I should mention that BPL does not have a stake in the actual Gray Oak pipeline. That is owned by PSXP (75%) and MPC (25%).
However, the Corpus Christi marine terminal is a good sign that Buckeye is getting back to what it does best: building and operating domestic storage and terminalling assets. After all, Buckeye already had significant investments in Corpus as the center of its "Texas Hub":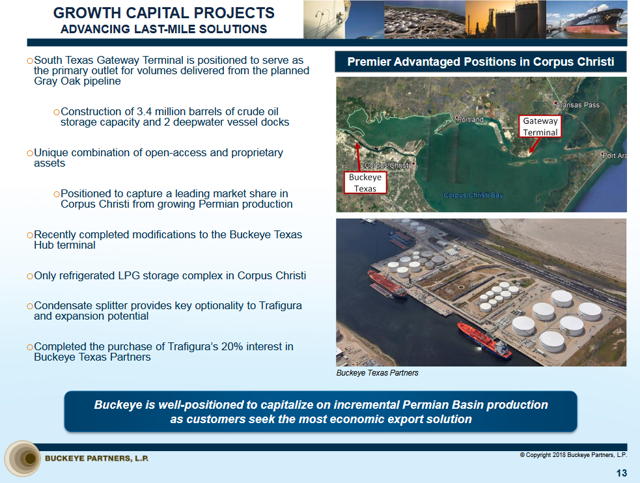 Source: BPL Presentation
So, owning 50% of an export terminal with 2 deepwater vessel docks within spitting distance of its existing Buckeye Texas hub is likely to be a very symbiotic inclusion to BPL's portfolio. Not to mention that every pipeline the PSX/PSXP partnership touches these days (Dakota Access, Sand Hills, Southern Hills) seems to turn to gold.
Summary & Conclusion
I think the worst is over for Buckeye. With the ~40% reduction in the quarterly distribution, the company's Q3 coverage ratio was 1.35x. As a result, and combined with the announced asset sales, the distribution is now secure, and I find the nearly 9% yield quite enticing. Not bad for those willing to invest in an MLP that is unwinding a bad midstream deal and has upside potential due to a very good looking marine terminal in Corpus Christi. But it is going to take a bit of time for BPL to get back to basics here at home.
For those who would rather have more exposure to the Gray Oak pipeline itself, and a piece of the action in Corpus, take a look at Phillips 66 Partners. However, note that PSXP is a true MLP (with a K-1 and IDRs) and has a significantly lower yield (6.5%) as compared to Buckeye. That said, PSXP has several significant growth initiatives and will be increasing distributions at a much faster pace than BPL (which obviously just went in the other direction). Regardless, it's time I change my AVOID rating on BPL to ACCUMULATE ON WEAKNESS. I say to buy on weakness because, remember, interest rates are still rising, the asset sales haven't been finalized, and BPL unit-holders may be wanting to gather some tax-loss selling before year-end.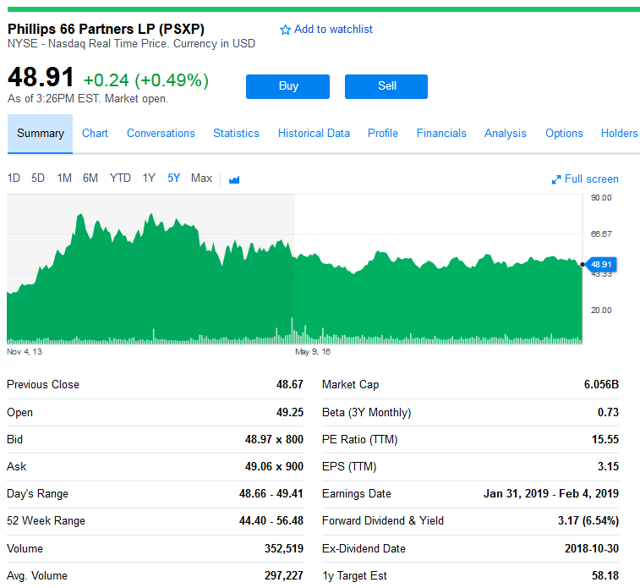 Source: Yahoo Finance
Disclosure: I am/we are long PSXP.
I wrote this article myself, and it expresses my own opinions. I am not receiving compensation for it (other than from Seeking Alpha). I have no business relationship with any company whose stock is mentioned in this article.
Additional disclosure: I am an engineer, not a CFA. The information and data presented in this article were obtained from company documents and/or sources believed to be reliable, but have not been independently verified. Therefore, the author cannot guarantee their accuracy. Please do your own research and contact a qualified investment advisor. I am not responsible for investment decisions you make.