Whiting Petroleum (WLL) is growing production while maintaining financial discipline, something to behold in the energy sector. Actually, many E&Ps like WLL are growing production within cash flow, keeping in good standing with their lenders.
Not only is WLL growing production within their range of guidance, up 2% quarter-over-quarter, it also sees production increasing about 5% in Q4. This comes despite chatter that E&Ps will be delaying completions due to lack of takeaway capacity and exhausted budgets. In addition to increased production, improved realizations are also expected to drive strong cash flows as higher oil prices and lower differentials begin to take effect.
Whiting's New Gen 4 completions will be highlighted more in-depth in this article, however, as they will not only add to cash flows in the coming quarter but should be a revolutionary step change for the company. As a result, WLL investors have plenty to cheer about and should remain long shares.
Gen 4 Completions Driving Results
The Sanish field in the Bakken is one area where Whiting's new Generation 4 completions are adding more value. Older Generation 1 and 2 completion techniques were not optimized and are becoming obsolete as more rock can be contacted with Gen 4 type completions. In fact, the McNamara pilot in the Sanish field, for example, has been outperforming expectations. The pad now has a 108% rate of return at $65 oil prices and is targeting 20% oil vs. the 10% to 12% oil cut numbers seen in the past.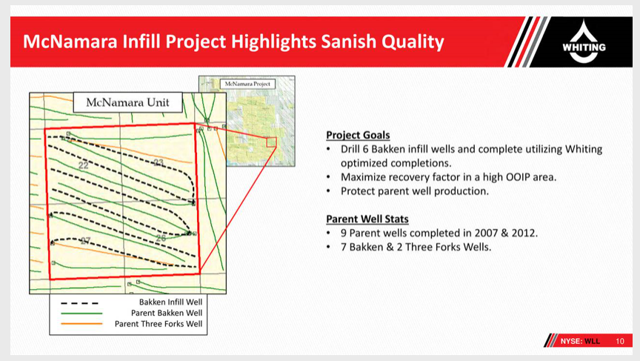 Source: Whiting Petroleum
The McNamara pilot was not the only highlight in the Sanish. Whiting's Bartelson pad also outperformed estimates, coming in 83% better than the original well in the area. In the Southern Williston portion of the Bakken, particularly in the Tarpon area, 14-well mega pads are demonstrating the power of larger-scale Gen 4 completions, as IP rates of about 2,614 barrels of oil equivalent per day are slightly above industry averages (formerly about 2,500 BOE per day).
Generation 4 completions, while not entirely disclosed to the public due to competitive reasons, consist of section line wells that are located at the edges of existing wells (perhaps minimizing frac interferences), 500-foot spacing, infill wells, and, most interestingly, three-mile laterals that will consume about 7 million to 9 million pounds of sand per well.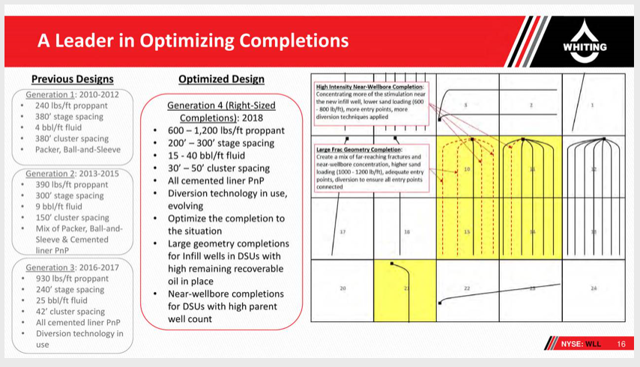 Source: Whiting Petroleum
Whiting has never gone past 2.5 miles, but it believes it has the technology to do so. This caveat proved, for one, that laterals are indeed getting longer across the industry, which bodes well for increased production numbers while costs decrease (since longer laterals save on costs by focusing assets all at one place).
But, more importantly, by WLL stating that they are moving to longer laterals, it now effectively silences the oilfield services bears, who thought that the company found a PERMANENT way to go back down to one-mile laterals and reduce proppant usage by 30%. Critics thought this trend would spread throughout the country, helping E&Ps like WLL, while crushing services players like Hi-Crush Partners (HCLP). But the smaller completions were only used in areas like Polar, seen below.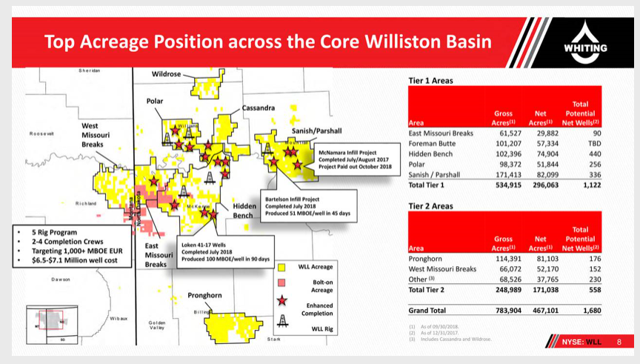 Source: Whiting Petroleum
Here is more on completions used in the Polar region of the Bakken: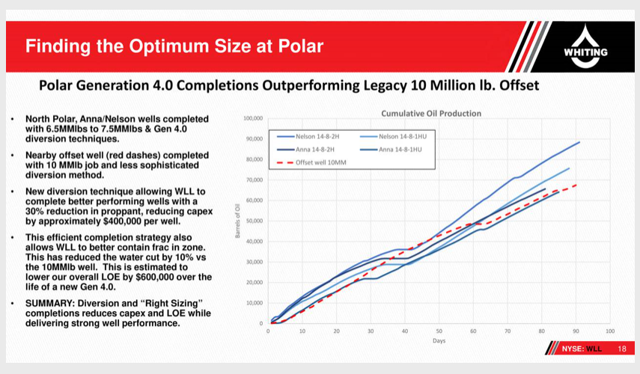 Source: Whiting Petroleum
To be clear, it was always a positive for WLL that they could reduce costs by 30% through going to shorter laterals and using less proppant, even though it was much more of a negative for the OFS industry. Thankfully, longer laterals are proving to be more effective for WLL, which should now ensure sustainability and healthy profit margins for the oil & gas industry as a whole (as long as there is enough contiguous acreage in these shale basins to do so).
Reducing Risk Through Hedges And Marketing Contracts
Not only does there need to be contiguous acreage for WLL in order for Gen 4 completions to realize their full value, (which there is, as there are 40,000 high-quality wells left to be drilled in the Bakken according to recent surveys), but ample takeaway capacity needs to exist. Thankfully for WLL, they operate in a basin that is less crowded than others like the Permian who are experiencing widening differentials due to limited pipeline availability.
Differentials are expected to widen to $7 in Q4, which pales in comparison to $15 spreads seen in the Permian. But, this $7 differential, while higher than normal, should subside after refinery maintenance is complete.
Collar hedges ranging from $50 to $80 per barrel are protecting from downside risks seen in fluctuating oil prices and differentials, though, while still allowing for upside potential. More rail capacity is also coming online. This is due to rail pressure being alleviated in the Permian, as oil and sand are being trucked or piped now vs. utilizing more expensive rail lines. As a result, WLL should have no problem moving their volumes to end markets.
Risks To WLL's Story
Risks still remain to WLL's story, such as falling oil prices from a slowing economy and sanctions being relaxed for Iran. Debt is also relatively high at $2.8 billion, but the company expects this number to come down. In fact, if a strategic bolt-on at an attractive valuation doesn't occur, then stock buybacks are a very real possibility. Anything to pay down debt, acquire new companies at reasonable multiples, and reduce dilution through stock buybacks should be welcomed by investors.
Conclusion
WLL is growing production during challenging times. Exhausted budgets and a lack of takeaway capacity is plaguing some E&Ps. But WLL continues to strengthen its position in the Bakken by growing production with new Gen 4 completion techniques. As a result of their increased production profile, technological innovation, and attractive differentials realized from operating in a less crowded basin, WLL remains a buy and should be added to on the recent dip.
Disclosure: I am/we are long GUSH.
I wrote this article myself, and it expresses my own opinions. I am not receiving compensation for it (other than from Seeking Alpha). I have no business relationship with any company whose stock is mentioned in this article.