Amyris (AMRS) is going to report Q3 earnings after the market closes on November 13. The company guides for $185-195M in annual revenue, but has only reported just under $50M in the first half of the year. This is normal for the company, as it ships specialty products in the second half of the year and expects major lump sum payments during that time frame. However, it does put more emphasis on the Q3 and Q4 earnings reports, so I will be watching them closely. This article talks about how the company is delivering on its goals and outlines what I will be looking at in the earnings release/call. My main thesis on the company can be found here.
During the Q2 earnings call, John Melo, the CEO of Amyris, listed the key drivers of revenue in the second half of the year:
Our key drivers of revenue for the second half are two major license payments, three major collaborations, continued strong growth of Biossance, our key ingredient shipments that that are batch produced and shipped in the second half of the year.

Our first commercial product revenue for natural sweetener and a great second half for the Aprinnova joint venture, that's our skin care business that's benefiting greatly from the performance of Biossance.
Collaborations
The easiest business activity to track is the collaborations - Amyris has announced two major collaborations since the Q2 call. The first collaboration with Yifan Pharmaceutical closed in Q3, so we can expect some of the revenue from that deal to be reflected in the Q3 numbers. The second collaboration with ASR, which is likely the bigger of the two, was announced on October 3, just after the third quarter ended. I don't know if the deal closed in Q3 or not, but I expect to hear some details about the deal on the earnings call. So far Amyris has closed two of the three major collaborations, putting it well on track to meet the annual goal.
Sweetener
Amyris announced on October 19 that it is successfully manufacturing its zero calorie sweetener. That means that no sweetener revenue is expected in the Q3 numbers, but that the company is on track to meet its annual goal in this area. Furthermore, Amyris is hosting a sweetener launch event in New York on December 3, from which I will report. For now I will just make a comment that, while many watchers of the company are talking about potential soda partnerships, I don't think that those will be the first applications announced. Reb M (the Amyris sweetener) matches sugar very closely in taste, but not in viscosity, which is something soda companies care a lot about. We are much more likely to see Reb M initially introduced in products like candy, yogurts, non-soda drinks, ice cream, etc.
Key Ingredient Shipments
A StockTwits user who goes by Warfery maintains a list of Amyris's imports into the US that he compiles from public information (thank you, Warfery!). The list by no means provides a complete account of the company's activities, as many of its customers are outside of the country, but it does enable us to check off things that definitely happened. From that list we can see that in Q3/Q4 Amyris produced and shipped at least 100 tons of patchouli oil, which is one of the special ingredients that Amyris didn't produce in the first half of the year. So, at least one of the key ingredients shipments has happened so far. Revenues from patchouli will be split between Q3 and Q4.
Biossance
Biossance appears to continue to grow at full speed. Google searches for Biossance in the USA appear to have doubled in the past year: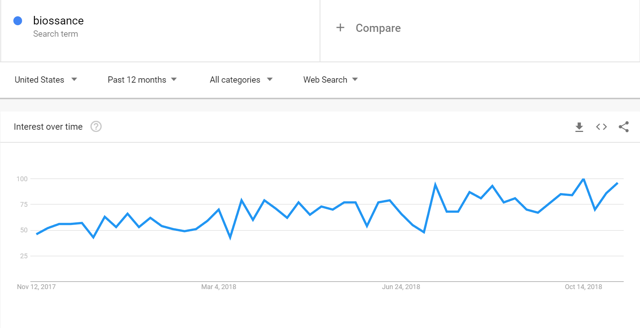 Source: Google Trends
In addition to that, Biossance launched in Brazil and Canada earlier this year. So I would expect revenues from this product line to more than double over last year's Q3. In September, Biossance products began to roll out across the 668 Sephora Inside J.C.Penney (JCP) stores. That ups the number of retail locations where you can buy Biossance in the US from under 150 to about 800. Taking that into account, I expect Q4 Biossance sales to meet Amyris's goal of growing Biossance sales 300% YoY.
License Payments
License payments are likely to be very important to Q3 and Q4 results. Since they are related to already established collaborations, I expect Amyris to receive them as planned. But because they are business-as-usual and don't necessitate press releases, we have no visibility into whether they happened in Q3 or will happen in Q4.
Overall Expectations
I expect Amyris to be on track to meet its annual revenue guidance. Since the earnings call will take place in the middle of Q4, I expect the company's guidance for the full year to be highly accurate. I think that due to the timing of collaboration payments, sweetener production, Biossance sales, etc. most of the revenue will be recognized in Q4. However, Q3 revenues will almost certainly be quite a bit higher than Q1/Q2 revenues. Wall Street expects about $45M in Q3 revenues - that is quite plausible, but the expectation range for me personally is quite high, since so many lump sum payments are expected.
What I'll Be Watching
The most important bits of information to me will be indicators of Amyris's economics going into the next two years. As such, I will be most closely looking for the following information:
Terms of the sweetener deal with ASR.
Revenue run rate from Vitamin E deal with DSM.
Biossance growth rate and new product launch calendar.
Gross margins of ongoing product sales
Yifan collaboration terms.
I hope to also learn something about how the construction of Brotas II is going, when vanillin is going to be launched, and how the collaboration pipeline is looking for the medium term. After the earnings call I will write an article to examine how Amyris is delivering on its ambitious goals and promises.
Disclosure: I am/we are long AMRS.
I wrote this article myself, and it expresses my own opinions. I am not receiving compensation for it (other than from Seeking Alpha). I have no business relationship with any company whose stock is mentioned in this article.
Additional disclosure: I may purchase some short-term AMRS call options between the time that this article goes live and November 13.
Editor's Note: This article covers one or more microcap stocks. Please be aware of the risks associated with these stocks.