Pier 1 Imports (NYSE:PIR) stock price was $25.00 in 2013. The stock had rebounded from losses during the financial recession of 2008 in a straight line upward, reaching its high of $25.20 the week of May 13, 2013. Since then, however, it has dropped right back downwards in an almost linear straight line. In May of 2013, on a trailing 12-month basis, earnings per share were $1.63, giving the company a respectable ~15 times valuation. Since then, earnings have slowly eroded and declined to negative -$0.63, and the stock has fallen some ~95%, where it is currently at $1.50. The company is addressing the losses and rebooting with an overhaul of its products and shopping experience. This presents obvious questions: Will Pier 1 be effective with this? Can the company return to profitability, and if so, where will the stock price be after that?
(Note: For ease of visual comparison, all charts in this article start with 2009 and proceed to present day.)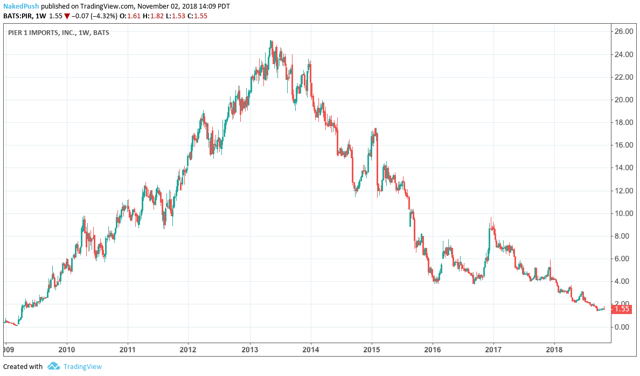 As you can see from the chart, the market moved upward systematically and then fell right back downwards. Now, with a reboot at hand and a drive to return to profitability, will the stock rebound?
Personally, I believe the potential exists, and because of that, the stock may spike upwards to as high as $7.50 in some 3-9 months. However, despite how that may sound, I do not believe that the company then will provide a long-term investment potential. But that move from $1.50 to $7.50 sure does sound tempting to the inner profit-seeking trader in me.
Pier 1 Earnings
Here is a look at the revenue, EPS, and net margins, all trailing 12-month, all since January 2009 to present:



In these charts, you can see the spike high in EPS that drove the stock upward as it did in 2013; Pier 1 was very profitable. However, despite a move higher in revenue, net margins eroded to what is now below 0%; the company has revenues of some ~$1.7 billion annually but is losing money.
There is another concern I have: how does Pier 1 address its net margin issue? Sure, there are bigger sales in the DFWQ stores, and Pier 1 is rolling out the program company-wide. But what does that do to increase net margins? While increased revenues will enable the company to potentially have larger profits at any one particular store, if you look at the charts I have above, the company already did have increasing revenues, while simultaneously declining margins and EPS.
What is Pier 1 doing to turn around the company
Reading the last Earnings Call Transcript from Pier 1, you can see the momentum the company is working with. Without breaking down the entire earnings call transcripts, I will paraphrase what was important to me in deciding upon putting on a trade in Pier 1.
The company has an overall game plan to return to profitability with four major priorities:
Priority #1: Relaunching with compelling story
Priority #2: Improve shopping experience
Priority #3: Leveraging e-Commerce
Priority #4: Improving sourcing
What Pier 1 did was to put together a test in the Dallas Fort Worth area where all of these priorities were addressed. In this test, the company overhauled the product lines and shopping experience. The test was very positive with increased sales and profitability to the point that Pier 1 is now in the process of revamping the entire company - over 1,000 stores - to fall in the same lines as the Dallas/Fort Worth stores.
However, there are two aspects of the company-wide rollout that it did not perform well:
Supply levels
Advertising
Of all things, Pier 1 ran out of supply at its stores. Secondly, the company does not believe it advertised very well, and sales could have been better for the company throughout the nation had these issues not arisen. These failures are being addressed. Pier 1 hopes to have these problems worked out in the very near future, and that should show up in the next earnings reports.
My general takeaway from what was said in the earnings call was that Pier 1 has a model that will be profitable throughout the entire company, and that it is rolling this model out throughout the company. The rollout has not been smooth, but these problems are being addressed.
Challenges ahead
The company has challenges ahead, and some of them are exterior in nature: tariffs are hitting all retailers equally. Tariffs are going to increase costs that will have to be passed on to consumers, and that will cut overall economic growth. This will weigh on the potential profitability of Pier 1 - and all retailers, of course. I see this as being more difficult for a company that is challenged with having negative earnings for the past quarter than it would be for a retailer that was profitable during this period.
But this is the one thing that Pier 1 is specifically trying to address: improving the shopping experience and relaunching with a "compelling story". Will it work, though? That question becomes philosophical. My take: there is a chance.
Retailers always point the finger at the ever-pervasive 800 lb. gorilla in the room, Amazon (NASDAQ:AMZN), for their collective woes. Amazon has done one thing and done it well: taken the shopping experience and democratized it down to a commodity. For Amazon, it is about price and selection and nothing else. However, that does not necessarily mean that Pier 1 cannot compete with Amazon. There are a few other companies that have seen successful online sales as of late, Walmart (NYSE:WMT) and Target (NYSE:TG) to name the two biggest. So, maybe Pier 1 can carve itself a niche and be successful.
What I like is that the company has a plan that it feels will work, despite the problems associated with rolling out that plan. I believe that Pier 1 can increase its revenues. However, I do not think that increased revenues will be a linear equation to profitability. I keep pointing back to the net margin declines that the company has had, while also seeing increasing revenue. I am curious to see how Pier 1 addresses that one specific issue, something that was not brought up in its latest earnings conference call.
What does the market think?
The market generally believes that Pier 1 is going to pull something off and it is going to be special. The market has been buying call options on Pier 1. Implied volatility is much higher from a larger-than-normal amount of purchases in future-dated calls; increased volatility usually comes from abnormally high purchases. Open interest in call options for forward months are bid with high open interest for both $2.00 calls and $3.00 calls in near- and far-dated options. The take on this is that the stock will not only recover but will pop up considerably. Right now, the stock is trading at $1.50 (Time of writing: Friday November 2). With open interest on $3.00 calls increasing, this would imply that the stock is going to double within 4-6 months.
I took an informal poll of the data above and looked at the stock price versus the EPS: generally, the company's numbers were about 15 times earnings through the whole time. In other words, wherever earnings tend to be - negative earnings notwithstanding - the market rewards the company with ~15 times those earnings for its valuation. I will use the 15 times valuation as a target.
One year ago, earnings were at $0.35 per share (trailing 12 months) with a stock price of $5.25. Given an average stock price valuation of 15 times earnings, if Pier 1 is able to achieve the previous year's earnings per share, this would put the per share price somewhere between $5.25 and $7.00. I think that is an achievable stock price valuation if the company can hit its goals.
Takeaway
Pier 1 stock has been beaten down pretty hard over the past few years. I believe the company may accomplish its short-term goals and achieve profitability once again; its turnaround shows promise. When the company does turn around, the stock will rise. However, I do not believe Pier 1 has the ability to thwart off all of the long-term threats to its continuous profitability.
Margins are tight and likely to get worse - an issue all retailers are facing. I do not believe that will change anytime soon. Cost concerns may have increased since the last reporting due to the tariffs. Because of this, stock increases are likely to be contained. I can see a move in Pier 1 stock price to $7.50 in the near-term future. But I have a tough time believing the company can compete on a bigger scale and draw in enough investor enthusiasm to push the stock upwards over a longer-term period.
I am going to go long some far-dated options for the simple reason that this stock is very likely to head higher. I am, however, realistic; there is potential for a total loss on this move. Because of the that, I am going to buy stock options instead of holding the stock outright, to minimize risk.
March $2.00 call options are offered $0.20. Mine - I am hitting that offer.
Disclosure: I am/we are long PIR.
I wrote this article myself, and it expresses my own opinions. I am not receiving compensation for it (other than from Seeking Alpha). I have no business relationship with any company whose stock is mentioned in this article.