When we analyze the CAD/USD on a weekly chart, we see that the loonie has remained largely stationary against the greenback since July: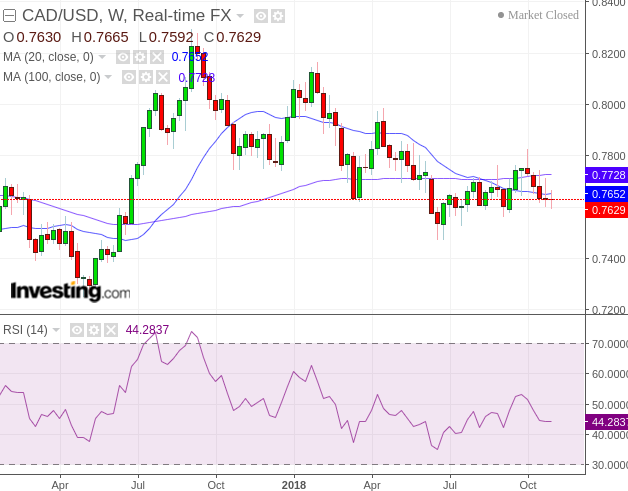 Source: investing.com
Moreover, we see that the currency is meeting significant support against the 20-day moving average and the most recent candlestick shows a "doji," indicating that the opening and closing price of the currency pair for that week was almost equal.
This is significant as it demonstrates a stalemate of sorts between bulls and bears for the currency pair, which could well indicate that a significant reversal in trend to the upside is on the way.
From a technical standpoint, it looks quite unlikely that we will see the pair fall below a support level of 0.76.
However, while I had previously expressed my view that we could see moderation ahead in the CAD/USD due to lower oil prices and household debt burdens in Canada, there is also a case to be made for significant upside from here.
With the Bank of Canada having raised interest rates to 1.75% in October, what is particularly significant is an indication from the central bank that the rate of tightening may in fact accelerate, with the Bank of Canada governor Stephen Poloz indicating:
Even with last week's increase ... monetary policy remains stimulative. In fact, the policy rate today is still negative in real terms, that is, once you adjust for inflation. The policy rate will need to rise to neutral to achieve our inflation target.
We see that even with declining oil prices in Canada, core inflation has continued to rise throughout 2018: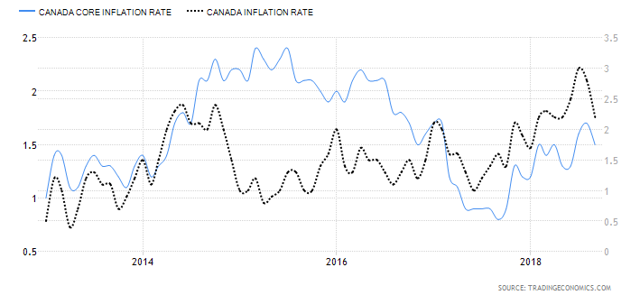 Source: tradingeconomics.com
While high levels of household debt remain a concern, debt to disposable income has actually been falling since 2017, and the Bank of Canada does not deem household debt a significant impediment to economic growth at this time, which opens the door to further rate rises.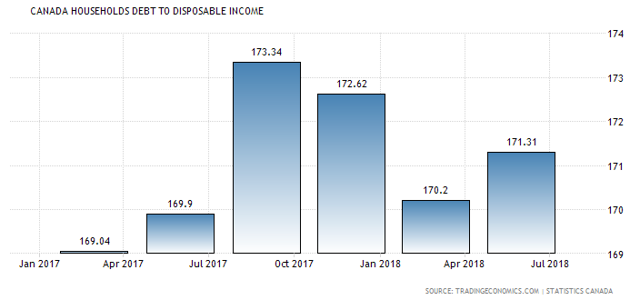 Source: tradingeconomics.com
Taking the current macroeconomic environment into account, the Bank of Canada seems set to pursue tightening at a faster pace, and higher interest rates are likely to fuel further demand for the loonie. The CAD/USD is likely trading near support at this time, and upside to the 0.80 level remains quite possible.
Disclosure: I/we have no positions in any stocks mentioned, and no plans to initiate any positions within the next 72 hours. I wrote this article myself, and it expresses my own opinions. I am not receiving compensation for it (other than from Seeking Alpha). I have no business relationship with any company whose stock is mentioned in this article.