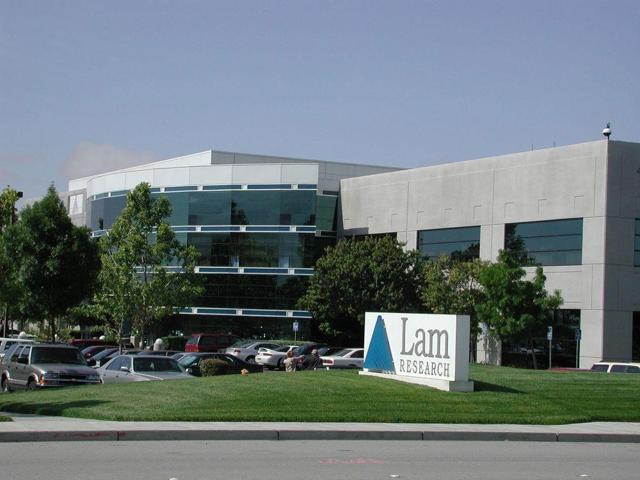 Written by Tiernan Ray and Ophir Gottlieb
Preface
The fear and uncertainty surrounding the memory and semiconductor segments span the entire space of technology. Wall Street and investors are looking for answers in quarterly earnings calls, but we go straight to the source when we can - with one-on-one interviews.
What we heard from our one-on-one with Lam Research's (LRCX) CFO was encouraging. Comments like "we called September a low point," "our market is growing, and our market share is growing," "we decided to go aggressively into the market [to buy stock] because the stock looked cheap" are answers from the top.
We spoke with the CEO of AMD for an extended period of time on 10-26-2018 and she conveyed some of the same ideas regarding the future for semiconductors. The top-level executives are speaking with one voice about the future.
Today, please find Tiernan's write-up and interview with Lam Research's chief financial officer Doug Bettinger. Our emphasis is added and we have weaved in the bullish thesis with charts as appropriate.
Before we get to the interview, we turn to the bullish thesis for Lam Research.
Bullish Thesis
Here is a chart of Lam's revenue (TTM) before this quarter's numbers are added in: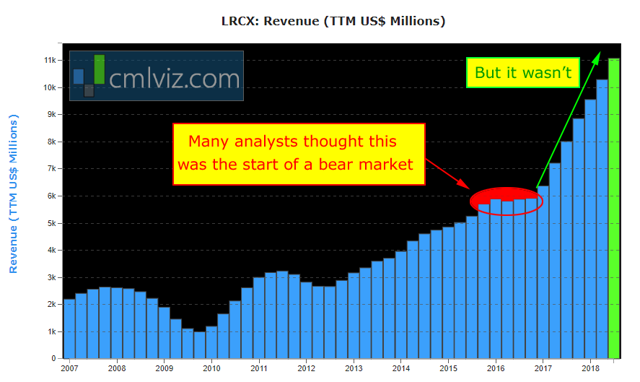 We can see a cyclical lull in late 2015 that lasted two years, but even then companies were noting that the lull was not like the prior cycles that swept a decade, rather it would be short-lived.
That's what we get this time around as well, as we will cover. The future for Lam Research is very bright.
Lam Research Corporation is a leading supplier of wafer fabrication equipment and services to the global semiconductor industry.
The company develops innovative solutions that help its customers build smaller, faster, more powerful, and more power-efficient electronic devices - the kind that are driving the proliferation of technology into our everyday lives.
It's the "smaller, faster, more powerful, and more power-efficient electronic devices" themes that we are focusing on.
We can really think of memory as the initial point from which the new digital economy will launch. Just as demand for memory explodes, so too is the demand for better, faster, more energy-efficient and smarter memory.
When we look at data storage and demand, we get this image from Statista.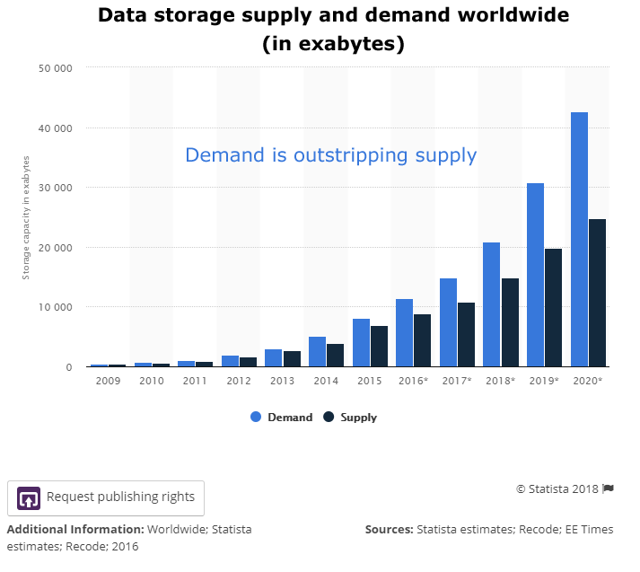 That data was compiled in 2017 - so this is not a decade-old forecast gone wrong.
If that feels like it flies in the face of everything you're reading, then let's try this, instead. Here is what Lam Research has published - the first chart is for data center, we will get to mobile right after this.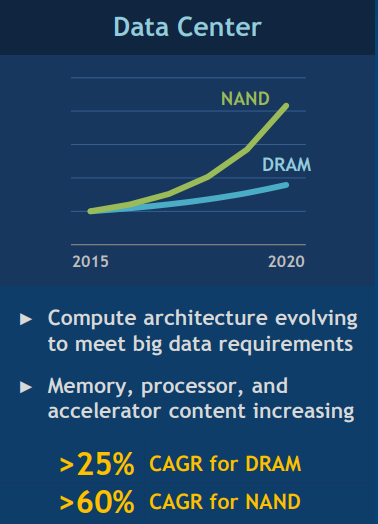 Eric Schmidt, the ex-CEO of Google (NASDAQ:GOOG) (NASDAQ:GOOGL) and Executive Chairman, said, "there were 5 exabytes of information created between the dawn of civilization and 2003, but that much information is now created every 2 days."
Soon, that much data will be created every day, then every half day, and by 2030, quite possibly, every few hours.
Lam Research likes to stay conservative, so here is another chart from the company: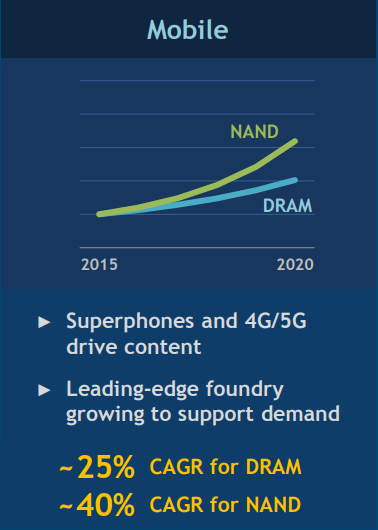 And with respect to connected devices, here is another forecast from Lam: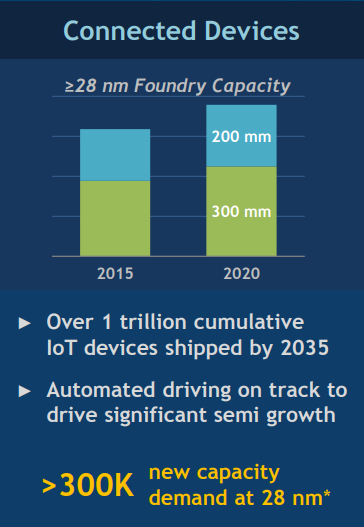 There is much more to the Lam Research story - into the guts of wafer fab equipment. Now that we have established the bullish narrative, let's dig deeper with a respected and accomplished CFO.
Story
Shares of Lam Research have risen a little over 4%, at Friday's close of $151.50, since the company's report on October 16 of fiscal Q1 revenue that was in line with Street expectations, profit that was comfortably ahead of consensus, and a forecast for both, for this quarter, that topped expectations.
In a follow-up interview Thursday, Lam's chief financial officer Doug Bettinger emphasized the view that the company sees last quarter as a "trough" for the business, despite the "challenging environment" he and chief executive Martin Anstice acknowledge weighs on their chip customers around the world.
Despite what continue to be very favorable trends for DRAM, NAND, and other investment by customers, Bettinger acknowledged a bit of skepticism among some analysts. "However, the outlook is now, some of the people are thinking that there's 'something else' coming," to worry about, said Bettinger.
Whatever they think that something might be, it's a phantom fear at this point. "We don't see something else," he said.
To recap, LAM revenue in the September-ending quarter fell 6%, year over year, to $2.33 billion, yielding EPS of $3.36, excluding some costs. Analysts had been modeling $2.31 billion and $3.22 per share.
Earnings per share last quarter were helped by a very large $1.7 billion share buyback, as the company went "aggressively" to market, said Bettinger, because its stock was cheap.
For the current quarter, the company sees revenue in a range of $2.35 billion to $2.65 billion, topping the average estimate for $2.53 billion. Earnings are seen in a range of $3.45 to $3.85 per share, also above consensus for $3.45.
Bettinger brushed off worries about tariff and trade talk, saying Lam and its customers will be able to adapt their supply chains to cope.
And he dispelled fears that Lam will be hit by a fading of NAND production investment or a swing away from Lam's tools for "etch" and "deposition."
3-D NAND has an extraordinarily long roadmap. It will evolve over the next three to five years.
Here are a few snippets from our one-on-one Q&A with the CFO:
We asked about the weakness that some semiconductor companies are seeing and mostly what Wall Street analysts are projecting and his response was spot on:
Doug Bettinger: I think there is a near-term message, and then there is a longer-term message that is independent of where people think we are at in the cycle.

We called September a low point. We projected for $2.5 billion in revenue this quarter, and EPS up along with that. We actually referred to September as a trough.

The first half of next year looks better than the second half of this year. We discussed that on the call and to an extent, people seemed a little skeptical. But stepping back from that near-term view, the drivers of our industry are intact.

Data is driving our industry, data the economy, what you could call the 3.0 phase of our industry. And underpinning that are semiconductors. It all depends on semiconductors.
Mr. Bettinger is referring to the content boom that is on its way to the world. This is the forecast for data creation and growth just from mobile: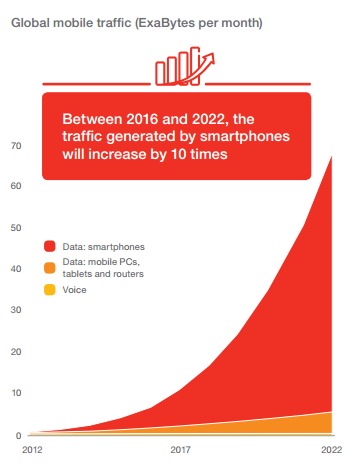 We repeat these themes because the best CEOs in the world are repeating them.
Then we asked about the cloud and the cloud Capex. Mr. Bettinger said:
Cloud architectures are a new driver for our industry, and IoT, and all these devices generating data. All that data needs to be transmitted and to be analyzed in order to create information. And that's new for our industry, that's a new growth driver.
Now we step back to the themes at large. This is the forecast for cloud growth and then IoT device growth: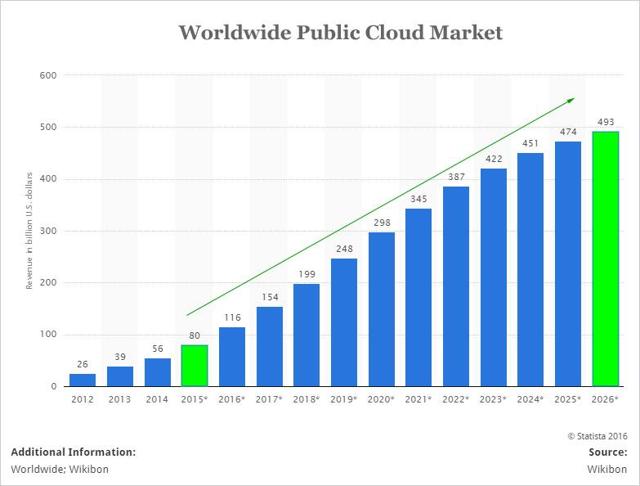 We're looking at market growth from $80 billion in 2015 to nearly half a trillion dollars in 2026. It will nearly triple from last year to 2020.
Here's what we know about connected devices: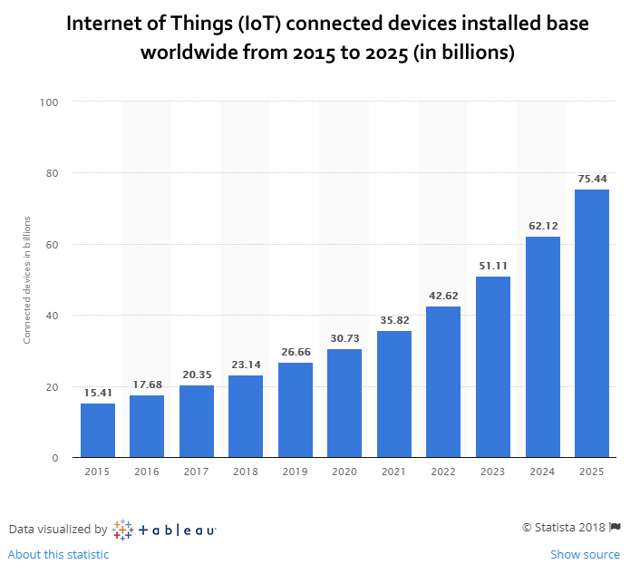 Mr. Bettinger re-emphasized Lam's leadership position and long-term outlook:
For Lam, specifically, we see a couple things that are what we call alpha growth for us. Our market is growing, and our market share is growing, and out there in the field, the base of what's out there is growing. So, those are some of the longer-term things we see. I think that was the broader takeaway.
Finally, we asked about the skepticism on the earnings call, and that skepticism remains.
People remember the cycle that used to exist ten to fifteen years ago. And however, the outlook is now, some of the people are thinking that there's "something else" coming. We don't see something else.
Our last question surrounded Lam's massive stock buyback program that was accelerated. This is the kind of answer you want to hear from CFO:
The stock looked cheap to me, and Martin [CEO] and I discussed it, and we said let's go into the market. We've done an accelerated stock repurchase arrangement, and we committed all the remaining capital.
The full Q&A session is available through Capital Market Laboratories free research portal.
Conclusion
This is Ophir writing, again. As we wrote in mid-October, the themes behind Lam Research and its impeccable ability to execute have us bullish on the stock. When the CFO says out loud that they aggressively purchased stock because they felt it was undervalued, that's a pretty good signal as well.
We don't know if the market correction will be a sort of jolt then recover, or prolonged. We don't know if the trade war with China will persist - it very likely could.
We don't know a lot about the short term, but the long-term future, that is clearer to us. And in our opinion, even as stocks go down, even as panic shakes the investing world, it doesn't have to shake us.
We see Lam Research as another of the pick-axes to the technology gold rush, and we do see a bumpy ride ahead - but we just don't focus on that.
Thanks for reading, friends.
Disclosure: I am/we are long LRCX.
I wrote this article myself, and it expresses my own opinions. I am not receiving compensation for it. I have no business relationship with any company whose stock is mentioned in this article.