If you're the type of investor who's inclined to think the crowd is usually wrong or that the consensus view is mistaken more often than not, then you might want to think about curbing any pent-up enthusiasm you're harboring about U.S. equities into year end.
Headed into the midterm elections, the thinking on Wall Street (generally speaking) was that divided government would be good for stocks (SPY). The rationale for that call was pretty simple. Gridlock would ensure the market-friendly aspects of President Trump's agenda aren't rolled back but would also prevent the White House from moving forward too aggressively on the trade war or on any other contentious issues that might materially dent market sentiment.
That view (or some derivation thereof) was shared by most analysts, although some desks cautioned that given how high the tension is running inside the Beltway, divided government could lead to higher volatility. SocGen, for instance, had this to offer on Monday:
If Republicans lose either the House or Senate, SG strategists would expect more volatility on risk assets and a rising risk premium. The political and economic agenda has driven the financial markets for the past two years – so political gridlock and uncertainty will not come without pain.
Similarly, BNP was out on Wednesday morning suggesting that while equities should hold up ok, the waters will likely get choppier from here. To wit:
In the very short term, we expect to see volatility compression and the S&P500 term structure to continue to normalize. Longer term, we expect the trend in equity volatility to be higher.
Those caveats aside, the prevailing view is that gridlock is good and, on top of that, history suggests equities "should" rally. Here's what normally happens following midterm elections since 1974 (from a Goldman note released just as the polls began to close on Tuesday evening):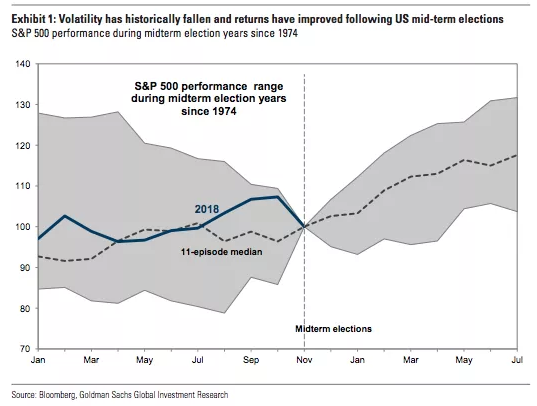 (Goldman)
In the same vein, here's a handy visual from BofAML which depicts YoY returns in the year following a midterm election, broken down by the various possible combinations for who controls the White House and Congress: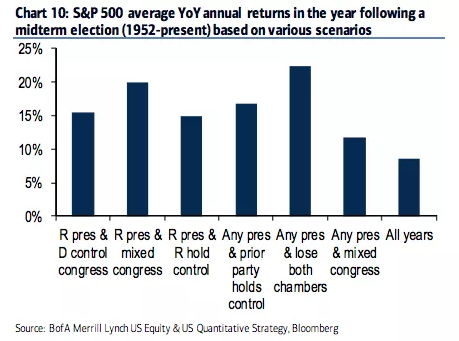 (BofAML)
Again, history is on your side if you're an equity bull, and according to Wall Street, gridlock is good not only in the context of history but especially in the current context.
Ok, so for those of you who like to take the contrarian side, I'm going to give you a handful of arguments to support the view that caution might be warranted, despite the consensus bullish view. After that, I'll briefly run through some additional, more concrete, reasons to think equities will indeed squeeze higher into the end of 2018.
One discrepancy I've seen over and over again in the research is that while most everyone seems to agree that a "Red Wall" scenario (i.e., an outcome where the GOP retained both the House and Senate) would have given the President more scope to ratchet up the trade tensions (especially with regard to China), nobody seems to be able to say, definitively, just what it is about a divided Congress that will serve as a check on the executive when it comes to trade. Rather, the argument seems to rest almost entirely on the rather nebulous notion that a Democratic House means more "pushback".
But there's been no shortage of such pushback all year long when it comes to the trade war. Lawmakers on both sides of the aisle, business luminaries and corporate management teams have all variously warned about the inherent perils of an all-out trade war and that was wholly insufficient to stop it from escalating. As BNP reminds you (in the same note cited above), "Presidents derive their trade powers from existing legislation, specifically the Trade Expansion Act of 1962 and the Trade Act of 1974 [and] to override these powers, it would likely take new legislation to be passed by both the House and Senate, along with a two-thirds vote in both chambers to override a likely presidential veto."
In other words, it's not clear whether a divided Congress is really going to make any difference when it comes to putting the brakes on the trade war if the administration decides to move ahead with, for instance, tariffs on the remainder of Chinese imports, assuming there's no grand bargain between President Trump and Xi Jinping at the G-20. If last week taught us anything, it's that the market is even more hyper-sensitive to the trade headlines than ever as the U.S. moves closer to taxing everything China ships to the U.S. (see here for a full recap of the market action around last week's schizophrenic trade reports).
That's a nice segue into a quick reminder about the burgeoning global slowdown. The synchronized global growth narrative that dominated 2017 has recently morphed into a tale of a concurrent global slowdown, with a further deceleration in China leading the way. PMIs have come in weak lately, as have other growth indicators. As I was writing this piece, Japan reported an 18.3% MoM slide in core machine orders for September, more than double the -9% print analysts were looking for. Obviously, that doesn't bode particularly well for capex in Japan.
At the same time, I don't see a compelling reason to believe that a divided Congress in the U.S. will materially change the Fed's decision calculus. It's true that another round of stimulus is now less likely (unless you think the President and Democrats will be able to reach an agreement on the long-rumored infrastructure deal), which may take a bit of pressure off in terms of the Fed having to worry about more overheating in the economy. But really, that ship has sailed - the economy is overheating and the October jobs report only underscores that contention. In a note dated November 4, for instance, Goldman wrote the following:
Inflation is on track for a meaningful overshoot of the Fed's 2% target. In our baseline forecast of 2.3% for core PCE by late 2019, that overshoot remains within the Fed's likely comfort zone. But we see the risks to this forecast as tilted to a bigger increase. The economy really needs to slow to avoid a dangerous overheating.
This means the Fed is likely to stay the course at least for now (we'll get the November statement on Thursday, although it's likely to be a "see you in December" type of deal).
If you don't think the S&P fell enough in October to find a new equilibrium consistent with Jerome Powell's efforts to restrike the "Fed put", well then the November rally in stocks leaves us even further from that equilibrium.
Lastly, I would note that a divided Congress likely means more flattening in the curve (think: dimmer prospects for more stimulus and lower long-end yields). Although Wednesday saw a late afternoon bout of steepening following a lackluster 30Y auction, the curve was still flatter on the day and at one point, the 2s10s was on pace for its largest one-day flattening since May. So, if you're the type who believes inversion everywhere and always portends trouble, the results of the midterms are likely to lead to a resumption of curve flattening following the early October steepening episode.
If you're looking for reasons to doubt the consensus bullish view for U.S. stocks into year-end, I've just given you three plausible arguments for adopting a cautious stance.
Now, it's important for readers to understand that in addition to the rather tenuous bull case outlined here at the outset, there are more concrete reasons to believe stocks could squeeze higher into the end of the year.
Both JPMorgan's Marko Kolanovic and Nomura's Charlie McElligott were out on Wednesday reiterating their view that there's further upside for U.S. stocks ahead based in part on technical factors and forced buying.
These are long discussions and I don't want to get too far into the weeds, so I'll just give you the broad strokes and links where those who are interested can find further information.
For McElligott, the story is the same as it was last week. Hedge funds and asset managers who low-ticked their exposure last Monday just ahead of a monumental two-day rally have become forced buyers as the market rises. I detailed this dynamic pretty extensively over the weekend in "'Crushed Souls' And The Case For A 'Rolling Squeeze Higher' In The S&P". Basically, McElligott posits that Long/Short hedge funds and asset managers who deleveraged dramatically during October's tech rout are now attempting to use futures and ETFs to grab for exposure on rallies. Here's the gist of it, from McElligott's Wednesday note:
I continue to expect a near-term tactical pain-trade HIGHER for U.S. Equities, almost entirely due to the past month's gashing of "market" exposure from the fundamental community throughout the performance drawdown, which has forced "net-down" / "gross-down" / "beta-down" behavior (which accelerated particularly over the final week of October).

The "fundamental" active Equities universe then has essentially become a source of synthetic "short gamma" in the market, as with any rally in stocks, said performance-burned funds effectively "get shorter" the higher Equities travel, in turn contributing to these violent bear market rallies on "up" days, with funds grabbing exposure "dynamically hedging" futures on said move.
Again, regular readers will be familiar with this and on Wednesday, McElligott notes that it's not just hedge funds and leveraged investors - it's also asset managers. Below, find two visuals. In the left pane is a chart from JPMorgan which shows the massive decline in the Long/Short crowd's beta to the S&P (red arrow) and the uptick in their beta last week (yellow arrow), with the latter suggesting they're trying to rebuild their exposure. In the right pane is a chart from Nomura which shows the recent plunge in asset managers' cumulative position in the S&P, the Nasdaq 100 and the Russell.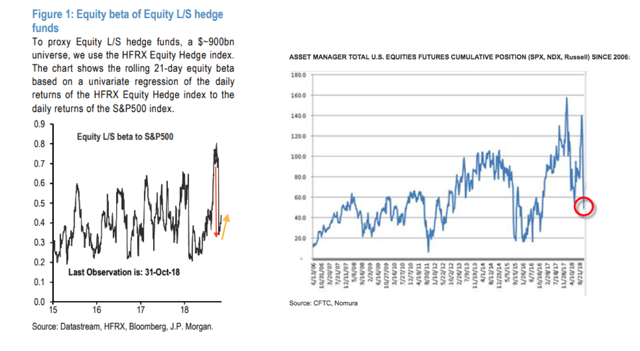 (JPMorgan, left; Nomura, right)
The bottom line appears to be that these fundamental investors were caught underexposed early last week just as the systematic crowd (e.g., CTAs) and macro funds started to re-risk/rebuild their exposure. Vol-targeting funds might well be adding equity exposure as well. Here's McElligott one more time:
Our CTA model already shows Equities exposure again being added WoW in SPX, Nasdaq, Nikkei, ASX (while also reducing their HSCEI "short" and over their "buy signal" in HSI after today), while our Risk Parity model too shows +$2.1B of "adds" in global Equities vs 2 weeks ago.
As those players re-risk, it puts the fundamental, active community (hedge funds and asset managers) even further behind the curve as the market rallies while their exposure is low. Again, they're effectively getting "shorter" as the market runs away from them, forcing them to buy, which only adds to the bullish impetus for stocks. That helps explain why the rallies since October 30 have been so powerful (four out of the last seven sessions have seen the S&P rise at least 1%):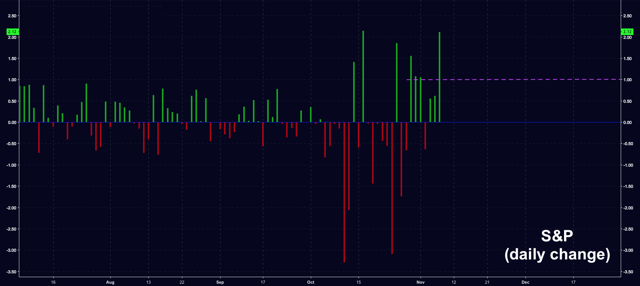 (Heisenberg)
McElligott has several more reasons to expect a "max pain" rally and you can peruse some of the details here, but for our purposes, the above summary should more than suffice.
Moving on to Marko Kolanovic's Wednesday note, I'd be remiss not to remind you up front that he called for a squeeze higher on October 30 at 10:15 AM ET. The S&P is up ~6% since then. Zooming in on his most recent thoughts, Marko of course focuses on systematic strats and technical flows (that's his wheelhouse). Here are the key excerpts (more here):
Short convexity of market makers is rapidly declining and may turn long. This should be positive as it will bring back intraday reversion as opposed to momentum. This reduces realized volatility, and many investors will misconstrue this as a return of the 'buy the dip' environment. Realized volatility is expected to decline. Systematic investors (such as vol targeters) will start rebuilding positions into year-end. Implied volatility has declined, with the VIX term structure reverting to contango. For some strategies this is a positive signal. Next week, 1M price momentum will turn positive for most equity indices globally (1M 'anniversary' of the crash), and may lead to CTA inflows or short covering.
When you combine the benign influence from market makers (remember: Their influence was the very opposite of "benign" during the October 10 rout) with re-risking/re-leveraging from systematic strats and then throw in the reinvigorated corporate bid (i.e., buybacks), you end up with a pretty solid argument for more upside in equities.
For what it's worth, here's a chart of short- and long-term momentum signals from JPMorgan's Nikolaos Panigirtzoglou: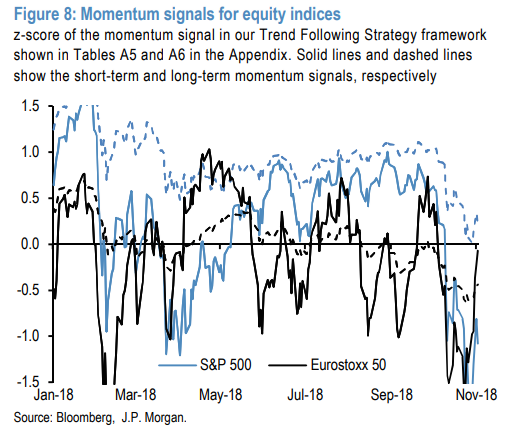 (JPMorgan)
Finally, I would also encourage you to consider that the results of the midterms are likely to be bearish for the dollar (UUP). That's a consensus view that I tend to agree with. Less scope for more stimulus and lower long-end yields should both play negative for the greenback which is already due for a pullback, especially considering how stretched (on the long side) positioning is. America's fiscal trajectory isn't going to change materially under a divided Congress, which means the longer-term dollar bearish arguments aren't going away.
Of course a weaker dollar is bullish for risk assets, especially downtrodden emerging market equities (EEM) and FX. A big part of the whole "convergence" trade narrative that started to make the rounds in August and September revolved around the notion that the best way for the historic disparity between U.S. equities and their global counterparts to resolve itself without the former catching down to the latter, was for the dollar to pull back. Well, now there's scope for just such a pullback.
As my buddy Kevin Muir at EastWest Investment Management wrote late last month, "the spread between P/E ratios of [U.S. stocks and EM equities] has hit a 13-year high". More simply: The S&P is the most expensive compared to the MSCI Emerging Markets Index since 2005.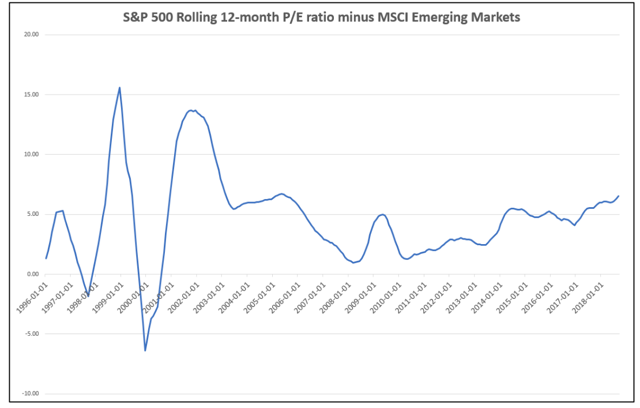 (Bloomberg, EastWest)
So, there you have it. A comprehensive, balanced assessment that touches on both the bearish case and the bullish case and includes all the excruciating detail you'd expect from a Heisenberg production.
And look, I do realize this is a lot to digest, but I try to arm my readers with as much information as possible so that they can make an informed decision and, hopefully, learn a thing or two along the way.
As ever, you're left to draw your own conclusions from the above, and I trust you'll do just that in the comments.
Disclosure: I/we have no positions in any stocks mentioned, and no plans to initiate any positions within the next 72 hours.
I wrote this article myself, and it expresses my own opinions. I am not receiving compensation for it (other than from Seeking Alpha). I have no business relationship with any company whose stock is mentioned in this article.