Occidental Petroleum (NYSE:OXY) is an often-overlooked energy company with an interesting diversity of assets. The recent share price weakness offers a long-term entry point for investors looking to add one of the smaller major oil players. OXY has a long, rich operating history with a checkered share price past.
Founded in the 1920s, OXY was mainly a California oil & gas explorer. However, after gaining the attention of Armand Hammer in 1956, the company started expanding in the international oil E&P arenas with projects in Libya and the Middle East. At the time of Hammer's death, OXY was the largest meat packer in the US, and in addition to its oil & gas operation, management had built the 6th-largest US chemical company, mainly through acquisitions. With the passing of Hammer in 1990 came a decade of divestitures and a refocus on the oil & natural gas business.

OXY: Diversity of Businesses
Currently, OXY operates in three major areas: Midstream and Marketing, Chemicals, and Oil and Gas E&P. While many assess OXY as an E&P, its midstream and OxyChem assets generate more operating cash flow. In its 3rd quarter investors presentation, management forecasts operating free cash flow for 2018 to exceed $4.5 billion, of which Midstream should generate 38%, OxyChem 34% and E&P 28%, adjusted for the recent $2.6 billion sale of Permian crude oil pipelines and Houston Ship Channel export terminals. From a revenue standpoint, Midstream generated 18% of YTD 2018 revenues, while OxyChem generated 25% of YTD 2018 revenues and E&P generated 57% of YTD 2018 revenues. While the company's stock fortune ebbs and flows with the price of crude oil and natural gas, the underlying stability of cash flow earnings from midstream and chemicals seems to be underappreciated.
Midstream and Marketing: Years ago, OXY started building a network of gathering and distribution pipelines in and around its holdings in the Permian Basin. These projects were added to a growing list of midstream assets, including crude export/import terminals, natural gas processing plants, natural gas power-generating plants, carbon dioxide (CO2) pipelines used in the Permian Enhanced Oil Recovery (EOR) business and non-Permian pipelines. With the current pipeline bottlenecks in the Permian, OXY has been able to create a sizable competitive advantage by owning its own takeaway pipelines and to offer to third-parties any spare pipeline capacity. With the bottlenecks anticipated to dissipate over the next few years as additional pipelines come on-stream, OXY management seized on the opportunity to unload its Centurion pipeline and Ingleside Energy Center for a tidy sum.
OxyChem: OXY is the 2nd largest producer of caustic soda and the largest producer of PVC resins in the US. In addition, OxyChem offers chlorine, silicates and other industrial compounds. Combined, these chemicals are key raw materials for a variety of products, such as plastics, pharmaceuticals and water treatment chemicals. OxyChem's market position for the principal products they manufacture is among the top three in each product category. OXY operates 22 chemical facilities in the US and two internationally. According to Chemical and Engineering News, OxyChem is the 18th largest US chemical manufacturer by revenue and the 4th highest in generating chemical operating profit margins among those firms its size or larger.
E&P: Occidental Petroleum is synonymous with the Permian Basin. The company solidified its position with the $3.6 billion acquisition in 2000 of then largest oil and gas producer in Texas, Altura Energy. It followed up with another major Permian land purchase in 2005 from Exxon Mobil (NYSE:XOM). OXY currently controls 2.5 million acres in the Permian area. According to the recent investor presentation, at a 10-rig activity level, management has identified a 17-year inventory of new well locations.
OXY is easily one of the Permian's major producers, pumping oil from recently developed shale reservoirs as well as older sections of the basin, where it uses the EOR process to squeeze oil out of aging wells. Typically, after traditional recovery is completed, a well leaves about 40% of its oil behind that is available through secondary or tertiary recovery methods. A popular method utilizes natural gas, nitrogen or carbon dioxide (CO2) that is injected into the well and which expands in a reservoir to push additional oil to a production wellbore. Another method injects gases that dissolve in the oil to lower its viscosity and improves its flow rate. Gas injection accounts for nearly 60 percent of EOR production in the United States. The most popular EOR process involves injecting CO2 into a mature well in order to aid further oil recovery. A substantial portion of OXY's Permian oil production is from EOR processes and supports the company's CO2 assets.
While the cost of EOR increases the overall per barrel investment costs, the extra well production can be maintained for several years with minimal decline. OXY is the largest injector of CO2 in the Permian and one of the top 5 largest EOR oil production firms in the US. Of the firm's 3rd quarter 2018 production of 681,000 boe per day, 225,000 boe came from the Permian and 125,000 boe of total Permian production came from the EOR processes.
The combination of new Permian wells and EOR production will be the foundation of continued E&P growth for OXY. For example, last year OXY paid $600 million to acquire additional EOR assets in the Permian from Hess Corp. (NYSE:HES). According to the investor presentation, management believes it has reduced its cost structure so that it can profitably expand crude production by 5-8% annually, and increase its dividend, with WTI at $50.
The recent slide in share prices from $82 to $68 came after the Qatar government announced it was not renewing OXY's 100% operating interest in the Idd El-Shargi North Dome offshore oil field. Due for renewal in October 2019, Qatar and QXY had been in partnership since the field was first developed in 1994.The termination will cost OXY about $300 million in reduced E&P cash flow and 52 MBoe per day of production. Management is looking to acquire domestic and international assets to replace this lost operating cash flow, and with the proceeds of the recent midstream sale combined with a relatively low debt profile, management has the ability to compensate for this loss of cash flow.
Of interest to long-term investors is management's ability to generate free cash flow. According to Morningstar, OXY has generated positive 5-year average annual free cash flow (operating cash flow minus capital expenditures) of $1.2 billion, while paying out a 5-year average annual dividend of $2.1 billion. These numbers include the disastrous 2015 when dividends were $2.2 billion while free cash flow was a negative $2.2 billion, reflecting a collapse in oil prices.
While management touts its historical dividend growth of 12% CAGR since 2002, more recently, dividend growth has been somewhat anemic. According to Reuters, 1-year dividend growth stands at 1.2%, 3-year average annual growth at 2.0% and 3-year average annual growth at 7.2%. For the first time since 2014, reported earnings per share will surpass dividends paid. Over the next few years, investors should be prepared for token dividend growth, which hopefully will maintain OXY's inflation-adjusted purchasing power.
Management also touts its share buyback programs as a means of returning value to shareholders. Since 2006, OXY has spent $31 billion in share repurchases. This includes the years 2009, 2010, 2016 and 2017, when share buybacks were suspended due to low operating cash flow. According to Morningstar and SEC filings, share count has decreased from 868 million shares outstanding at the end of 2005 to 765 million shares current listed. This would equate to a share reduction of 103 million shares. While not delving into the asset acquisitions over the past 13 years paid for by issuing additional shares, it seems like this was a pretty expensive return of shareholder value. On a per share basis, this $31 billion expense increases share earnings by 11% over the 13-year period through share count reduction.
Occidental has a credit rating of A from S&P but a B- in its SPGMI rating, which evaluates 10-year consistency in earnings and dividend growth.
All that being said, OXY's current share price offers long-term investors an intriguing total return potential.
Below is a F.A.S.T. Graphs analysis of Occidental Petroleum. If management can generate $5.85 in EPS in 2019, and at a historic P/E in the 17x range, OXY share price could climb to around $100 by this time next year.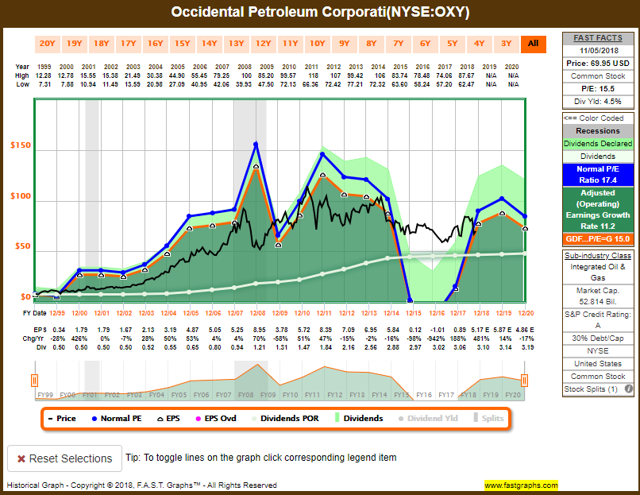 Credit Suisse offers the following fundamental valuation comparison of OXY to its peers. Of interest is the company's higher dividend yield and lower post-dividend FCF yield. Anticipated organic production CAGR of 7.5% from 2017 to 2022 is about 28% lower than its average Global E&P peer group but multiple times the organic growth prospects of domestic Major E&P peers Chevron (NYSE:CVX) and Exxon Mobil.

Occidental is well-liked on the Street. Below is a history of broker recommendations since January 2018, as offered on Finviz. As shown, the majority of changes to recommendations this year have been positive.

According to Morningstar, Occidental has outperformed the Oil & Gas E&P benchmark for all time periods except the 3-year period. Even with this period, the underperformance was minimal.

The following 10-month chart shows the recent share price decline in perspective of the past year. The 200-day moving average is just over $75, with strong support at its recent low of $66 and resistance in the $82 range.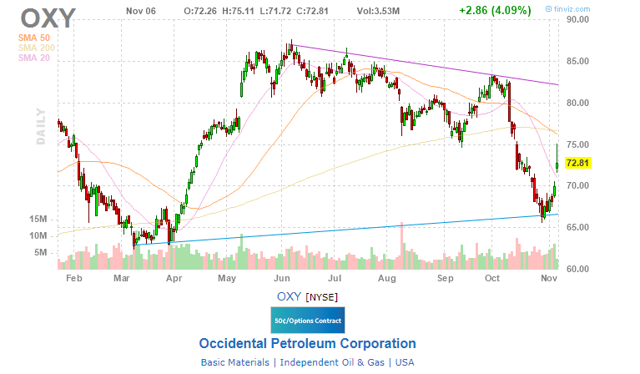 Many investors utilize the Point and Figure charts as a component of their due diligence. Below is the latest P&F chart showing a new technical trading pattern as of November 6. The pattern is now positive with a Low Pole Reversal. Below the P&F chart is an explanation of the implication of a Low Pole Reversal, as offered by StockCharts.com chart school. I have inserted OXY share prices in italics, underlined, and in parentheses.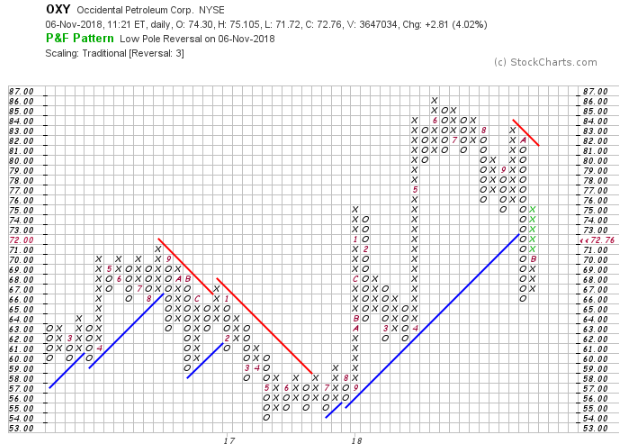 The low pole reversal is seen when a chart falls below a previous low by at least 3 boxes but then reverses to rise by at least 50 percent of the fall. The reversal implies that the supply that was making the prices fall has been absorbed and demand is taking over. The pattern is an alert that higher prices could be seen in the future. The ideal buy point would be on another reversal back down (below $71) to be closer to the stop-loss point (below $66). This would also set up a double top breakout if the prices reverse up and break over the current column's high (above $75).
OXY has an average historical yield of around 3.8%. With an anticipated dividend of $3.14 in 2019, matching this historical yield would equate to a share price in the $82 range. With a current 4.4% yield and price targets in the $82-92 range over the next two years, investors could reasonably expect annual total returns in the 10.5-17.0% range over the next 24 months.
Occidental was recommended to me a few weeks ago by one of my subscribers. I had not researched the company before and was looking to add to my exposure to the oil-heavy E&P sector. I have sufficient natural gas exposure but was light on oil. I like the diversity of Occidental's business with its well-positioned chemical business, and am a big fan of midstream companies as timely long-term investments. I started a position with two buys below $69 and will follow the lead of the P&F chart. I will be looking to add if share prices drop below the $71 range and would like to match my previous purchase prices.
Author's Note: Please refer to standard disclosures found on my profile page.
Disclosure: I am/we are long OXY.
I wrote this article myself, and it expresses my own opinions. I am not receiving compensation for it (other than from Seeking Alpha). I have no business relationship with any company whose stock is mentioned in this article.