Preface
Within my exclusive marketplace, The Formula, I look for assets that provide therapeutic differentiation (have superior efficacy and safety, serve unmet needs, have limited competition, etc.). I have one model portfolio of my top biotech stocks focused on conviction ideas with intermediate/long-term time frames and another focused solely on long-term ideas.
Minerva Neurosciences (NERV) is developing roluperidone for negative symptoms associated with schizophrenia. There are no FDA-approved drugs to treat this critical indication. Minerva is recruiting patients in a pivotal phase 3 trial designed to repeat the robust success of the previous one. Additionally, Minerva has a few other assets that may provide therapeutic differentiation in big market indications like insomnia and depression.
Roluperidone Data Pushed Back
As of August 2018:
Top-line results from the 12-week double blind phase of this trial are expected in the first half of 2019.
As of November 2018:
We expect the completion of enrollment during the first half of 2019 and top-line results in mid-2019.
Reasoning
Management shed some light on the reasons for the delay during the latest conference call:
So two countries indeed in Eastern Europe have declined to participate to the study. So what I can tell you, I can obviously not give you all the interactions with the health authorities, but what I can tell you is that the reason which is why they have not participated is not at all related to the molecule or to any safety issues. And I have to say that it is a little bit misleading here, while it's questionable because one of this country has participated in the – into Phase IIb trial and obviously, it was one of the countries having a very nice recruitment there.

And to be very clear, we received also from the two countries an approval from the health authorities and at the end of the day, it has been declined by a central governmental body. So this is why we have anticipated and we have added additional sites and additional countries in order to anticipate this decline of this two countries.
My Take: Data being pushed back isn't necessarily, in and of itself, too concerning in biotech. And I, certainly, wouldn't read much into a couple of countries opting out of trials. However, it does bring more attention to cash runway. Investors are far more willing to invest in companies with straight-forward timelines. They don't like surprises. The timeline for Minerva before news was roluperidone phase 3 data --> stock offering. The news casts reasonable doubt on this timeline.
Cash Runway

Typical cash burn for Minerva is ~$12M. We can anticipate cash burn increasing in the future due to accelerating clinical developments. So, let's project $15M in quarterly burn. That gives them a runway of ~12-16 months. This is in-line with management projections.
My Take: They do have sufficient cash to finish roluperidone's phase 3 trial, but it may be cutting it too thin for investor comfort.
Share Prices Drop Post-Earnings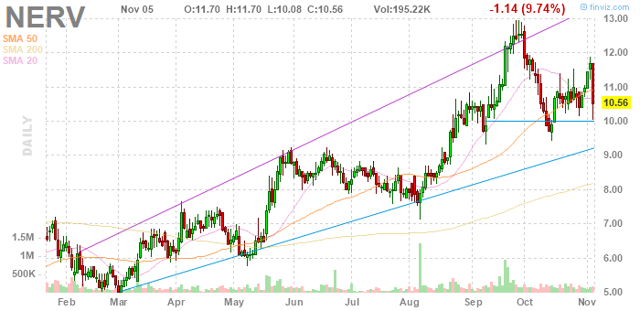 NERV was down ~10% on average volume following earnings. It's of note that the biotech sector was down for the day as well, with smaller caps taking the brunt of the hit. So, especially in a stock like NERV & in light of just average volume, I wouldn't consider the move as too significant.
"Transformational" 2019
Minerva will have several different data readouts next year. Including:
MIN-117 for major depressive disorder who also have symptoms of anxiety (monotherapy) with data expected 1H 2019
MIN-202 for major depressive disorder (adjunctive therapy) with data expected in 2019
MIN-202 for insomnia disorder (monotherapy) with data expected in 2019
Summary
Biotechnology companies, typically, don't risk running it too thin on cash. Minerva last raised cash in July '17 (~$7 share). They filed a $200M mixed shelf offering in August '18.
I believe there is a 50/50 chance Minerva will elect to raise equity once more before phase 3 data. It's possible Minerva will have good news (e.g. Breakthrough Therapy Designation for roluperidone, positive data on another pipeline asset) that creates an advantageous price before then, but I wouldn't count on it.
While Minerva is set for a transformational year next year, I now have concerns over how the stock will trade within the next 6 months. If it were another clinical candidate that was pushed back, the thesis would've remained intact. However, roluperidone is the main driver here and investors may be on edge with dwindling cash. Nonetheless, Minerva remains on track for a transformational 2019 and is a long-term hold.
Quick Recommendations
Sell portion of position, if already invested, and add at 200 SMA, or
Initiate position at 200 SMA and hold into 2019
Disclaimer: The intention of this article is to provide insight, not investment advice. While the information provided in this article is intended to be factual, there is no guarantee and prospective investors are encouraged to do their own fact-checking and research before investing in a company. One must also consider one's own financial standings, risk tolerance, portfolio diversification, etc. before making a decision to buy shares in a company. Many of my articles detail biotechnology companies with little or no revenue. These stocks are, therefore, speculative and volatile. Even when prospects seem promising, there is no predicting the future. Losses incurred may be significant.
I present and update my best ideas only to subscribers of my exclusive marketplace, The Formula. Try a free 2-week trial today by clicking the pictured flask below!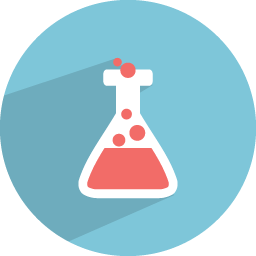 Disclosure: I am/we are long NERV.
I wrote this article myself, and it expresses my own opinions. I am not receiving compensation for it (other than from Seeking Alpha). I have no business relationship with any company whose stock is mentioned in this article.