Introduction
Welcome to my monthly portfolio review covering all of the activity over the past month. This article series covers my investing journey as a father of two towards my eventual retirement. Any specific stocks or amounts are particular to my self-directed 401(k) plan.
The goal of my portfolio is to generate a growing income stream for my wife and I during our golden years. The aim is to live off dividends without touching the principal. Dividend growth stocks are the chosen vehicle to meet that goal. At 33, I have approximately 26 years before I can touch any of this money without penalty.
What's New?
October was a tough month for investors, with the S&P finishing about 7% down (I was down about 6% myself). Always keep in mind, these can be paper losses unless you choose to realize them. My own personal feelings are that I've been waiting for any sizable drop for several years now. It seems as though even a reasonable earnings report was accompanied by a stock being hammered. Many of my holdings dropped 5-10% on the day of their earnings announcements, though most have regained some of that. I'm not a fan of market prognosticating, but having some available cash is always a perk of buying individual stocks.
Along those lines, with how much the market has gone up and how long the bull run has lasted, I do feel some desire to be increasingly defensive. With a series of increased rate hikes and strong economic data pouring in, it seems as though rate hikes will continue. There is evidence that rate hikes during a hot economy are not bad - there seems to be a tipping point around 5% on the 10-year treasury.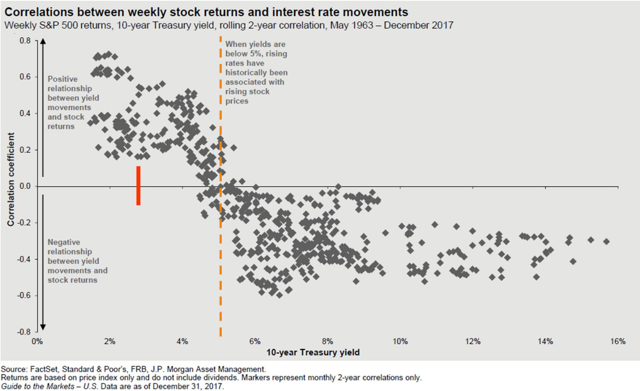 (Source)
We are still a ways off from that point, but it will make other investments look attractive when compared to stocks. It's just a reminder that though we've lived under these historically low interest rates, they can, and will, still rise. And the market does not keep going up constantly.
On the flip side of buying more stocks to increase my dividend stream is the possibility of selling stocks. One of the advantages of individual stocks is the potential to sell when the market offers you a price you cannot refuse. There are upper limits of financial gravity, and stocks can, and will, revert to some mean P/E ratio. Of course, there are exceptions like Amazon, but for the typical dividend growth companies I am interested in, countless examples can be found.
I'm also quite proud and humbled to be able to say that I maxed my Roth 401(k) once again this year. This is my key pillar to retirement, and being able to accomplish it by paying taxes ahead of time is a sweet added bonus.

For anyone interested in seeing changes in real time, I have my portfolio and dividends tracked on Dividend Derek. I also have a trimmed version that you can freely take for yourself if you wish, found here.
I've received some questions in the past, so you can save off a copy by selecting "File" -> "Make A Copy."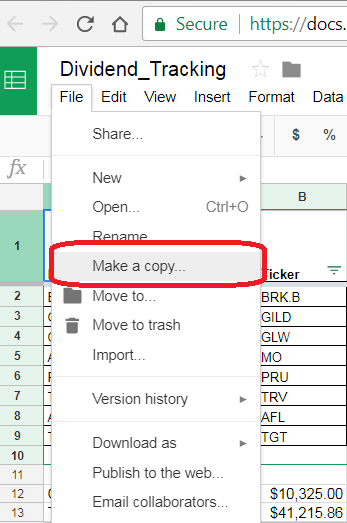 With that said, let's dive into the details.
2018 Goals
I want my holdings to have a weighted 1-year dividend growth rate of at least 7%.
By the end of 2018, I want to have a projected dividend income of at least $7,950.
I want to suffer no dividend cuts.
Notes About My Goals
My dividend growth rate jumped up to 12.3% this month (from 12.2%). The 19% Visa (NYSE:V) dividend increase balanced out the 5% increase by United Technologies (NYSE:UTX).
My second goal will not be achievable at this point in time. Leading up to July it was, but as it is written, will no longer be the case. By removing several dividend-paying stocks and either putting that money into lower-yielding companies or those with no dividend, my projected income has taken a hit. After peaking at $7,725 in July, it has declined to a current value of $6,348.
I've noted my rationale revolves around stronger earnings growth. I'm still working to strike the balance of current yield versus longer-term earnings growth given my time horizon. Given the right circumstances, I will still invest in a higher-yielding instrument. With the recent market pullback, many names that I already own have looked much more attractively valued.
Finally, and perhaps most obviously, I don't want to see a dividend cut. So far so good for the year. I've avoided the General Electric (NYSE:GE) and Anheuser-Busch InBev (NYSE:BUD) cuts of late.
Portfolio Strategy
Buying Criteria
These are the general guidelines I will review to see if something is worthy of adding to my dividend portfolio or whether I will add to an existing position.
Being a member of David Fish's Dividend Champion, Challenger and Contender list, obviously, a longer streak is preferred.
I prefer companies with a Chowder rule over 8%; obviously, higher is better. Telecoms, REITs and utilities can get a pass due to their higher initial starting yield. Investments in these areas I want to have an additional "kicker," stocks near a 52-week low or some other way they may generate alpha over a short- to medium-term horizon. I want to highlight this as part of my thesis. The kicker may be better defined as a low-P/E stock that has not yet reverted to its mean.
Investment grade holdings >BBB+ should generate 95% of the portfolio's dividend income.
I want to see steady earnings growth over time; this will generally remove commodity-based companies.
I like cash cows. Good profit margins (> 10%) are appreciated, though not required. A company with a moat should be analyzed to see how easily its moat can be disrupted.
I like to see shareholder-friendly management. This manifests in a healthy and rising dividend and a willingness to buy back shares. Oftentimes in reality, buybacks aren't always done at opportune times. Additionally, they are frequently established to just buy back stock options for employees. A good metric to look into is the "total shareholder yield." This aggregates net dividends, buybacks and debt reduction.
Perhaps most importantly, the valuation needs to be right per F.A.S.T. Graphs. The stock should be trading at fair value or better for an appropriate timeline (12+ years, if possible). With a longer time frame, I can see how shares fared during the Great Recession, and this also removes some of the recency bias that can come from only analyzing valuation during this extended bull market.
I will also use Simply Safe Dividends and the information provided by Brian on his site. Among a plethora of information available, he has a dividend scorecard where companies are ranked in terms of dividend safety, growth and yield. I aim to pick companies that are in the 80+ safety range, though not always.

Selling Criteria
There are only a few reasons I'll sell a stock, though none of these events is a guarantee I'll do so.
Dividend cut
Company degradation - This could be things like deteriorating balance sheets, loss of competitive advantage and loss of credit ratings. These factors may come to light before a dividend cut manifests. This may also appear in a streak of less-than-expected dividend increases. The dividend increase is the more visible outward sign of a company's success. A paltry increase or two may underscore problems below the surface.
Wild overvaluation - This becomes a bigger factor if there is something at a fair valuation that I wish to purchase with the proceeds. I will admit that several things I have sold have continued to defy financial gravity, so I am more becoming of the mind of just ignoring overvaluation if the underlying business continues to operate well. I may put in a limit order to sell, should the gravity kick in.
I just don't want to own it. When I pull this card, I will more fully explain my reasoning. Part of the beauty of owning individual companies is choosing where I put my money. I can opt to not support companies, products, management, etc. that I do not agree with. An example of this could be companies with management issues or criminal/unethical business practices.
Based on known information, capital is better passively invested or focused into better ideas.
Timing
One tactic I've been using lately when adding to an existing holding is buying additional shares prior to the ex-dividend date after the company has announced its yearly increase. The increase in amount gives a quick, "at a glance" look into how management thinks the company is operating. This can be confirmation that the investment thesis is indeed working well. Sometimes, the reverse can be true too - being snubbed with a "bad raise" can be a red flag that things are not as they seem and it's time to research what's up. I've done this several times already with Altria Group, Inc. (MO), Starbucks (SBUX), Corning (GLW), Prudential Financial (PRU), Home Depot (HD), Johnson & Johnson (JNJ), PepsiCo (NYSE:PEP) and Illinois Tool Works (ITW).
Most importantly, this was not done to chase dividends but to strategically add to a position that was worthy of being added to. Trees don't grow to the sky, and neither do dividend yields. A quality company that has a nice dividend increase should see its stock price rise by a similar amount over the course of the year, readjusting to the new and higher dividend amount. By jumping the gun, you can speed up the compounding process.
If this sounds interesting to you, you should check out my weekly article, where I give the full list of these companies. I also have upcoming ex-dividend functionality on my site Custom Stock Alerts to help me keep tabs on these increases.
Dividend Increases
Dividend Cuts
The Portfolio
| | | | | |
| --- | --- | --- | --- | --- |
| Name | Ticker | Percent of Portfolio | CCC Status | S&P Credit Rating |
| Apple | AAPL | 4.09% | Challenger | AA+ |
| Abbott Laboratories | ABT | 2.83% | Challenger | A+ |
| Aflac | AFL | 1.99% | Champion | A- |
| Ameriprise Financial | AMP | 1.79% | Challenger | A |
| Cummins | CMI | 1.85% | Contender | A+ |
| Cisco Systems | CSCO | 2.21% | Challenger | AA- |
| CVS Health | CVS | 2.23% | Contender | BBB |
| Walt Disney | DIS | 3.27% | Challenger | A |
| Corning | GLW | 3.48% | Contender | BBB+ |
| Home Depot | HD | 2.41% | Challenger | A |
| Illinois Tool Works | ITW | 3.02% | Champion | A+ |
| Johnson & Johnson | JNJ | 3.13% | Champion | AAA |
| JPMorgan Chase | JPM | 2.07% | Challenger | A- |
| Mastercard | MA | 2.56% | Challenger | A |
| Medtronic | MDT | 2.29% | Champion | A |
| 3M | MMM | 1.44% | Champion | AA- |
| Altria | MO | 3.41% | Champion | BBB+ |
| Nike | NKE | 2.01% | Contender | AA- |
| Realty Income | O | 0.96% | Contender | A- |
| Prudential Financial | PRU | 2.06% | Challenger | A |
| Public Storage | PSA | 2.10% | Challenger | A |
| Starbucks | SBUX | 3.34% | Challenger | BBB+ |
| Schwab U.S. Broad Market ETF | SCHB | 2.44% | | |
| Schwab U.S. Dividend Equity ETF | SCHD | 1.89% | | |
| Tanger Factory Outlet Centers | SKT | 1.75% | Contender | BBB+ |
| STAG Industrial | STAG | 1.46% | Challenger | N/R |
| Stanley Black & Decker | SWK | 2.62% | Champion | A |
| AT&T | T | 3.71% | Champion | BBB+ |
| T. Rowe Price | TROW | 1.51% | Champion | A+ |
| Travelers Companies | TRV | 1.77% | Contender | A |
| United Technologies Corporation | UTX | 2.14% | Contender | A- |
| Visa | V | 2.84% | Contender | A+ |
| Ventas Inc. | VTR | 1.57% | Challenger | BBB+ |
| W.P. Carey | WPC | 1.68% | Contender | BBB |
Here are the values behind the "CCC Status" category:
King: 50+ years
Champion/Aristocrat: 25+ years
Contender: 10-24 years
Challenger: 5+ years
Performance
| | | | | |
| --- | --- | --- | --- | --- |
| Ticker | Owned Since | Versus S&P | Benchmark | Versus Benchmark |
| AAPL | 4/13/2015 | 28.92% | SPY | 28.92% |
| ABT | 12/6/2016 | 63.67% | SPY | 63.67% |
| AFL | 10/30/2014 | 12.51% | SPY | 12.51% |
| AMP | 9/29/2016 | 5.57% | SPY | 5.57% |
| CMI | 10/30/2015 | 14.35% | SPY | 14.35% |
| CSCO | 4/6/2016 | 41.25% | SPY | 41.25% |
| CVS | 10/7/2016 | -41.09% | SPY | -41.09% |
| DIS | 12/28/2015 | -27.94% | SPY | -27.94% |
| GLW | 10/14/2015 | 63.19% | SPY | 63.19% |
| HD | 5/3/2016 | 4.43% | SPY | 4.43% |
| ITW | 8/24/2018 | 1.90% | SPY | 1.90% |
| JNJ | 12/9/2015 | 9.40% | SPY | 9.40% |
| JPM | 7/15/2016 | 47.52% | SPY | 47.52% |
| MA | 7/26/2018 | -0.75% | SPY | -0.75% |
| MDT | 11/22/2016 | 1.30% | SPY | 1.30% |
| MMM | 5/24/2018 | -2.85% | SPY | -2.85% |
| MO | 10/31/2013 | 42.98% | SPY | 42.98% |
| NKE | 5/3/2016 | -4.19% | SPY | -4.19% |
| O | 5/3/2016 | -25.86% | VNQ | 6.10% |
| PRU | 4/7/2016 | 10.04% | SPY | 10.04% |
| PSA | 4/28/2017 | -16.09% | VNQ | -1.10% |
| SBUX | 12/3/2015 | -26.76% | SPY | -26.76% |
| SCHB | 9/24/2018 | -0.55% | SPY | -0.55% |
| SCHD | 9/24/2018 | 1.36% | SPY | 1.36% |
| SKT | 7/26/2017 | -21.14% | VNQ | -8.37% |
| STAG | 5/20/2016 | 6.88% | VNQ | 37.74% |
| SWK | 1/28/2016 | -9.69% | SPY | -9.69% |
| T | 11/3/2015 | -30.27% | SPY | -30.27% |
| TROW | 9/29/2016 | 25.55% | SPY | 25.55% |
| TRV | 4/28/2014 | -3.36% | SPY | -3.36% |
| UTX | 1/28/2016 | 4.58% | SPY | 4.58% |
| V | 7/26/2018 | 1.65% | SPY | 1.65% |
| VTR | 12/8/2015 | -13.49% | VNQ | 10.63% |
| WPC | 5/15/2017 | -1.33% | VNQ | 10.97% |
This table is how shares have performed since I first purchased them. I am able to compare versus both the S&P or another benchmark for each holding. It's supported by the stock return calculator (there is also API access available) that I built.
Versus S&P: This is a measure of the alpha generated (or not) versus the S&P 500 as a benchmark. This is calculated using the stock return calculator here, and it uses the "Owned Since" column as the starting date. This may not reflect actual results, as multiple purchases would change the figure. I can also set the benchmark at the individual ticker level.
The next column allows flexibility to define what my benchmark can be. For example, look at the REITs - I've set their benchmark to be VNQ for an apples-to-apples comparison. A utility could be compared to XLU, for example (the utility ETF).
Things can shift very, very quickly though. From the September review:
As an example, VTR has lagged the S&P by 33% and VNQ by about 1% since 12/8/2015. Using some of these results, I can start determining whether I am making good stock picks or not.

As another example, SBUX has been a terrible pick since I first purchased it (trailing by 50%+) but GLW has been a fantastic pick (up 68%).
When I run the same comparison now, you can see that VTR has lagged the S&P by 13.50% (an improvement of 20% in a month) and has now beaten VNQ by 10.6%.
SBUX had a blowout quarter, and now, in my comparison, only lags 26% (an improvement over 30%).
My Buys
Illinois Tool Works
I added another dozen shares of ITW after the company reported earnings on the 24th. I thought it was a decent report - guidance was narrowed to $7.60 at the midpoint, which would represent 15% earnings growth, with revenue up 3-4%.
I'm only a recent long in this company, though it had been on my watchlist for a very long time. I wouldn't doubt that shares got overheated at the end of 2017, but after correcting over 25% from their peak, represent a nice value with a full year P/E of about 17.5. The company is very conservatively financed with its A+ credit rating and strong financials. Of course, the 44 years of dividend growth don't hurt either.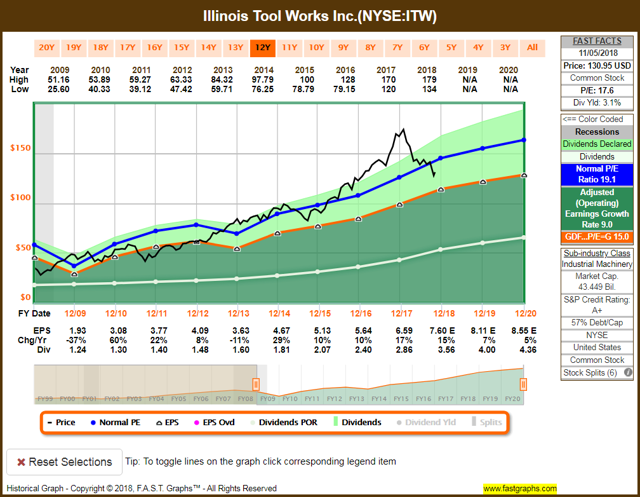 Anyway, I still think this is going to be a great long-term buy and add-to stock. Regardless of whatever the current trade talk looks like, there is going to be a constant demand for the construction-related products the company provides.
Stanley Black & Decker
I added to Stanley Black & Decker on October 19th, a week before the company's earnings. That ended up being a big mistake. I felt the stock had corrected enough, but it took a large single-digit decline when the company reported earnings, before recovering the following day. Turns out that was the better opportunity to snag shares around $110 versus the $122 that I did.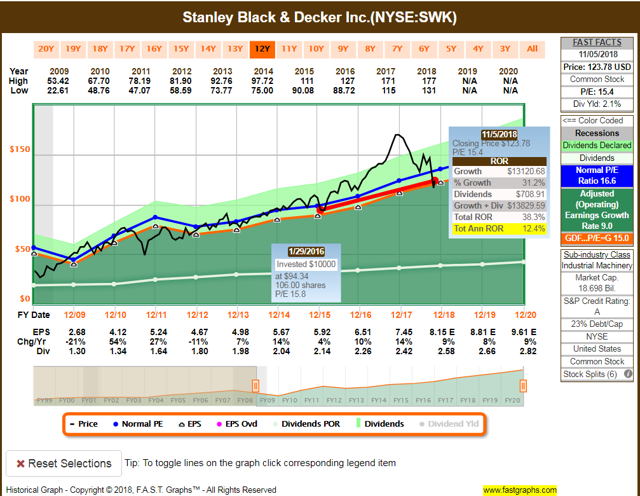 I highlighted on the graph above when I first purchased shares, and naturally, I didn't buy enough at the time. Even with the massive climb and subsequent fall, those original shares have done about a 12.4% return. That includes a full reversal to the multiple that I purchased them at. Shares now trade back in the range of a P/E of 15-16.
This is another company caught up with the trade talk that is conservatively financed and can weather this storm. It is a Dividend King and boasts a 51-year dividend increase history, which I expect to continue.
Sales
Anthem (NYSE:ANTM)
Anthem has made me a lot of money in a relative short order. From my October 2016 portfolio review, here were some of my comments around my purchase of the stock:
With the merger to Cigna seemingly falling through the company can grow and focus based on it's own laurels. Just the fact it is trading at about 12x earnings and still expects high single digit growth should make this a long term winner. The company is also a recent add to the CCC list also with a 6 year dividend growth history.
I'm not a pro in the health insurance space, but Anthem was a cheap stock at the time with a low payout and seemed like it had some strong earnings growth potential. It certainly beat my expectations by giving me a double whammy of both strong earnings growth as well as substantial multiple expansion.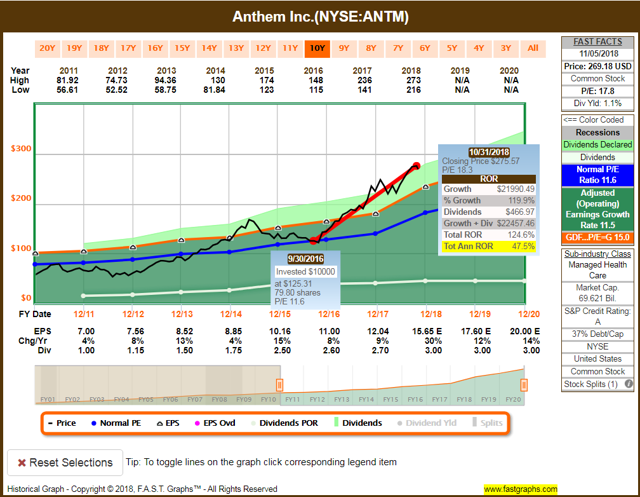 Using the updated F.A.S.T. Graph, that is my approximate investment result. Shares were cheap in absolute terms, though they traded about their historical average. What then followed was approximately 40% earnings growth multiplied by a 50% increase in the multiple afforded the company.
My calculation below is not exact to me because I made two separate purchases. The second purchase was at a lower cost basis than the first, so my results are a little bit better than shown. Per my own calculations, I returned 107%, or 46.8% annualized.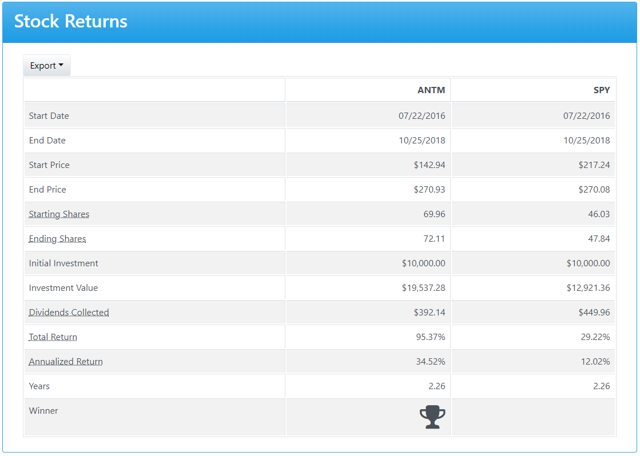 (Courtesy Custom Stock Alerts)
Lastly, here is a visual chart of an investment in Anthem versus SPY using the actual investment dates. You can see the initial dip as Anthem was still finding its low point (I doubled the position on 9/6/2016 at $124). From there, it easily beat the market over the time period.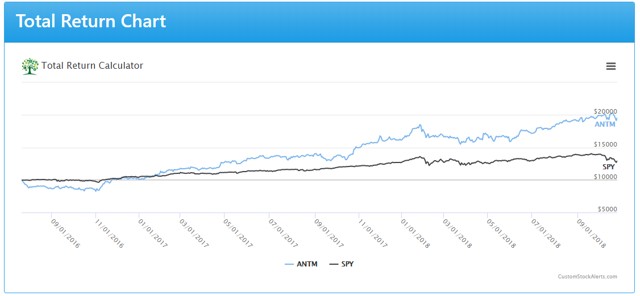 Shares don't look expensive... until they do. At 18x earnings, that is not a multiple that the company has traded at before. It could be a new shift or it could be a signal that they have run a little too hot. Expected earnings growth seems to warrant the multiple, but given how so many other companies behaved on earnings this quarter, I had set a limit order to sell should it dip. I'm fine with stepping out of the stock for a bit and seeing how shares fare, as well as the market as a whole. I'm curious just how much further multiple expansion can push the stock.
Charts and Graphs
Dividends
The green bars are 2018, and you can see I collected the $494 in dividends in October. That is showing steady growth over past years and better than July, which is the same month last quarter.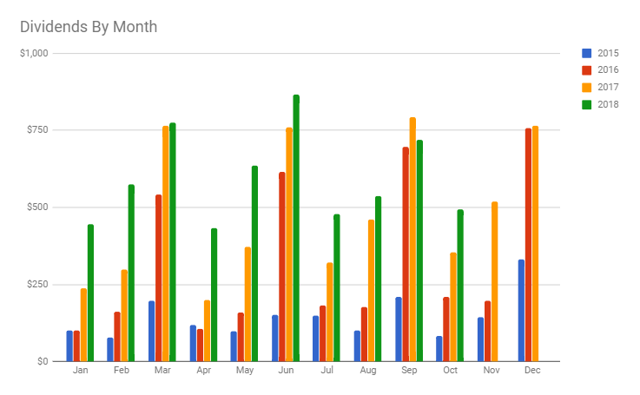 Notes
This month was bolstered by my ITW, which was the first I received its dividend (and following its fat 28% dividend hike).
The CVS dividend got pushed to November 1st, so that will show next month (and subsequently boost November).
The dividends received from JPM jumped to $41 from $17, due to both a massive 42% increase as well as having bought additional shares a few months ago.
This was also the first increased payout of Altria's 14% increase announced in August.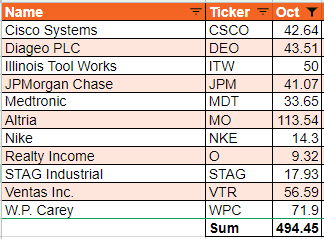 All of these actions you can see how this growing ball of dividends can pick up steam rolling down the proverbial hill. New shares, reinvesting of dividends and dividend hikes all multiply together to grow a nest egg.
Growth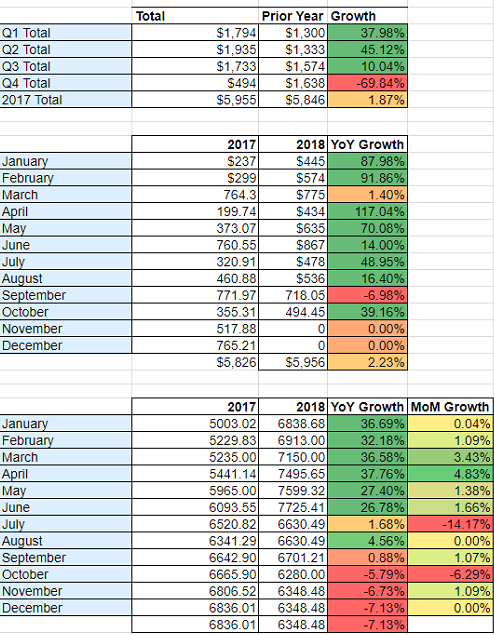 At the end of a quarter, this chart is the most important to smooth out monthly variations. Year to date, I've now eclipsed the total dividends that I received in all of 2017. At this point, all dividends coming in for November and December will represent pure growth over last year.
The $494 received this month was a 39% improvement over last year. After my net moves for the month, my forward-looking income improved $60, or about 1% over the month. This is the aggregate amount of dividends I would expect to receive over the next year.
Visualizations
Income By Sector
October 2018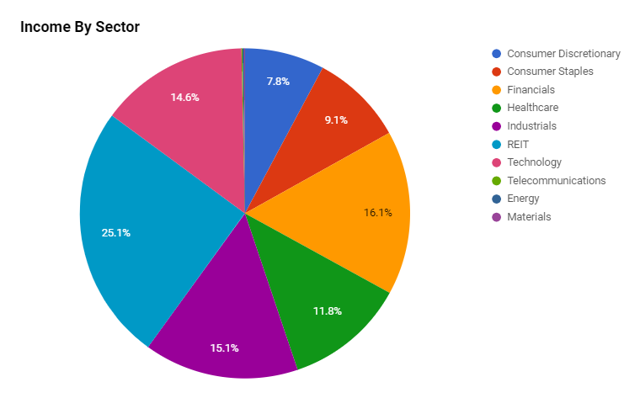 September 2018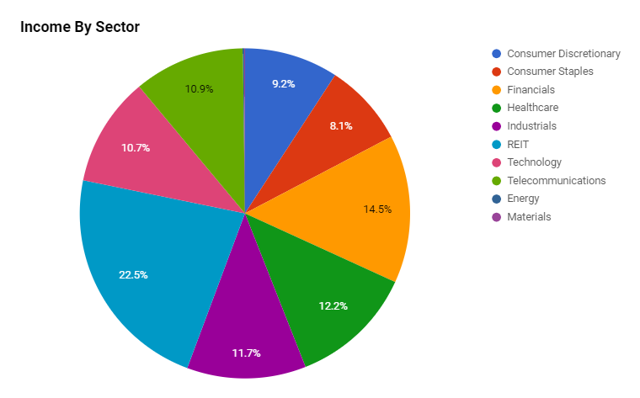 Just a little bit of maneuvering around this month. Industrials obviously jumped up due to two purchases of ITW and SWK. Consumer staples took an obvious hit this month by removing KMB and PEP. I'm still looking to gain utility exposure via an ETF. I have stock alerts set up when either XLU or VPU are near their respective 52-week lows to take another look.

Sector Allocations
October 2018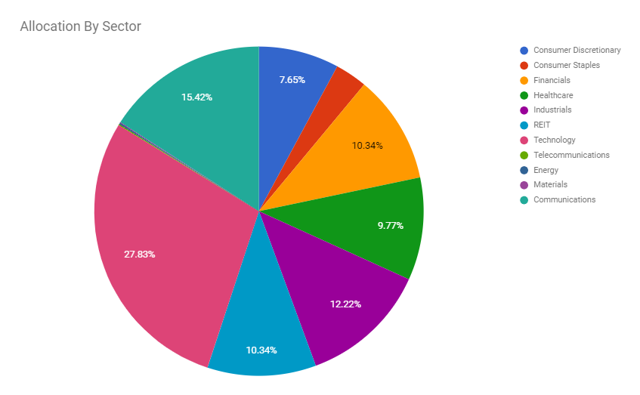 September 2018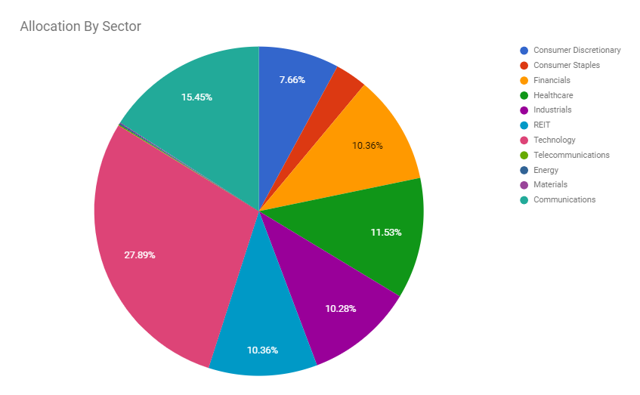 Again, the percentages meandered just a little bit due to industrials being added to in October.
Champion, Contender, Challenger View
August 2018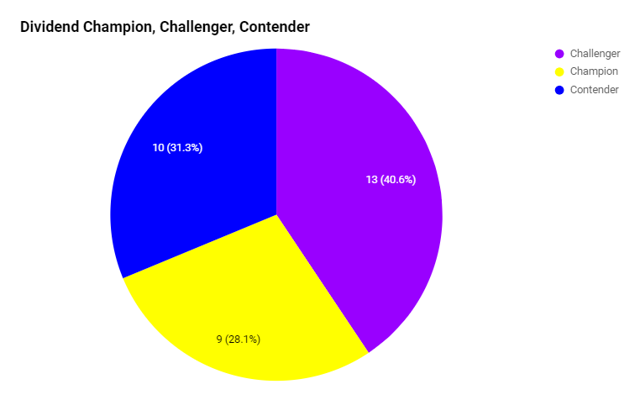 September 2018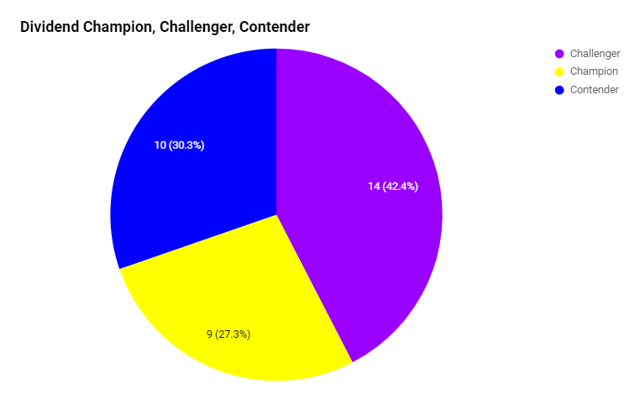 Challengers dropped by one as I sold all of my Anthem stake.
Things Coming Up
I like to run this screener to get some idea generation going again this month, in case it helps anyone out. Here are the filters I start with:
$10 billion+ in size
US companies
Positive dividend yield
Forward P/E under 20
Sorted by their 52-week lows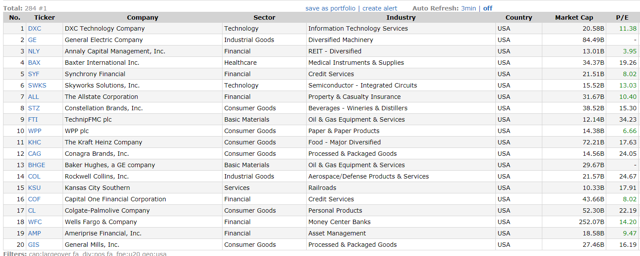 I may take a deeper look at Ameriprise Financial - that's a holding I've had for about two years that has done well but is back near the bottom of its range.
I'm still waiting for a few more dividend increase announcements:
Disney
Nike
Public Storage (this looks frozen, as 2018 payments will be the same as 2017)
Ventas
Conclusion
What did you think of October, and how did you behave? Did you add any shares or look to take some money off the table?
Anyway, let me know what you think, and happy investing.
Disclosure: I am/we are long AAPL, ABT, AFL, AMP, AMZN, BRK.B, CMI, CSCO, CVS, DIS, FB, GLW, GOOG, HD, IQ, ITW, JNJ, JPM, KWEB, MA, MDT, MMM, MO, NKE, O, PRU, PSA, PYPL, SBUX, SCHB, SCHD, SKT, SQ, STAG, SWK, T, TROW, TRV, TWTR, UTX, V, VTR, WPC. I wrote this article myself, and it expresses my own opinions. I am not receiving compensation for it (other than from Seeking Alpha). I have no business relationship with any company whose stock is mentioned in this article.