Xilinx (XLNX), in a most unlikely coup, recently edged out long-time Microsoft (MSFT) supplier Intel (INTC) to supply field programmable gate arrays (FPGA) to the former's Azure cloud unit. Azure is projected to use Xilinx FPGAs in about half of its servers, a contract that has been the exclusive domain of Intel's Altera unit. FPGAs are used in big data applications to enhance the speed and minimize the time spent in the breakdown and analysis of vast bodies of data. Big data companies like Google (GOOG), Amazon (AMZN), Facebook (FB), Microsoft and video streaming companies like Netflix (NFLX) and Disney (DIS) have become voracious consumers of FPGAs for their servers in data centers across the country and around the world. So have private companies using satellites to track the flow of dry goods and oil shipments on the open seas or the crunching and interpreting the infinitesimal minutia of real-time data that enables driverless cars, trucks and airplanes or wireless communications or advanced radar or robotics or the myriad other applications of artificial intelligence (AI) both known and yet to be discovered. Government run the gamut from tracking and predicting weather events to enforcing North Korean, and now Iranian, sanction compliance to tracking and interpreting topography that powers guidance systems for an ever increasing array of civilian and defense applications. The common thread here is the systematic digestion and synthesis of massive quantities of data squeezed into sophisticated algorithmic models capable, for example, of discerning the length of a vessel's shadow and its height in the water from geosynchronous satellites scanning what was once almost infinite spans of oceanic topography—all at minimum cost over the course of minutes, and often in real time. Little wonder why traditional theories on price inflation or, for that matter, computations of gross domestic output and even worker productivity in the greater economy—all likely fall short in measuring contemporary, digitized data.
Figure 1: Xilinx and the S&P 500 against the Philadelphia Semiconductor Index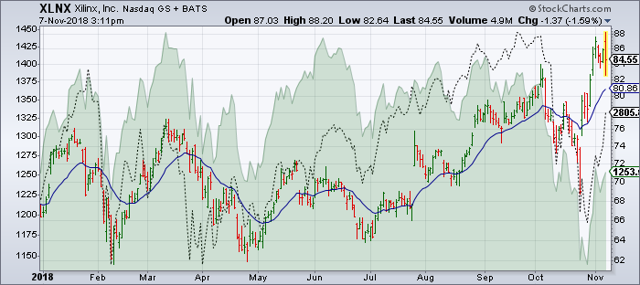 After the market close on the 24th of October and in the midst of an overall market swoon, Xilinx (green-red bars) reported its 3rd quarter earnings which saw revenues hit $746 million, up 19% YOY with gross margins posting $515 million, up 17%—more than two times expected S&P 500 revenue expectations for the 3rd quarter reporting season. Operating income, at $233 million rose 21% for the period while net income hit 216 million, up 24% YOY—all of which drove EPS up 30% YOY. By the market close on the 25th, the company's stock had shot up 15% and through its 20-day exponential trading average (blue line) while the S&P 500 (black dotted line) headed in a more southerly direction. By Wednesday's close (7 November), Xilinx was up just over 22% since its 3rd quarter earnings report. Year-to-date, Xilinx is up just over 25% against the Nasdaq's Wednesday close of 8% and the S&P 500's close of 4% over the same period. The Philadelphia Semiconductor Index (green area) is still negative for the year (see Figure 1, above).
Most of the company's revenue comes from its semiconductor segment with related support products, broadly categorized as advanced and core products. The former category comprises 64% to total revenue and was up over 25% on the quarter and 43% on the year with revenues, settling at $479.7 million, exceeding the high end of the company's 2nd quarter guidance. The company's new 28- and 60-nanometer Zynq product lines grew 70% YOY and contributed 18% of total revenue through the period. Similar growth patterns are projected as demand for programmable end-use chip designs increase as AI and big data applications multiply in the intermediate term and beyond.
Core products provided the remaining 36% of company revenue for the period. Core products, by their very nature in the cycle, tend to be older more mature technologies and product support packages, such as the company's Virtex product lines, that are expected to decline over time. Through the end of the quarter, Core product revenue declined 9% YOY to $266.6 million.
Advanced products are further broken down by end markets: 1) Data Center and Test, Measurement & Emulation (TME), 2) Automotive, Broadcast and Consumer, 3) Communications, 4) Industrial, Aerospace and Defense and 5) Channel. The quarter's top performing segments are three in number.
The communications segment rose 33% YOY, contributing $261.2 million or just over 35% of total revenue through the end of the quarter. The growth was broadly spread across end markets, with particularly strong growth coming from LTE upgrades and early 5G roll-outs in South Korea, China and North America. Zynq RFSoC products soared fourfold YOY with double digit growth potential from an already established body of unique and potential users across multiple industrial moving forward. The RFSoC platform was also used in the live broadcast of the 2018 World Cup from Moscow, providing enhanced and accelerated bandwidth streaming over more traditional LTE bands.
Data Center and TME surged 28% over the period. One driver of the growth is the company's Alveo accelerator cards designed to significantly increase server performance in cloud and data center applications. Inspur, a Hong Kong-based cloud and data center provider, is currently qualifying two Alevo cards for its server platforms. At the same time, Amazon Web Services (AWS) recently increased its FPGA-as-a-service (FaaS) availability from four to eight regions, adding Australia, London, Frankfurt and most recently China to its list of 18 geographic regions across the globe. AWS is the world's largest cloud computing service. Additionally, Alibaba, Huawei and ZTE along with AWS are leveraging Xilinx technology to improve and enhance cloud computing and data center workloads in China.
Revenues from the company's Automotive, Broadcast and Consumer segment was up 17% YOY, driven by advanced driver assistance systems (ADAS) that provides real-time, high resolution, long-range visual sensors for autonomous driving, UAVs and robotics. The technology combines the Zynq SoC Chip with the parallel computational capability of FPGA with ARM processors that provides a flexibility that can be programmed to a particular application even after the chips have been shipped to an end user. Ever-changing technology demands require greater programmable flexibility, which makes the growth potential of such designs all the more robust in the intermediate term and beyond.
All of this said, the biggest impediment to forward growth Xilinx faces over the intermediate term comes not from the technology—but from the political side of the equation, that continues to grow more xenophobic as US-Chinese trade tensions intensify. In April, Britain and the US both banned ZTE, China's biggest telecom equipment maker on national security grounds. The ban cut off the company entirely from the UK while the US banned the company for seven years for violating a 2017 settlement that accused the company of selling restricted telecom equipment containing US component parts to Iran and North Korea. The ban was lifted in July at the behest of the Trump administration, over the objections of Republican senators. Xilinx has now resumed its shipments to ZTE.
More recently, the UK's National Cyber Security Center (NCSC) in a letter last month warned the country's telecom companies to evaluate their supply chains carefully as they begin to roll-out their 5G networks. This time Huawei, the Chinese telecom equipment maker, was the unmentioned target—again on national security grounds. Huawei is one of the world's biggest producers of telecom equipment and currently is a major supplier of broadband and seller of mobile devices in Britain. The review will be conducted by the UK's Department for Digital, Culture, Media and Sport and will more than likely delay the introduction of 5G networks slated for roll-out in the 2019-20 timeframe. Both the US and Australia have blocked Chinese telecom suppliers to their respective 5G breakout and Japan is considering similar bans.
How Xilinx navigates the political end of their otherwise strong growth story remains to be told.