The Company in a Nutshell
Synchrony Financial counts over 74.5 million active consumers and generated $132 billion in sales in 2017.
It has a great expertise in building relationships with national and regional retailers, healthcare providers, and manufacturers. About 75% of its revenue comes from the retail segment.
The company is a young dividend payer, but the future looks promising.
Synchrony Financial (NYSE:SYF) seems to have found the perfect business model. The company is helping retailers keep its clients close (and returning) through private-label credit cards. However, after announcing this year that Walmart (NYSE:WMT) would not renew its partnership with Synchrony Financial, things got a little blurry. The stock is down by almost 20% as of November 2nd this year. Is this a buy opportunity or another fake deal?
Business Model
Synchrony Financial provides consumer financial products and services to the diverse group of national and regional retailers, local merchants, manufacturers, buying groups, industry associations and healthcare service providers. The company's roots trace back to 1932, and it is now the largest provider of private-label credit cards in the United States based on purchase volume and receivables. As other financial stocks, its growth depends on the state of the economy and consumers' ability to manage their credit.
SYF shows an impressive partners network present in over 380,000 locations across the U.S. and Canada. The company offers private-label and co-branded Dual Card credit cards, promotional financing and installment lending, loyalty programs and FDIC-insured savings products through Synchrony online banking.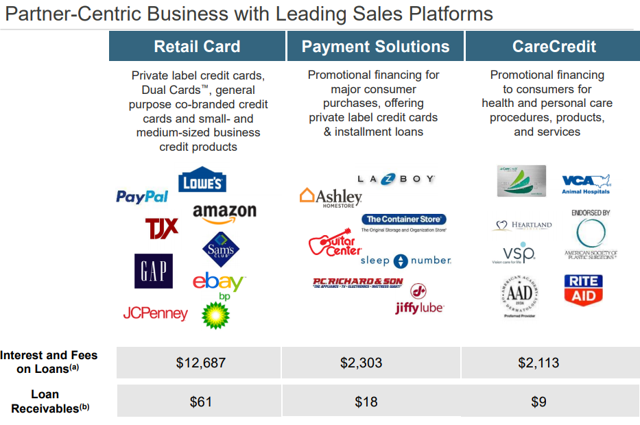 (Source: SYF investors presentation Q3 2018)
The company has partnerships with many well-known names even after losing Walmart (you can expect Sam's Club won't renew either). While the market was worried about a massive defection from other retailers, SYF recently announced its partnership renewal with J.C. Penney (NYSE:JCP) and Lowe's (NYSE:LOW).
Growth Vectors
(Source: YCharts)
SYF's first growth vector is obviously representative of the good state of the U.S. economy. Consumers have jobs and they are confident in the future. Therefore, they spend more and they love their credit cards giving them juicy rewards. It's like an excuse to spend more (I'm getting this freebie!). As we can see, purchase volume keeps increasing quarter after quarter: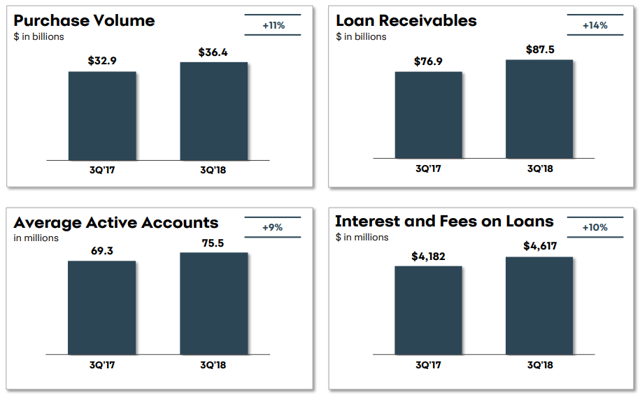 (Source: SYF investors presentation Q3 2018)
While the bulk of SYF income is coming from retailers, the company has recently made an important move through the acquisition of PayPal's (NASDAQ:PYPL) consumer credit portfolio for $7 billion. In addition, Synchrony will now be the exclusive issuer of the PayPal Credit online consumer financing program in the U.S, also through 2028. This adds to SYF's great diversification.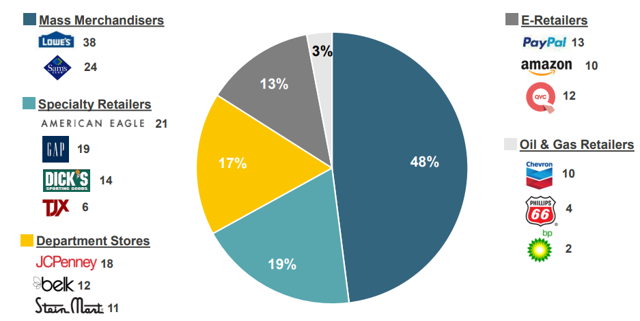 (Source: SYF investors presentation Q3 2018)
Potential Risks
As the company recently lost an important partner (Walmart), we can now doubt that SYF may not offer the best technology in town. There is lots of competition to attract merchants and customers. Every day, there are more transactions made through credit cards. SYF is a strong player in this field, but it's not alone in this field. Capital One Financial Corp. (NYSE:COF), Discover Financial Services (NYSE:DFS) and even PayPal could grab some market share.
Short-term growth potential is definitely limited in a world where SYF loses important clients and some other retailers head towards bankruptcy. We can have a feeling that consumer credit standings are slowly but surely deteriorating lately. This could also affect SYF's profitability in the upcoming years.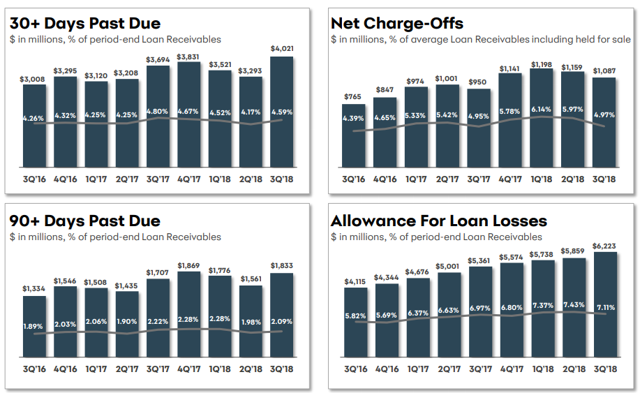 (Source: SYF investors presentation Q3 2018)
Finally, the demand for cards with rewards is increasing as competition surges. This will apply additional pressure on SYF margins. Finally, credit risk could also become a concern during economic downturns. While SYF usually issues cards to higher FICO score customers, it's never shielded against a recession.
Dividend Growth Perspective
The company started paying a dividend in 2016. This doesn't make it a strong dividend grower. Management increased its payouts in 2017 and 2018, and we keep a dividend safety score of 3 (out of 5) at the moment. We will see how SYF manages an economic downturn before changing our rating.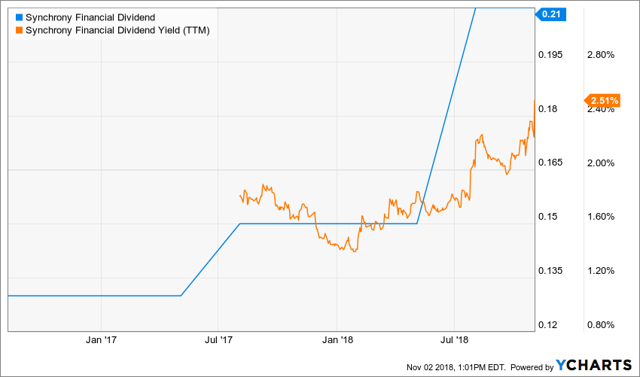 (Source: YCharts)
With very low payout ratios, you can expect some massive dividend growth in the upcoming years. Many credit card issuers are pushing toward that direction as well.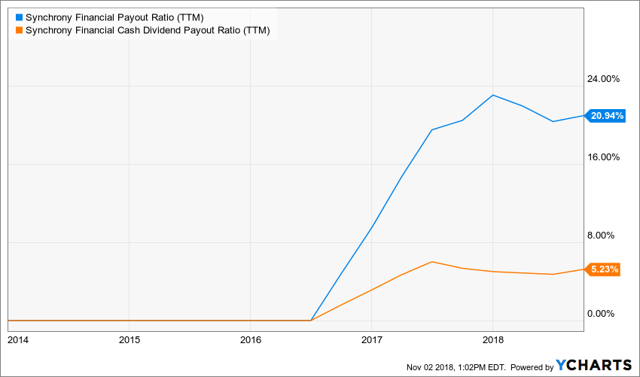 (Source: YCharts)
While SYF's dividend history is very young, the company meets our 7 dividend growth investing principles so far.
Valuation
After a price drop of nearly 20%, we thought it would be interesting to see how the company is currently valued by the market. As you can see, SYF's P/E has been moving between 10 and 15 most of the time since its IPO: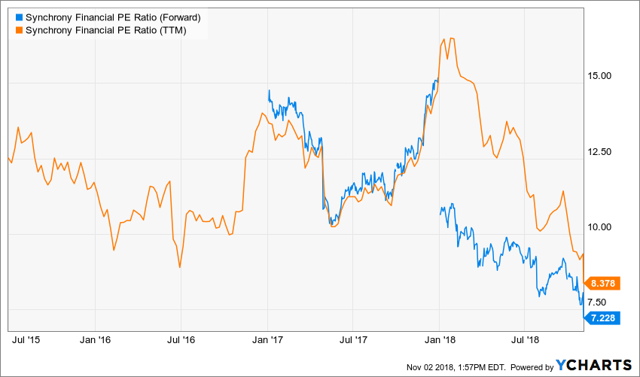 (Source: YCharts)
An important point to note is the loss of the WMT contract, though it hasn't affected earnings yet. While management doesn't seem too worried about its impact, we would rather wait to see what is coming up next.
Using the Dividend Discount Model with such a short dividend history isn't optimal. You should keep in mind that the DDM describes the company's value solely based on its dividend perspective.
Input Descriptions for 15-Cell Matrix
Inputs
Enter Recent Annual Dividend Payment:
$0.84
Enter Expected Dividend Growth Rate Years 1-10:
10.00%
Enter Expected Terminal Dividend Growth Rate:
5.00%
Enter Discount Rate:
10.00%
Discount Rate (Horizontal)
Margin of Safety
9.00%
10.00%
11.00%
20% Premium
$39.59
$31.25
$25.71
10% Premium
$36.29
$28.64
$23.57
Intrinsic Value
$32.99
$26.04
$21.42
10% Discount
$29.69
$23.44
$19.28
20% Discount
$26.40
$20.83
$17.14
Please read the Dividend Discount Model limitations to fully understand my calculations.
We used conservative numbers as we think SYF has plenty of room to increase its dividend by double digits for a long time. Yet, the company seems fairly of value at the moment. This could be an interesting opportunity if SYF keeps the bulk of its retailers on board.
Final Thoughts
As the state of retail is uncertain at this point, many retailers count on their fidelity programs and private-label credit card to retain customers. This is exactly what SYF offers. The company has built a strong network of partners in various retail segments. It counts major companies such as Amazon (NASDAQ:AMZN), Gap (NYSE:GPS), Lowe's and J.C. Penney. Unfortunately, the recent loss of Walmart as a partner may lead to additional retailers' losses. This may be a sign that SYF's offers and technology are not meeting the market's demands.
Disclaimer: We do not hold SYF in our Dividend Stocks Rock portfolios.