Fortinet (FTNT) is among one of the leaders in the network firewall security space, competing against players such as Palo Alto (PANW), Checkpoint (CHKP), and Cisco (CSCO). FTNT reported another solid Q3 report earlier this month, reinforcing their premier status as one of the leaders in the security market. With their stock down ~20% from recent highs, investors should begin to sharpen their pencils around valuation.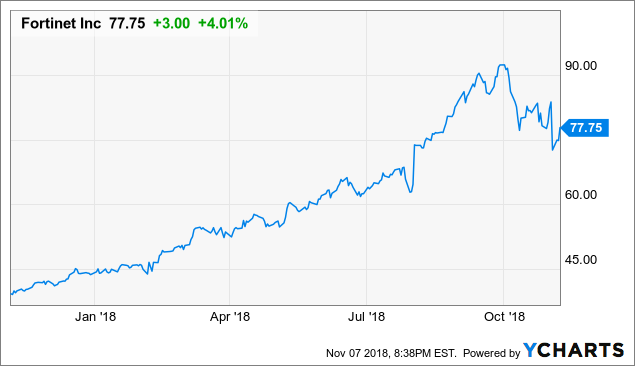 Though FTNT has performed exceptionally well YTD, the stock has taken a beating over the past month along with the broader market sell-off. Shares dropped ~13% post-earnings; however, valuation appears to be a bit more tempting after another period of weakness.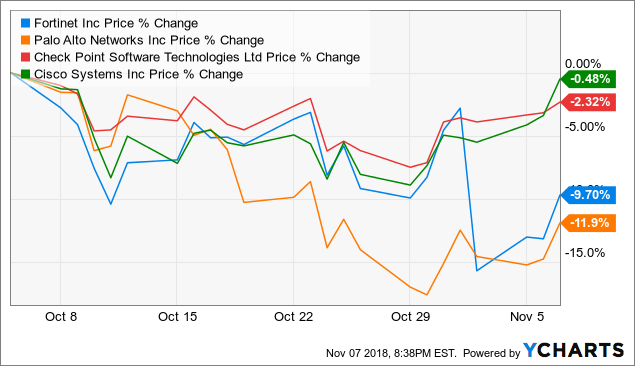 Over the past month, FTNT shares have generally underperformed their peer group. Both PANW and FTNT are trading at slightly higher multiples due to their above average revenue growth and margin potential, which is the main driver behind their recent underperformance.
Security Market Overview
FTNT primarily competes with players such as PANW, CHKP, and CSCO, all of whom provide security solutions within the network, application, and cloud environments. FTNT and PANW have a lot of overlapping competition, especially within the firewall, end-point security software, and cloud protection solutions.
FTNT offers their clients innovative security products and services in what they believe is a $19 billion TAM in the network security market, growing to $25 billion by 2020.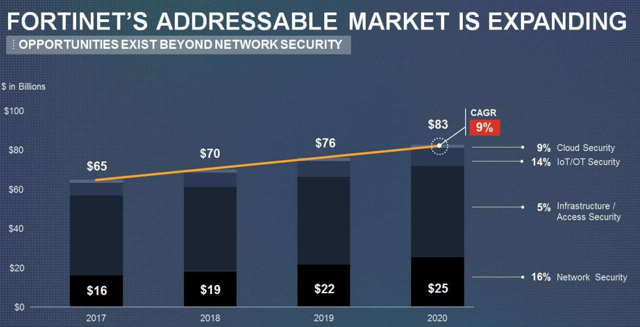 Source: Company Presentation
In addition, FTNT is forecasting their addressable market to grow from a $70 billion TAM in 2018, growing at a 9% CAGR through 2020, reaching an $83 billion TAM. The faster areas of the market include both network security (growing at a 16% CAGR) and IoT/OT security (growing at a 14% CAGR).

Source: Company Presentation
FTNT has been a market share taker for the past several years, with the company noting their 3-year revenue growth CAGR of 25% compared to the broader market growth of 9%. The security market has evolved over the past few years as enterprises are looking to more specialized companies, such as FTNT, for their security offerings rather than relying on legacy IT companies. These newer companies are more specialized in the security offering whereas legacy companies typically provided a complete suite of security protections.
As enterprises look for more specialized offerings, companies such as FTNT and PANW will continue to outpace the market. Their specialized offerings typically provide greater capabilities that are more effective than legacy options.
Q3 Earnings and Guidance
FTNT reported another strong Q3 earnings with revenues accelerating over 20%. Though the operational performance was largely in-line with consensus estimates, FTNT continues to demonstrate their significantly higher revenue growth compared to the broader market in addition to margin expansion.

Source: Company Presentation
During Q3, revenue grew 21% to $454 million and billings accelerated from last quarter, growing 22% to $528 million. This was the first quarter since Q3 of last year where billings grew at a faster rate than revenue. This is a very impressive feat considering the 21% revenue growth this past quarter. The higher billings growth will help improve future revenue growth, a positive catalyst for the upcoming quarters.
Product revenue grew 20% and was ~4% higher the consensus estimates. Product revenue growth accelerated 300bps from Q2 and significantly improved from the 7% product revenue growth in the year ago period. The significant improvement in product revenue growth is likely benefiting from the current firewall refresh cycle and product revenue growth will likely decelerate in the upcoming quarters. In addition, service revenue grew 22%, and though decelerated 300bps from Q2, service revenue growth continues to remain above 20%.

Source: Company Presentation
In Q3, gross margins expanded ~50bps y/y to 76.5% and also improved from 75.4% in Q2. Though overall gross margin expanded this past quarter, product gross margins were still down almost 200bps y/y, although they did slightly improve sequentially. While there were some questions over the gross margin improvement, operating margins came in very strong. Operating margin of 23.9% expanded from 18.7% in the year ago period and have been the strong margin performance in recent years. This led to EPS of $0.49, which was $0.07 ahead of consensus estimates.

Source: Company Presentation
Management also provided guidance for Q4 and the remainder of the year. Q4 revenue guidance is expected to grow 19% at the midpoint, which would be a slight deceleration. However, for the full year, revenue is expected to grow 20% at the midpoint.
Billings are expected to grow 18% in Q4 which would be a 400bps deceleration from Q3. For the full year, billings are expected to grow 19%, just shy of the recent 20% trend.
Gross margins are expected to remain strong at 75-76% for Q4 and the full year. As FTNT's hardware sales decelerate due to the firewall refresh cycle slowing down, a higher percentage of their revenue will stem from services, which carry higher gross margins. Though a majority of these metrics were guided above consensus estimates, I believe management could see upside across billings, revenue, and margin, which would lead to another EPS beat.
Valuation
FTNT continues to experience revenue growth near 20% and expanding gross margins, a very strong profile for a largely software-based company. FTNT continues to trade at a premium valuation compared to the overall market; however, recently their revenue multiple has contracted ~2 turns. Investors should begin to sharpen their pencils around revenue growth in both 2019 and 2020 and begin to build a case for building a position in this name.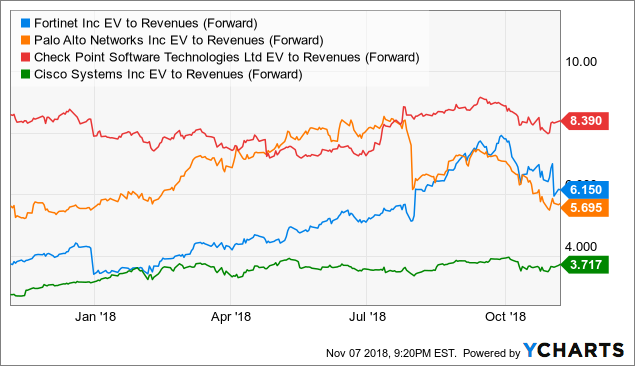 For the full year in 2018, management expects revenue to come in at $1.79 billion at the midpoint, growing 20% y/y. With gross and operating margins expanding y/y, we will continue to see a more profitable, consistent company.
Let's build out a conservative 2020 revenue projection. Assuming revenue growth naturally decelerates each year, I will use a 150bps deceleration, which is very conservative given the 3-year revenue CAGR of 25% and the market continuing to grow near double digits over the near term. Using a $1.79 billion revenue base for 2018, an 18.5% growth rate for 2019 results in revenue of $2.12 billion and a 17% growth rate for 2020 results in revenue of $2.48 billion.
FTNT has a market cap ~$13.2 billion and with net cash of $1.67 billion, this results in an enterprise value of ~$11.53. Utilizing my conservative $2.48 billion 2020 revenue estimate, FTNT is trading at ~4.6x 2020 revenue.
Assuming FTNT current ~6x multiple remains flat over the next year, we could see FTNT's enterprise value reach ~16.5 billion, resulting in a share price ~$95, an ~20%+ upside to Wednesday's closing price. This valuation method assumes a similar net cash balance and 175 million shares outstanding, the midpoint to management's 2018 guidance. Holding onto FTNT shares through the end of 2019 could yield a healthy return.
My valuation is relatively conservative on a few fronts. First, the 150bps revenue deceleration over the next two years appears to be aggressive compared to the company's previous 3-year revenue growth CAGR of 25%. Also, I assumed the revenue multiple remains flat, whereas this could expanding to the 7-8x range FTNT had previously traded at. Finally, I assumed no share repurchases. As FTNT continues to generate consistent cash flows, management may direct some of these benefits to shareholders through share repurchases.
Risks to FTNT include increased competition from players such as PANW, CHKP, and CSCO. In addition, if revenue growth decelerates or gross/operating margins contract larger than expected, this would put a lot of downward pressure on the stock.
Disclosure: I/we have no positions in any stocks mentioned, and no plans to initiate any positions within the next 72 hours.
I wrote this article myself, and it expresses my own opinions. I am not receiving compensation for it (other than from Seeking Alpha). I have no business relationship with any company whose stock is mentioned in this article.