STAG Industrial (STAG) has been a very popular stock among SA contributors and readers. A couple of years ago, I wrote a generally bearish article on STAG, "The Myths Of The STAG."
The article provoked a lively discussion and required a few follow-up articles of my own to clarify my argument. STAG remains extremely popular on SA, with articles that mention STAG attracting substantially more views than the articles I have written on Prologis (PLD), EastGroup Properties (EGP) or Terreno (TRNO).
One of the myths I addressed was the idea that STAG had crushing returns.
While STAG has slightly outperformed the market at large, and thus was not an objectively bad investment, it was the worst possible choice among industrial REITs. The mythology around STAG would have you believe that it is running circles around its peers. That simply is not the case.

STAG has had some large dips that have allowed for impressive short-term profits for those purchasing in the teens and selling in the mid-20s. However, for long-term holders, STAG has underperformed relative to its peers.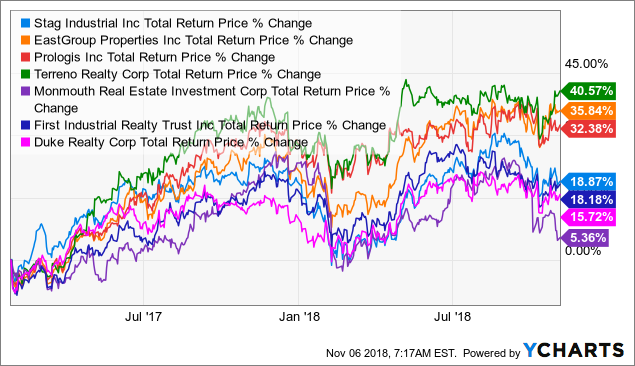 Looking at STAG's return since that article was published, the trend has generally continued. Including dividends, STAG would have returned 18.87% if you had thought to yourself "This Beyond Saving is an idiot, I'm buying!" the day the article was published. Considering how beat up all REITs were earlier this year, you would likely be feeling pretty good about the investment.
When put in context with potential alternatives in their sector, STAG is not the worst, but also is not running with the best. The industrial REITs sector has been very strong and the rising tide has lifted all boats.
Dividend Growth
The next myth I addressed was the enthusiasm for STAG's dividend growth.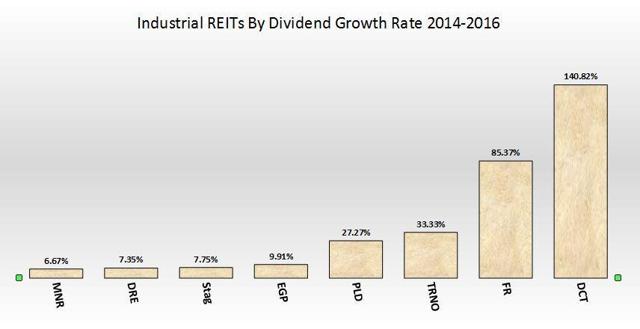 STAG provided modest dividend growth from 2014-2016, but lagged behind most of its peers.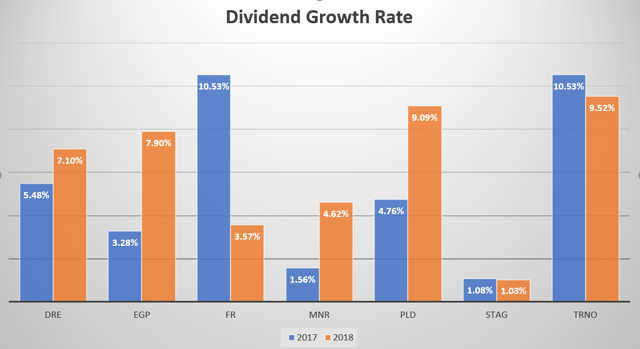 Over the last two years, STAG has seen their dividend growth rate stagnate, while their peers continue to raise consistently.
It is reasonable to expect that STAG will become more aggressive with their increases. In 2016, they produced Core FFO of $1.58/share and paid out $1.39 in dividends for a payout ratio of 88%. Management has targeted an 80% payout ratio and the small dividend increases are how they decided to get there.
This year, STAG will likely be around $1.79 Core FFO and will pay $1.4196 in dividends. That is a 79% payout ratio. While this is better than STAG's historical numbers, it is a much higher payout than their peers.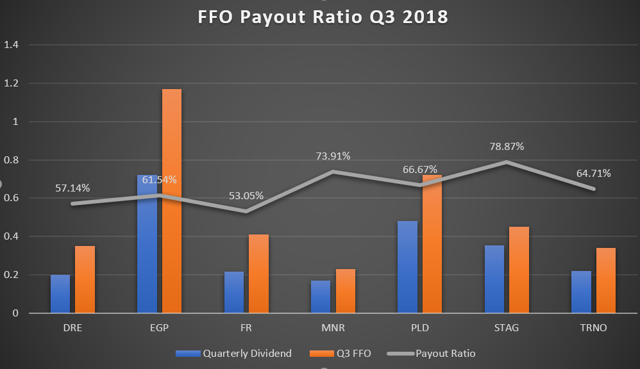 Fellow contributor PendragonY recently wrote an article predicting that STAG's dividend growth rate would increase to 4%. While a single increase of that size is possible, it is unlikely that STAG could sustain that rate consistently for 3-5 years.
Growth
STAG's FFO growth is likely to be around 6% this year, a year after they acquired $612 million which increased the size of their portfolio by over 17%. This year they are targeting an additional $700 million in acquisitions.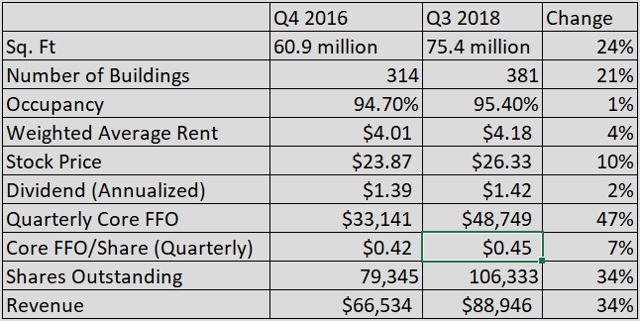 Comparing the headline numbers, you can see that STAG's investments have grown square footage, core FFO and revenues substantially. However, they have issued a massive amount of new shares, causing a 47% increase in FFO to translate to only a 7% increase on a per/share basis.
In and of itself, this is not really an issue. Any REIT that is issuing significant equity is going to see much larger gross gains than per/share gains. STAG's chronic weakness has been same-store numbers.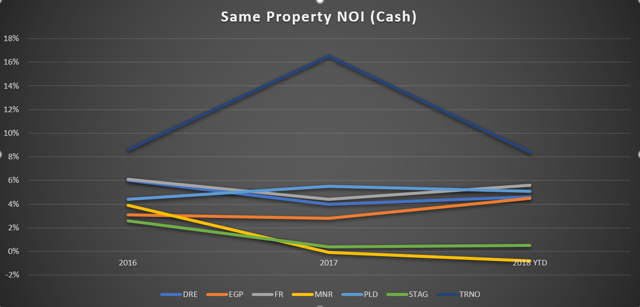 While most industrial REITs have experienced same-property NOI growth in the 4-6% range, STAG has been closer to 0%.
In my opinion, there are two main causes of STAG's underperforming same-property numbers. First, they overwhelmingly buy properties that are 100% occupied. As time goes on, some of those properties are vacated and the occupancy numbers trend to their natural levels.
Second, STAG has historically purchased older buildings in secondary markets. One of the more controversial arguments I made in the myths article was,
Secondary markets experience high elasticity in demand, while also having an elastic supply. A tenant in a secondary market, more often than not, does not have a strong necessity to be in that particular market. Secondary markets do not offer the same uniqueness and desirability that New York, Washington DC or Los Angeles have. In a secondary market, it is much more likely that a building of similar utility can be located on the outskirts of town, or even a few towns over.

As rents rise in secondary markets, tenants have many alternatives, and rent is held in check by the costs of constructing new buildings. Speculation construction in a booming secondary market is relatively low cost and therefore common. As demand spikes, new supply is not far behind.
I was surprised that these comments were so controversial as I considered them to be common sense.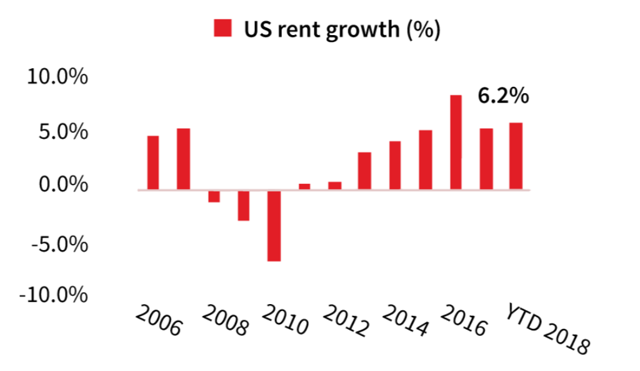 Source
The nationwide average industrial rent has exhibited strong growth. It is not a coincidence that most industrial REITs have experienced similar growth in their same-property numbers. STAG chose to invest in smaller markets, and it is not surprising that the rent growth in those markets has been less than the national average.
STAG's same-property growth is going to continue to lag their peers. In the future, their growth will come from the same place it always has, through significant acquisitions. With industrial fundamentals so strong, STAG has not had a problem selling equity.
Additionally, STAG has a very solid balance sheet with plenty of room for more leverage. When the equity market stops cooperating, STAG can turn to using debt for a period of time without harm.
Conclusion
STAG investors can expect more of the same. STAG will continue to invest a growing amount into acquisitions each year. Since it is their sole source of growth, taking a break is not really an appealing option.
For shareholders, a significant portion of that growth is going to continue to be offset by dilution. As long as the industrial market continues to boom, this strategy can continue to produce 5-6% annual FFO growth.
With the payout ratio below 80%, dividend increases in the near term might be larger. Although it would be prudent for management to keep the raises under FFO growth to get the payout closer to 70%. Increases in the 2-3% range would be prudent to whet shareholder appetites while allowing the payout ratio to compress further.
As long as these conditions persist, STAG can be a decent investment but will continue to underperform the premium companies in their sector. STAG's dividend should be safe barring a meltdown in the industrial market, so for those looking for the immediate dividend, it might be an appealing option.
My argument about STAG all along has not been that it is a terrible company. My argument has been that STAG is not a "blue chip," "best-in-class," "low risk" or "premium" industrial REIT that can be expected to outperform its peers.
It is a middling industrial REIT that is widely diversified in markets that have higher than average immediate yields and can be expected to have lower than average growth. STAG can be expected to have similar results, providing a higher than average immediate yield and slower growth than peers.
When STAG reaches the point where they can no longer acquire at a significant pace, that might change.
Disclosure: I am/we are long PLD, TRNO.
I wrote this article myself, and it expresses my own opinions. I am not receiving compensation for it (other than from Seeking Alpha). I have no business relationship with any company whose stock is mentioned in this article.