Activision Blizzard (ATVI) has seen a big drop over the last week, touching April lows again. This move has been caused by bad publicity over the new "Diablo Immortal", but I think this is a storm in a teacup and offers a good entry point for investors. The long-term story of ATVI is not affected by this.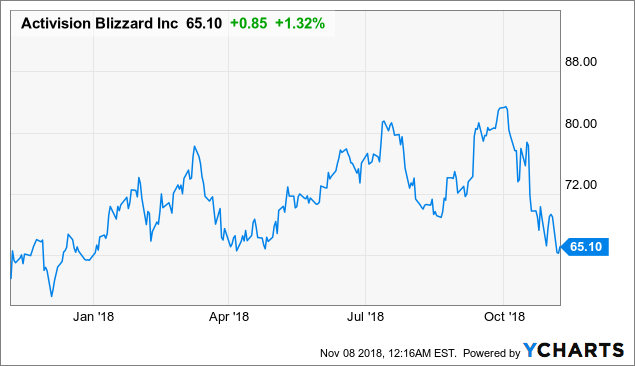 What happened?
During its annual Blizzcon (basically a Blizzard only games convention) last week, Blizzard announced a new game in their Diablo franchise - "Diablo Immortal", a mobile game developed by NetEase. Reactions were overwhelmingly negative with the presenters being booed at during the event.
Despite fans hoping for Diablo 4 and some Blizzard statements before the convention being interpreted as hints that it would be announced, there was no desktop/console Diablo game.
Hardcore fans felt betrayed by Blizzard, saying that they do not want a mobile game, but a full desktop experience.
Why the news doesn't matter going forward
Despite fans threatening to boycott the game and downvoting the release trailer on Youtube, all of this doesn't matter going forward. We've seen something similar to EA's (EA) announcement of Battlefield V (I've written an article here), but this is different. Why?
The negative reactions from Battlefield V came from the main target group that was meant to buy the game, the negative reactions for Diablo Immortal come from a group that's not mainly targeted.
With the Blizzcon being held in Anaheim, the main visitors are American, while Diablo Immortal is mainly being targeted at the mobile gaming market in Asia.
The people now threatening to boycott the game are not the ones Blizzard wants to allure. A main argument on Reddit is: "I don't want to play Diablo on a tiny screen with the UI covering half the game, I want to play it on the big screen". Notice something? Yes, these people wouldn't have been the ones investing a lot of money into the mobile game in the first place.
In Asia, however, mobile gaming is a lot bigger than in the US or Europe and this is exactly what Blizzard is aiming at. In fact, Diablo Immortal seems to be a re-skin of Netease's Endless of God.
While I can understand that the hardcore fans of the desktop Diablo feel that this is not the game they deserve, from ATVI perspective, this is a low risk/high reward move. Take a popular, existing game and modify it with a massively popular brand and you have a safe hit. With in-game monetization, I predict Diablo Immortal is going to be a cash-cow for Blizzard! Whilst China is currently cracking down on mobile games, actually, Japan is the biggest spender on mobile games, with South Korea and SouthEast Asia also being fast-growing markets with $1 billion+ revenues.
Could this have been handled better?
Still, despite success I foresee for Diablo Immortal in Asia, could all this negative news have been avoided?
Sure, Bethesda has given publishers the blueprint of how to do it. Their success game "Fallout Shelter" was announced alongside "Fallout 4", so hardcore gamers were happy they got a new Fallout and casual gamers went for the mobile game. They even repeated this formula with the announcement of the mobile game "Elders Scrolls Blades" alongside a full "The Elder Scrolls 6" at this year's E3.
And it seems like Blizzard planned to this as well. After the recent events, more and more reports appear online that Diablo 4 is in development and was meant to be announced at Blizzcon as well, but shortly before the decision was made to pull the announcement, although Blizzard denies that.
What does that mean for the stock?
I am surprised by how strongly the share price reacted to this.
At the end of the day, the audience Diablo Immortal is aimed at (Asia) will buy/invest money as it is the kind of game popular with the mobile game industry in this region (shown by the fact that there is an existing game Blizzard can just re-skin) and I'm sure it will be a success.
The hardcore gamers will eventually get Diablo 4 (as Blizzard confirmed its existence). While some people in forums want to start petitions to boycott it, this will not happen. If this whole event showed one thing, it's that fans really want a Diablo 4. Once it gets released, they will forget about the mobile game and go for it.
Therefore, I see this drop as a good entry point for investors believing in the long-term growth of the video game industry.
Additionally, I expect a reversal of the drop in the short-term once the market realizes this news doesn't matter; however, I am already an invested for the long-term and will therefore not try to play this reversal.
Disclosure: I am/we are long ATVI, TTWO.
I wrote this article myself, and it expresses my own opinions. I am not receiving compensation for it (other than from Seeking Alpha). I have no business relationship with any company whose stock is mentioned in this article.