In our first article on Waste Connections (WCN), we wrote that:
"Acquisition frequency should pick up for WCN in late '18, as the integration of Progressive Waste nears its total completion."
As a truly rare occurrence, the prediction was rather spot on. Waste Connections has finally begun utilizing its greatest strength again, capital allocation for acquisitions. At the start of the Q3-2018 conference call, CEO Ron Mittelstaedt announced the company's fourth largest acquisition ever, and by far, the largest year to date. In addition, WCN just priced $500 million in bonds. We argue that this deal reverts Waste Connections back to its previous corporate agenda. Rather than the current focus on pricing and volume in line with peers, Waste Connections is again a premium player due to its capital allocation. We predict higher volatility, greater upside, and that investors should increasingly refocus on deal multiples.
As a semi-confirmation, Waste Connections has recaptured its throne as the most volatile of the big three.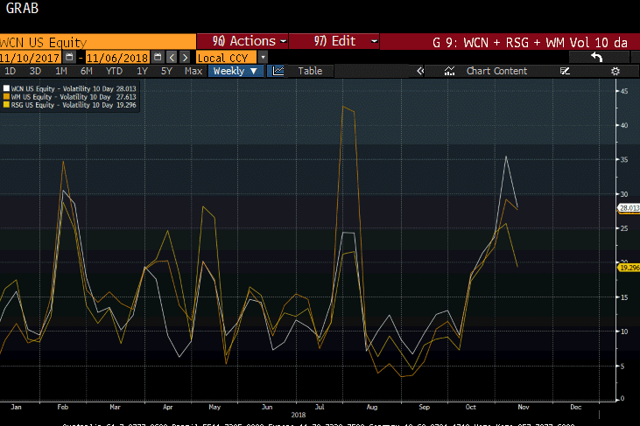 10-day Volatility: RSG + WM + WCN. Courtesy of Bloomberg. Republic (yellow) had been slightly leading in volatility for 2018, but recent corporate actions have made WCN (white) pull ahead.
The Deal
The deal is described as a multi-market collection-oriented company with annualized revenue of approx. $175 million that operates across three states, of which two are new markets. When further pressured for details, it was revealed that:
1. The acquisition operates primarily in competitive markets, not franchised markets.
2. Of the acquired markets, 2/3 are new.
3. The old market almost functions as a tuck-in acquisition. There are already disposal assets in the market.
4. Collection margin in the 25% range.
5. The target is number one or two in most of their markets.
6. Not West-to-Colorado geographically.
What can be deduced from these 6 data points in relation to the price?
My first takeaway is that the market initially seems to be North-East. Given the size, only a few companies seem eligible. My estimate would be that the new markets are either the State of Virginia and the State of West Virginia or Ohio and Pennsylvania. If it's Virginia and West Virginia, that could lead to a potential long-term merger/acquisition between WCN and Advanced Disposal Services (ADSW).
The second take-away is the obvious opportunities for integration/internalization of disposal. Waste Connections almost never acquires a company without materially improving its operating performance. Internalizing disposal assets would boost both EBITDA margins and consolidated returns on deployed capital.
The collection margin is quite strong for a competitive market, which hints at strong assets, management, and safety. These are actually bad news, given that WCN often enjoys a tremendous operating boost from introducing its own operating procedures. On the flip-side, there will be lower divestment activity post-acquisition, to shed unusable revenue.
The acquisition will be fairly large. At ~175m in revenues, they will produce roughly 50mm EBITDA. At a fair multiple range of 6-9x, the price is at least $300m but could be in excess of $400m if the assets are truly high quality. The price is slightly in excess of 50% of generated cash flows for the year. Add in that WCN already pays a dividend, raised the dividend 14.3%, and has acquired multiple other assets, it's clear to see that WCN must take in additional capital, which leads us to the next piece of news.
Raising Debt
Waste Connections planned to raise $400m but decided to scale to $500m as the market demand was apparently in excess of expectations. The demand even led to lower-than-expected rates on the over-sized offering. Specifically, the bond is a 10-year maturity with a 4.25% coupon, fixed. The principal is structured as a bullet-type payment. The interest at 4.25% is higher than some peers have managed, but the bond's callable nature might be some of the excess interest. The bond is sizable and seemingly in line with previous offerings in terms of interest.
The interest in the debt is not so much the actual bond offering is material, but that WCN is finally beginning to "utilize their secret sauce" of raising cheap capital and putting it to work with both discipline and tuck-in acquisition capabilities.
Conclusion
Waste Connections have finally begun utilizing their expertise in deal-making to continue rolling up smaller operators at great economics of scale advantages.
The new acquisition opens up two entirely new markets' worth of M&A opportunities. The acquisition is unfortunately in competitive markets and already an efficient operation, but internalization and tuck-ins should promote margin improvement.
The debt offering demonstrates adequate access to capital as acquisition fuel.
All in all, the two deals reaffirm our initial view of WCN as an acquisition juggernaut and right on schedule.
As an aside, there should be an extremely robust pipeline for M&A in the coming 18 months, so we expect a plethora of deals if the proceedings on the current deal run smoothly.
Disclosure: I/we have no positions in any stocks mentioned, and no plans to initiate any positions within the next 72 hours.
I wrote this article myself, and it expresses my own opinions. I am not receiving compensation for it (other than from Seeking Alpha). I have no business relationship with any company whose stock is mentioned in this article.