Let's get one thing out the way regarding Apple's (AAPL) fiscal 4Q18 results: a trillion-dollar company that grows its top and bottom lines at a 20% and 41% pace, respectively, is a phenomenon. Therefore, I refuse to entertain the idea that the Cupertino-based company's pre-holiday quarter was anything short of outstanding.
Having said that, it also looks like Apple stock's winning streak has reached a dead end. After a period of nearly 30 months of almost uninterrupted share price appreciation, which saw the doubling of the stock's market value and the breaking of the $1 trillion market-cap ceiling, AAPL has finally fallen out of favor with investors and pulled back.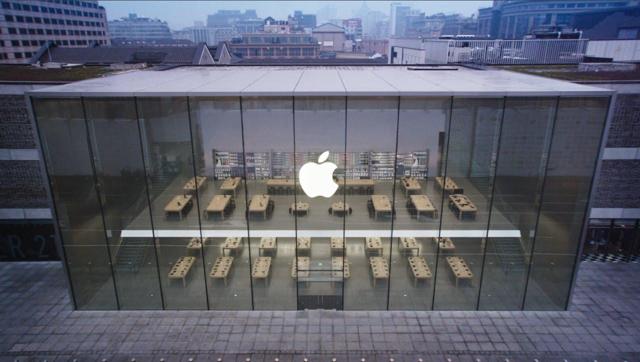 Credit: Apple channel on YouTube
I, on the other hand, remain unfazed in my bullish stance towards AAPL. A look around post-earnings analysis suggests that cautious investors and analysts have been turned off primarily by:
A soft outlook for the important holiday quarter that calls for below-consensus revenues and margins, at the midpoint of the guidance range
The end of the iPhone unit revenue reporting, which theoretically reduces transparency and could possibly signal the management team's fear over a decline in near-future demand for smartphones
Regarding the discussion points above, there are a couple of factors that strike me as highly relevant. First, the smartphone industry has been undergoing a challenging period that the less attentive Apple shareholder may not have even noticed, considering how well the Cupertino company has been doing in this market lately. According to research company IDC, the third calendar quarter saw a sharp decline in global device unit sales of 6%, the second worst period since 2Q16 (see graph below). Apple, on the other hand, continues to lavishly outperform the competition, having gained 80 bps of market share last quarter.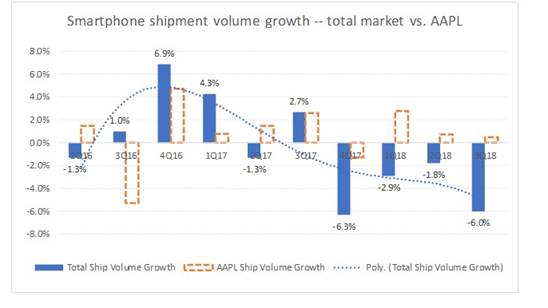 Source: DM Martins Research, using data from company reports
Despite the recent, positive developments in Apple's share of the smartphone market, I have recently argued that iPhone revenue growth "is most likely to taper off in the mid-term future, with unit sales comps becoming increasingly tougher as we enter the 2018 holiday season" (see graph below, the dotted line is DM Martins Research's estimate published in fiscal 3Q18). As such, I believe Apple's cautious fiscal 1Q19 outlook makes sense in the context of a mature smartphone business that is unlikely to grow much more, at least in terms of units sold (remembering that the newly-introduced, high-ticket devices have pushed ASP up). Any headwinds associated with iPhone sales are, in my view, in line with what I consider reasonable and expected.

Source: DM Martins Research, using data from company reports
Second, and in a way closely associated with the first argument above, I continue to believe that Apple's fate in the long term will continue to depend more heavily on the success of the company's strategy to double service revenues between 2016 and 2020. To that extent, I believe the trend continues to look highly favorable - see charts below (adjusted for fiscal 4Q17 one-off benefit of $640 million), with the blue line representing a steady-state, base-case scenario that would allow for Apple's 2020 targets to be reached.
At least one Street analyst has raised a flag on service revenues, citing concerns over "the magnitude of the global deceleration" in the back end of the fourth fiscal quarter. I, on the other hand, think that such conclusion is too short-sighted in nature, considering the analysis seems to have been based off of a mere month of data. Instead, I believe that Apple's large installed base will continue to fuel high-margin service revenues for the next several quarters and help to support revenue and earnings growth. Evidence could be gathered in the earnings call, when CEO Tim Cook spoke of "records in all geographic segments and new all-time revenue records for the App Store, cloud services, AppleCare, Apple Music and Apple Pay", despite the fourth fiscal quarter not being the most active in the shopping calendar.

Source: DM Martins Research, using data from company reports
On the investment thesis
Back in September, I stated that "my bullish thesis on AAPL is more firmly grounded on service growth over the upcoming years than on the short-term success of the new smartphone devices" launched a couple of months ago.
In a nutshell, I believe that focusing too much on Apple's near-future smartphone sales is precisely what bears have been doing wrong since the Cupertino-based company reported fiscal 4Q18 earnings, on November 1st. I am not an AAPL trader and, therefore, do not worry too much about short-term financial projections leading to pullbacks in share price - other than as a potential opportunity to buy shares on the dip.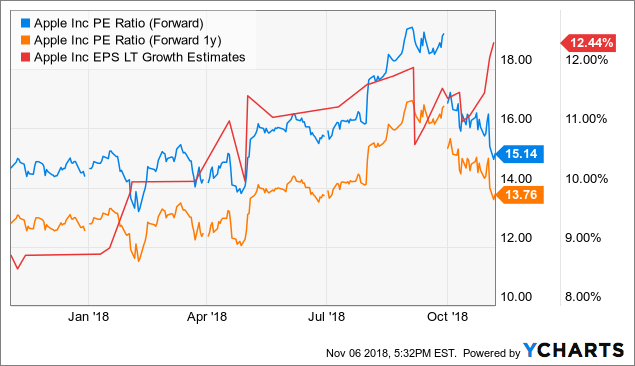 Considering the modest valuations (13.8x next-year P/E and 1.1x long-term PEG, see graph above), I continue to find AAPL one of the best stocks to own in the market. Sentiment seems to have taken a hit following the most recent earnings report, which could translate into further price weakness in the next few trading days or couple of weeks. But from a long-term investment perspective, I believe AAPL continues to be a highly enticing stock to own at current levels.
Note from the author: AAPL is only one of the names that I have discussed in more detail with my Storm-Resistant Growth community. To dig deeper into how I have built a risk-diversified portfolio designed and back-tested to generate market-like returns with lower risk, join my Storm-Resistant Growthgroup. Take advantage of the 14-day free trial, read all the content written to date and get immediate access to the community.
Disclosure: I am/we are long AAPL.
I wrote this article myself, and it expresses my own opinions. I am not receiving compensation for it (other than from Seeking Alpha). I have no business relationship with any company whose stock is mentioned in this article.