In the short run, the market is like a voting machine—tallying up which firms are popular and unpopular. But in the long run, the market is like a weighing machine—assessing the substance of a company"

Benjamin Graham
A day after an election day in America, the market decided to vote "No" on Match Group (MTCH). So much so that the shares fell 17% despite a record-breaking quarter, with the company beating Wall Street expectations on both top and bottom line.
So what gives? A soft guidance in Q4 compared to expectations?
Management guided $445 million revenue next quarter vs. $454 million estimated by Wall Street, a 2% shortfall. That Q4 guidance is actually in line with estimates after normalizing the $6 million foreign exchange impact and expected GDPR softness (both temporary headwinds).
Match Group remains very attractively valued at ~25 times trailing earnings despite its consistent high growth and improving profitability and free cash flow since becoming a public company.
I wrote before about why Match Group is a force to reckon with in the App Economy as a leader in the booming online dating industry.
Whether you are already a shareholder of Match Group or contemplating buying shares for the first time, the recent draw-down brought back the shares to their June 2018 level. A great opportunity to buy MTCH shares at a price that will most likely look very low a few years from now.
Let's review why.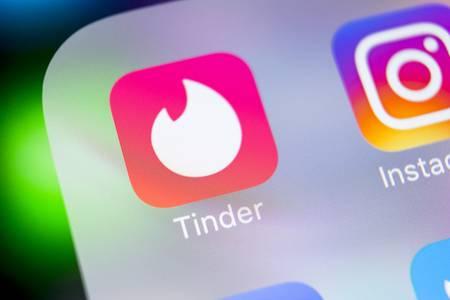 Image Source: 123RF.com
Record-breaking quarter – again
It's simple: the company is firing on all cylinders.
Revenue = $444 million (+29% Y/Y)
Operating Income = $140 million (+53% Y/Y)
Free Cash Flow YTD = $404 million (+94% Y/Y)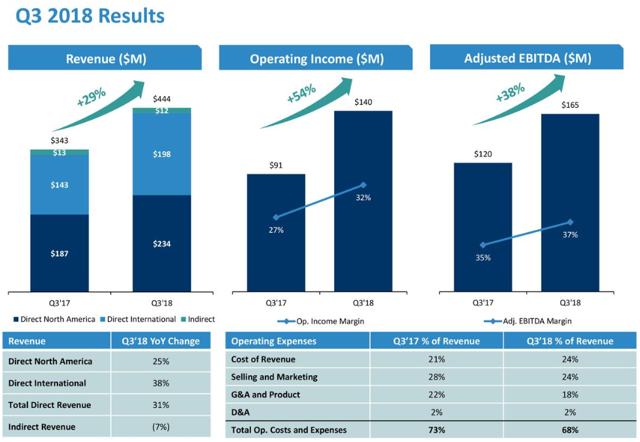 Source: Match Group Q3 FY18 Earnings Call Slides
The strong numbers were largely explained by Match Group's continued performance on both acquisition and monetization:
Subscribers = 8.1 million (+23% Y/Y)
ARPU (Average Revenue Per User) =$0.57 (+6%)
Beating Wall Street estimates on both top and bottom line, Match Group growth keeps on surprising, and the centerpiece of this growth story is Tinder, the world's leading dating app.
Tinder: The gift that keeps on giving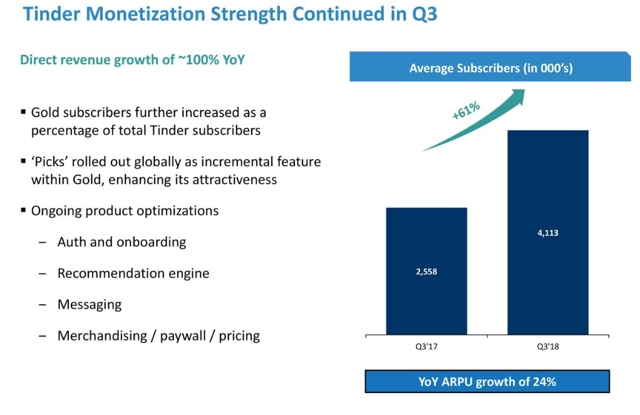 Source: Match Group Q3 FY18 Earnings Call Slides
Tinder alone saw its subscribers rise from 2.6 million to 4.1 million in the last 12 months (+61%). Therefore, it is clearly the locomotive driving the entire portfolio of Match Group's dating apps subscribers higher. Tinder now represents slightly more than 50% of the entire company's subscribers.
Given the run rate and growth since Tinder Gold launch last summer, incremental features available behind a paywall is a business model that is here to stay.
CEO Mandy Ginsberg insists that a lot is happening under the hood and the product keeps on being optimized to stay fresh and relevant:
One strategy to increase Gold subscriber penetration is to add more features to Gold subscription package, making it even more compelling to our users […] our under the hood product initiatives have led to improved out performance, user outcomes and monetization. We are particularly focused on improving success rates for customers, including optimizations like what potential matches they are shown by our recommendation engine and the post match messaging experience."
Beyond its amazing KPIs, Tinder is also a phenomenon across the world. A flywheel rotating stronger as more users join the existing leading community. This virtuous cycle places Tinder on the map with the likes of Instagram (FB) and YouTube (GOOG) (NASDAQ:GOOGL). A product so ubiquitous that you "have to be on it" if you are single.
Tinder is also embracing its casual image, under the message of being part of the single journey. And is doing so confidently with a national Brand campaign.
Mandy Ginsberg explains:
Tinder has also launched its first ever brand marketing campaign. Tinder was such phenomenal at launch and spread so quickly that the market defining brand versus the business defining the brands. Tinder particularly resonated with 18 to 25 years old, because it provides a fine and easy way to meet people. Tinder sometimes gets the bad rep for being casual. But keep in mind that people in their late teens and early 20s are not looking to settle down. It is trying to date, explore and discover yourselves while meeting lots of people and being social. It's all about the single journey and Tinder reflects the way this group meets and socializes."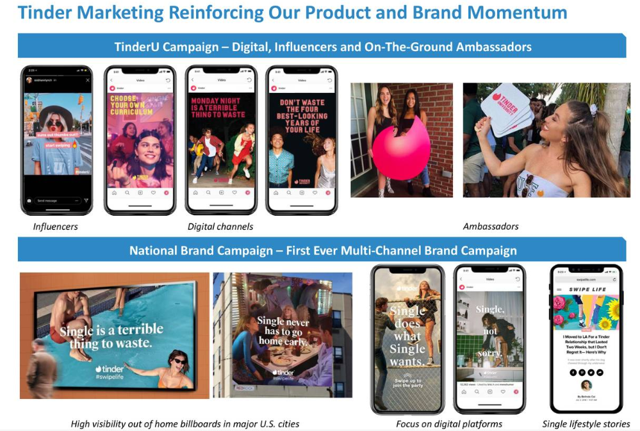 Source: Match Group Q3 FY18 Earnings Call Slides
Hinge in the starting blocks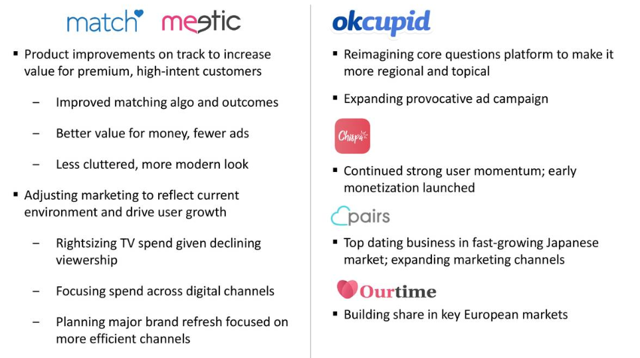 Source: Match Group Q3 FY18 Earnings Call Slides
Many investors on the sidelines are concerned that Tinder might be a fluke. One day, it will fade and so will the share price.
But Match Group was a successful company long before Tinder and Tinder Gold. There is a know-how in this sector that Match Group has built over many years and can capitalize upon more than any other company. They are lucky to be the absolute leader in their own niche, one that is still in the early innings of a societal phenomenon.
While the astonishing growth of Match Group is currently very Tinder-dependent, the company is already preparing for the next leg up.
Hinge is a leading dating app in New York and has been gaining traction in other major US cities. When a product is already successful and gaining traction is really where Match Group shines. They know how to ramp up customer acquisition efficiently (after doing it for so many other products) and they know how to release monetization features that will feel natural to the user base.
Once you have a product that everybody loves, the hard part of the work is done. Lean acquisition costs and smart release of monetization features is part of Match Group's DNA and what they excel at.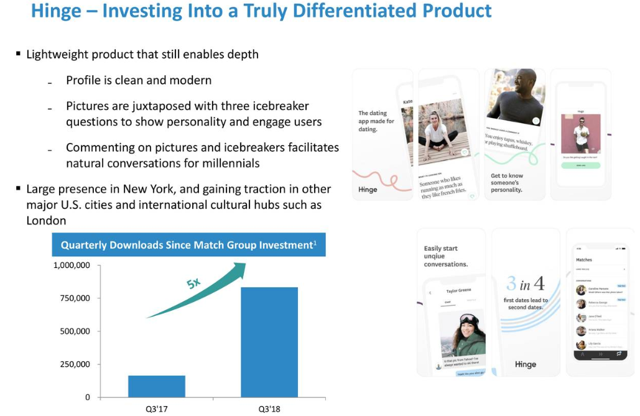 Source: Match Group Q3 FY18 Earnings Call Slides
The company has seen strong early signs from Chispa, another app tested over the last year targeting Latino and Latina Singles.
There is also a clear sense that the management team is keeping its fingers on the pulse of the market, ready to acquire any business that appears relevant. At the right time and the right price, you can be confident that they will pull the trigger, particularly in Asian markets that Mandy Ginsberg mentioned in the last few earnings calls.
A tough comp to come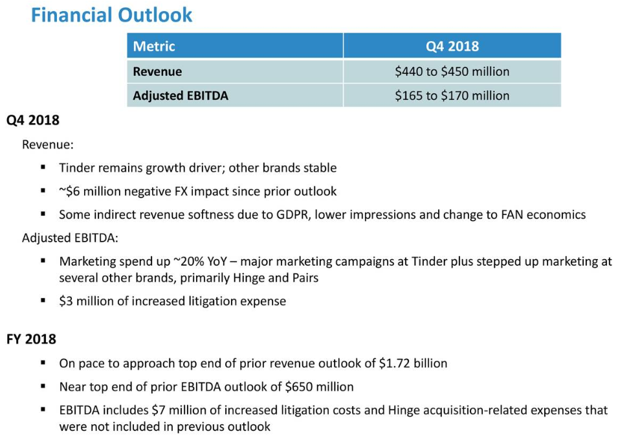 Source: Match Group Q3 FY18 Earnings Call Slides
Overall, Q4 guidance is more of the same after normalizing the negative foreign exchange impact and expected GDPR softness. These tailwinds have nothing to do with the core business and are obviously both temporary headwinds.
Now, management has provided some color regarding subscribers' addition in Q4. CFO Gary Swilder explained during the call:
We expect that Q4 Tinder average subscribers will increase somewhat less sequentially than they typically have, which has been in the 200,000 to 250,000 range. The reasons for this are a combination of two items. First is the anniversary of the largest surge of Tinder Gold subscribers from Q4 last year. All the subscribers from that surge who took 12 months or two successive six month packages, will be expiring subscribers in Q4 '18, so terminations will be much higher than typical."
Churn is part of any subscription business, and it makes sense that management errs on the cautious end of things when it comes to predicting returning subscribers. The margin of error is more significant than usual for the forecast, so I can't blame management for being conservative.
Match Group has a strong track record of beating expectations, specifically in the last four quarters. Making the current sell-off following a disappointing revenue guidance all the more appealing.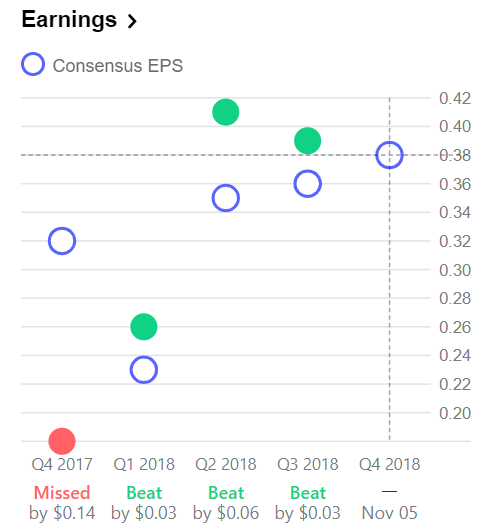 Source: Yahoo Finance
A Special Dividend to reward shareholders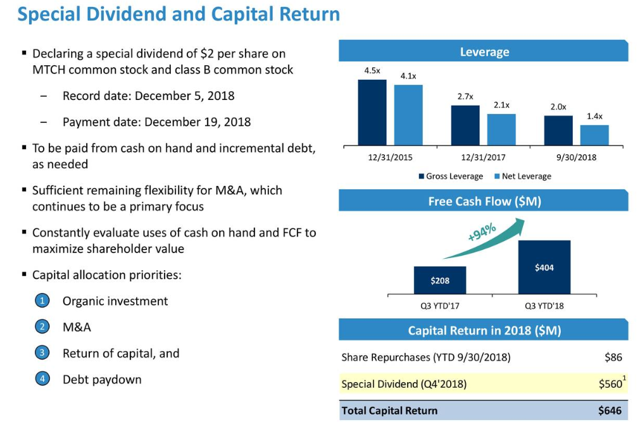 With FCF almost doubling over the last year, Match Group is not your dad's tech company. It is a profitable business that has turned into a cash machine over the quarters, to a point where it made sense to issue a special dividend. Management has made clear during the call that they have considered M&A seriously before prioritizing a dividend, and it is a good sign to see that they would rather reward shareholders than settle for an overpriced deal. Not all dating apps are worth buying, and certainly not at any price.
And let's remember that Match Group shareholders include its employees, who continue to display high satisfaction for their company culture and leadership on Glassdoor.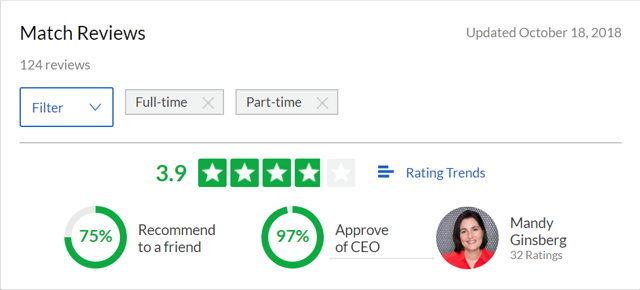 Source: Glassdoor.com
One more chart
If like me, you have bought your first Match Group share back in 2015 when the IPO price was at $12, the special dividend of $2 three years later is more than symbolic.
It is the reward of a management that has continued to deliver ever since going public, as illustrated by the total revenue achieved over the last 11 quarters.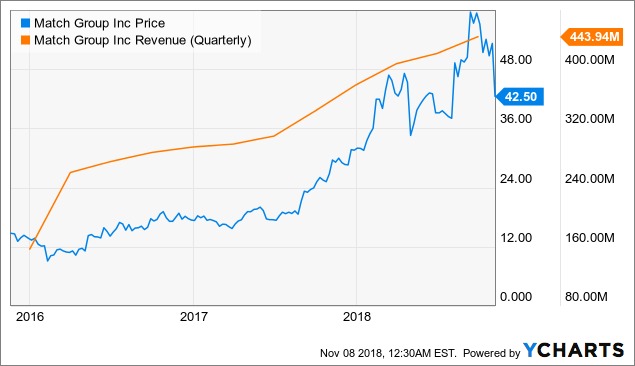 Match Group is bigger than the sum of its parts. And if Q3 superb performance was not enough to convince you, the shares just fell for you, by a very generous 17%.
It happened in the past. Back on May 1st, when the announcement that Facebook would offer a dating layer to its users sent MTCH 22% lower in one day. Since then? The share price continued its path, roaring higher as earnings and free cash flow come in. Just Buy the damn shares already.
If you are a like-minded investor eager to find a community to share and discuss ideas with, please consider joining the App Economy Portfolio.
The service unlocks access to my real-money portfolio tracker, live alerts on trades, monthly high-conviction, and timely investment ideas.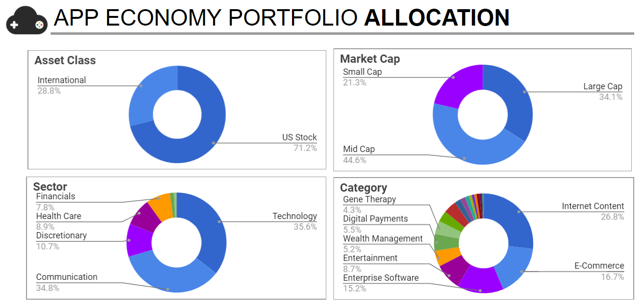 Disclosure: I am/we are long MTCH, FB, GOOG.
I wrote this article myself, and it expresses my own opinions. I am not receiving compensation for it (other than from Seeking Alpha). I have no business relationship with any company whose stock is mentioned in this article.