General Electric (GE), undeniably, has its roots situated in the US. Founded here under Thomas Edison, the business has become a staple of American business culture and it has permeated society in ways innumerable. However, while the conglomerate is as American as apple pie, the fact of the matter is that international operations, particularly throughout Asia, are proving to be more material to the firm than at any point in the past. While the future is uncertain, it's likely that the conglomerate's prospects will be tied more in the years to come to the global economy than what transpires solely in the US.
India: an example of General Electric's reach
I could point to any number of examples of how General Electric has its hands spread across the globe, but perhaps the most relevant recent example is its involvement in India, the world's second most-populated nation and, now that China's emissions have improved, the worst producer of sulfur dioxide in the world. In fact, by some estimates, the country accounts for almost half of global sulfur dioxide emissions. You see, a major source of electricity generation within the nation (an estimated 70%), due to cost and what natural resources India has to work with, is coal. Sulfur dioxide, which is not only bad for the atmosphere but also can be toxic to humans, is a nasty emission that comes as a result of creating electricity from coal.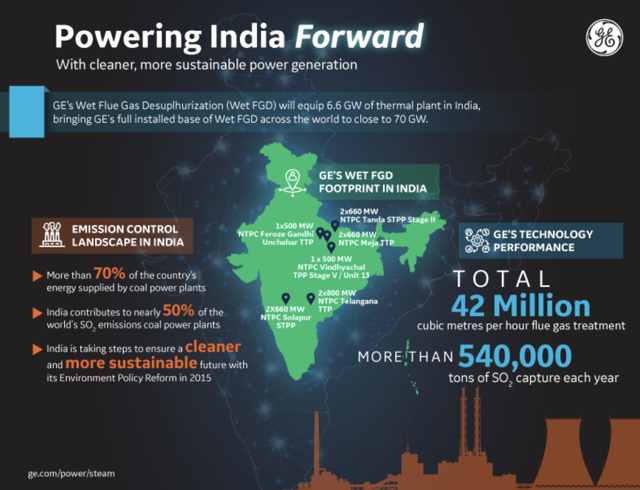 *Taken from General Electric
In an effort to reduce its emissions, India has sought out General Electric and its Wet FGD (Flue Gas Desulphurization) technology. This technology will be applied to 4 of the country's NTPC coal plants at a cost of $247 million and will be responsible for treating more than 42 million cubic meters per hour of flue gas. As a result of this, around 540 thousand tons of SO2 will be taken out of India's electrification process each year and will be converted to a gypsum by-product that can be repurposed for the construction industry.
General Electric's a global player, especially in Asia
The fact of the matter is that General Electric's operations extend far beyond the US, and they are in many more countries than just India as well. Not only that but also global operations are becoming more significant for the business and its shareholders over time as well. For instance, between 2015 and 2017, the firm's Industrial revenue managed to grow from $117.4 billion to $122.1 billion. However, revenue in areas outside of the US grew from $64.1 billion to $75.8 billion over the same period of time. As a percentage of sales, international revenue for its Industrial operations grew from 54.6% of the business in 2015 to 62.1% last year. Data has not been provided for 2018 so far, but what has been offered up suggests firm organic growth in some areas like the entity's Healthcare business.
Growth outside of the US is, I suppose, natural for a firm as large as General Electric. After all, not only is the world outside of the US far larger than the US itself is, with global GDP in 2016 totaling $75.87 trillion compared to the $18.62 trillion in GDP for the US itself, but general economic growth in developing nations is far greater than it is in the US. This year, for instance, OPEC forecasts that total US growth will come out to 2.9% compared to the 3.7% growth seen by the world as a whole. In China, GDP should expand by 6.6% this year, while in India growth is forecasted at 7.6% for 2018. These kinds of prospects are what draw firms to look for opportunities abroad.

*Created by Author
For General Electric specifically, because of the robust growth seen in India, China, and elsewhere in the region, Asia has proven to be great for business. Back in 2015, Asia as a whole accounted for $19.3 billion of the firm's Industrial revenue. This grew to $22.3 billion by 2017. To put this in a different perspective, consider that Asia's share of total Industrial revenue grew from 16.4% back in 2015 to 18.3% at the end of last year. Another $1.4 billion worth of sales, it should be mentioned, out of the segment's total $9.1 billion in sales during 2017, came from the company's Capital segment.

*Created by Author
To better look over its geographic operations, we should break them up by segment. As you can see in the table above, each segment derives more than half of its revenue from outside the US, and in most of these cases, they generate a significant amount of revenue from Asia. Power, obviously, is significantly reliant on the state of the global economy, as is Healthcare and Aviation. In short, it's not just a few small areas where General Electric dips its toes in, it's across the entire board and in some very large ways.
This creates excellent prospects for investors looking for a diversified firm with its hands dipped outside of the US, but there are some risks to consider. Besides the prospect of localized economic downturns and an unwillingness by some countries to respect property rights in the same way that the US does, one big risk investors should keep in mind is the continued and growing trade wars initiated by the Trump Administration. In an interview that took place in June of this year, General Electric's then-CEO, John Flannery, stated that because the business buys around $2.9 billion worth of goods each year from China, tariffs even on it alone would cost, on a gross basis, the firm between $300 million and $400 million per year. Any prolonged period of tariffs being in place, or an escalation from where they are today, could offset the attractiveness of the firm's international operations.
Takeaway
On the whole, General Electric is a large, complex, and interesting business. Digging deep down, we find a firm that is truly global in scope and that has demonstrated that, although the past few years have been tough for the business, the prospects in an ever more interconnected economy. With this will come certain risks, but for the higher growth prospects those risks could translate into, investors should be happy.
A community of oil and natural gas investors with a hankering for the E&P space: Crude Value Insights is an exclusive community of investors who have a taste for oil and natural gas firms. Our main interest is on cash flow and the value and growth prospects that generate the strongest potential for investors. You get access to a 50+ stock model account, in-depth cash flow analyses of E&P firms, and a Live Chat where members can share their knowledge and experiences with one another. Sign up now and your first two weeks are free!
Disclosure: I/we have no positions in any stocks mentioned, and no plans to initiate any positions within the next 72 hours.
I wrote this article myself, and it expresses my own opinions. I am not receiving compensation for it (other than from Seeking Alpha). I have no business relationship with any company whose stock is mentioned in this article.