Small cap stocks are sometimes vulnerable to market volatility for no reason at all, or even on good news. One stock that has fallen on no news recently is a small company called scPharmaceuticals (SCPH).
The company focuses on subcutaneous drug administration products, as an optimized way to deliver infused therapies available through intravenous administration. The company believes its proprietary technology has the potential to improve patient care, reduce hospitalizations, and reduce healthcare costs.
The company's lead candidate Furoscix, is a neutral pH furosemide solution for subcutaneous administration via its sc2Wear Infusor, a treatment candidate for edema (or fluid overload) in patients with heart failure.
According to the company, its addressable market is about $8B in the U.S. alone.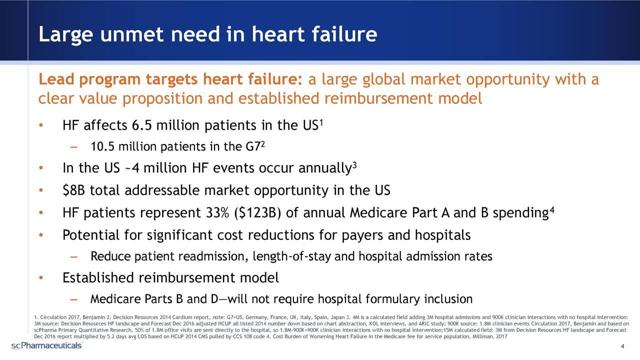 Company presentation
It is impossible for me to be able to calculate the revenue the company might generate with such a large TAM. However, even a small piece of the $8B will be enough to propel the company's stock to much higher levels. In fact, probably several times over its current price.
So besides my speculation logic you will read below, if the company succeeds long term, the potential for profit is significantly higher than what I estimate in the current article.
Back in June, the company received a CRL (Complete Response Letter) from the FDA, regarding the company's NDA application for Furoscix from August 2017. The FDA noted the need for additional human factors studies, device modifications, and potentially a clinical validation study. The company said it intends to request a meeting with the FDA to further evaluate the deficiencies raised.
While we are disappointed with the outcome of the review, we are committed to addressing the issues of the CRL and bringing this important product to market," commented John Tucker, president and chief executive officer of scPharmaceuticals. "Our team will continue to work closely with the FDA to determine an appropriate path forward regarding product performance, appropriate patient identification, and risk mitigation strategies that ultimately enable a timely resubmission of the FUROSCIX NDA."
In an update on October 18, the company said it received the minutes from the Type A Post-Action Meeting held on September 24 with the FDA pertaining to its NDA for FUROSCIX.
As an outcome of the meeting, the FDA has asked the Company to conduct additional human factors studies and a dose delivery validation study with the recently modified FUROSCIX Infusor. The Company intends to submit requests for Type C meetings with the FDA to determine study protocols. The FDA has not requested any additional clinical trials.
The important thing in this letter is that the FDA has not requested additional clinical trials. The company also said it intends to complete human factors and dose delivery validation studies required, and re-file FUROSCIX by the end of 2019.
In its last quarterly report, the company also guided for a cash burn of $8~10M per quarter for 2019, and it expects to finish the year with $80-85M in cash.
How to play scPharmaceuticals
The company has at least 2 years of capital on the books. Assuming the company files an NDA by the end of 2019, it has at least another year of cash. However, I am assuming the company's NDA for FUROSCIX will be approved earlier.
The reason is that FUROSCIX is not a drug that takes years of studies, but a mechanical device. And since the FDA does not require any additional clinical trials, I am assuming FUROSCIX will be approved, and probably in less time than it took the company to file for its initial NDA for FUROSCIX.
So assuming that at some point in 2020 the FDA gives its approval, then the company is free to go to market. I do not have any estimates as to what kind of revenue the company will generate, however, I am sure once approved, the stock will be much higher than where it is today.
The company only went public recently on November 29, 2017 (S-1 form here).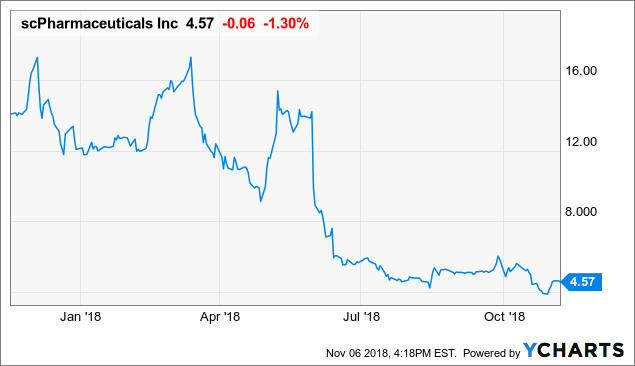 Shares started trading at $14 at the time, and traded as high as $17. At the time investors who bought into the IPO did so hoping FUROSCIX will be approved relatively fast. However, when that didn't happen, shares tumbled to as low as $4 recently.
My point being is, if and when FUROSCIX gets approved, the company's stock will most likely bounce on the news and probably return to its initial IPO price.
So investors who buy SCPH shares today and sit on them for the next 2 years, are likely to be rewarded with a return of about 200% if I am right.
Yes, there are always risks, however, this speculation play has a high margin of safety. Reason being, the market cap of the company is about $85M, but the company has $110M in cash as of the previous quarter.
This is very rare for a pharmaceutical or a biotech company. In essence, we are buying shares at less than cash, and getting the science, the pipeline and all previous research for free.
Bottom line
I think scPharmaceuticals is a nice speculation play with a high margin of safety. Yes, a lot of things can go wrong, however, that is always the case with biotech stocks.
Also, we are not waiting for a drug to get approved but a device, with no additional clinical tests required. And while no one knows if and when FUROSCIX gets approved, at least we have a ball-park time horizon, and the certainty (or almost certainty) that the company will have enough cash until then.
I think SCPH shares could reach about $10 when the company files for an NDA in 2019, and $15 when (and if) it receives FDA approval for FUROSCIX.
Ball park, if investors sit on the stock for about 18-24 months, I think there is a high probability for 200% appreciation for SCPH shares from current prices.
The company is followed by 3 analysts, with a strong buy rating and an average 12-month forward price target of $12.76 (link here).
Disclosure: I am/we are long SCPH.
I wrote this article myself, and it expresses my own opinions. I am not receiving compensation for it (other than from Seeking Alpha). I have no business relationship with any company whose stock is mentioned in this article.