BUSINESS DESCRIPTION
Verint Systems Inc. (VRNT) was founded in 2002 and is a global leader in Actionable intelligence solutions, that turn structured and unstructured data into valuable insights. Since its inception, the company has developed domain expertise and market leadership in the areas of Consumer Engagement and Cyber Intelligence. Today, over 10,000 organization, including some of the major Fortune 100 companies and government agencies worldwide, use Actionable intelligence solutions. Current CEO is Mr. Dan Bodner, who has been running the company for over 24 years.
Consumer Engagement
Consumer Engagement enterprise software is focused on helping customers simplify, modernize and automate their Customer Engagement operations. First, the company offers an open architecture that makes it easy to integrate its software. Second, it also offers a hybrid cloud approach that helps its customers transition to the cloud and now powers more than 3 billion cloud customer interactions per year. Third, the company helps its customers automate with advanced artificial intelligence technology, using sophisticated analytics, machine learning, and automation capabilities.
"Today, Verint is differentiating from competitors with automation software that can drive strong ROI across the enterprise, including contact centers, back-office, IT and compliance."

Source: Q2 FY19, Earnings Call
I find it really important, that they have a differentiated solution over competitors, that will help to accelerate revenues and might even become an acquisition target, for some large-cap company interested in its unique technology. The company has received many industry honors and awards for Customer Engagement products, for its AI-driven cloud self-service and ability to support both voice and digital channels. Its open API platform can be integrated across a lot of channels, including Web, Mobile, the Amazon Alexa, Facebook Messenger, Skype and Twilio. The company is also raising outlook for Consumer Engagement segments, as its focus on innovation and strategy to simplify, modernize and automate, has generated strong results and positive momentum.
Cyber Intelligence
Verint's cybersecurity platform uses machine learning and behavioral analytics to automate the process of detecting, investigating and responding to advanced cyber-attacks and drive intelligence into security operations. Cybersecurity threats are becoming more complex, that is why organizations new data mining solutions to detect and neutralize regular threats. Another problem is the shortage of data scientists and cyber analysts, therefore organizations are looking for automation solutions and predictive intelligence. Later is generated by correlating massive amounts of data from a wide range to uncover previously unknown connections to predict future trends. Verint is uniquely positioned to address these issues and security and intelligence data mining software is already deployed in over 100 countries, mostly in government agencies around the world.
Q2 FY 2019, Earnings Release
CEO Commentary "In Q2 FY 2019, our positive momentum continued as we delivered 11% year-over-year revenue growth in both of our business segments. Our results were driven by our focus on actionable intelligence innovation - including analytics, AI, and automation technologies - in customer engagement and cyber intelligence. We are pleased with our strong revenue growth which was accompanied by continued margin expansion. Given our strong results and momentum we are again raising our annual guidance for revenue and EPS," said Dan Bodner, Verint CEO.

Source: Q2 FY19, Earnings Release
The company reported, total revenues of $306.3 million in Q2 FY19, $31.5 million or 11% increase year-over-year. Customer Engagement revenue increased $20.7 million, or 12%, to $306.3 million and Cyber Intelligence revenues increased approximately $10.8 million, or 11%, to $105.5 million year-over-year. Q2 FY19 non-GAAP gross margins were approximately 66%, up from 64.5% in Q2 last year and operating margin of 20.6%, 4 points higher than Q2 last year and management is pleased with margins expansion.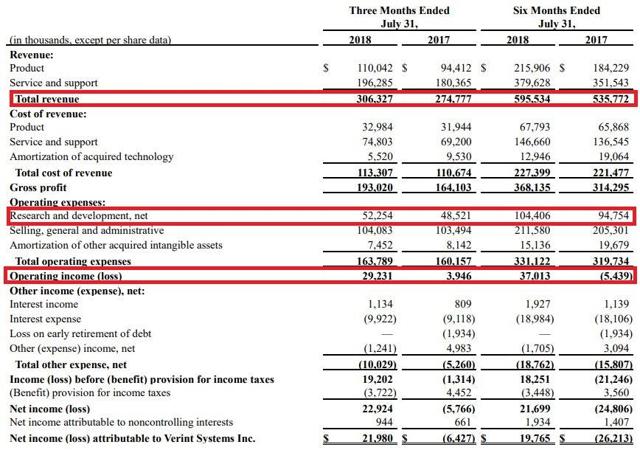 Source: Q2 FY19, Earnings Release
Some previous authors on Seeking Alpha addressed the issue of large operating expenses of the company and low operating and net income margins. The increase in operating expenses in Q2 FY19, consisted of a $3.7 million increase in net research and development expenses. An increase in R&D, was primarily due to the increase in R&D contractor expenses in Cyber Intelligence segment and increase due to related expenses as a result of increased R&D headcount. The company has also decreased its R&D percentage of total revenues from 17.6% in Q2 2018 to 17%.
Market Dynamics and Competitive Advantages
The company faces strong competition in both segments, and most likely competition will persist and intensify in the future. In Customer Engagement segment, key competitors include Aspect Software, Genesys Telecommunications, NICE Systems, and divisions of larger companies, like Microsoft, Orcacle, and Salesforce.
There is a major trend of expanding Customer Engagement across the enterprise, as it used to be very much focused inside the contact center. Now it is more of an enterprise-wide strategy of reducing costs across other departments like back-office, customer teams, marketing, IT and compliance. The company has been investing heavily from the beginning and now provides software application focused on analytics and automation across all those departments. The communication Infrastructure providers like Avaya, that recently became solvent again and used to be a major competitor, will have to quickly adapt to cloud transitioning of the market. For instance, customers now want to move their communication infrastructure to the cloud together with integrated software applications, what simplifies their solution and optimize their costs. Verint established a good relationship with the major communication infrastructure provider, so it can offer particular pre-integrated solutions.
Also according to customer reviews published on Gartner's website, they are satisfied with their Workforce Engagement solution, as it provides great functionalities and can be integrated into any architecture. The key problem some customers find is having technical difficulties with customizing the product, to suit their needs.
Customer Engagement market achieved growth in the mid-single-digits for the last several years, but Verint's integration of Automation and machine learning in its solutions can lift this growth to 10% in the near future. I believe that their Customer Engagement solutions have a competitive advantage over the competitors, that can persist over the next few years, as they require significant investments combined with constant innovation.
In Cyber Intelligence segment, some of the key competitors include BAE systems, Fireye, Genetec, IBM and PalantirTechnologies. Well, customers that are buying cybersecurity technology are looking to improve their security and at the same time reduce their costs. Verint offers unique cyber intelligence solutions, where data mining and predictive intelligence, automate some of the functions that were previously performed by humans. Predictive intelligence also enables customers, to prioritize and deploy their resources, where it's really needed. That makes cyber intelligence solutions very cost-effective, as customers can pick how many professionals they need to employ and that makes a great competitive advantage.
"The cybersecurity market is expected to grow from USD 152.71 billion in 2018 to USD 248.26 billion by 2023, at a Compound Annual Growth Rate of 10.2% during 2018–2023."

Source: Markets and Markets, 2018
The company has achieved in Cyber Intelligence segment revenue CAGR of -3.18 %, during 2015-2017. Negative CAGR is a result of accounting consolidation, with revenues being recognized using the POC method in 2016. Nevertheless, in 2017, the company achieved the annual revenue growth rate of ~11%, that is close to cybersecurity market growth rate. For instance, their key cybersecurity competitor Fireye (NASDAQ:FEYE) has achieved total revenues CAGR of 6.43%, during 2015-2017.
Verint is not a pure play cybersecurity company, as only 35% of their total revenue, come from Cyber Intelligence segment, that is why the company is not achieving very high growth rates, like some of its pure Cyber Security competitors. I think that the company has to invest more in the branding of their unique Cyber Intelligence solutions among SMEs, so it can achieve even higher growth rates. Usually SMEs, that are familiar with their Consumer Engagement solutions, also decide to try their Cyber Intelligence solutions.
Margins Expansion
So we see a steady ongoing margin expansion in Cyber Intelligence that is based on increasing the mix of software in our revenue. Gross margin will be approaching 70%, and we expect our operating margins to increase as we build scale.

Source: Q2 FY19, Earnings Call
When clients purchase Cyber Intelligence solutions, some of them prefer having data mining software together with third-party hardware like storage and servers. The company is working on providing only software solutions with transitions to the cloud, that will expand cybersecurity margins to almost 70%. Some customers prefer to purchase turnkey projects that include data mining software, together with the hardware, like storage and servers. Such hardware can be referred to as pass-through, which the company resells, but at a very low margin. Pass-through hardware represents around $40 million of Cyber Intelligence business and reducing this level over time, will result in gross margin similar to a pure software model. A transition from hardware to the core software model was already done in Consumer Engagement segment and has improved margins.
Gross margin for Customer Engagement business is currently around 70% overall, and with the cloud multi-tenant solution, it can increase to more than 80% gross margin. Customers are looking to have many cloud choices as they transition to the cloud. The company offers a hybrid cloud, as customers can choose to buy the software or rent the software, or to host themselves or host is Verint. That creates competitive differentiation, as the company can be very flexible and work with its customers. Bears might point to the fact, that for large enterprises there is way too much data for cloud transition, that is why some of them prefer to stay on-prem.
Forward PE Valuation
The company also provided its non-GAAP Revenue and EPS guidance in its latest Investors Presentation, September 2018. Basically, they expect a non-GAAP EPS of $3.15 for FY19, so stock is currently trading at forward PE FY19 of 14.54.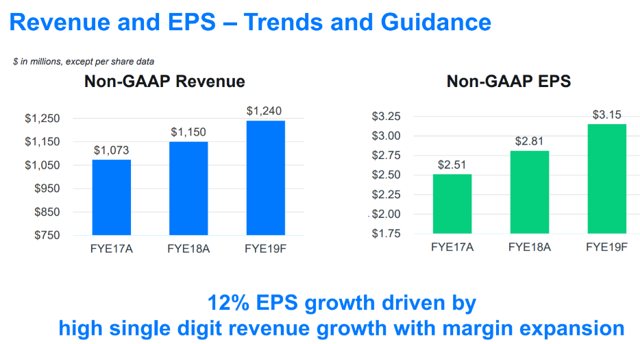 Source: Investor Presentation, September 2018
Let's assume management is capable of achieving 12% EPS growth in FY20, what makes a non-GAAP EPS of $3.53, that makes stock currently trading at forward PE FY20 of ~13. Next year's consensus analysts' EPS forecast is $3.49, that is $0.04 lower than my expected EPS of $3.53. Applying the current S&P 500 market-average forward PE multiple of ~15.5 on the FY20 EPS assumption of $3.53, I arrive at a PT of $54.72 - an upside of ~20% from Monday's close.
Conclusion
Verint's transitioning into a software model, together with differentiated consumer engagement and cyber intelligence solutions, makes it a compelling stock to invest. I believe, that management is capable of generating value for its shareholders, by expanding margins with multi-tenant cloud offering in Consumer Engagement segment and software model in Cyber Intelligence segment. The company also expects non-GAAP Revenues to grow ~8% per year, due to favorable market trends and signing of new big deals. I expect PT of $54.72 over the next 12 months, but if the company reports better than expected numbers, the stock can easily reach a range of $60 - $70. The key risk to my investment thesis is the unexpected deterioration of business performance with potential margins contraction or decelerating revenues, due to intensified competitive pressures.
Disclosure: I/we have no positions in any stocks mentioned, and no plans to initiate any positions within the next 72 hours.
I wrote this article myself, and it expresses my own opinions. I am not receiving compensation for it (other than from Seeking Alpha). I have no business relationship with any company whose stock is mentioned in this article.