Tech companies have a habit of suddenly coming and going because of the nature of the relentless environment that spits out losers and celebrates winners.
It's hard-pressed to find software companies that pass the test of time, but there is one that is healthily chugging along that most people know quite well.
Adobe (ADBE) was established 35 years ago in co-founder John Warnock's garage.
This legacy software company's name, Adobe, was named after the Adobe Creek in Los Altos, California, which ran behind Warnock's house.
Adobe cut its teeth in an era when tech CEOs were not larger-than-life cult figures, and all Adobe has done is quietly infiltrating its way into everybody's devices by way of Adobe Flash Player and its smorgasbord of useful software applications.
Adobe acquired Macromedia in 2005 which was responsible for building Adobe Flash Player.
This Macromedia software has been developed and distributed by Adobe Systems ever since the purchase and its functions involve viewing multimedia contents, executing rich internet applications, and streaming audio and video. Flash Player can run from a web browser as a browser plug-in or on supported mobile devices.
Flash player was its second hit success software program after its Adobe Acrobat and Reader software introduced PDF, the Portable Document Format, which is still ubiquitously used today even after all these years.
Most software companies are relatively new to the scene and like companies I have recently written about such as Zendesk (ZEN) and Twilio (TWLO), they can brag about growing sales of 30% or 40% plus per year.
Adobe isn't too shabby itself growing sales at over 24% annually - remarkably high for such an ancient tech company.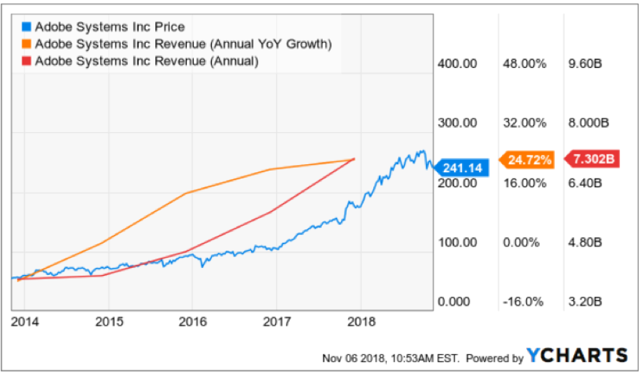 The company's strengths are similar to that of Apple (AAPL) - high-quality products and high profitability.
There will be no back-to-back doubling of the stock like some hyper-growth tech stocks because Adobe doesn't subscribe to the type of growth trail that Square (SQ) has blazed.
What you can expect from Adobe is a slow grind up in share price stoked by its outperforming EPS expansion and acceptable sales growth of mid-20%.
Its annual operating margins have essentially tripled since the beginning of 2015 from around 10% and now boast an Apple-like 30%.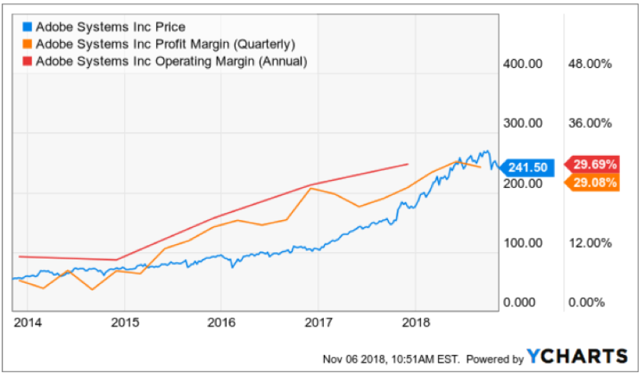 There are no bones about it - Adobe has high-quality software across its diversified portfolio.
Other Adobe software products universally soaked up are its stable array of graphic design software such as Adobe Photoshop and Adobe Dreamweaver.
Adobe has also ventured into video editing, animation, and visual effects with Adobe Premiere Pro.
Not only that, Adobe has forayed into more conventional types of software such as digital marketing management software and server software.
Simply put, Adobe's assortment of digital media software products has a religious-like following especially for iOS users.
As you might have guessed correctly, the lion's share of Adobe's revenue stream stems from its software as a service (SaaS) segment contributing 80% to the top line.
More narrowly, the digital media segment makes up almost 70% of the subscription-based revenue. This division will expand at least 20% each year boding well for Adobe to maintain its 20% plus sales growth that any legacy software company would sacrifice a right leg to achieve.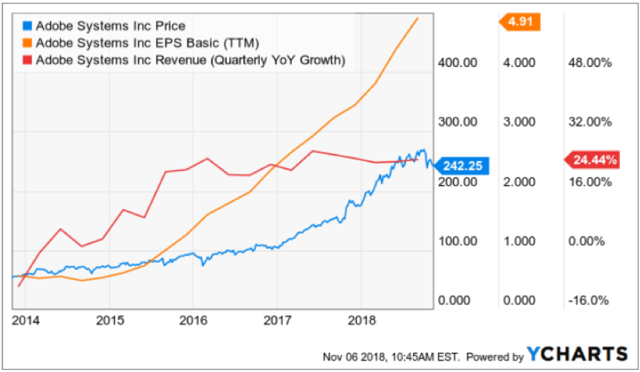 Its digital marketing software products rub up against stifling competition in Alphabet (NASDAQ:GOOG) (GOOGL) amongst others and contribute a less robust 30% to overall sales.
I am less bullish on this part of the business because they have it rough competing against one of the FANGs, the path of less resistance clearly sides with its bread and butter of the digital media offerings.
Its subscription-based pricing model was the catalyst for boosting profitability causing the stock to experience massive price gains. The stock has doubled in the past two years which is unheard of for most legacy software companies.
No longer does Adobe need to manufacture the ancient CD of yore physically delivering it to customers, users can briskly download these products directly from the official website, receive constant upgrades over broadband internet, and pay Adobe monthly for their humble services.
In fact, any investors looking for some hot software stocks only need to find companies that recently shifted to a subscription-based pricing model. It's pretty much a license to print money if the software quality can backup the monthly costs for the user.
I can tell you that Adobe's software has remained world class, embedded at the heart of most digital devices at home and in the office, and who would have thought that just a little shift to the pricing model would have doubled the stock price?
Well, instead of one-off sales, Adobe can book revenue month after month, and year after year demonstrating the supercharged effect of shifting to a recurring revenue stream model.
Highlighting the pivot to profitability is Adobe's three-year EPS growth rate of 48% turning this company into a mammoth software company with a $117 billion market cap.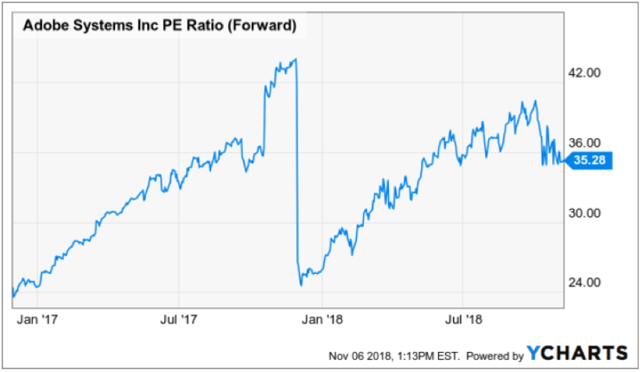 Another positive for Adobe's future sales are its fertile addressable markets in Europe and Asia.
There is ample room to expand in these geographical regions with Europe already chipping in with almost $2 billion of revenue per year and Asia with another $1 billion.
Future harvests look even more bountiful.
These two regions make up almost 40% of sales and as the Asian middle class is poised to elevate a giant swath of its people to middle class, Adobe will be a handsome beneficiary of this trend as middle-class families tend to pump out more university graduates who migrate to software-based occupations.
Even though Adobe isn't the sexiest name out there, it certainly is in the category of "safe."
In no way do I see an eradication of its embedded software spread widely throughout the tech universe.
Its digital media software tools are best-in-show and loyally followed with a long-lasting revenue stream that has room to grow abroad.
Do not expect Adobe to debut any earth-shattering products, but I fully anticipate Adobe to become even more profitable to the point that they might offer a dividend or reallocate capital to shareholders through stock buybacks.
Apple has similar strengths in its business model, albeit on a much grander scale.
I feel that Adobe doesn't get the credit it deserves because of its steady as it goes drivers that keep motoring higher in an industry that adores groundbreaking products that revolutionize the world.
I would wait for a major sell-off because a double in two years has bid up the stock to expensive levels represented in its premium forward PE multiple of 35.
However, as the conclusion of the mid-term elections offers some certainty to the market, tech stocks could get swept up in a positive rush to round out the year.
Luckily for Mad Hedge Tech readers, this is the golden age for software companies and we are just scratching the surface of the capability software efficiencies can deliver to small and large companies across every bit of the economy.
Another Apple-like similarity is that Adobe is annually voted one of the best places to work according to Fortune, stacked up against companies represented across the full economic spectrum and not just tech.
If you have a kid, tell him to find a job in San Jose, he or she could find worse places to cut a paycheck.
Disclosure: I/we have no positions in any stocks mentioned, and no plans to initiate any positions within the next 72 hours.
I wrote this article myself, and it expresses my own opinions. I am not receiving compensation for it (other than from Seeking Alpha). I have no business relationship with any company whose stock is mentioned in this article.