In October I started my series called "Preparing for the end of the cycle" in which I analyze companies that have a great business model and should outperform over years and decades to come, but seem to be too expensive right now. I chose the title for two different reasons: on the one side because I believe we are near the end of the cycle meaning the bull market will (or already has) come to an end. On the other side, these companies need massive bearish sentiment in order to be undervalued and without a stock market crash and maybe a recession we probably will always have to pay a premium for those companies.
Another example and the company we will analyze in the following article is Mastercard (NYSE: MA). As in the last two articles about 3M (NYSE: MMM) and Facebook (Nasdaq: FB) we first will describe what makes Mastercard's business so great and why the wide moat of the company is so powerful. Following that, we take a short look at the dividend and finally try to determine a fair intrinsic value and a price at which we will enter the market.
Business Description
Mastercard is a financial service corporation that was founded in 1966 and went public 40 years later in 2006. Its main business is to process payments between the banks of merchants (restaurants, shops, retailers) on the one side and the card issuing banks or credit unions of the purchasers who use the Mastercard brand (customers, shoppers, buyers) on the other side. Mastercard is authorizing, clearing and settling these transactions, but Mastercard is not providing credit and doesn't issue the cards (and hence doesn't have any credit risk). The following model (taken from Mastercard's 10-K) is visualizing how such a transaction is working: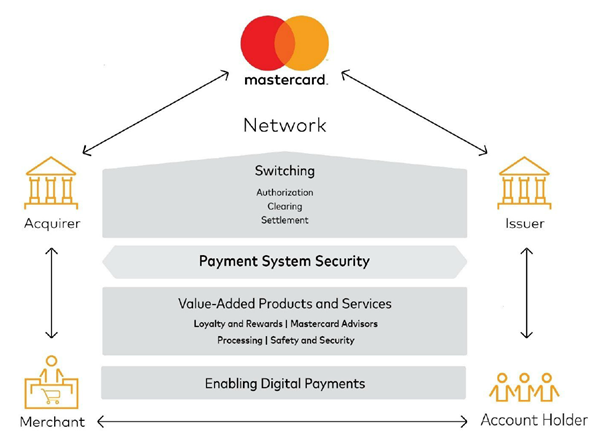 (Source: Mastercard's 10-K filing)
Mastercard is offering a brief description of its business model:
"We generate revenues from assessing our customers based on the gross dollar volume (the "GDV") of activity on the products that carry our brands, from the fees we charge to our customers for providing transaction processing and from other payment-related products and services." (Mastercard 10-K, p.36)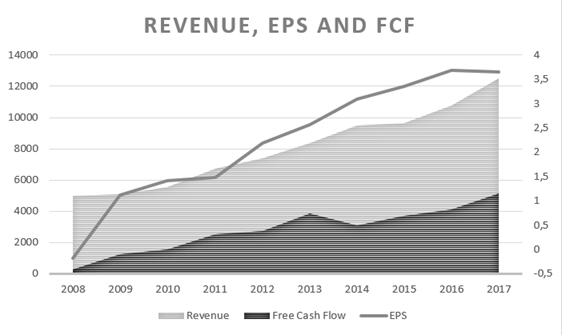 (Source: Own work based on numbers from Morningstar)
Revenue stems mostly from fees and is split up in two components. On the one hand, Mastercard receives a fee for every single transaction (for domestic as well as cross-border) which is called transaction processing and on the other hand Mastercard also receives fees based on the dollar volume of activity. These are called domestic assessments for those examples where the merchant country and the issuer country are the same. When merchant country and issuer country are not the same, these fees based on the dollar volume of activity is reported as cross-border volume.

(Source: Mastercard's 10-K filing)
Aside from its core revenue streams, Mastercard is also providing value-added products and services (so far called "other revenues"). These are for example services related to safety and security (preventing, detecting and responding to fraud and cyber-attacks) as well as Mastercard advisors that provide consulting and marketing services to help clients optimizing and growing their business. Mastercard has a fifth segment which can be seen as contra-revenue: rebates and incentives which are subtracting from the gross revenue. So far, revenue of value-added products is contributing the least to overall revenue, but the segment had the highest growth rates in the recent past (17% in 2017 and 22% in 2016).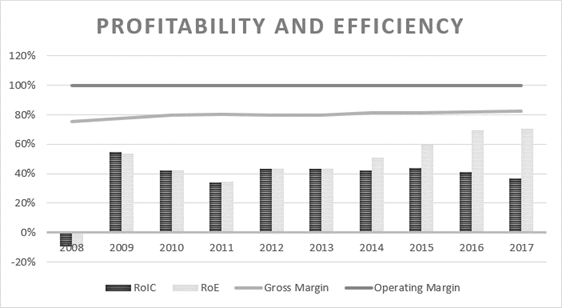 (Source: Own work based on numbers from Morningstar)
Mastercard's business is extremely profitable. The gross margin is 100% as it doesn't make much sense to calculate a gross margin. But the operating margin is a meaningful margin for Mastercard and was about 80% for the last decade. Not only is an operating margin of 80% extremely high, the margin even improved during the last years.
Aside from the margins, Mastercard could also report a very impressive return on equity as well as return on invested capital. In the year of the financial crisis (2008), Mastercard had to report negative numbers, but the following years return on invested capital was about 40% in most years and even above 50% in 2009. I don't have to point out that only very few companies can report such high numbers for such a long timeframe and with such consistency.
Until 2013, RoIC was almost identical with RoE, but since then RoE was higher every year and increased constantly. But while those high RoE numbers might look great at first, the reason why RoE was so high in the recent past is not so great. In 2013, Mastercard didn't have any long-term debt. But since then Mastercard constantly increased its long-term debt to $5,424 million at the end of 2017. And while long-term debt increased from year to year since 2013, the shareholder's equity decreased from $7,495 million in 2013 to $5,497 million in 2017. This also explains why the return on equity constantly increased since 2013 and is much higher than RoIC in 2017. But we should absolutely not be concerned about the current debt levels as the long-term debt equals the average annual operating income of Mastercard in the past five years and it would take Mastercard only one year to repay the debt.
Mastercard Moat
We already described Mastercard's business model above and I think it was quite obvious that the business model is outstanding. The reason why Mastercard outperformed the general market in the past and why Mastercard is such a superior business is the wide moat the company has. Aside from the high regulatory hurdles everybody who wants to enter the financial industry is facing, we especially have to mention Mastercard's brand as well as the network effect.
First of all, we have to mention Mastercard's brand. The company itself as well as Maestro, Cirrus and Masterpass are well-known brands. Brand Finance lists Mastercard on the 117th spot of the most valuable brands in the world. But while the brand is certainly a valuable asset, I doubt it will qualify as source of a wide moat for the company. In order to create a competitive advantage, the brand name has to influence consumer's behavior and for example increase the willingness to pay a higher price. In case of Mastercard, it is the issuing banks and the merchants that decide which card to use or to accept and for these businesses, the brand name is not really important. And I seriously doubt, that customers will choose a different bank to get a Mastercard credit card instead of one from Visa (NYSE: V) or American Express (NYSE: AXP).
But the true source of Mastercard's moat stems from the network which Mastercard created over the past decades. The resulting network effect is what makes Mastercard's business model probably one of the best in the world. The company has built a powerful network by connecting customers that use Mastercard to shop on the one side and the shops, retailers and restaurants that accept Mastercard and use it as a way to collect the payments from the customers on the other side. Mastercard is connecting two very fragmented groups – on the one side everybody who likes to sell a product or a service and needs a way to collect cash and on the other side everybody who wants to buy a product and has to pay for it.
The network is especially strong as it is a densely interconnected network. The network consists of many different nodes (every customer that owns a Mastercard and every shop or restaurant that is accepting Mastercard) and it consists of many different connections as every customer can pay everywhere and every shop can accept the Mastercard of every customer. And although some retailers are responsible for a big part of Mastercard's revenue (five customers of Mastercard are responsible for 23% of revenue) and are therefore more important nodes in the network, it is still extremely difficult to copy the network. The network generates its strengths by the fact that every customer can pay at every shop and every shop can accept the card of every customer. Therefore, it is not enough to just copy a few nodes and connections, but a new competitor has to copy the entire network. And even those nodes that drive revenue probably won't switch because many other nodes (customers) can't use their cards any more which is dangerous for the node (the retailer, the restaurant).
Competition And Risks
Despite the strong moat and competitive advantage, Mastercard is facing risks like every other business. A big risk is the competition to Visa as the competitor has – at least in the United States – an even denser network than Mastercard, has a greater market share and Visa therefore has greater volume and scale which is creating a significant competitive advantage. In 2017, Visa could report a purchase volume of $3,332 billion, while Mastercard could "only" report a purchase volume of $1,385 billion in the same year. While Mastercard had only a market share of 21.9%, Visa had a market share of 52.7%. Being only number two can be dangerous because these networks often experience a winner-takes-it-all effect. But for the international market Mastercard seems to be positioned better and the company should profit from the many countries (like China or India) with a rising GDP, a rising income as well as rising spending and more and more people using credit cards.
But Mastercard is not only competing against Visa and American Express, but also against all other forms of payment. We have to think about digital wallet providers like PayPal and Amazon, but also about cryptocurrencies which could be a potential threat for Mastercard and Visa. Many of these competitors are rather focused on e-commerce and online payment and considering the major trends towards e-commerce it probably won't help Mastercard or Visa in one or two decades when both still have a huge competitive advantage in "offline" payments if the market share of online transactions will continuously increase. Especially due to the massive network effect, I don't see other forms of payment (like cryptocurrencies) to be a real threat, but management and investors should keep a close eye on them.
At least for the short term, a potential recession will affect the business of Mastercard and Visa. The generated revenue is dependent on the consumer spending and consumer spending is affected by factors like unemployment, the rise or decline of income levels as well as currency fluctuations. In 2008, Mastercard had to report a loss and while the company does not necessarily have to report another loss in case of another recession, we can assume that EPS (and probably also revenue) will decline in such a scenario.
Finally, we also have to mention Mastercard's reputation. Although Mastercard's brand is not enough to create a competitive advantage, the company has to think about the negative consequences when its brand (and reputation) are affected negatively. For Mastercard trust is extremely important as customers and merchants have to trust Mastercard that their personal information and money transfers are secure. The network effect is preventing new companies from entering the market, but it doesn't prevent customers switching to American Express or Visa if Mastercard's reputation is damaged.
Dividend
Mastercard is also paying a dividend to its shareholders and the dividend was raised every year since 2011. With a current payout ratio of 25%, there is room to grow the dividend and I assume Mastercard will raise the dividend in the years to come. However, you should not invest in Mastercard for its dividend and the company should rather reinvest the cash flow into its business as long as the business can still grow. The dividend is also far below 1% and probably not interesting for a dividend investor and as long as Mastercard can create above average returns by growing the business, investors are rewarded more by reinvesting the cash flow into the business than paying it out to shareholders.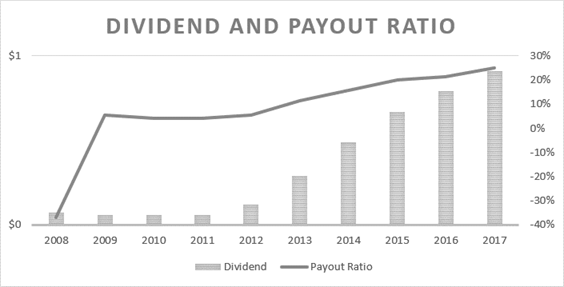 (Source: Own work based on numbers from Morningstar)
Intrinsic Value Calculation
In my series I have covered two companies so far: when using last year's EPS, Facebook has a P/E of 27.90 and 3M has a P/E of 24.53. On the one hand we want to buy companies as cheap as possible, on the other hand we also have to realize that we have to pay extra for high quality as well as for a wide moat. Nevertheless, Mastercard is currently trading at a really high P/E of 54 when using last year's earnings per share. To justify such a high P/E the company has to grow at a high pace for a very long time.
As usual, the P/E ratio can only be a first approach to get a feeling for the company's valuation. In order to come up with a fair value for the stock we use a discount cash flow analysis. A first step is to look at past data (which can at least be a clue for the future). Revenue grew 11.86% since 2009, earnings per share grew 15.91% in the same timeframe and free cash flow grew even 19.44% (I deliberately left out 2008 because it would have led to unrealistic high growth rates – especially for free cash flow as the 2008 numbers were extremely bad).
In order to be fairly valued right now and assuming a 10% discount rate, Mastercard has to grow its free cash flow about 16% for the next decade and then 3% for eternity (similar to overall GDP growth). In my opinion however, these numbers are extremely unrealistic. On the one side, I think it is unrealistic that Mastercard will grow only 3% after 2028 as the extremely powerful network will ensure higher growth rates for a very long time. I would calculate with a 5% growth rate for eternity, which seems to be the right combination between reflecting the power of the moat but not being too optimistic. For the next decade, I assume at least one recession to affect the free cash flow in a massive way and we should include at least two years with a free cash flow way below he current level. Taken every aspect into account I would assume an average annual growth rate slightly below 10% is realistic for the next decade. Using those numbers (10% discount rate), we get an intrinsic value of $150.96 for Mastercard.
Additionally, I would include a margin of safety of at least 20% to reflect the risks of competing against Visa and especially the risk of being too optimistic about future growth which leads to an entry point of $120.77. Technical analysis is only little help here, but two possible entry points would be around $125 (200 weeks simple moving average) and around $100 (multiple highs of 2015 and 2016 that could form a resistance level).
Conclusion
In my opinion, Mastercard's business model is one of the best we know. Not only can Mastercard continue to grow by global expansion, Mastercard will also profit from the ongoing trend towards e-commerce and more and more countries trying to eliminate ready cash and replacing it with digital cash. And Mastercard is operating in a segment with only three main competitors and such extreme barriers to enter that it is unlikely for any new competitor to arise in the near future.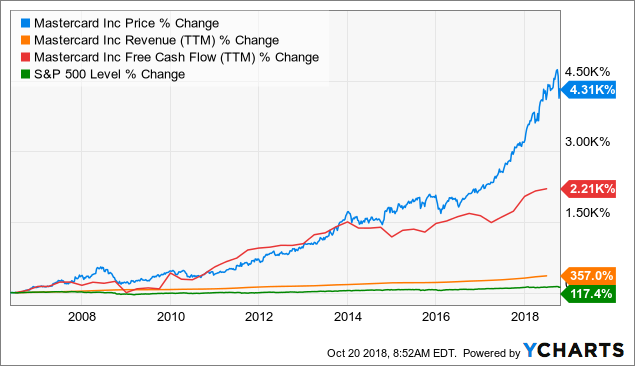 While I think it is quite natural that we have to pay a premium for such a business, a P/E above 50 seems too expensive. And we can also see that the stock price growth for Mastercard exceeded the free cash flow growth. Therefore Mastercard stays just on our watchlist for the time being and we wait for lower entry prices.
Disclosure: I/we have no positions in any stocks mentioned, and no plans to initiate any positions within the next 72 hours.
I wrote this article myself, and it expresses my own opinions. I am not receiving compensation for it (other than from Seeking Alpha). I have no business relationship with any company whose stock is mentioned in this article.