Prop 112 failed, with Colorado voters rejecting 2,500 foot drilling setbacks on oil wells. Had it passed, it would have severely limited drilling in the state. A number of publicly traded oil and gas companies had exposure to the state, and saw their stock prices fall substantially ahead of the election. Their stocks have rallied, but have only made up a small portion of their losses. Below is a description of the companies, including one I purchased before and shortly after the election.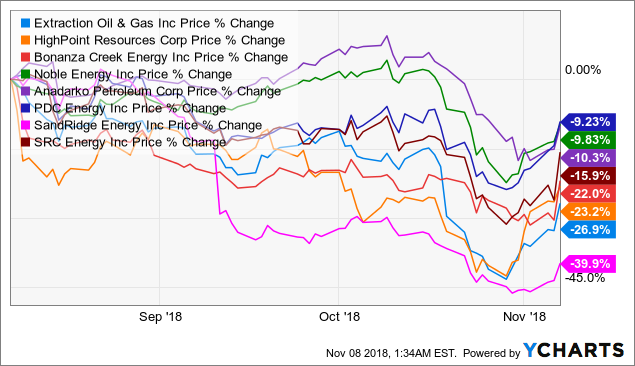 Above is a 3 month stock chart, showing the declining share prices of the potentially affected companies, along with their post election rallies. Using an average performer in the group, SRC Energy (SRCI), and charting it versus the recent decline in the price of oil, helps explain some of the lagging performance of these Colorado oil stocks, and why they might not have fully recovered despite prop 112 not passing: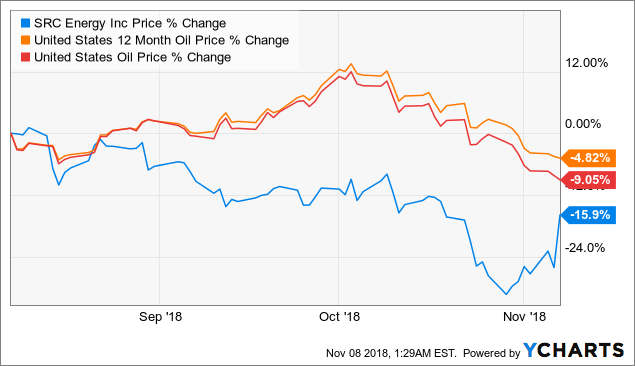 There was some variance in the performance, with larger, more diversified companies like Noble (NBL), Anadarko (APC) and PDC (PDCE) down 9-10% in the past 3 months, while Colorado focused companies like SRC (SRCI), High Plains (HPR), Bonanza Creek (BCEI), and Extraction (XOG) were down 16-27%. And Sandridge (SD), with assets in Oklahoma and Colorado, was down 40%.
Some of this share price performance is perplexing. First ... why didn't XOG and HPR rebound as much as SRCI did? They are all focused on Colorado Niobrara (and Codell, etc) drilling, mostly in the DJ basin. And second, why did PDCE, which was much less diversified than Anadarko and Noble, trade more like these diversified large intermediates and less like arguably more similar SRCI? And finally, what is going on with Sandridge? Why is it down 40%, way more than its peers, despite much less Colorado exposure?
Some of this variant performance can be explained by operating results announced during this period. Extraction (XOG) had a huge disappointment, citing gathering system restrictions holding back 18,000 boe/d. Anadarko, on the other hand, had a "very strong quarter" - in their words - with improved margins, expanded midstream processing capacity, and $500 million of shares bought back.
Digging into PDC's results helps clarify why they outperformed vs their pure-play peers. Despite sharing production curtailments with its peers like Extraction, it still grew Colorado production by 7%, while also showing promising Wolfcamp A spacing and production results in its Delaware Basin assets. SRC had similarly strong results, which helps explain its better than pure-play-peer share price performance - EBITDA was up almost 50% year over year with limited debt drawn on its credit facility.
Beyond the oil price decline and disappointing operating results, another possibility for lagging pure-play Colorado share prices is elevated perceived legislative / regulatory risk. With assets entirely in Colorado, if the state legislature implements further drilling restrictions, or if another similar amendment passes in the next election, the options for these companies would be limited, and their intrinsic values would be reduced.
None of this explains Sandridge's share price performance though. Sandridge fell precipitously in September, when it announced the conclusion of its strategic review process - that it would not sell or merge yet, despite cash offers of $12-13 per share for its assets. What caught my attention were the significantly improved drilling results in Colorado, as well as a very accretive divestiture and acquisition. And now Q3 results are out, and Sandridge grew Colorado production more than 100% from Q2 to Q3 2018. At less than 2X run rate EV/EBTIDA, with a rapidly growing high IRR shale asset (albeit in Colorado), Sandridge was too cheap to ignore, so I bought some ahead of the election and more after the election.
It seems likely that as the election and prop 112 disappear into the rear view mirror, "Colorado" legislative and regulatory risk will diminish, and Colorado focused oil and gas share prices will rise. High performing diversified companies like Anadarko, Noble and PDC have already fully recovered when considering the oil price decline, and Colorado focused stocks were up a lot but have a lot more room to go as the perceived risk declines. And Sandridge ... perhaps its Q3 results will help reprice the stock. Or maybe Carl Icahn, who recently gained control of the board, will sell the company. Or buy it.
Disclaimer: Opinions expressed herein by the author are not an investment recommendation and are not meant to be relied upon in investment decisions. The author is not acting in an investment adviser capacity. This is not an investment research report. The author's opinions expressed herein address only select aspects of potential investment in securities of the companies mentioned and cannot be a substitute for comprehensive investment analysis. Any analysis presented herein is illustrative in nature, limited in scope, based on an incomplete set of information, and has limitations to its accuracy. The author recommends that potential and existing investors conduct thorough investment research of their own, including detailed review of the companies' SEC filings, and consult a qualified investment adviser. The information upon which this material is based was obtained from sources believed to be reliable, but has not been independently verified. Therefore, the author cannot guarantee its accuracy. Any opinions or estimates constitute the author's best judgment as of the date of publication, and are subject to change without notice.
Disclosure: I am/we are long SD.
I wrote this article myself, and it expresses my own opinions. I am not receiving compensation for it (other than from Seeking Alpha). I have no business relationship with any company whose stock is mentioned in this article.
Editor's Note: This article covers one or more microcap stocks. Please be aware of the risks associated with these stocks.