With a rate sensitive target market and a massive expansion plan, Camping World Holdings (CWH) has been one of my favorite long-term investment ideas and biggest short-term risks. The ongoing weak results are bringing to light those risks, but a solid management team should offer some support to buy into any weakness.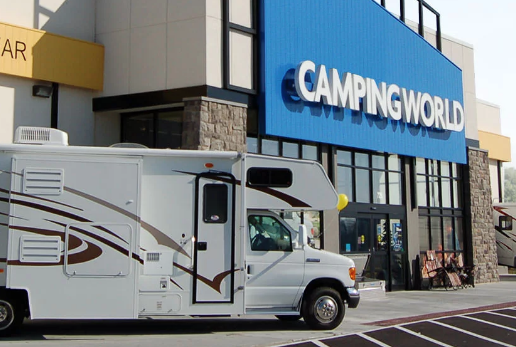 Image Source: Camping World website
Small Solace
After missing analyst estimates for Q3, the stock hasn't actually hit a new 52-week low. Investors that owned the stock above $40 get a small solace with Camping World only dipping 10% before the massive market rally left the stock down about 4% on the day.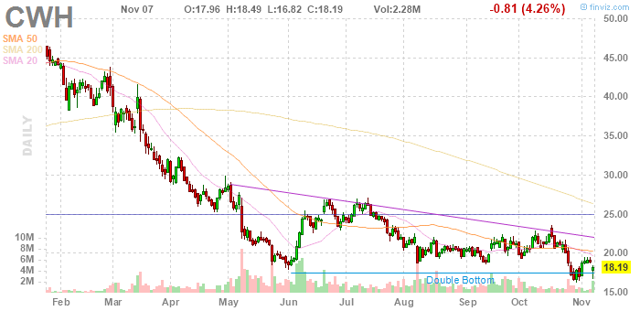 By most accounts, Q3 results were rather bad following several quarters where the Gander Outdoor roll out killed the momentum in the company. The big $0.12 EPS miss was in part due to pricing pressures in the industry despite an apparently wise decision by Camping World to reduce inventory levels.
With 60 Gander Outdoors locations and various other relatively new stores, the investor base was expecting something far in excess of 6% revenue growth by this time. The RV company reduced dealer RV levels by nearly $200 million from the peak levels at the start of the year to only $912 million at the end of September. The more meaningful amount is the new vehicle inventory per dealership decreased 12.2% to $6.7 million.
Even despite these lower inventory levels, Camping World still sold more units and increased revenues in the quarter in the face of nearly 5% average selling price decreases. Same store units, though, were horrible with new vehicles sold down 4.5% on the backs of a huge 19.6% dip in motorized volumes.
The company appears to have wisely made the decision to lower inventory levels to avoid forcing sales of new RVs into a weak margin environment. Either way, the sector inventory issues didn't come at a good time following the problems with the Gander Outdoors openings.
What's To Like?
One of the reasons to like Camping World is the quality of the management team. Chairman and CEO Marcus Lemonis is not letting this business flounder considering his large ownership position, recent share purchases and profile in the investment community. His appearances on CNBC aren't going to go very well, if investors continue to losing big on Camping World.
The encouraging news recently was the placement of Brent Moody in the President and newly created chief operating decision marker role. In essence, Mr. Moody is a co-CEO with Mr. Lemonis constantly focused on other ventures and TV shows. He will run to the day-to-day operations with even more authority than his previous COO position.
One has likely seen that Marcus doesn't hold back in parting ways with weak leaders/business owners so this move ensures a strong bench in the executive suite for a business possibly too reliant on a distracted CEO. CEO Marcus Lemonis on this promotion announcement:
For over 16 years, he has built an impressive track record of strategic, operational and financial accomplishments. Brent has proven to be a great partner along with Roger Nuttall, President of RV Operations, in growing the company and I trust his leadership and vision.
Pointing out Roger Nuttall as another strong leader suggests a very strong bench that has me less worried about a rudderless ship.
The other part to like is that Camping World remains highly profitable while inventory levels are low after a challenging year. The company is now in a position for Marcus and Brent Moody to work their magic and buy inventory and dealerships at depressed values with the $100 million in adjusted EBITDA generated in the quarter.
With 2018 a wash due the investment decisions, investors need to look out to normalized profit estimates. A easy option is to just look at the analyst forecasts for 2019 and 2020. The numbers range from $2.90 currently to somewhere around $3.35 before the problems started to mount.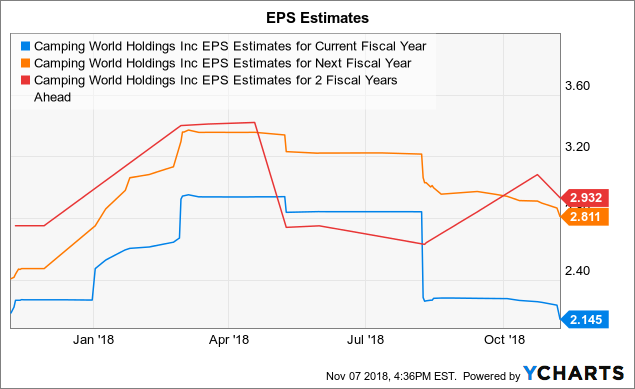 Investors are encouraged to make any necessary adjustments to these estimates, but my view is to keep the process simple. A company and stock like Camping World has tons of variables and a general guide surrounding normalized earnings is typically a lot more useful than a higher detailed analysis using wrong data points.
Takeaway
The key investor takeaway is the market will clearly pay far in excess of $18 for a $3 per share earnings steam. The real question is when Camping World achieves those numbers in the face of sector issues, rising interest rates and rising costs due to tariffs related to trade wars.
These variables are unknown which is why the suggestion is to nibble on these weak prices with capital preserved for even lower prices.
Disclaimer: The information contained herein is for informational purposes only. Nothing in this article should be taken as a solicitation to purchase or sell securities. Before buying or selling any stock, you should do your own research and reach your own conclusion or consult a financial advisor. Investing includes risks, including loss of principal.
Disclosure: I/we have no positions in any stocks mentioned, but may initiate a long position in CWH over the next 72 hours.
I wrote this article myself, and it expresses my own opinions. I am not receiving compensation for it (other than from Seeking Alpha). I have no business relationship with any company whose stock is mentioned in this article.