Investment Thesis
Square (SQ) has released an exceptional earnings report that is being mistreated by traders. As of right now, the stock is down after the shareholder letter, yet Square was able to show profit and great guidance. Last earnings report, the dip didn't last long. I believe this will be the same as earnings were top notch. The biggest part for me about this earnings was their ability to prove earnings. This is because many bears believe that since the company has a $30 billion market cap and wasn't profitable, it is a scam. Now since profit was found, that argument dies and this stock becomes a steal at the price. With all of their products growing at extreme rates, Square looks to become a giant and the investors will be paid for it. All of their investments and products have paid off and are seeing growth out of the roof. This earnings report reassures investors and shows that the company is headed in the right direction.
Earnings Breakdown
Square released Q3 earnings on November 7th, and the price has dipped even though the earnings were good. This is very similar to Q2 earnings as they dipped then jumped to all time highs in the coming weeks. This being said, the dip that Square stock is seeing should not worry any investors.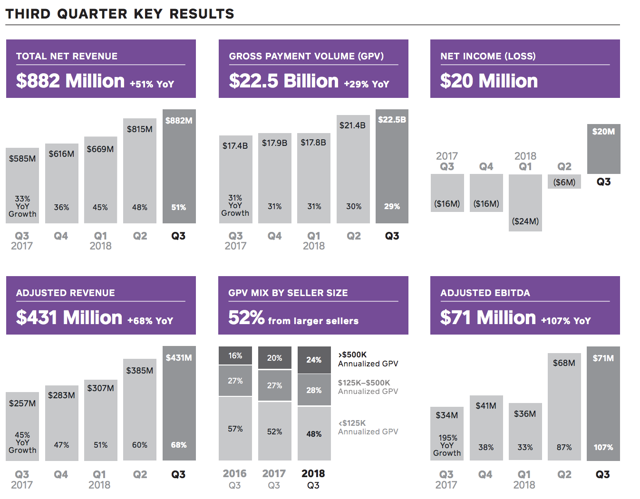 Image Source: Shareholder letter
As seen in the shareholder letter, Square was able to turn a $6 million net loss last quarter into a $20 million net gain this recent quarter. This is huge as it shows they are able to make profit with a growing business model. As well as this, their revenue was able to grow to $882 million or 51% year over year. All of this growth could be attributed to subscription and services-based revenue of $166 million in the third quarter of 2018, up 155% year over year. Dorsey has also mentioned in the conference call that the new Square Terminal could be their best product yet. This is huge as it shows that Square still has a lot of room to run. Another good thing mentioned in the conference call would be that Cash App is continuously a top 25 app on the market and cash card is helping drive growth. To add to this, Caviar has grown 100% year over year. These are all huge as it continues to prove that Square is able to grow at a rapid rate.
Why is it down?
Many people may be wondering why Square was down after hours and in early trading Thursday. To that I would most likely respond that Sarah Friar the CFO is leaving. Although this was and is a known thing, this is still a lingering issue yet is affecting the price too much. As is obvious through this article, I am bullish on Square. This being said, Square is still yet to find a CFO in 3 months of searching. This is due to the fact that they want a perfect CFO to lead the companies financials. This should not be an area of concern. The only real reason for concern would be that it is simply valued very highly. I wouldn't go too far to say it is overvalued because the potential and growth that it entails are huge and can prove to make the company even more profitable.
Conclusion
All in all, the dip after this earnings was unjustified and the market should bring the price back up in the coming days and weeks. I see Square profitable for investors in both short term and long term and might even be able to hit $100 by the end of the year. With proven profit and growing products, Square's future is looking very bright. That being said, Square needs to get a CFO as soon as possible and release numbers that help prove that Cash App is doing well. If these are released and obtained, Square is looking at joining internet giants. This idea of them joining internet giants isn't crazy as Square is 13th in top retailers by U.S. sales.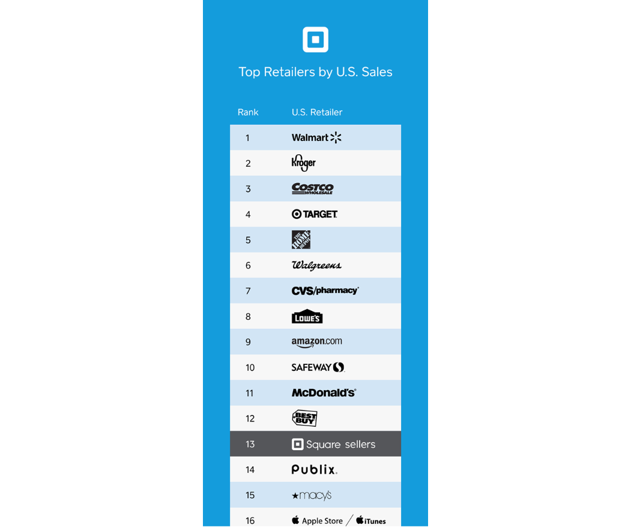 Image Source: Investors Relations
This is a very interesting fact as it shows that Square is truly a widely used market. Square was able to surpass big names such as Macy's and Apple which is an amazing feat. All in all, as long as Square can continue to improve, Square is a very smart investment at these prices.
Disclosure: I am/we are long SQ.
I wrote this article myself, and it expresses my own opinions. I am not receiving compensation for it (other than from Seeking Alpha). I have no business relationship with any company whose stock is mentioned in this article.