Gold investors were evidently feeling ambivalent in the wake of the U.S. midterm elections. While the stock prices soared on Wednesday, gold prices were essentially unchanged. As we'll discuss in today's report, gold has lost an important safety-related support with the return of a "risk-on" stance among equity investors. Balancing this out, however, is the latest pullback in the dollar index. This argues in favor of a sideways trading range for the metal, which continues to be my near-term outlook.
Although the December gold futures price was up 1 percent on an intraday basis Wednesday, it ended up closing just 0.12 percent higher. This marked the second day in a row that December gold tested its 3-month trading range ceiling at the $1,240 level before fading and dropping back. Gold's trading range thus remains firmly intact, thanks in large part to the loss of an important psychological support. We'll talk about this particular factor later in today's report.
Shown here is the December gold graph, which illustrates gold's recent dilemma. The gold market clearly wasn't surprised by the outcome of the elections, but it wasn't gratified by it, either. The obstacle immediately confronting gold is the lack of safe-haven demand now that the U.S. midterm congressional and gubernatorial elections are over. Prior to the elections, there was enough political uncertainty among investors as it pertained to the stock market outlook. Specifically, investors worried what impact a comprehensive Republican victory might have on the global trade outlook. There were also worries that a decisive Democrat victory could undermine President Trump's pro-business policies.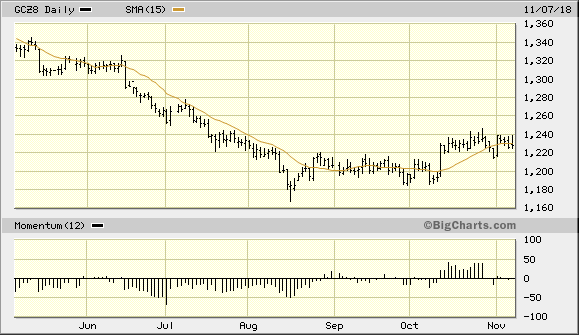 Source: BigCharts
As it turned out, both major parties claimed victory with Republicans maintaining control over the Senate while Democrats gained control of the House of Representatives. The potential for political gridlock this outcome creates proved to be a tantalizing prospect for Wall Street, as U.S. stocks rallied strongly the day after the election. The implication behind the "gridlock is good for stocks" theory is that the relative balance of power between both parties could keep the Congress from making policies which undermine the outlook for corporate profits. Research by Bank of America Merrill Lynch shows that stocks have historically thrived under a Republican president and a split Congress (see chart below). This gives investors an incentive for taking money out of safety assets like gold and putting it into the stock market.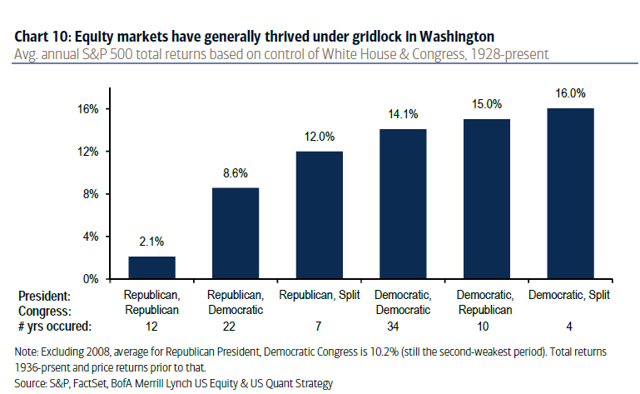 Source: S&P/FactSet/BofAML
With the loss of the safety bid, gold investors would seem to be at a major disadvantage in November. That isn't entirely the case, though, thanks to the recent support from gold's currency component. The relative weakness shown by the U.S. dollar in the last few trading sessions has allowed the gold price to at least tread water despite the diminished safe-haven demand for the metal. Shown here is the U.S. dollar index (DXY) in relation to its 15-day and 50-day moving averages. DXY is now below its 15-day MA, which puts its previous immediate-term (1-4 week) upward trend in question. This more than any other factor right now is allowing December gold to stay near its recent high near $1,240, thanks to the improvement of gold's currency component.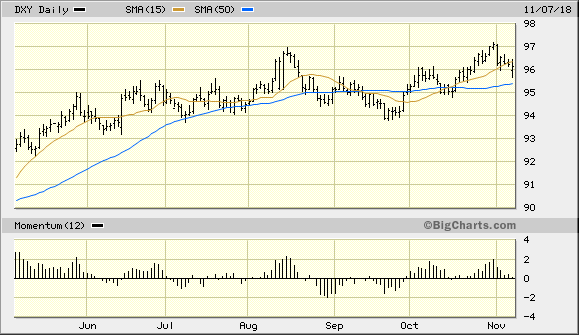 Source: BigCharts
As I've argued in recent reports, it would be even more propitious for gold's immediate-term outlook if the dollar index closes below its widely-watched 50-day moving average. The 50-day MA carries a psychological significance due to its popularity among traders and investors, and previous closes below the 50-day MA in the DXY have resulted in meaningful gold rallies this year - in March-April and October. A close under the 95.45 level in DXY would immensely help boost gold's appeal as a currency hedge among investors on both the institutional and retail levels.
Meanwhile, the iShares Gold Trust (IAU) recently confirmed a technical breakout by closing above the pivotal $11.60 level and returning above its rising 15-day moving average. This confirmed an immediate-term buy signal for IAU based on the rules of my trading discipline. I remain long IAU despite the latest stock market surge and subsequent loss of safe-haven demand for gold. I suggest that IAU traders monitor the $11.37 level (the Aug. 23 closing low) closely from here, as this is my recommended initial stop-loss (intraday basis) for this trading position. A violation of $11.37 would put me back on the sidelines for the immediate term. However, as long as the dollar index remains under its 15-day MA, the gold bulls still have a slight advantage over the bears.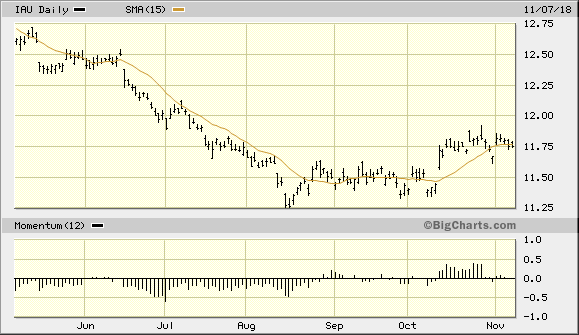 Source: BigCharts
As I emphasized in the previous report, an upside breakout above the $1,240 level - the 3-month trading range ceiling for December gold futures - is the immediate-term goal for the bulls. A successful breakout above this level would serve as an inducement for additional short covering by gold bears, who have built up a substantial short interest in the metal in the prior months. There is enough short interest remaining in the gold market in my opinion to serve as a catalyst for keeping gold buoyant in the coming weeks.
In order for the gold price to show any meaningful gains, however, we need to see additional weakness in the U.S. dollar index. My expectation is for gold to remain in a lateral trading range in November until the gold bulls can consolidate enough strength to force a decisive breakout above $1,240. For now, gold remains a speculative buy for short-term-oriented traders only.
Disclosure: I am/we are long IAU. I wrote this article myself, and it expresses my own opinions. I am not receiving compensation for it (other than from Seeking Alpha). I have no business relationship with any company whose stock is mentioned in this article.