Namaste Technologies (OTCQB:NXTTF) remains one of the most controversial companies out of all the weed stocks we cover. The management is highly promotional and the recent developments at the company led us to believe that Namaste management lacks competency in key strategic areas. The company had to give sizeable concessions in order to close its $45 million bought deal recently, only to have decided spending $3 million of that on share repurchases was appropriate. The decision confused us and sent the wrong signal to the market. Furthermore, the vaporizer business has seen zero revenue growth this quarter raising serious concerns. NamasteMD and CannMart both reported negligible revenue figures so far. In summary, we think investors should clearly recognize the events taking place at Namaste and the risks involved in investing in a highly controversial company like this.
Recent Quarter
Namaste announced fiscal 2018 Q4 results for the 3 months ended on August 31, 2018. Net revenue came in at $3.9 million, which represents no growth from 2017 Q4. Namaste has relied on acquisitions in the past to show inorganic revenue growth but this quarter proved that its vaporizer online business has no organic growth and has hit a wall at only $3.9 million in quarterly sales. The CannMart segment generated revenue of $32k during the quarter which is basically negligible. NamasteMD generated sales of $61k which are also immaterial. More importantly, COGS came in at $3 million which implies a gross margin of only 24%! Gross margin was negative in 2017 but 2018 numbers still showed a picture where the business model simply does not work financially. With only $930k in gross profit, the company lost $8.7 million last quarter after paying for its operating expenses including $2.5 million of selling and distribution and $6.9 million of G&A expenses.


More importantly, the future for both CannMart and NamasteMD is dim. NamasteMD was launched in February 2018 and it has accumulated 14,000 users and will charge 15-20% of the revenue by referring patients to licensed producers (10 partners now). However, during the quarter Namaste has only managed to generate $61k of revenue which is basically non-existent. It is clear that NamasteMD is failing to monetize the users and most people just downloaded the app without making any purchase on it.
As for CannMart, despite receiving the sales-only license on September 24, Namaste has yet to prove that its platform could compete with other LPs and the government channels. The fundamental question is why would someone buy from CannMart rather than the provincial stores? Namaste needs to either cut prices or carry superior products that are exclusive to them. However, most producers that go to CannMart will likely be those ones that failed to secure supply agreements with the provinces. As legalization sales started in October, Namaste will be tested on its ability to generate sales while competing with the government-run online stores powered by Shopify (SHOP). In the medical market, it has to compete with other LPs including the largest incumbents such as CannTrust (OTC:CNTTF), Canopy (CGC), Aurora (ACB) and Aphria (APHA). We worry that CannMart has missed the optimal launch time and will have a difficult time catching up and acquiring customers.
Share Buyback. Seriously?!
In the last quarter, Namaste did something that was highly questionable. As the company announced below, it purchased 2.2 million shares for $3.0 million in total, implying an average price paid $1.36 per share. Why is this bad? Companies do share buybacks when they believe that their shares are undervalued while taking into account other uses of capital including growth opportunities and accretive acquisitions. For a nascent industry like cannabis, at this point companies should use every penny they have to grow their business instead of buying back shares. Namaste is sending a signal to the market that management thinks share buybacks are a better use of capital than investing in products and services, which speaks negatively to its business prospect. Revenue has stalled in the last quarter and the company should not spend its limited capital on buybacks. It seems ridiculous that the company is raising capital to be used to buy back its stocks. This ridiculous buyback action is another sign of an incompetent management that is focused on driving short-term share price gains at the expense of long-term prosperity.
On July 18, 2018, the Company commenced a normal course issuer bid to purchase up to 25,308,136 common shares, representing approximately 8.9% of the Company's issued and outstanding common shares at the time. The NCIB will remain in place for a 12-month period ending July 17, 2019. Since the commencement of NCIB, the Company has completed a buyback of 2.2 million shares for consideration of $3.0 million.
Bought Deal
Namaste has been a frequent issuer in the public markets. In February 2018, it raised C$40 million via bought deal at $2.55 per share. In September, Namaste announced another bought deal to raise $45 million at $3.0 per share plus warrants with an exercise price of $3.50 for 48 months. However, as market conditions deteriorated and Namaste received continuous attacks from Citron, it had to make concessions to get the deal done:
Increased from 0.5 warrant to 0.75 warrant per each unit
Lowered warrant's exercise price from $3.50 to $3.15
Extended warrant expiry from 48 months to October 2023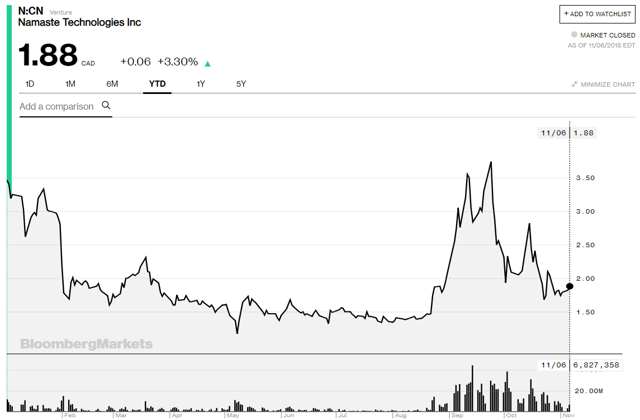 Clearly, Namaste is facing serious pushback from investors during the last bought deal, which we think is a reflection of the increasing concern among investors on its ongoing viability. Investors are already taking a massive 40% loss on this deal and warrants are sitting deeply out of the money.
Questionable Management
The biggest risk for Namaste, in our view, is its highly promotional and inappropriate management team. The key milestones highlighted below best illustrated the disastrous path Namaste has chosen to walk down over the past few months. First of all, the share buyback was a total disaster as discussed. The infamous pledge party made headlines nationally, in a bad way. The Nasdaq listing is nothing but a dream now given the questionable track record of the company and a plunging share price.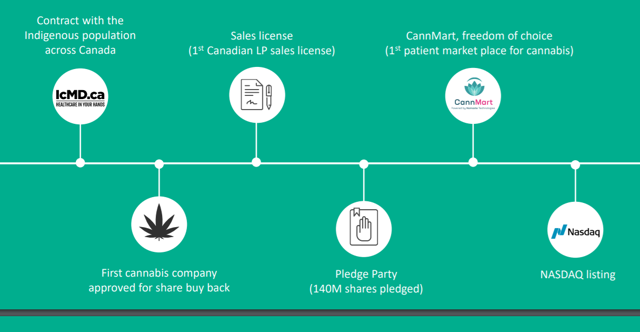 (Investor presentation)
Namaste's promotional corporate culture was best illustrated when it had to make a press release announcing that its NamasteMD Android app was approved for publishing. To borrow a quote below:
"I'm disgusted sometimes when I read some of these press releases" - Vic Neufeld, CEO of Aphria (APHA)
Besides a highly promotional management, Namaste also appears to have unrealistic goals and misleading guidance. For example, the company announced in a press release that it aims to have a 50% gross margin for its CannMart sales. However, without in-house production, Namaste has to acquire its products from its partners who are licensed producers. We struggle to see a scenario where Namaste will be able to obtain a 50% gross margin assuming they have to pay $5.0-$6.0 in the wholesale market and retail price $8.0-$9.0 inclusive of the $1.0 exercise. Again, management has provided unsupported guidance that is overstating its future profitability while its existing vaporizer business continues to struggle.
With Namaste's medical cannabis "sales-only" license imminent, the Company anticipates a sharp increased revenue and margin with Cannmart booking full revenue amounts from patient ordering and the Company will aim to maintain a minimum of a 50% gross margin on cannabis products sold directly on its website.
Conclusion
We think Namaste has a very simple story here and investors should not be confused by the promotional materials disseminated by the company. The vaporizer business stalled this quarter which means limited value for this segment. NamasteMD had negligible sales almost 6 months into launch which is worrisome. CannMart finally received its licenses but we struggle to see how it could compete with the provinces in online sales due to inferior product assortment and an unclear value proposition. Namaste has some interesting technology and unique propositions, however, the management has lost all of our respect after the shareholder pledge and more recently share buybacks. Investors need to focus on investing alongside quality and credible management teams which is crucial for the cannabis industry.
Author's Note: Follow us to receive our latest publications on the sector. We also publish a widely read Weekly Cannabis Report, which is your best way to stay informed on the cannabis sector. We are the only place to find detailed research on over 50 cannabis companies in the U.S. and Canada.
Disclosure: I/we have no positions in any stocks mentioned, and no plans to initiate any positions within the next 72 hours.
I wrote this article myself, and it expresses my own opinions. I am not receiving compensation for it (other than from Seeking Alpha). I have no business relationship with any company whose stock is mentioned in this article.
Editor's Note: This article discusses one or more securities that do not trade on a major U.S. exchange. Please be aware of the risks associated with these stocks.