A Growth Story with Investor Uncertainty
Turtle Beach (HEAR) is a significant player in the gaming accessory space. The company designs and sells premium audio peripherals for consoles, PCs, and mobile devices. In the past year, the company has experienced explosive growth in revenue, EPS, and share price, with the latter up over 900% year to date. However, investor ambivalence has taken hold, and the stock price has almost been cut in half since hitting an all-time high of $34 a share in early August. With strong opinions on both sides, let's take a look at the thought process behind these wild fluctuations and see if there is a good way to play the stock going forward.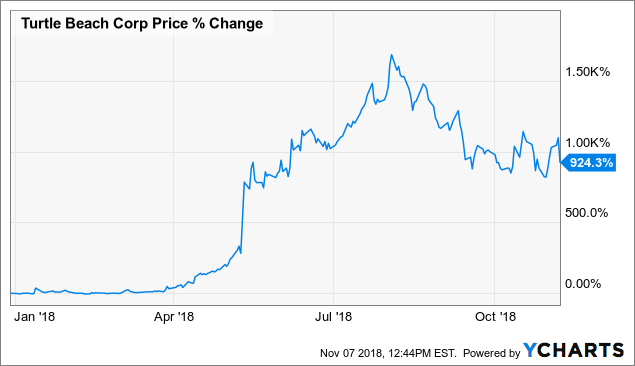 As far as volatility, it is easy to see why the stock experienced impressive gains in share price in the first eight months of the year. Until this year, the stock was really a speculative investment. Although the numbers seemed to be heading in the right direction, the company was not profitable in any of the four years leading up to 2018 (see below). That kept the stock price very low, as the stock was trading under $2/share as recently as March. There was a reverse split in April, which certainly accounted for a decent portion of the increase, but the operational performance was equally important.
In a departure from the past several years, Turtle Beach started recording positive net income. Specifically, the company reported income of $2.0 million and $6.3 million in the first two quarters of 2018. After the 2nd quarter, management raised guidance for the rest of the year and the stock shot up from $3 share to $34 in a four-month span.

SOURCE: YAHOO FINANCE.
While it is impossible to get inside of the heads of the bears who bid the stock down to its current level of $18.65/share, we can make some educated guesses as to why they did what they did. First off, there is likely a belief that the run-up was too much too fast and the explosive growth was not sustainable. After all, the company already has a 45% market share in the console headset market and a market leading position in the PC headset market as well. While that sounds like a bull argument, it also means the company will have to work harder for share gains in the future, as competitors like Razer and LucidSound will likely be upping their game in hope for a bigger piece of the pie.
Add in the facts that the lions share of Turtle Beach revenue comes from one source (battle royale gaming) and that many teen gamers will tell you that there are higher-quality headsets out there (teens mention Astro quite a bit), it is understandable that a contingent jumped to the bear side. The thesis that Turtle Beach might be a fad stock has gained enough steam that by mid-October, Yahoo Finance was reporting a short ratio above 50%.
Obviously, a case could be made for either side but looking ahead to the next year or two, I am inclined to side with the bulls. I will provide my rationale below.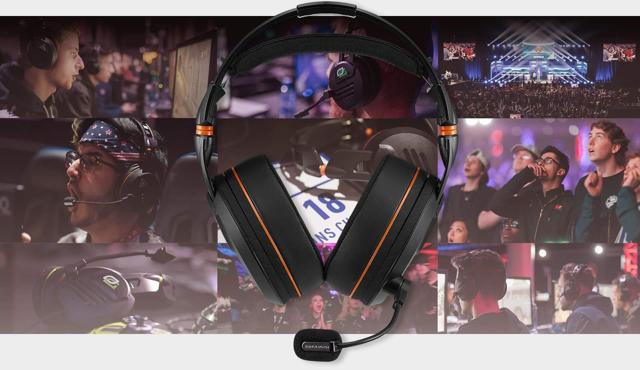 IMAGE SOURCE: TURTLE BEACH
A Growing Industry
The bear case that HEAR is is fad stock would have to rely on an assumption or two. The assertion would imply that the type of gaming requiring headsets, or at least battle royale type gaming, is a fad that will soon pass. Research from technavio, however, says otherwise. Technavio sees the gaming market growing at an annual rate of 7% through 2022. Working with teens every day, I tend to agree. I would be surprised to see the Fortnite craze, battle royale gaming, or any headset-necessitating types of games suffer a slowdown soon.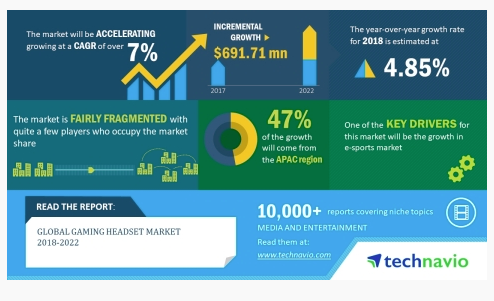 IMAGE SOURCE: BUSINESS WIRE
Seasoned Management
With the headset gaming market predicted to grow by 7% and Turtle Beach already holding dominant market share, we can reasonably say that explosive growth is a thing of the past. However, the market is still growing and it is not unreasonable to think that Turtle Beach can grow revenue and earn at or above the rate of the overall headset market. The key will be the company's ability to fend off competition and maintain both margins and market share. That is where quality management comes in.
At the helm for Turtle Beach is Juergen Stark, a CEO who has been around the block a little. Not only has Stark been a CEO before, he was the COO for Motorola's $9 billion mobile devices business. With the entire headset and audio accessory industry being estimated at $2.66 billion, it is safe to say the stage is not too big for Stark. The eight other members of the management team bring over 150 years of management experience, much of it in the industry.
The Value Proposition
Turtle Beach has gone from an unprofitable company to a company who is poised to record full-year earnings of $2.55 if it meets its own estimates for the 4th quarter. If the stock price stands still for three months and the earnings scenario plays out as predicted, the company will be sporting a PE Ratio of 7.3.
What's Next
There are likely two things that will happen next with regard to earnings. First, with the holiday season coming and the fact that the company has a habit of underpromising and overdelivering, it is likely the company will not only meet but beat its own estimates. Given the fact that management raised estimates twice, it is likely this will be a smaller beat than usual, but a beat nonetheless. A beat would mean that at year-end, the company's PE would be even lower than the 7.3 mentioned above.
The other thing that seems very likely is that earnings will be lower next year. That is not because of any anticipated operational snafus or industry headwinds, but rather because of a change in tax rate. The company got a break this year and is estimating its effective year-end tax rate will be 6%. Next year, however, the company has stated that there is a good chance it will be fully taxed, which implies a tax rate of 25%. Even if the company experiences YOY increases in revenue and earnings of 10% and pays off its debt in the first half of the year, the 2019 projection would still drop to $2.28.
Final Takeaway
Personally, I am a fan of Turtle Beach stock and think the selloff is overdone. Yesterday's earnings report was full of good news with the only real negatives being unrealistic expectations and Oppenheimer's reduced price target. Even the reduced price target did not seem like a sell signal as the new target ($24) still implies a 29$ upside.
In the end, this is a profitable company in a growing industry making a product that has a 23-month replacement cycle. Gaming is not slowing down and neither is the headset industry, at least not in the next couple of years. If we take the projected 2019 EPS from above and apply a generally low PE ratio of 10, we would get a 2019 year-end price of $22.80. To me, that looks attractive.
Even more attractive, however, is taking advantage of volatility through stock options. Right now, you could sell a $17.50 January covered call for $3.20, providing you with either a 17% return in 9 weeks (a 99% annualized return) or a breakeven point of $14.30. Whether you like Turtle Beach stock as a conventional buy or as a covered call, I do believe the risk/reward ratio is in your favor.
Disclosure: I am/we are long HEAR.
I wrote this article myself, and it expresses my own opinions. I am not receiving compensation for it (other than from Seeking Alpha). I have no business relationship with any company whose stock is mentioned in this article.
Additional disclosure: I am long HEAR and short 17.50 calls on HEAR.
Editor's Note: This article covers one or more microcap stocks. Please be aware of the risks associated with these stocks.